This was created out of a deep need to get warm! We'd been on the boat for over a month heading to Berlin, and the rain was persistent, so barbecuing was out of the question. It's time for some warm comfy food to fill the soul. This buffalo cheese sauce is easy and has a great bang for the buck. Instead of grilled chicken with a buffalo mozzarella side salad, I turned the ingredients into a warm evening tummy-satisfying meal. You could substitute some variations in this recipe to keep it vegetarian or vegan, which I have added below.
Vegetarian or Vegan Variations:
*Buffalo Mozzarella OR vegan-based mozzarella or similar vegan soft cheese (I haven't tried it, but I'm sure the texture would combine)
*Parmesan OR vegan parmesan or pecorino made from sheep cheese
*Chicken OR  a variety of  vegetables, fresh shrimp, or firm fish such as cod (if choosing seafood, add the marinated seafood to the final touches when you add the asparagus tips)
*Butter OR Vegan substitute or 1/4 cup olive oil
*Gluten-free Pasta OR your choice of pasta
I hope you enjoy this as much as we did. The sauce is the bomb, and I'm sure you will find a million ways to use it.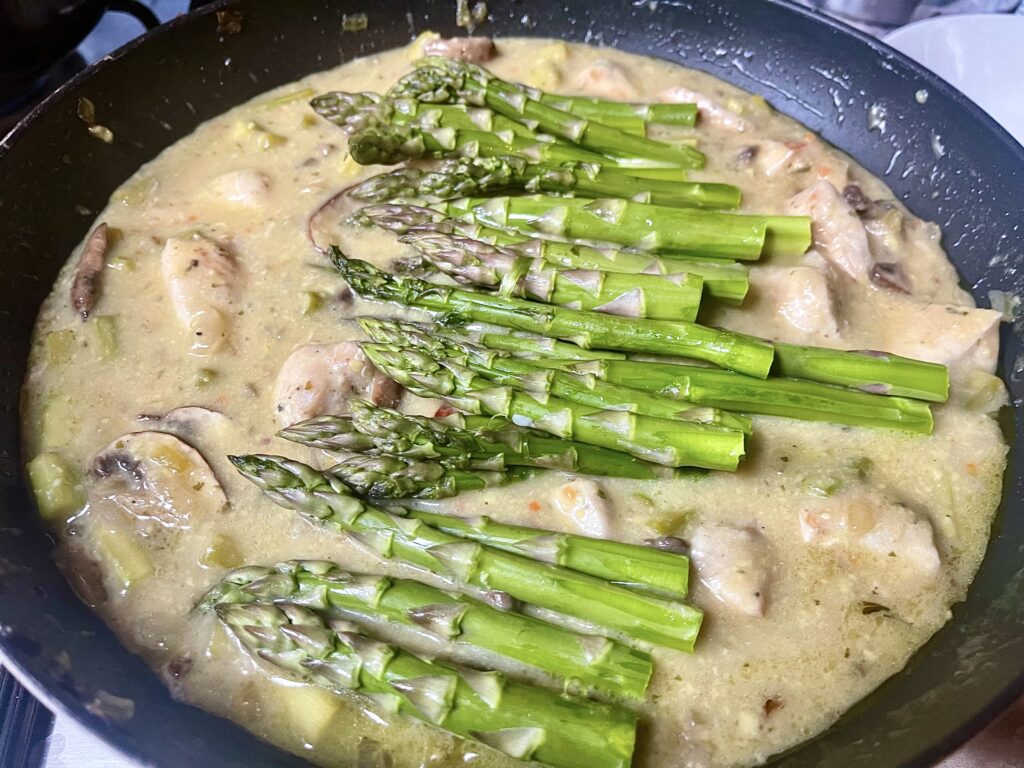 Buffalo Cream Sauce & Chicken Asparagus Pasta
June 27, 2023
: 4
: 20 min
: 35 min
: Medium
Ingredients
Chicken or Veggie Marinade
2-3 diced chicken breasts (veggies or seafood)
2-3 tsp Italian spice
1 tsp Himalayan salt
1/2 tsp white ground pepper (regular will do in a pinch)
1 Tbsp olive oil
Buffalo Cheese Sauce
1/2 cup chicken or veggie broth
1 Tbsp tapioca starch
150 oz container of small buffalo mozzarella balls or vegan soft cheese
1/2 tsp red pepper flakes (or more)
2 tsp of Italian seasoning
Juice from 1/2 lemon
1/4 cup grated pecorino sheep cheese
1/3 cup melted butter, coconut cream milk (shaken), or olive oil (I added a bit of truffle oil as well)
Final Touches
1 Tbsp ghee or avocado oil
1/2 diced white onion (about 1/2 cup)
3-4 garlic cloves diced
Marinated chicken or veggies
1 cup diced mushrooms
1 tsp Himalayan salt
1/2 tsp white ground pepper (regular will do in a pinch)
1 package of green asparagus
1/4 cup fried bacon cut into small pieces (0ptional)
Gluten-free Pasta (reserve 1/4-1/2 cup of liquid after boiling)
1/4-3/4 cup of boiled pasta water to thin sauce if needed
Directions
Step 1

Chicken Marinade:

Step 2

Dice the chicken breasts (veggies or seafood) into bite-size pieces. Place them in a container you can shake and season them with salt, pepper, Italian herbs, and a drizzle of olive oil. Shake the container and set it aside.

Step 3

Buffalo Cheese Sauce:

Step 4

In a medium saucepan, mix the tapioca starch with the half cup of liquid broth until dissolved. Turn the stove to low and add the container of mozzarella along with the liquid. Continue stirring until the mixture is incorporated and comes together.

Step 5

Add red pepper flakes, Italian seasoning, lemon juice, and butter (coconut cream milk or olive oil). Make sure you stir this often and keep the burner on low. Once it is all incorporated, turn the burner off and cover the pan with a lid while you do the final touches.

Step 6

To save time, you can make this sauce a day before by putting it in the fridge and warming it up when you're ready to serve.

Step 7

Final Touches:

Step 8

Start your water for the pasta. If serving this later in the day, stop at this point. Place the marinating chicken in the fridge (veggies or seafood) and prep your ingredients, then continue with the recipe 30 minutes before serving.

Step 9

Using a large frying pan with the ghee or avocado oil, saute the onions and garlic. Add the marinated chicken (or veggies, NOT SEAFOOD) on sautee on medium-high heat. Stir until the chicken is brown (or the veggies are semi-done). They will continue to cook once they are heated in the sauce. Remember, if using seafood, do not add them at this time.

Step 10

Add the sliced mushrooms, salt, and pepper to the chicken (or veggie) mixture. Continue to simmer them for 3-5 minutes. Add a bit more ghee or oil if they start to stick.

Step 11

Add your pasta to the boiling water at this point.

Step 12

Cut the tips of the asparagus (about 4 inches long) and set aside. Dice the remaining clean and shaved ends into bite-size pieces and stir them into the chicken or veggie mixture in the frying pan.

Step 13

Pour the Buffalo Cheese Sauce over the mixture and stir. It might appear thick from cooling, but scoop it out, and as it warms, it will thin out. If it is still thick,  add some hot pasta water. Simmer on low for 5 minutes.

Step 14

After 5 minutes, set the cleaned, trimmed asparagus tips over the top of the chicken or (veggies) mixture. Don't stir them into the mixture. I like to steam the tips on the top and then remove them to decorate individual servings of this delicious meal. If using seafood, add them at this point and let them steam on top under the asparagus tips. Simmer on low with the lid on for 15-20 minutes.

Step 15

Serve over your choice of pasta, top with steamed asparagus tips, a dash of grated cheese, and a sprinkle of fried bacon pieces( if using). Enjoy!