Ok, I'm on a German baking roll. As you can tell in my most recent post, I've celebrated Christmas in San Diego for the past six years. This Christmas season, we're celebrating in Germany. I'm struggling between traditional German holiday meals or traditional Mexican, my family's choice of cuisine during the holiday. So, I've been doing a combo. I call it a Mexi-Germ holiday cuisine. It sounds kind of like a virus. Well, you could catch it and enjoy it as much as we have. Barria for Christmas Eve and Rouladens for Christmas day and New Years' Lutz's Lentils, of course!  I've kept with traditional German desserts, and this cookie is perfect. It also hits the spot for "Nach Mittag Koffee" (afternoon coffee). My Cranberry Linzer Torte makes any holiday meal a huge success.
Many of the German recipes I've posted are traditional for this time of the year. They represent treasured moments in Lutz's childhood, carried out through the years in his family. I'm still trying to get the hang of converting some of his favorites to gluten-free, but in the meantime, I'm enjoying the experience and the end product. This cookie recipe is one of Lutz's favorites, and I think I got it right. German Lebkuchen is considered a gingerbread cookie, and he seems to approve. It reminds me of the thick gingerbread cookies my mom used to make with molasses. I love it because it's easy to make, and best of all, it's gluten-free. It's a moist cookie with special spices and dried citrus. Just amazing, and the first bit transports you back to your childhood.
I sure hope this recipe becomes one of your favorites! If you can't get your hands on the gingerbread spice, here's a substitute. In a small jar, shake the following ingredients together. You'll have plenty left over for your next batch of German Lebkuchen.
2 Tablespoons of ground Ginger
3 tablespoons of ground Cinnamon
1/2 teaspoon coriander
1 teaspoon ground allspice
1/2 teaspoon ground nutmeg
1/2 teaspoon ground cardamom
1 teaspoon ground cloves
1/2 teaspoon ground star anise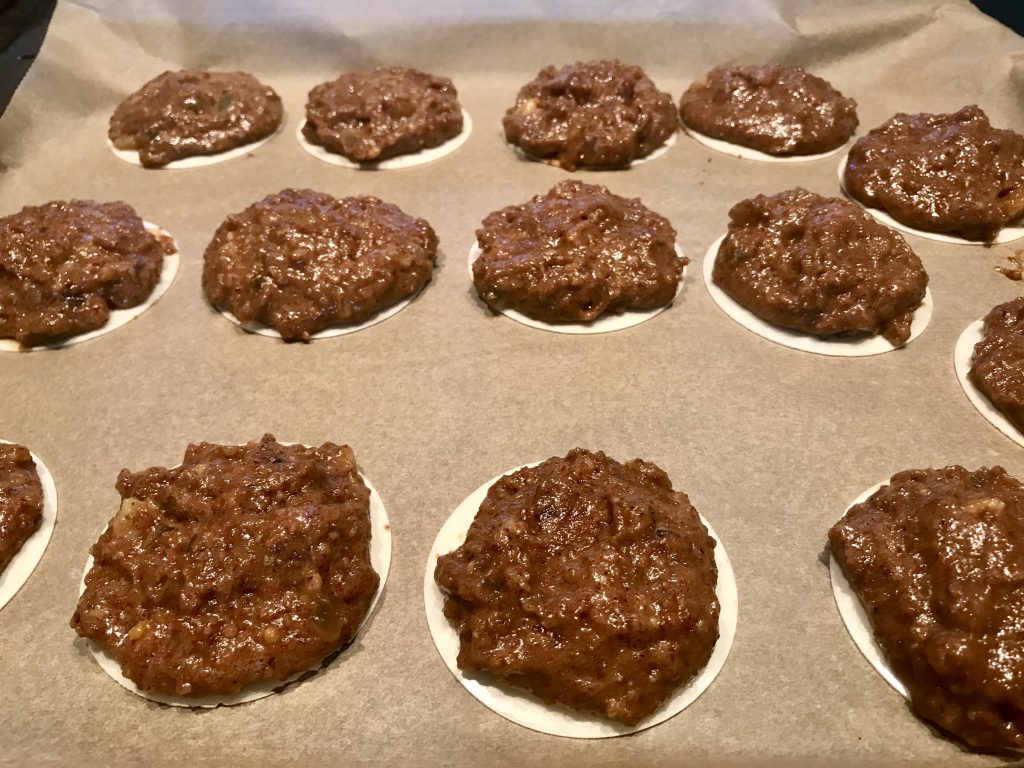 German Lebkuchen
December 29, 2020
: 24
: 20 min
: 25 min
: Easy
Ingredients
1 cup coconut sugar
5 large
1 tsp of pure vanilla or rum flavoring
1 3/4 cups ground hazelnuts
1 3/4 cups ground almonds
1/4 cup candied citrus peel
1/4 cup candied orange peel
1/4 cup cranberries
3 tbsp German gingerbread spice
1 tsp lemon zest
30-40 wafers with a 70mm diameter (Oblaten)
Optional topping: powdered birch tree sugar (place 1/2 cup in a coffee grinder or smoothie blender. Blend fo 2-3 minutes)
Directions
Step 1

In the bowl of your mixer, combine the eggs, sugar, and vanilla or rum. Beat for about 15 minutes at medium speed until fluffy. This will help the course coconut sugar dissolve. Don't leave this part out.

Step 2

If using fresh hazelnuts and almonds, roast 1 and 3/4 cups of each under the broiler for 15 minutes and toss them often, so they don't burn. Set aside to cool completely. Once cooled, place in the food processor and grind. You should have about 3 and 1/2 to 4 cups of nut flour total. If you're using pre-ground hazelnut flour and almond flour, measure 1 and 3/4 cup of each.

Step 3

Add nut flours slowly to the blended sugar and egg mixture. Scrape the sides of your mixing bowl often. The dough will be sticky similar to sticky drop biscuit batter. TIP: You might need to add 1/4 cup more nut flour. Less is best! The dough will stiffen-up while in the fridge.

Step 4

Remove your mixing bowl from your standing mixer.

Step 5

Chop the candied citrus and cranberries using a knife dipped in gluten-free flour or nut flour. This keeps the fruit from sticking to the knife.

Step 6

In your mixing bowl, fold in the following by hand: the finely chopped candied orange peel, citrus peel, cranberries, gingerbread spice, and lemon zest until well combined. Place the dough in a medium-size bowl.

Step 7

Cover the bowl with plastic wrap and let the batter rest in the fridge for 2 hours or a day. You can also set it in the freezer for an hour if you want to speed things up!

Step 8

After the dough has been in the fridge for 2 or more hours, preheat the oven to 350° F. Line a baking sheet with parchment paper.

Step 9

Use a large spoon or ice cream scoop and place a scoop on each wafer (Oblaten) and smooth down the top to the very edge of the wafer using a wet knife. Keep a mound in the center. Set them on the paper-lined baking sheet.

Step 10

Bake for about 25 minutes, or until the Lebkuchen are set but still soft in the middle and have started to brown on the edges. Cooldown completely before removing them from the baking sheet.

Step 11

Once the Lebkuchen are cooled, sprinkle powdered birch tree sugar over the tops of each cookie. Let them dry completely and store them in an airtight container.