Ok this is it! When I first started this adventure I missed 2 things…chocolate chip cookies and pizza. Well, I've mastered them both now! Life is good.
OFF THE WALL-NUT CHOCOLATE CHIP COOKIES
August 1, 2016
: 1 dozen
: 15 min
: 15 min
: 1 hr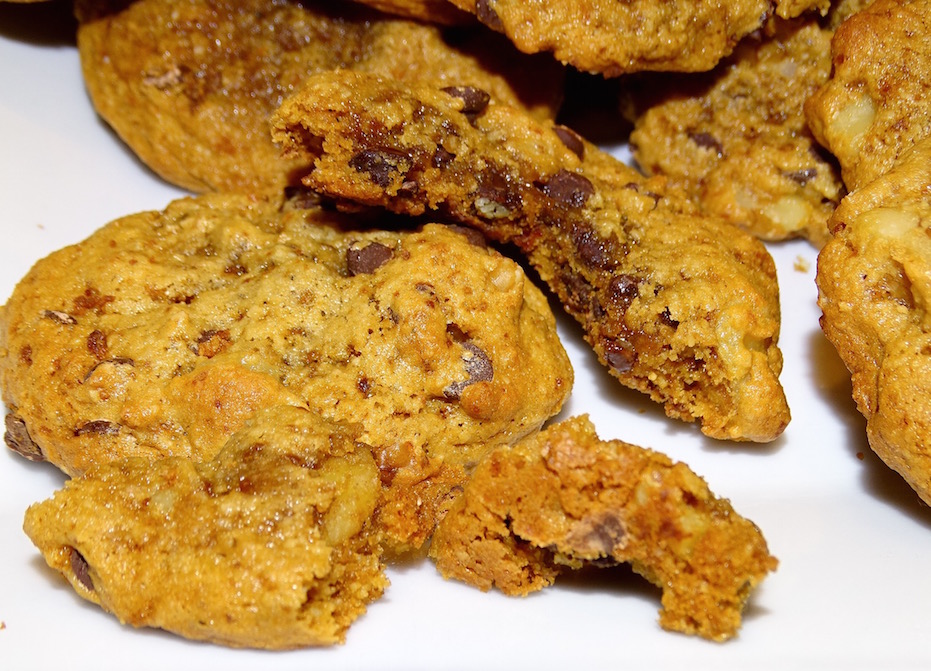 Ingredients
Dry Ingredients
1 cup almond flour
1/2 tsp himalayan salt
1/2 tsp baking soda
1/2 cup coconut sugar
Wet Ingredients
1 tsp pure vanilla
1 egg
1/4 cup melted ghee or coconut oil
Add Last
1/2 cup chocolate chips gluten, dairy, soy free
3/4 cup walnuts chopped
Directions
Step 1

Turn on oven to 350 degrees.

Step 2

Place the dry ingredients in your mixer on low.

Step 3

Place the wet in a small bowl and whisk until blended

Step 4

With processor on low, pour in the wet in with the dry and mix well.

Step 5

Turn off the mixer and stir in the chocolate chips and the walnuts.

Step 6

I use a mellon scoop to place them on a paper lined cookie sheet. Cook for 8-10 minutes.

Step 7

Let cool, if you can. These are so soft and chewy. Just yummy!

Step 8

They will keep in a plastic baggie in the fridge for 3 or 4 days. I usually freeze them so I don't eat them all at once! Then I place a couple in the toaster oven to warm them up. Enjoy!