I miss thick, creamy Alfredo sauce with roasted mushrooms. It's delicious on my gluten-free pasta and grilled salmon…if you're missing the thick creamy flavor of Alfredo sauce too, then keep reading…if not, well, maybe this recipe will convince you you need to try it one more time!
I've been experimenting and trying alternative ideas for creating this creamy sauce, and one recipe I've posted is just as flavorful Vegan Creamy Alfredo Bean Sauce. The base of this sauce uses white beans. If you're not eating legumes, then this recipe is for you.  The base for this sauce is made from roasted cashews with a bold taste of roasted mushrooms! Each sauce has its own distinct flavors, so why not try both and do yourself a favor!
Come on! I know you're questioning me as you read the ingredients below, but this is really delicious and will definitely be one of our weekly meatless meals as well as yours I bet.
Tip:
If using spiraled zucchini instead of gluten-free pasta, you will need 1 and 1/2 cups of room temperature almond milk for the sauce, and add the spiraled zucchini when you add the peas at the end.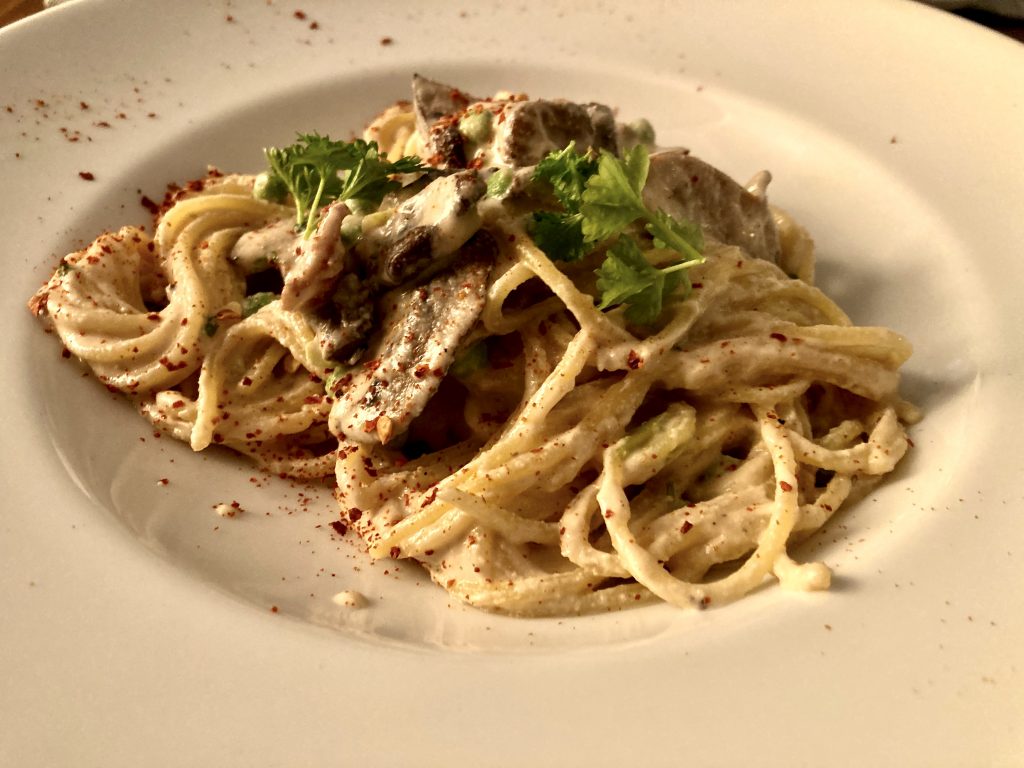 Creamy Cashew Alfredo Sauce
June 20, 2021
: 4
: 30 min
: 15 min
: 45 min
: Easy
Ingredients
1 pound of mixed mushrooms
2 Tbsp of melted ghee
1 cup toasted unsalted cashews
1 lemon juiced (about 4 tablespoons of lemon juice)
2 garlic cloves
2 Tbsp of brewers yeast (no gluten brand)
1 tsp each Himalayan salt and ground pepper
Gluten-free spaghetti pasta or spiraled zucchini noodles
1 1/2 cups of pasta water or 1 1/2 cups room temperature almond milk.
3-4 Tbsp of olive oil
3 green onions (white only)
2 tsp red pepper flakes (divided)
2 Tbsp diced parsley (divided)
2 Tbsp fresh basil (divided)
1/2 cup white dry wine (optional)
3/4 cup frozen peas thawed (optional)
parmesan (optional)
Directions
Step 1

Slice the mushroom into thin pieces. Place them in a bowl and pour the melted ghee over the top and stir well. Make sure each piece is covered. Add more ghee if needed. Add a bit of salt and pepper.

Step 2

Line a baking sheet with baking paper and spread the mushroom pieces out so they are not overlapping. Grill for 6 minutes and then flip to grill the other side. They should be toasty brown. Set aside while you make the sauce.

Step 3

In a food processor, blender, or smoothie machine (I used a smoothie machine, and it works perfectly), place the 3/4 cup of toasted cashews, lemon juice, garlic, brewers yeast, 1 tsp Himalayan salt & pepper in your machine. Puree to a creamy paste. It will be pretty thick, but you will be adding up to 1 and 1/2 cups of pasta water (or almond milk) to make it a creamy sauce. Leave this paste in your blender.

Step 4

Start your water for the pasta and add a bit of salt. Once the water begins to boil, add your gluten-free pasta and boil for only 4 minutes. (the pasta will finish cooking in the simmering sauce later). 

Step 5

After 4 minutes, drain the pasta and reserve 1 and 1/2 cups of the pasta water.

Step 6

Start your blender with the cashew paste on low and slowly add the reserved pasta water to the paste (or room temperature almond milk) until you are satisfied with the consistency of the sauce. Keep a bit of the pasta water or almond milk if you need to thin the sauce later.

Step 7

Place the grilled mushrooms in a large medium saucepan on low heat with 3-4 tablespoons of olive oil. Add the green onions, half the

Step 8

red pepper flakes, parsley, and basil.  Stir in the al dente pasta. If using zucchini noodles, add along with the peas as directed below. Mix well.

Step 9

Add the cashew sauce over the pasta and herbs and simmer for 3-4 minutes or until pasta is to your liking. Add more pasta water or almond milk if the sauce is too thick.

Step 10

Add 1/2 cup of dry white wine (if using). If not using dry wine, you might need a bit more pasta water or almond milk. If you're using thawed peas and zucchini noodles instead of gluten-free pasta, add them both at this time.

Step 11

Serve immediately and garnish with a bit of the remaining fresh parsley, basil, and peppers. If eating cheese, add a bit of parmesan for a nice touch!