I'm so disappointed with Mexican cuisine in Germany. It doesn't exist unless you call it tomato sauce and catsup authentic Mexican sauce. Yes, seriously. Whenever someone says, "I've found the best Mexican restaurant in town," I get hopeful. However, while living here, I never found anything close to "authentic" Mexican sauces or dishes.
I'm so missing the true flavors of authentic Mexican food. The assorted savory bold flavors emitted from roasted ancho (poblano), chipotle, guajillo (sweet, fruity, and tangy), and other peppers can't be replaced with catsup. Germany is not known for its variety of chilis or hot and spicy dishes. To recreate the delicious Birria sauce, I ordered dried chilis from amazon.de. After selling a kidney, searching recipes and Birria history online, borrowing some guidelines from Mely Martínez at Mexico in My Kitchen, plus words of advice from my daughter, Jericho, and her Mexican family, I got it! 
Of course, I had to do my own thing, but if you ask any Mexican how to make this exquisite sauce, I discovered each one has its little tweaks, even my daughter's recipe. Some variations suggested adding: beer, ginger; lime juice; various cuts of meat such as goat; using a back-oven, stovetop, or crockpot, and even an Instant pot. Seasonings also varied from dried to fresh. It is typically served with warm tortillas, diced white onions, Mexican cheese, fresh cilantro, sliced limes, and jalapeños.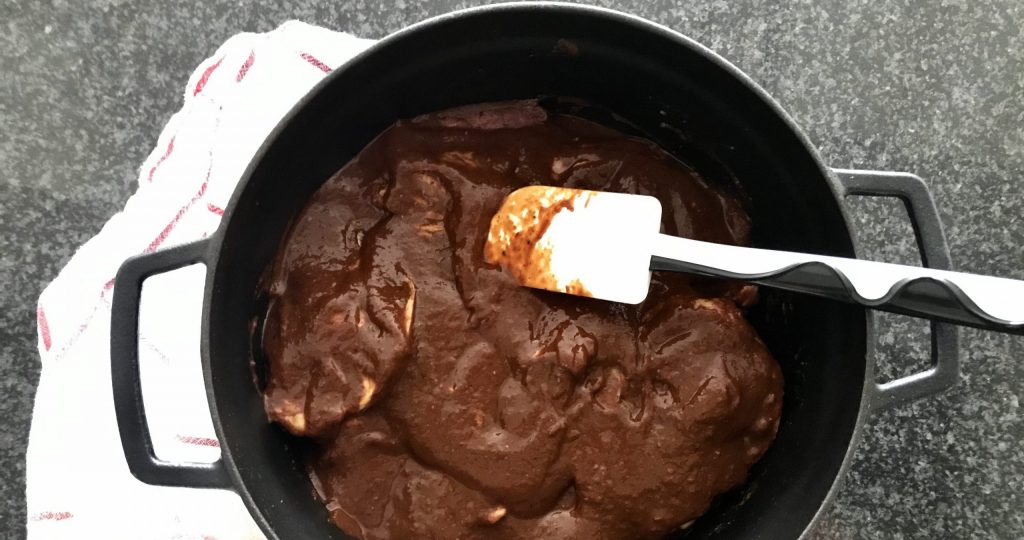 So if you're living in Germany and missing the authentic flavors of Mexico and need this recipe right now, plus willing to fork out a few euros, you can order the chiles online at amazon.de. If you're living in the USA, you have more options and can use amazon.com or pick them up at any grocery store. 
This recipe was straightforward, but I added a few of my own tweaks and additions. The flavors were so bold yet not killer spicy hot. With their robust flavors, the ancho and guajillo peppers don't burn twice, if you know what I mean. I added a chipotle pepper since I love its smoky flavor and a little bit more heat. I also added coconut vinegar, which I use for dressings and savory dishes. It worked great, but white vinegar did too. Be sure to shred the meat with two forks before serving. I used my kitchen scissors and snipped them into pieces.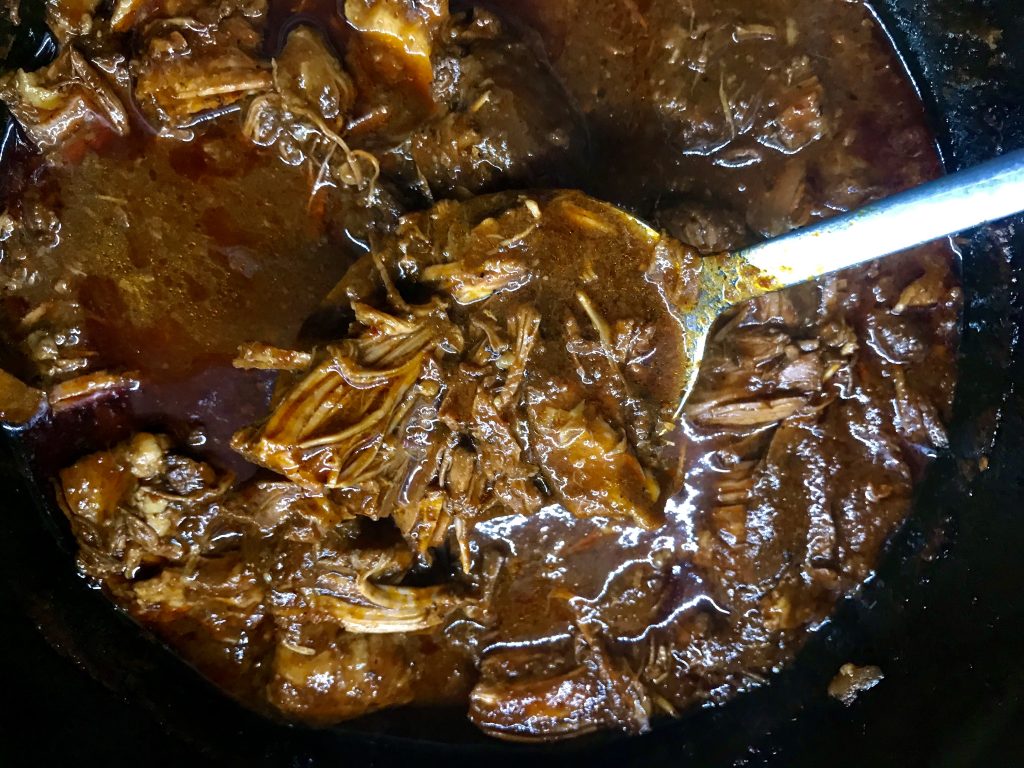 Thanks to those who contributed and helped me find my way with this dynamic, delicious, and fantastic recipe. Oh, my husband is German, and "spicy hot" is not in their vocabulary or most dishes. With his first bite, his response was "delicious," and he suggested using the leftovers as the base for German Goulash! LOL, seriously, I did! I added potatoes, carrots, and a 1/2 cup of diced red pepper a few days later. It was the best German Goulash I have ever tasted! 
Tribute to the Chef:
Birria means "exquisite savory dish," which expresses my sentiments exactly. It originated in Jalisco, Mexico. Later, chefs in Tijuana transformed the meat from the broth into today's tacos. There are several theories on how this delicious soup came about in Jalisco. One idea was that the Spaniards introduced goats due to their ability to populate quickly. There became such an abundance of goats; it was considered useful in feeding many. Therefore it became the meat of choice. If you're fascinated about learning more about the history of this exquisite meal, I suggest you check out this cool article written by Rachel at Taco 'bout Delicious! She has a super story about the history of this unique dish.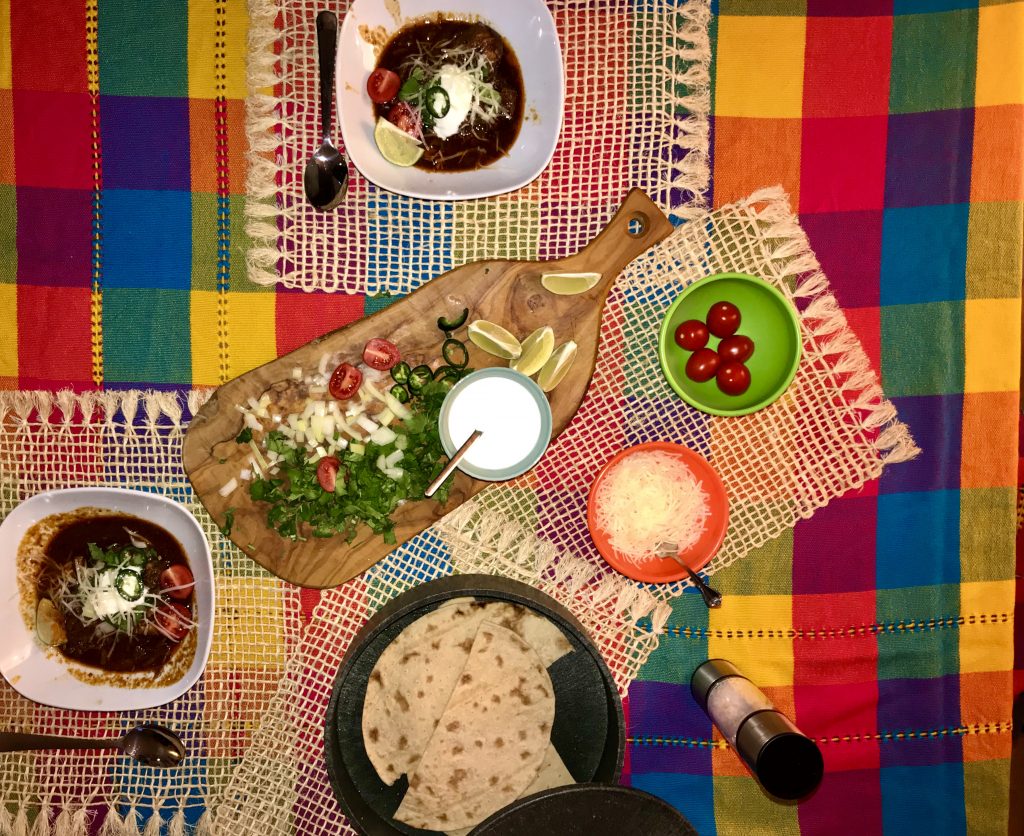 Authentic Birria Soup
October 5, 2020
: 10 Servings
: 40 min
: Medium
Ingredients
3 dried Ancho chiles
6 dried Guajillo chiles
1 dried chipotle chili
3 whole cloves
1/2 inch piece of cinnamon
1 small bay leaf
1/2 tsp cumin seeds
1/2 tsp peppercorns
1 tsp of oregano
1/2 roasted garlic bulb (cut horizontally)
2 large roasted tomatoes
1 medium roasted onion
1/2 cup coconut vinegar or white vinegar
Juice from 2 limes
1/2 cup of water or gluten-free beer
3-4 Pounds of any of the following meat or a combination (I used a combination of beef, pork, and oxtail to create 4 pounds in my recipe): goat or mutton, pot roast, pork shoulder, oxtail.
Himalayan salt and Pepper to taste
Directions
Step 1

Season the meat generously with salt and pepper and place in a large baking dish. I used my Dutch oven roasting pan. Set it inside the 300-degree oven while you make the sauce.

Step 2

Cut the stem and veins from the chiles, remove the seeds, and make sure to keep them whole. Keeping them together makes it easier for the next step.

Step 3

Place the dried chili peppers in a large frying pan on low. Cook each side for about 3-4 minutes. They should begin to smell savory to release the flavors and aromas. Be careful you don't burn them. Burning will make the sauce bitter. Once roasted, place them in a shallow dish and cover them with boiling water. Set this aside.

Step 4

Place: whole cloves, cinnamon, small bay leaf, cumin seeds, and peppercorns in the same frying pan as you used for the chiles and roast them for 3 to 4 minutes to release the flavors. Once roasted, set them in a small bowl and add 1 teaspoon of dry oregano. Give this a stir. You can grind the toasted herbs and oregano together if you have a coffee grinder. It's not necessary. They will get a beating when you place sauce ingredients in the blender.

Step 5

Slice the tomatoes and onions into three thick rings each and place them on a cookie sheet. Slice the whole garlic bulb horizontally so the buds stay together, and place the cut side up on the cookie sheet. Place under the broiler for 5 to 8 minutes, watching to ensure the tomatoes blister, onions, and garlic brown. Once done, remove from the oven.

Step 6

In a blender, add the drained-soaked chiles, the roasted seasoning, the roasted tomatoes, and the onions. Squeeze the roasted garlic out of the skin into the blender. Blend on high until smooth.

Step 7

Add the vinegar, lime juice, and water or gluten-free beer. Blend until combined.

Step 8

Pour over the meat and cover the dish with a lid or foil—Bake in the oven at 300 F for 4-5 hours. You can also do this in your crockpot for 6-8 hours. Place it on high until it is warm, and then turn it to low.

Step 9

Give it a peek now and then. You might have to add a bit more water. After 5 hours in the oven, the meat should be tender and falling apart. If not, leave it cooking for a while longer. Once tender, use a fork to shred the meat in the sauce

Step 10

add salt and pepper to taste before serving.

Step 11

Options for serving: sour cream, queso fresco, sliced radishes, diced onions, fresh cilantro, sliced jalapeños, warm gluten-free tortillas, or over polenta, and hot sauce just in case it's not hot enough for you!