Fortunately, we've found wild caught ahi at our local store in the USA and the Wolfach Germany Wednesday market. This recipe can be made with ahi or fresh wild-caught salmon. Both are delicious. Just make sure it is sushi grade.
I like using fresh cauliflower rice in my bowls, and you can really "knock it up a notch" by adding a tablespoon or more of ghee and sauté the cauliflower rice in the pan. Once warmed, add two tablespoons or more of coconut cream milk and diced cilantro. This is so delicious with any bowl you choose to make. You can also cook regular rice using half the water and the other half the coconut cream milk. Then stir in a tablespoon or more diced cilantro at the end.
I avoid soy, so I use coconut amino soy for making the marinade. The fresh ginger makes this marinade pop! The side salad is so tangy and fresh that it can stand alone and be used with any meal. The sauce lifts this amazing recipe to a new level. I use my homemade mayo recipe for this sauce, and it gives the dish a punch.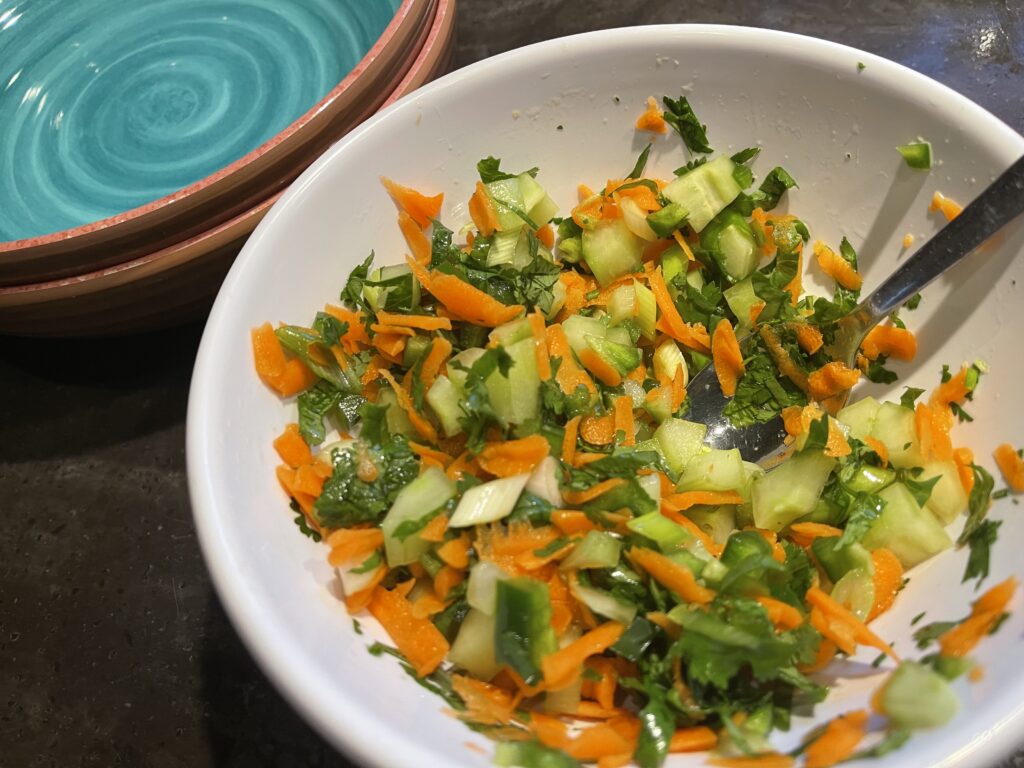 I like this meal served at room temperature. It tends to enhance all the flavors and warmly welcomes all the textures. You'll see below in the recipe I remove the fish 30 minutes before serving. It's just a preference but is not necessary.
You can serve this up for a large group as an appetizer or a main meal. It can be prepared and served in 30 minutes. Or make the marinade and ahi the day before. It's quick, easy, and pretty impressive. Plus, it's healthy and low in calories. Oh yeah, did I say it is amazingly delicious?
Before starting, I suggest you assemble all the supplies, even the ingredients. You will need a grater for the carrot and a cutting board with a good knife for dicing all the veggies. You'll need a sealed container for the fish and marinade and one for the salad. Be sure to find a one-cup jar for the sauce to shake it. With this done, everything will fall into place. Instead of buying a purple and white cabbage, I used one cup of pre-shredded slaw mix. Either works well.
Ahi Poke Bowl
February 23, 2023
: 2-4
: 40 min
: 40 min
: Easy
Ingredients
Ahi & Marinade:
1 lb of fresh ahi
1 lime juiced
2 garlic cloves
2 tsp fish ginger
1/4 cup coconut amino soy
1-2 tsp sesame oil
2 Tbsp rice or white balsamic vinegar
1 tsp honey
1 tsp of Sriracha or Asian hot sauce
1/4 cup diced cilantro
1 diced green scallion
Himalayan salt and fresh ground pepper
Salad:
1 medium cucumber peeled and deseeded and diced
1 large carrot grated
1/2 cup each: shredded purple and white cabbage (or slaw mix)
1 jalapeño deseeded and diced
1/4 cup diced cilantro
1 green scallion diced
1/4 cup purple onion diced
1 Tbsp rice or white balsamic vinegar
1 Tbsp olive oil
1 tsp sesame oil
1/2 lime juiced
1 medium avocado sliced
1 dash of Himalayan salt and fresh ground pepper
Spicy Sauce:
1/2 cup mayo
1-2 Tbsp Sriracha or Again hot sauce
1 Tbsp fresh lime juice
Toasted sesame seeds for garnish
Directions
Step 1

Ahi & Marinade:

Step 2

Wash and dry the ahi. Cut into bite-size pieces and set aside.

Step 3

Add the marinade ingredients in a container (large enough to hold the ahi) and mix well: Lime juice, garlic, ginger, coconut amino soy, sesame oil, vinegar, honey, hot sauce, cilantro, scallions, and salt and pepper.

Step 4

Add the fish to the marinade container and secure the lid. Shake the container making sure each piece is covered in marinade. Place in the fridge and remove 30 minutes before serving. This, again, is optional. The marinaded ahi can be made the day before.

Step 5

Salad:

Step 6

Dice and prep all the veggies for the salad: cucumber, carrot, cabbage, jalapeño (if using), cilantro, diced scallion, vinegar, oils, lime juice, salt & pepper.

Step 7

Keep the avocado covered and sprinkled with lime juice or slice before serving. This will be added as a garnish at the end.

Step 8

Seal the container and give it a shake to mix well. Set in the fridge until ready to serve.

Step 9

Spicy Sauce:

Step 10

Place all the ingredients for the sauce EXCEPT the sesame seeds in a jar and shake until well combined.

Step 11

Rice & Serving

Step 12

Make your favorite rice. I like mine warm, so I leave the cooked rice for last and turn off the heat leaving on the lid. 

Step 13

Place a large scoop of your choice of rice in your bowls. Add the marinaded ahi to a section of each bowl. Garnish with a spoonful of fresh salad, sliced avocados, spicy mayo sauce, a sprinkle of cilantro, and a dash of toasted sesame seeds. Don't forget a slice of lime on the side! This makes two dinner servings or four appetizer bowls.