As you can see, I am on a soup roll. I love this dish and it's easy and quick to make. Can't say I invented it, but after trial and error and reading recipes from the web, I think this one is a hit! I whipped this up one evening for my cousin, Amy, and son, Jarrod, while in Washington on the 10th day of rain. Needless to say it hit the spot and added a little heat to the cold day. I have made this several times since getting back from the USA, and the cool things is, my Asian store down the street carries everything I need! I put extra herbs in the freezer and they stay fresh and work just as good.
TOM KHA GAI
March 19, 2016
: 6
: 20 min
: 30 min
: 50 min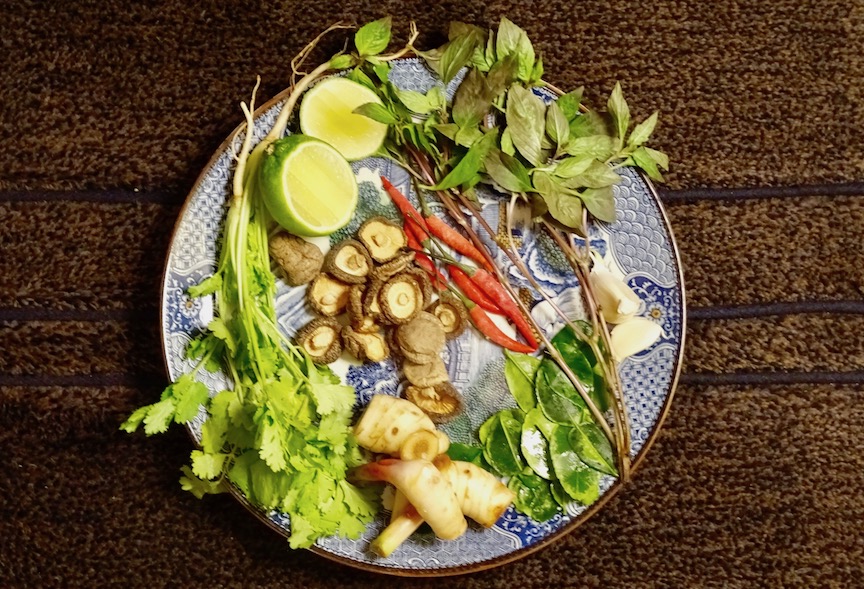 Ingredients
2 lbs boneless chicken thighs breast work as well
2 Tbsp coconut oil
4 cups chicken broth homemade if possible
2 cups coconut cream milk
1 stalk lemon grass cut into 2
Directions
Step 1

Using a large soup pot, heat the coconut oil on high until hot.

Step 2

Cut the chicken in to bite size pieces and stir fry in coconut oil just until the chicken turns white. You might have to do this in shifts depending on the size of your pot.

Step 3

Peel the first layer of the lemon. I take a spoon or mallet and SLIGHTLY tap the lemon grass so it opens the flavor. Galangal is an interesting root and has a very mild earthy smell and taste. Some people will use ginger in it's place or in addition. If you have never used it I strongly recommend trying it. This root is really special and can be found in the Asian markets.

Step 4

Once all the chicken is browned, add the remaining ingredients to the soup pot and chicken.

Step 5

I like it hot so I use a lot of red chilies. Be careful they are hot and wash your hands 2 or 3 times. They are killer on the eyes!

Step 6

Serving this over rice or cauliflower rice makes a great meal and so full of good fats and energy from he broth and meat!

Step 7

Top with cilantro and a slice of lime.