Last we talked we had hooked up with colleagues and new friends in Saarbrüken. The next day we left Saarbrücken and spent a beautiful HOT day traveling 5 hours to the small port of Sarreguemines. The view was so beautiful and really a peaceful town.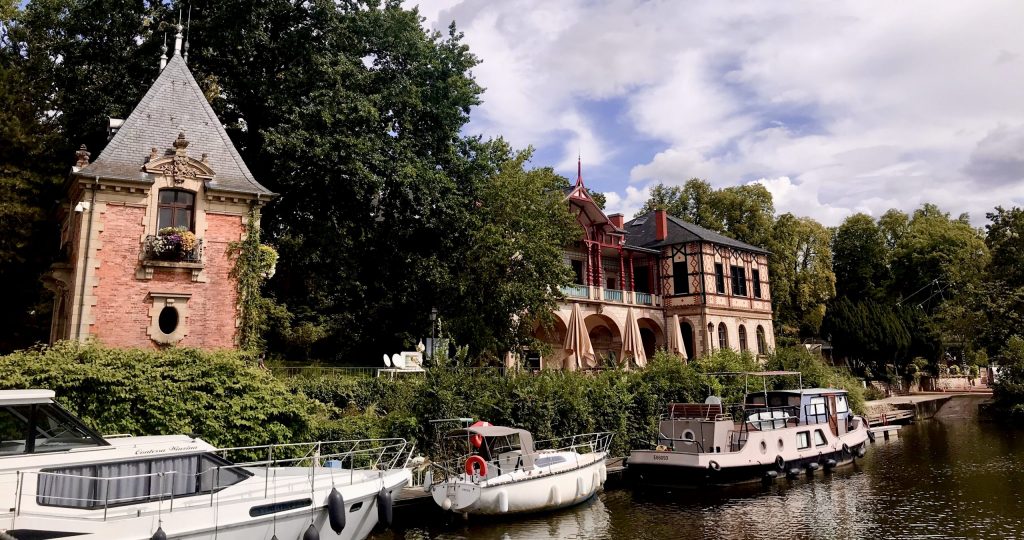 Loved the evening skies and the reflections in the water.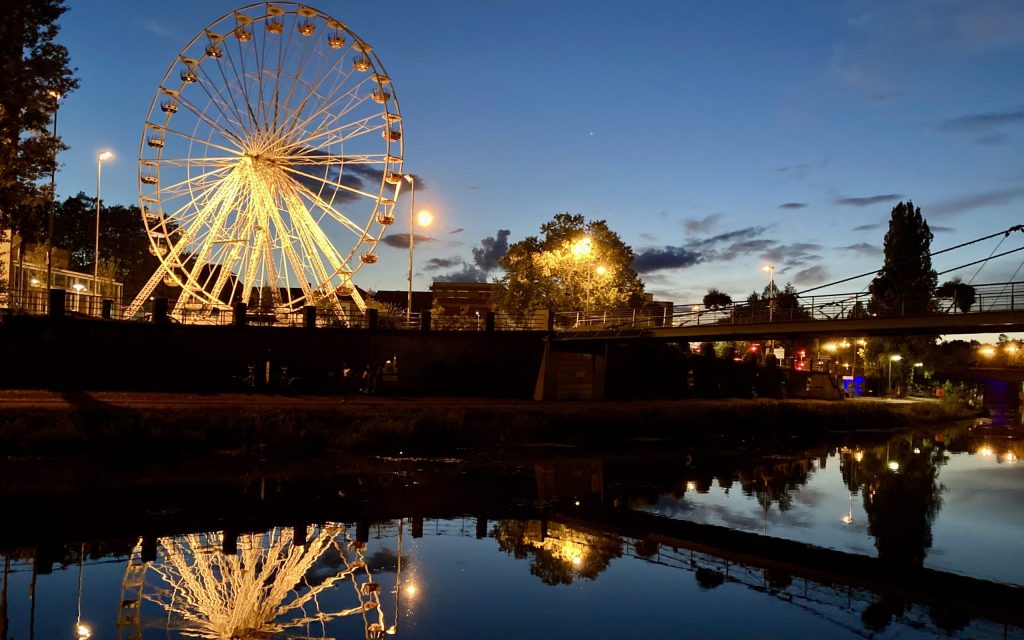 It was here that my Admiral, Lutz, checked the motor and filters. What a surprise. The bilge under the huge motor had 6 inches of water! The cooling system for the motor had rusted on the bottom and as it cooled the engine and water leaked out and flooded the belly of the whale.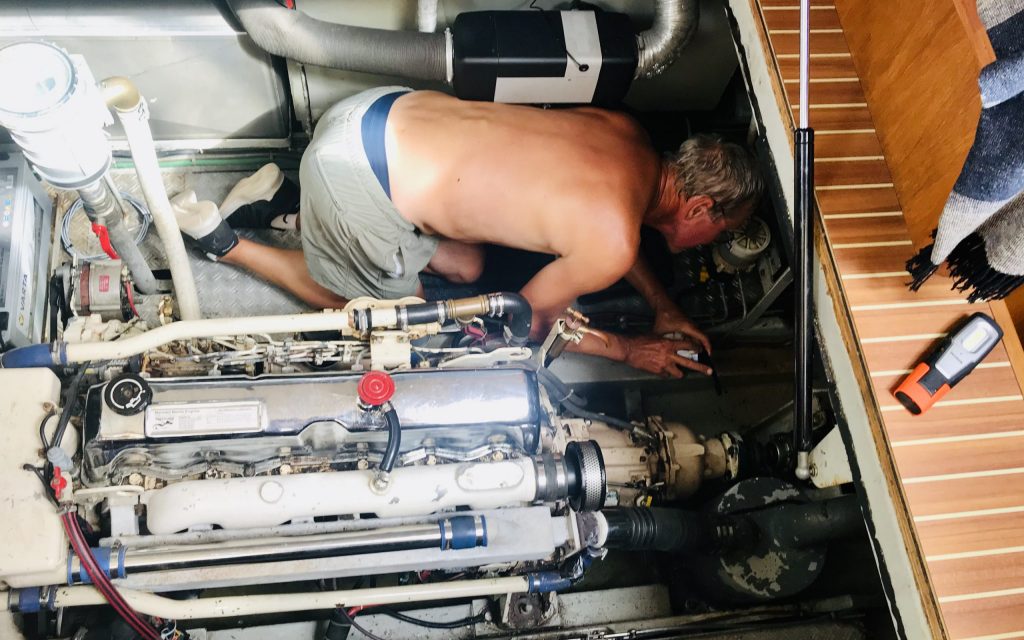 A few meters down the road was a huge tanker work-yard that someone was spending their days restoring these old ships. Lutz got the name of a mechanic and made the call. He informed us that it was safe to drive the boat and pump the bilge in the evenings. He recommended we turn off the water hose to the cooling system in the evening to prevent additional water seepage. We followed his instructions and set off for our two-day trip to Mittersheim harbor where he would meet us so he could check out the situation in person.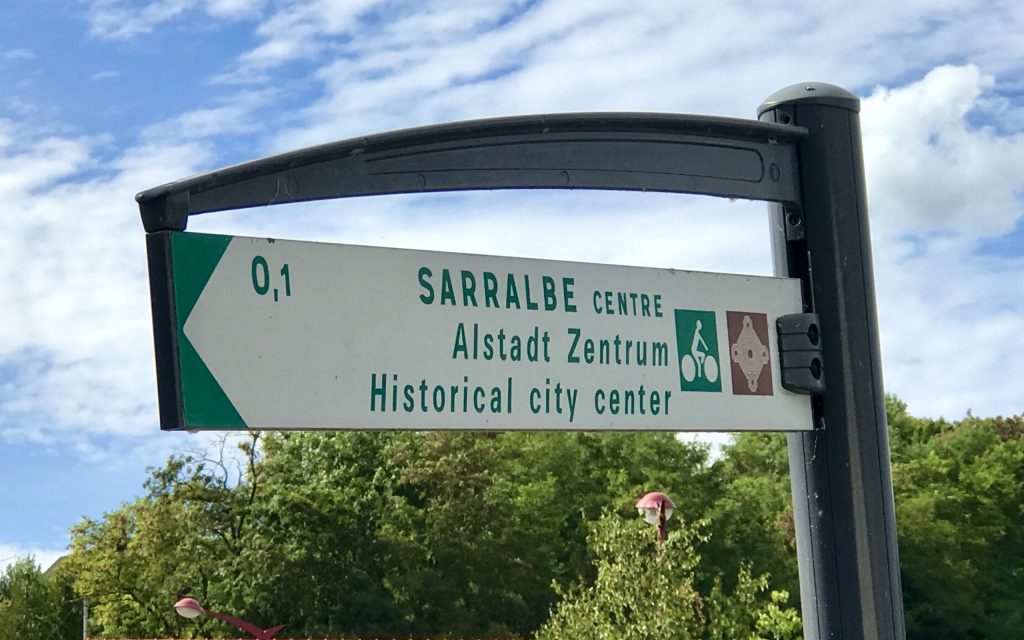 After 5 hours on the canal toward Mittersheim, we landed in Sarralbe, Yeah, one step closer to Mittersheim. A new clean dock greeted us with free electricity plus a small beautiful downtown. After pumping the bilge and a delicious meal we retired to get an early start for our next 5-hour drive.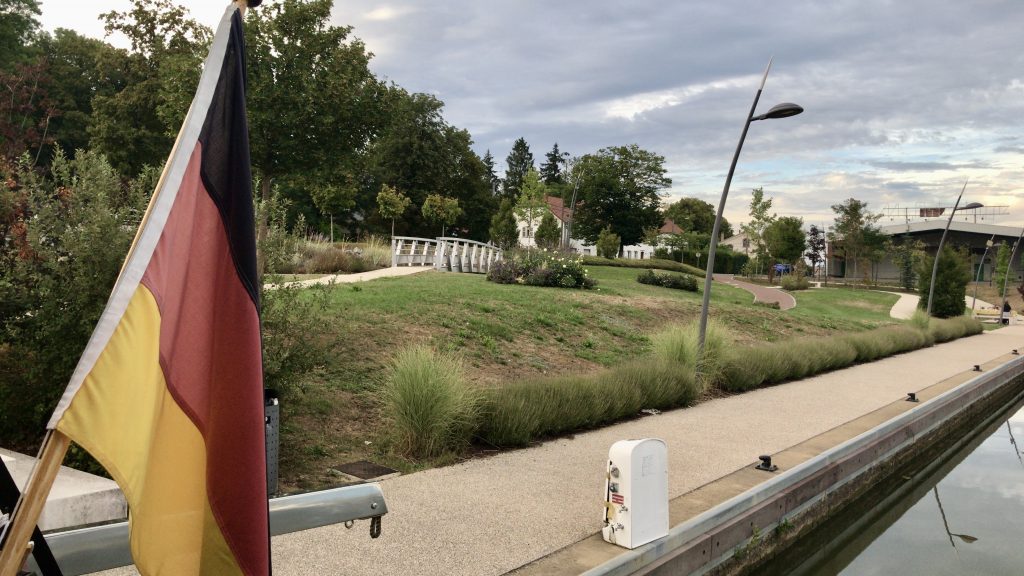 The downtown was so beautiful but mostly deserted!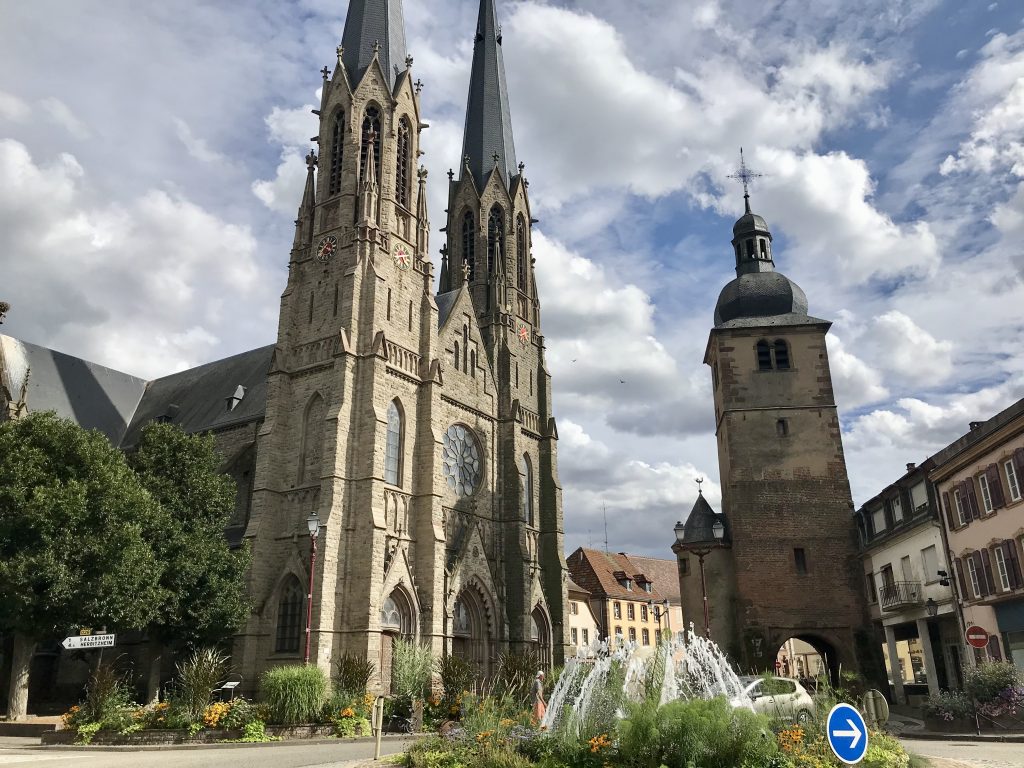 By Thursday afternoon, we arrived in Mittersheim, and as our new mechanic promised, he was there at 5:30 pm to scope out the damage. He was certain he could fix it, but…we needed to get the boat to his waft in Niderviller, another 2 days away. It was there that he had all the tools he needed to weld it back together again. Our appointment was scheduled for Tuesday and it was Thursday so we had plenty of time. We decided to take a bike ride to peek at the canal we would be traveling on for the next couple of days. The last lock we went through was lock 12 so we rode all the way to lock 1. Such cool old Lock-keeper homes! Most were abandoned due to the fact the canal locks were being run remotely.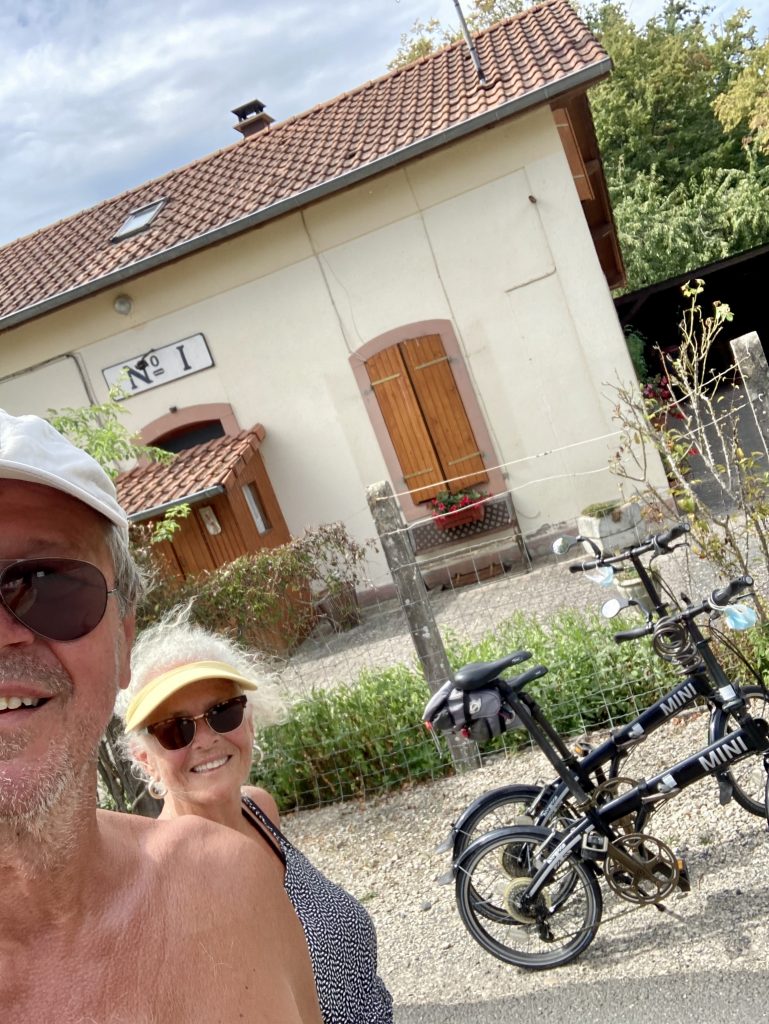 On Saturday we were up and ready to move out but right as we were leaving we had the greatest surprise. A bio meat vendor arrived in the harbor and honked his horn. What a treat. Shopping can be a challenge in some towns and especially in Mittersheim. The only market was the size of a 7/11 Store with the basics! So we stocked up for the journey! A nice two-meal pork loin, two merguez, and two normal sausages…for this last meal Lutz asked what I'd be eating…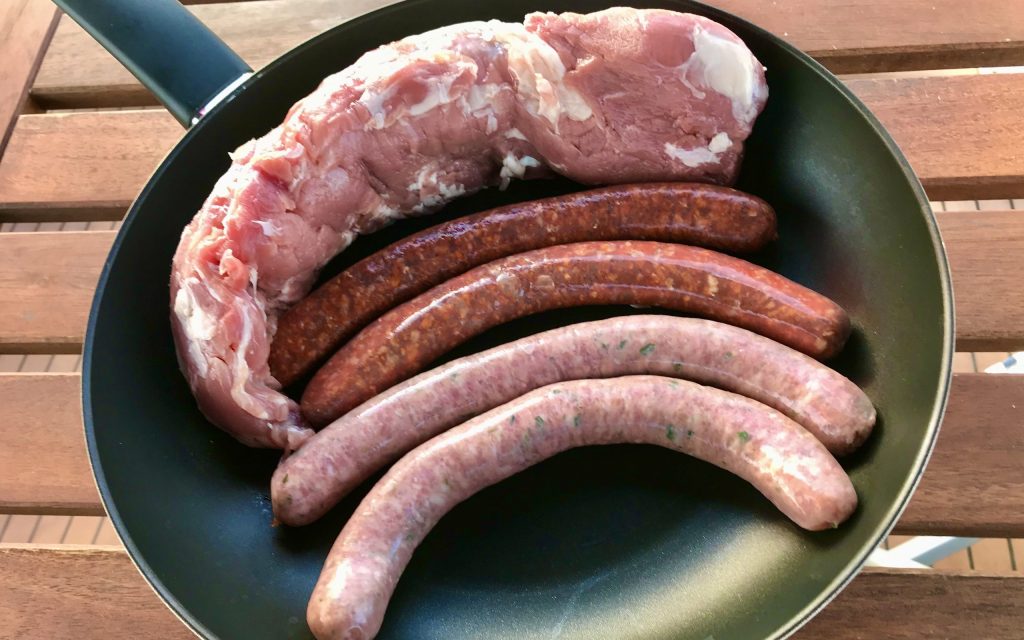 Off we went on Saturday with great weather and feeling positive about our mechanic however, Lutz wanted to make one more adventure! Can you imagine waiting for 3 hours just to ride an elevator? Well, we did it!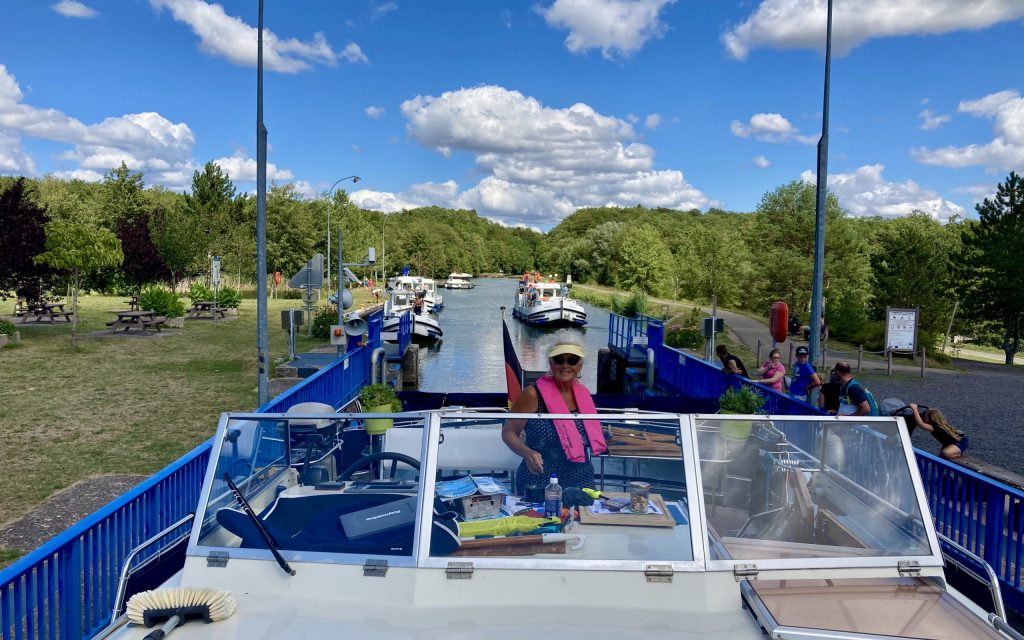 Our small detour led us to a huge 15M high lock.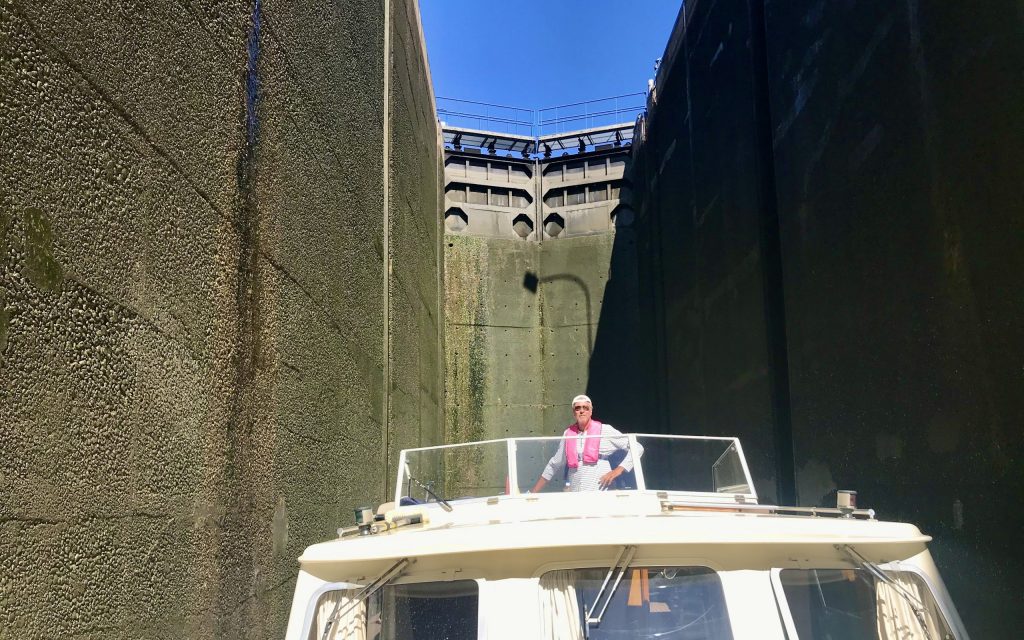 Of course, we had to go down and quickly turn around to go back up! Just for the fun of it. The line down was so long. Apparently, other boaters had the same idea!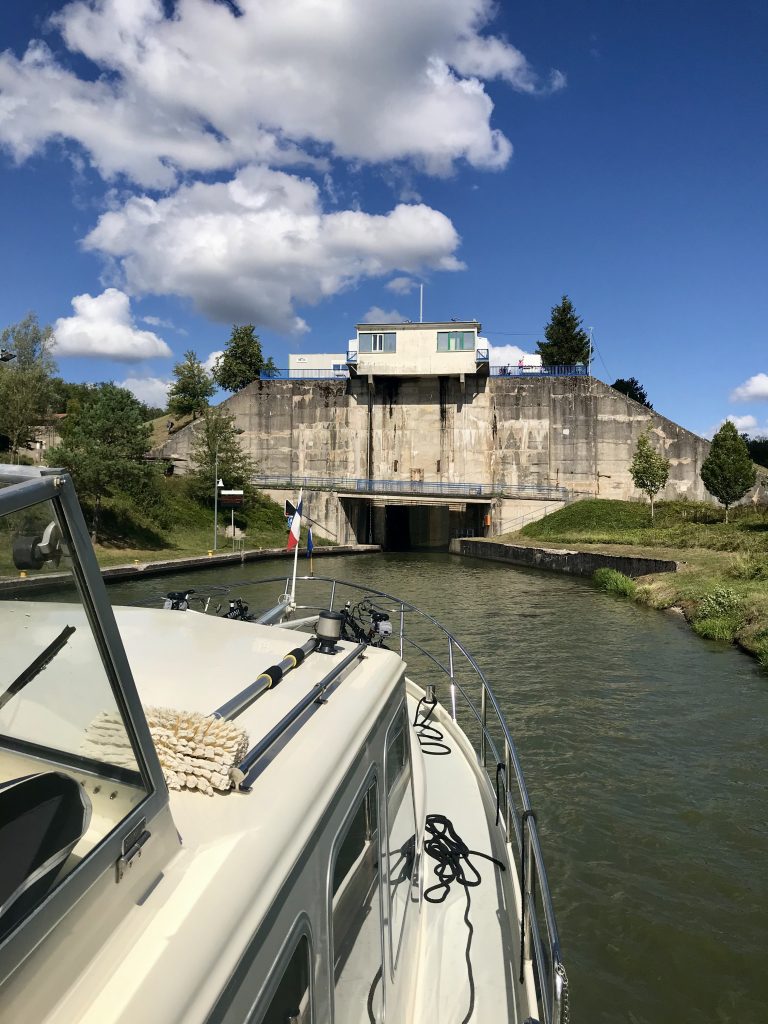 That evening we harbored along the Saar in the wild. Using Lutz's battery-operated pump we did our due diligence and pumped the belly of the boat. It was a peaceful evening and a great meal once again!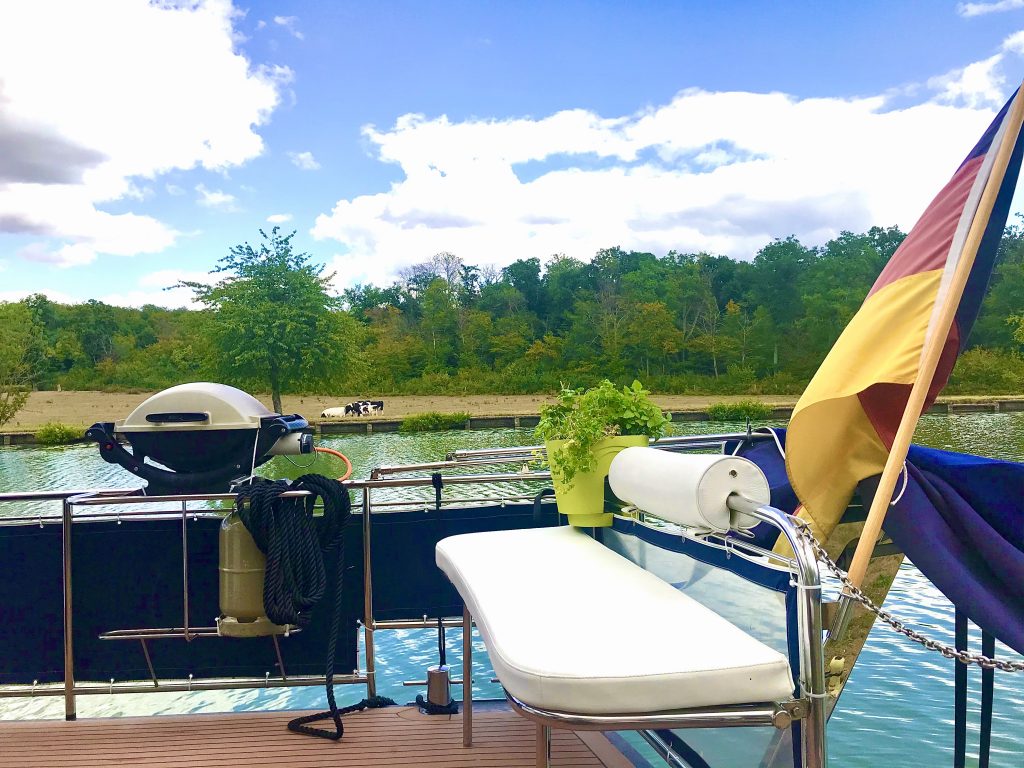 This part of the Saar is considered the Sauerkraut Tour so why not? We had our bio smoked sausages and some lovely German sauerkraut to celebrate. Lutz let me eat one sausage!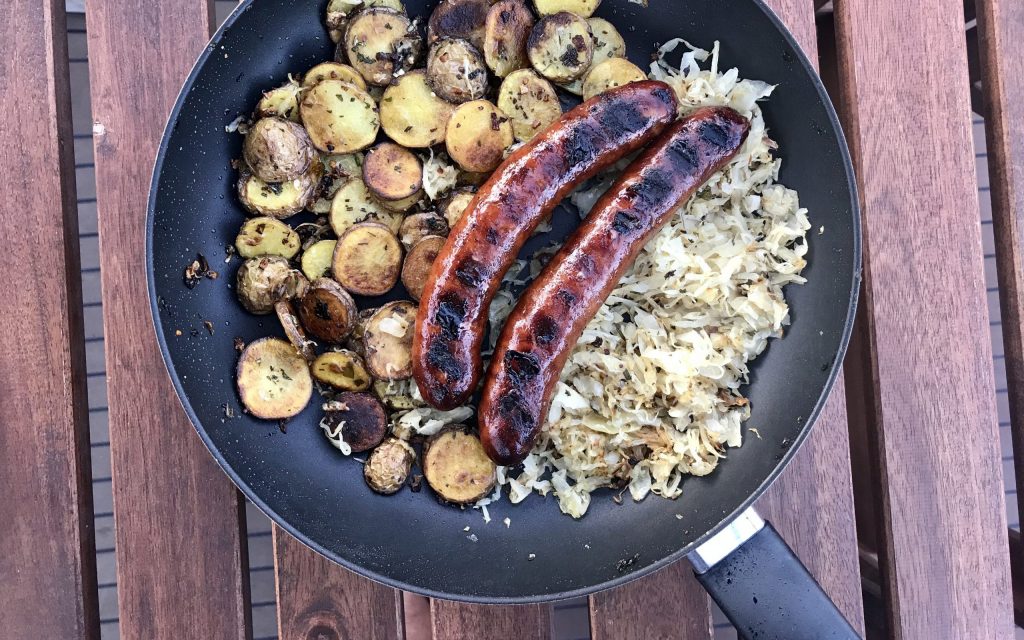 The Saar has some of the most beautiful landscapes along this portion. Just amazing.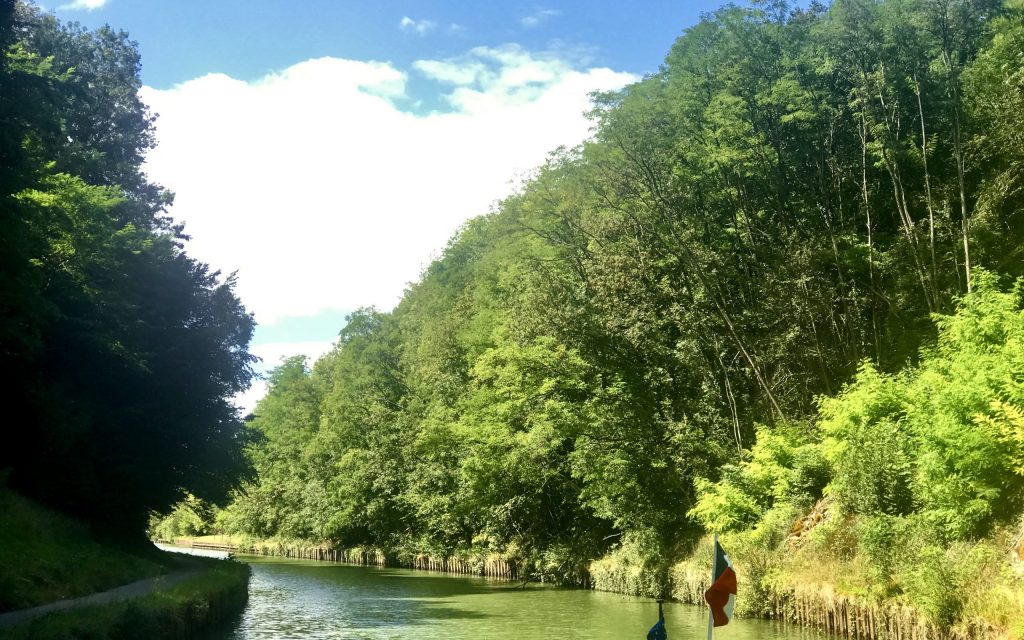 We arrived Monday morning and had time to prep the boat for the all-day work planned for Tuesday. Sure enough, Bernard arrived as planned and set to work…removing the broken part…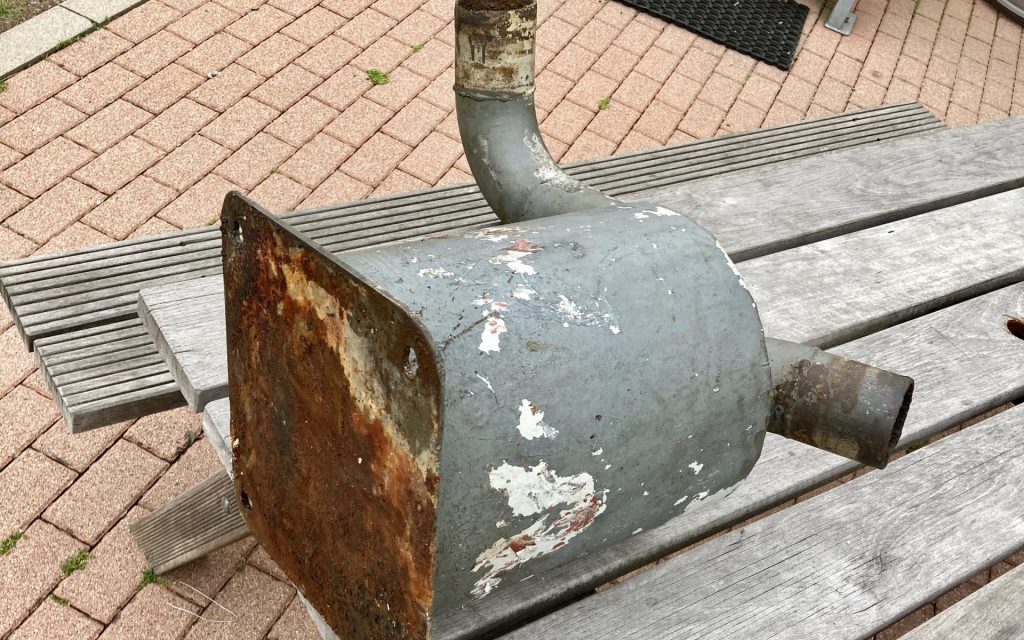 Welded it….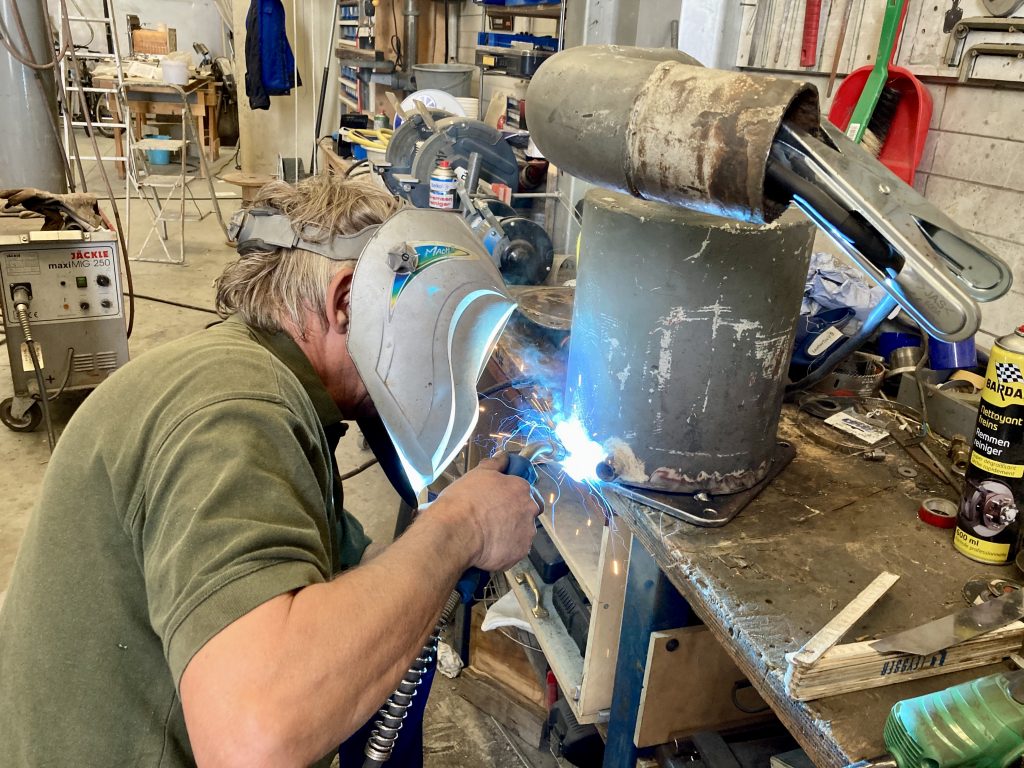 Painted it…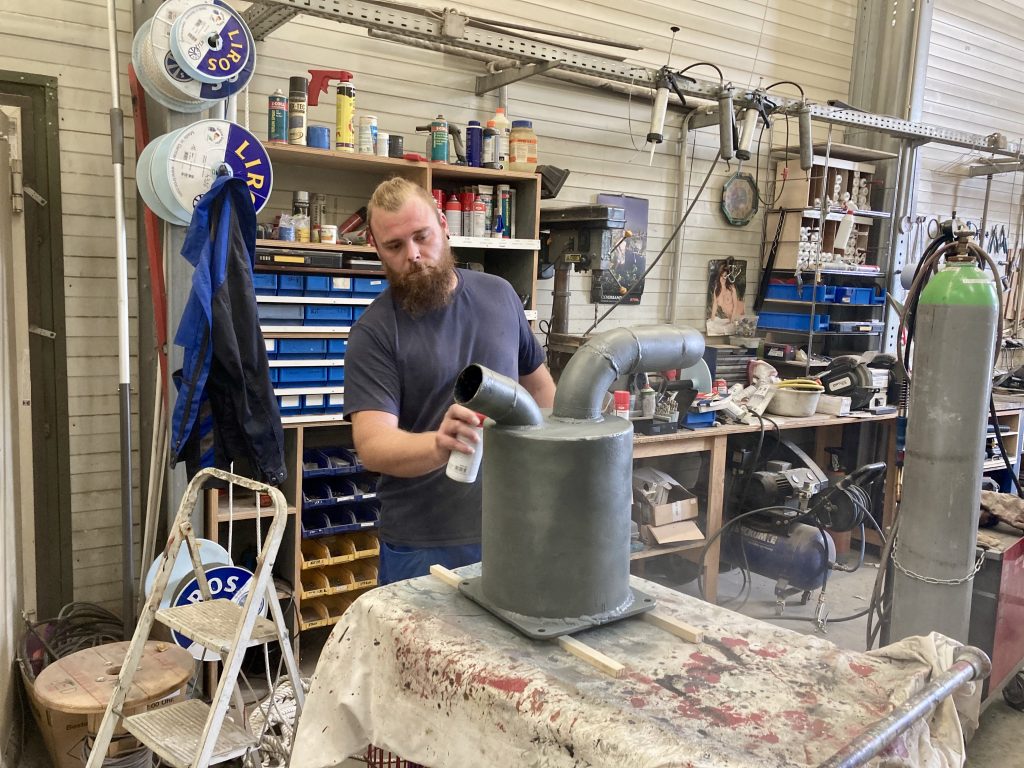 And by 4:30 pm it was back in and running like new. This was such a relief after all we had been through and to think this might have been the end of this year's journey but not yet! By car, we were 1 hour away from our harbor in Kehl, just across the river from Strassbourg so it's count downtime for this season!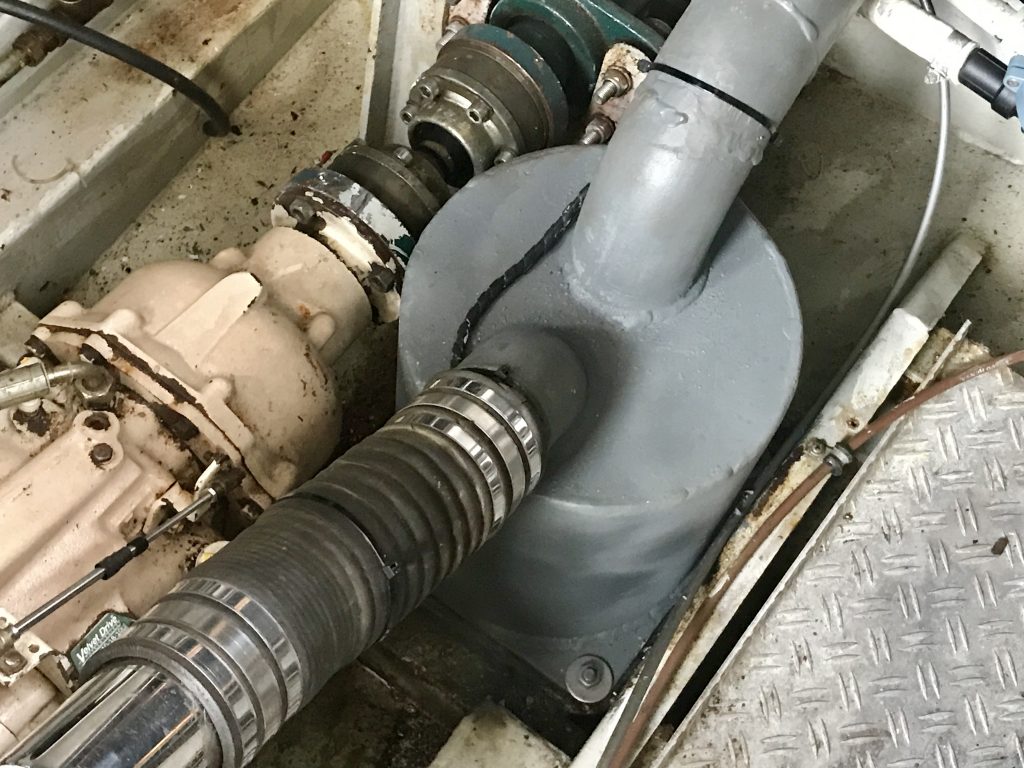 What a day to celebrate! Our journey could continue. Today also happened to be the day Lutz and I met 16 years ago! Now we had two reasons to celebrate so off we went to a nearby restaurant. We splurged on frog legs…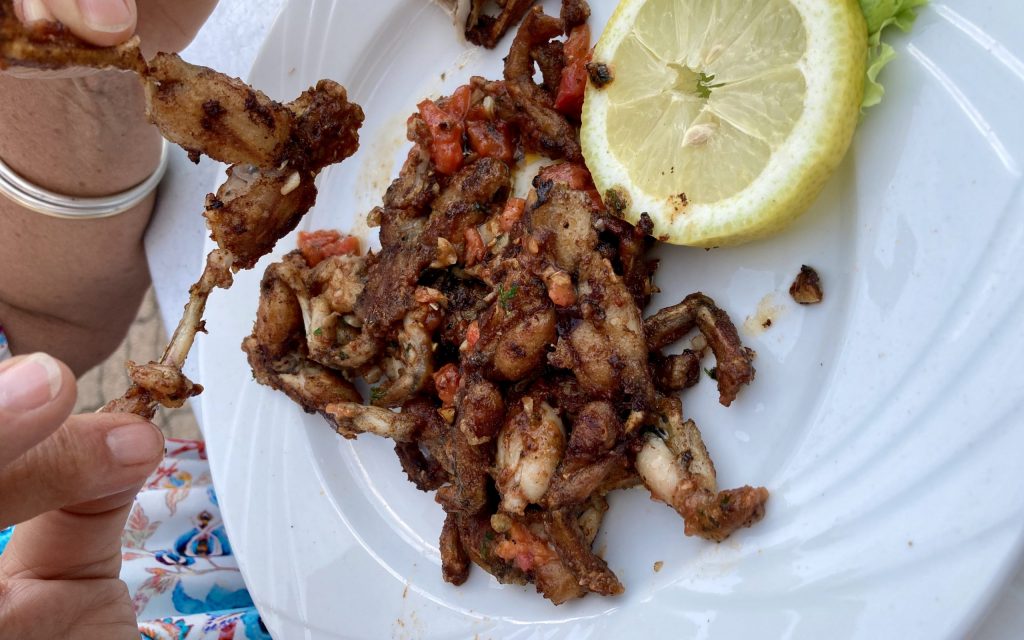 snails…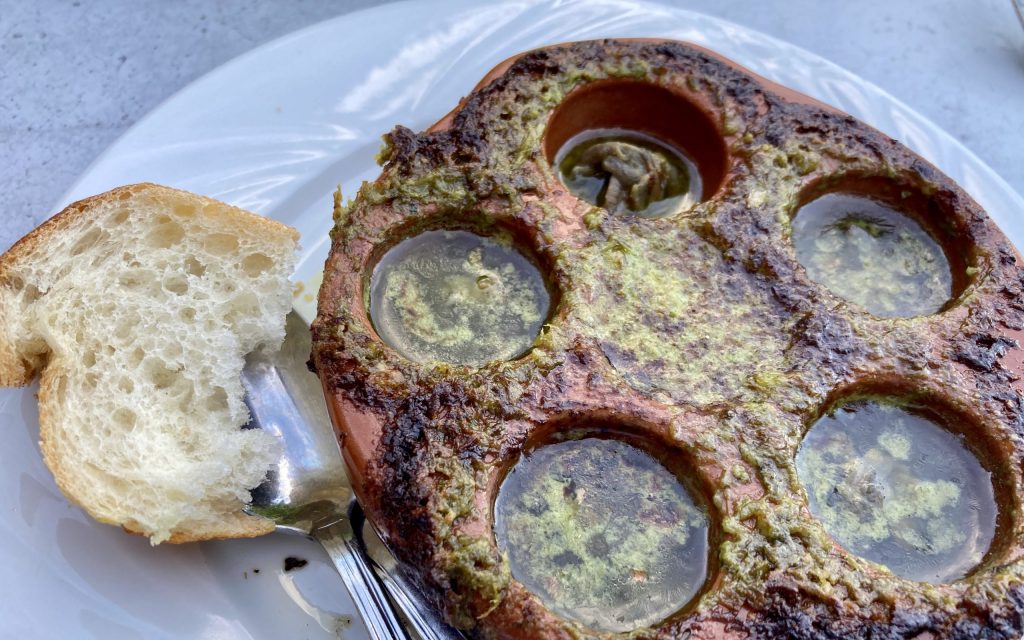 veal, and kidneys (I'm sure you can guess who had the kidneys…Lutz). Oh yeah…French fries….eat your heart out Sara!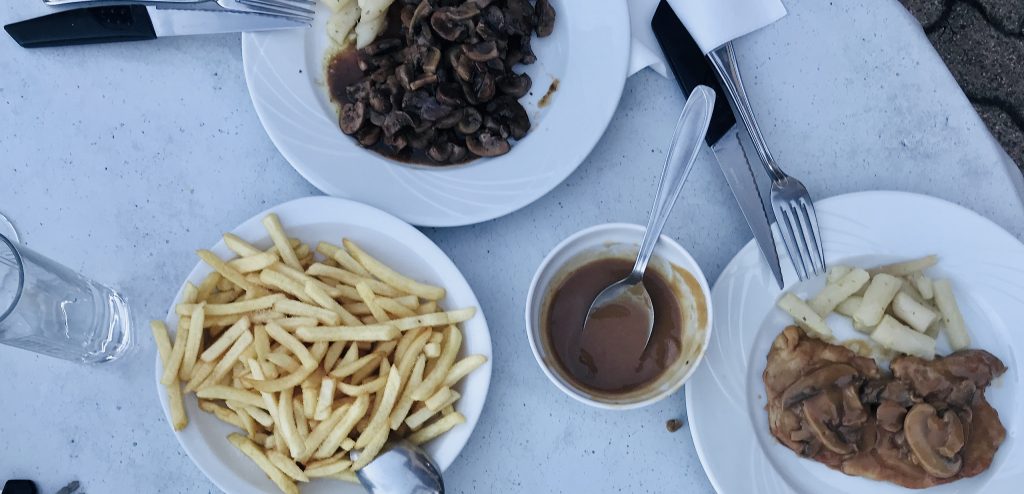 Plus a delicious dessert of Panna Cotta…but, of course, my recipe is much better!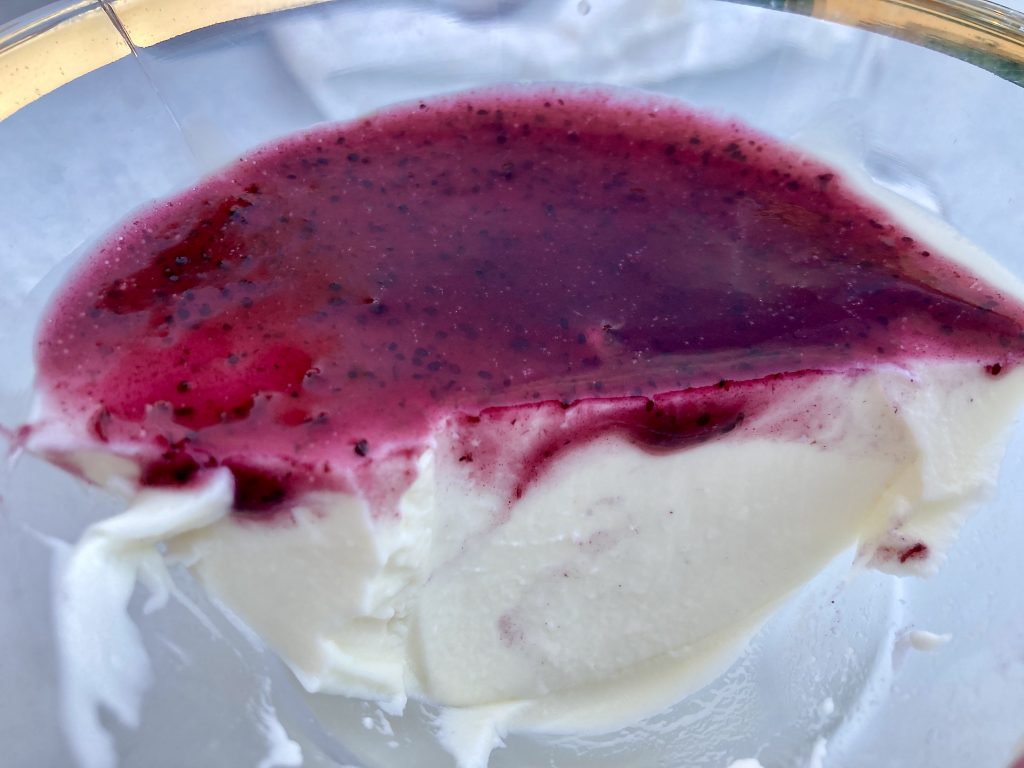 The next day was so windy and this part of the canal is loaded with rented boats with drivers that have a difficult time maneuvering their boats without wind so we decided to hang in the harbor and clean Virus and take care of some business online with wifi that actually works!
With the exhaust repaired and our bellies full we headed out the next morning and followed a slow rental boat loaded with men enjoying a weekend away from home! That evening they invited Lutz to view the soccer game on their boat! I had a nice evening watching a download from Netflix!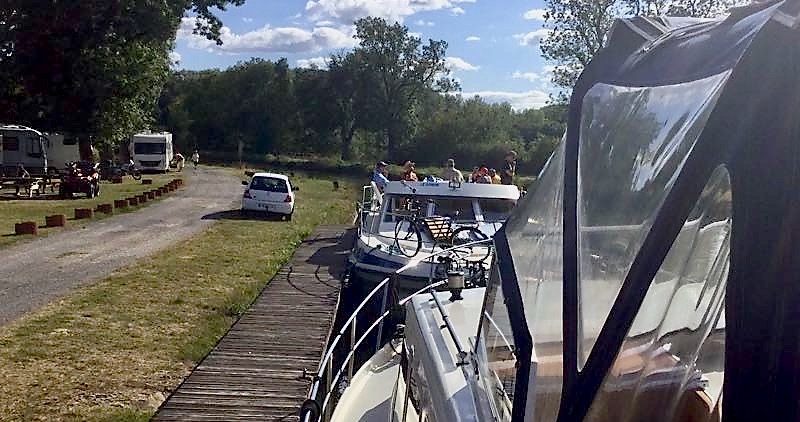 Once again we set our compass for our next day's destination, Saint Louis Arzviller another HUGE elevator for boats. The canal led us through a 500-meter long tunnel and then immediately into another tunnel that was 2.5 km long. This time we had company…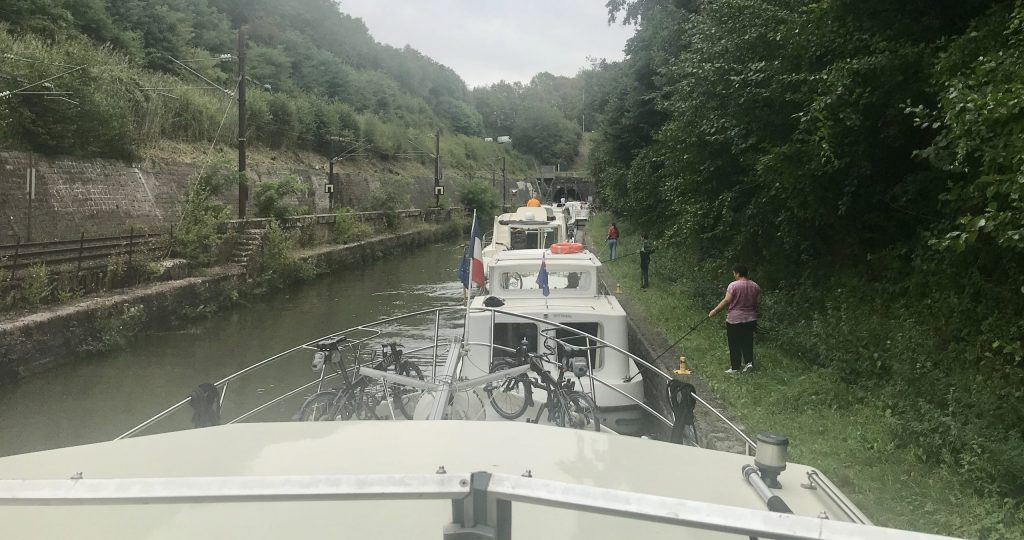 And this time Lutz drove! We made it through with no casualties thankfully!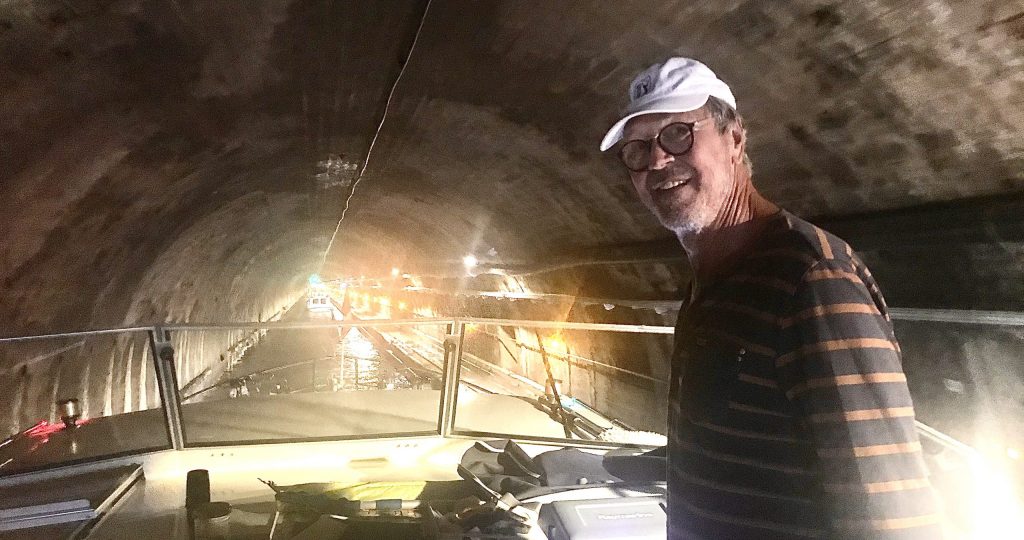 The canal ride to the Arzviller lift was so beautiful. Lush, green, and serene.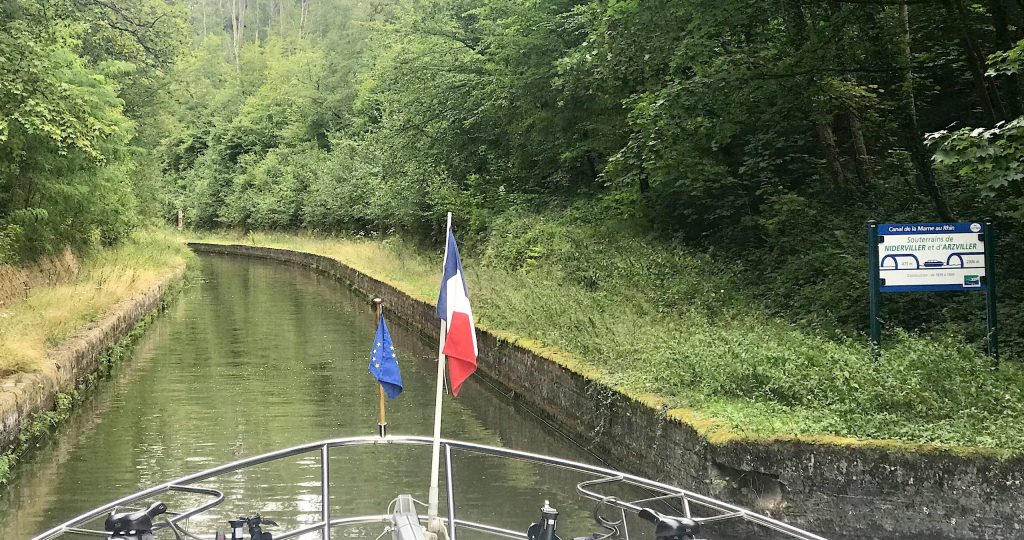 After our tunnel tours and beautiful cruise through the green forest, we made it to the Arzviller lift early afternoon, and no waiting this time. What an impressive machine. It replaced 17 locks and is 47 meters high! As an engineer, Lutz was in heaven!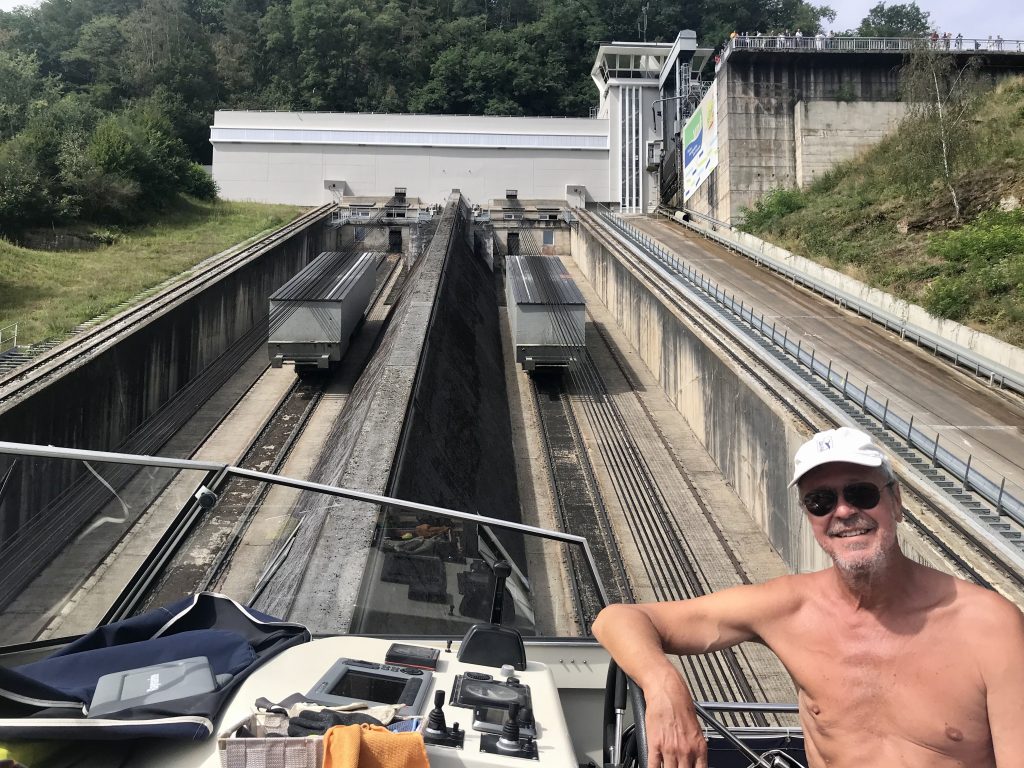 As for me, the whole time down I kept envisioning the cable braking and wondering what I would do!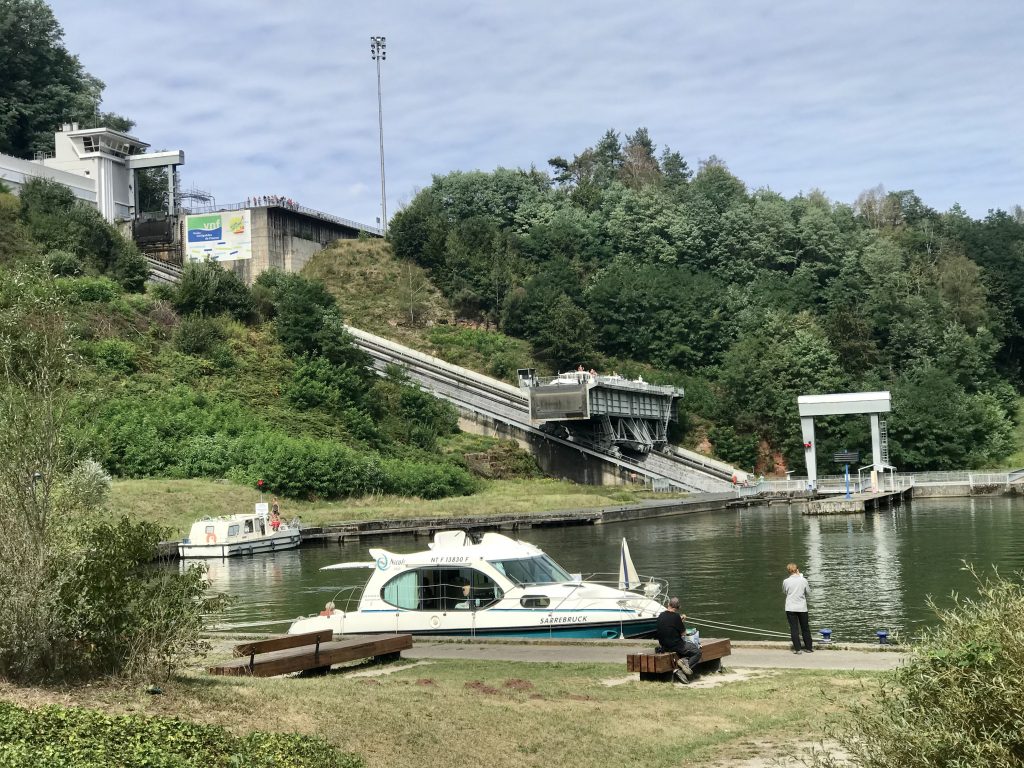 We spent the night at the foot of the lift. Needless to say, I was glad it shut off at 6 PM but the tub was still full of water suspended above our heads! Bright and early we were off to a cool town named Lutzelburg, France. Two restaurants, a drugstore, and a grocery store located in the front of a home and their garage stacked with fresh vegetables from the local farmers. The homes were traditional and still in restored condition.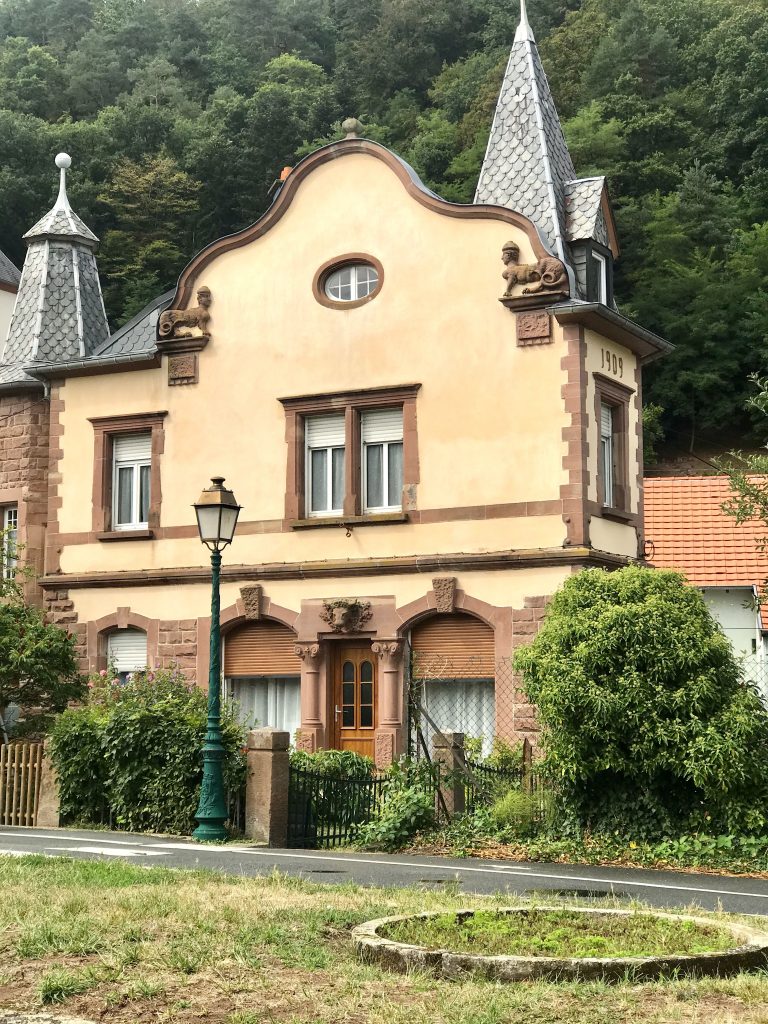 Out harbor was just after the last lock entering this unique town so we got to watch all the rental boat drivers bang the sides of their boats and hit the lock walls. Quite entertaining.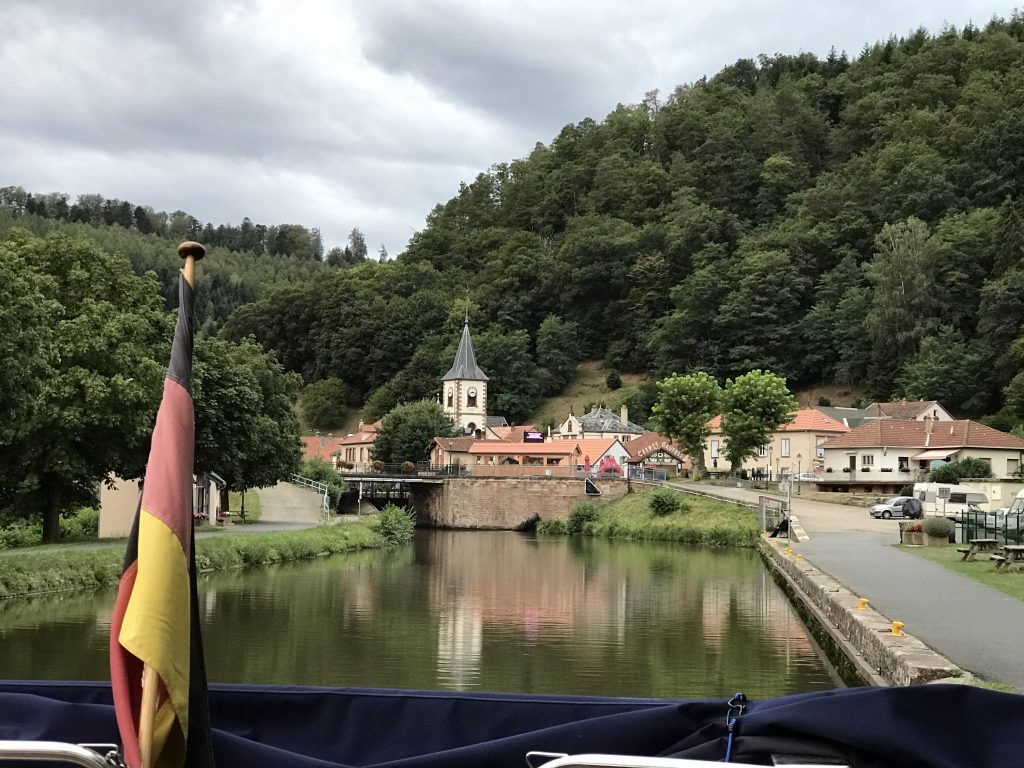 The next morning was filled with rain clouds and we were going to have to take our chances and head out to Saverne, France. This was quite a trip considering we had to travel with the top down since the bridges were way too low for our boat. We made it to Severne in the afternoon without a downpour and were able to take a quick walk through the city. The city center was well-maintained with the beautifully restored architect. We were also surprised to see everyone on the street in masks! Usually, on the streets, people don't wear them so this was nice to know that the virus was taken seriously here.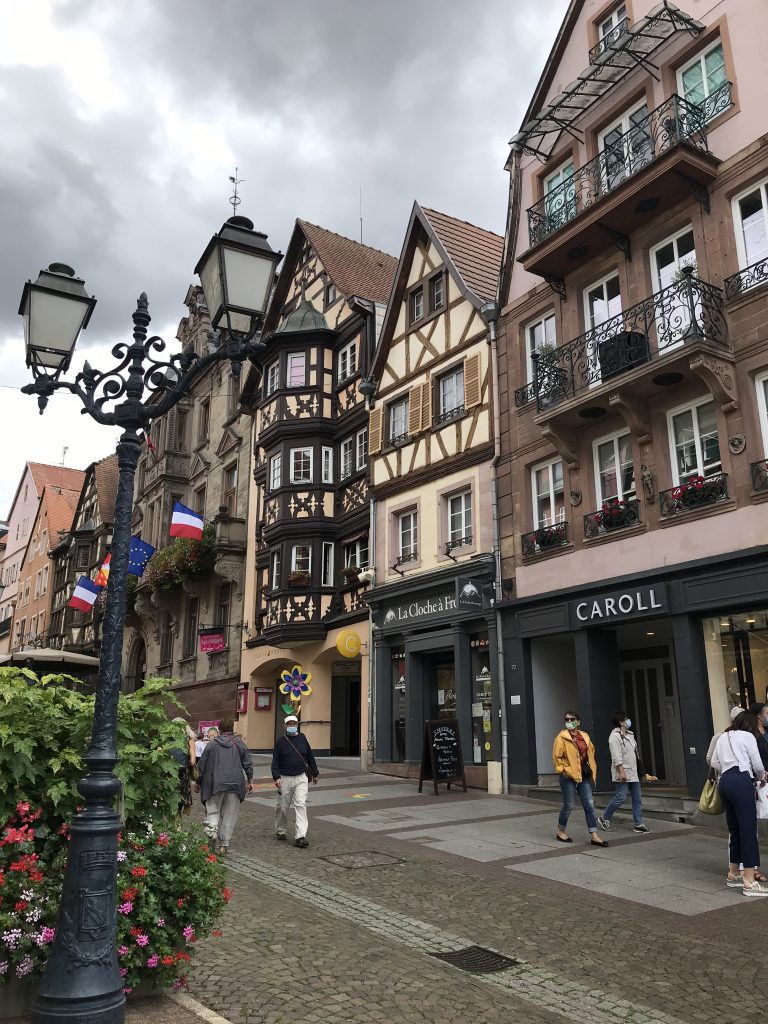 We were in the home stretch! Two more days and we'd be able to lay Virus to rest! The weather decided not to cooperate this day and we traveled in the pouring rain with the top down and our trusty umbrella! I'm driving and Lutz was the umbrella holder.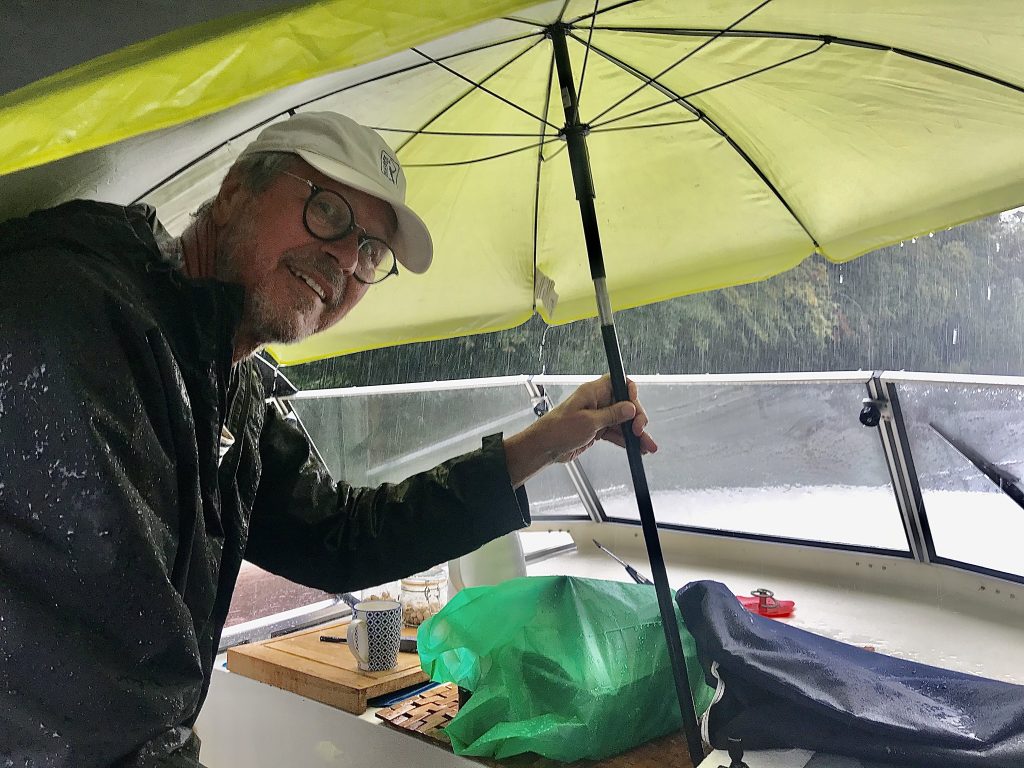 Our last night on the canal was in a very cool spot, Souffelweyersheim, France. In fact, it was so nice we ended up bring Lutz's son Philip and wife, Anne, and their two children back the following weekend. It had a nice shaded lawn area and a beautifully maintained garden and picnic tables.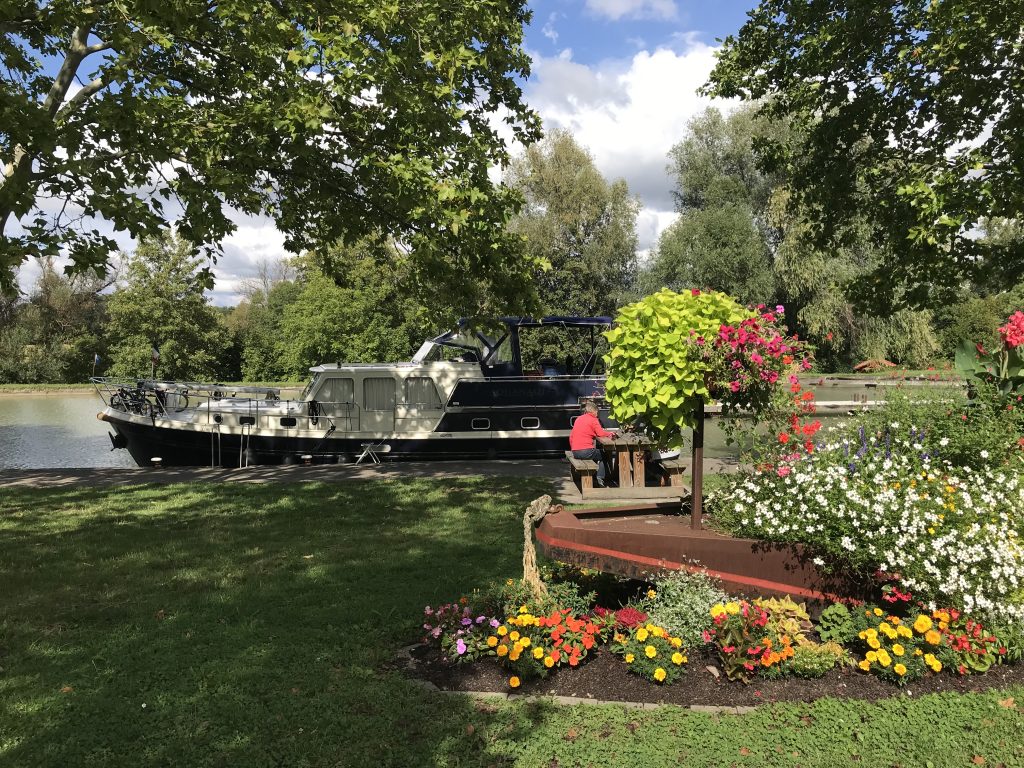 Finally on September 1, 2020, at 3:20 the following day we secured Virus in her final resting spot for the winter in Kehl, Germany. It's across the bridge from Strasbourg and will only be an hour from our new home in Wolfach, Germany. We are so grateful to have come this far and thankful we have such a canal worthy boat!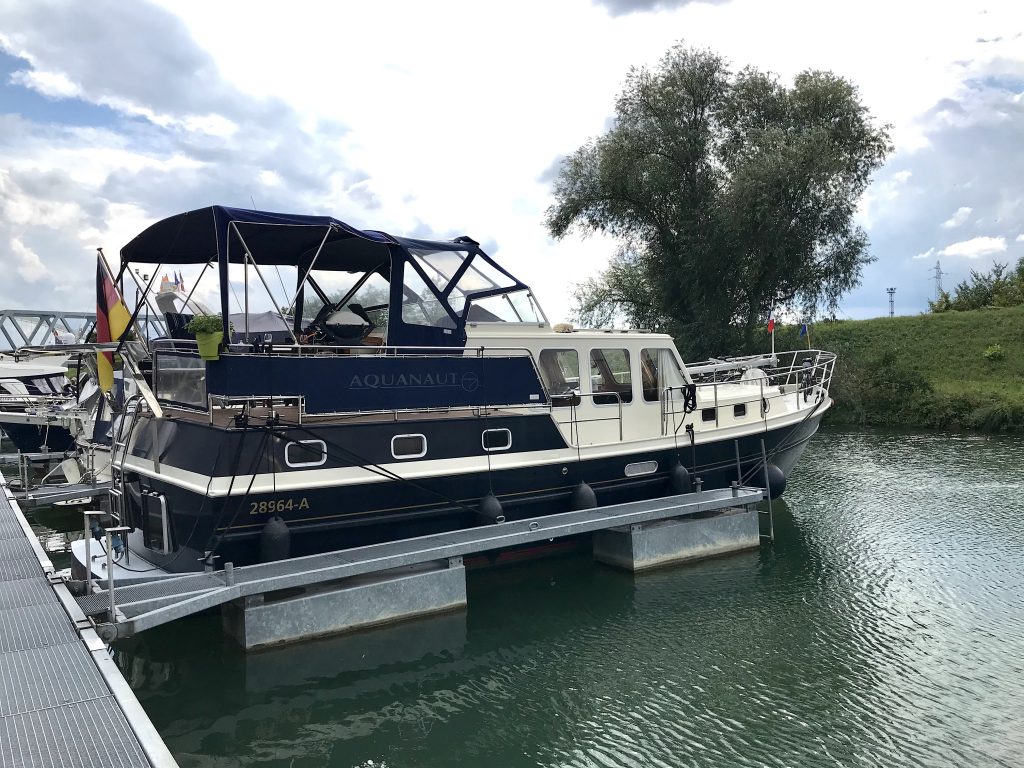 It's been a long and furious ride this season and thanks to all of you for following along. We've been so encouraged by your emails and support! As for our fall RV trip to the USA this year, we've had to cancel it. But that doesn't mean we are sitting at home! I'll keep you posted in October's newsletter what we've been up to so stay tuned!
Until then, create something new each day…try cooking!