My Grandma was from England and taught me to drink pearl tea and eat British biscuits from the tin. I found the right combination to recreate the biscuits, and now I think of her every time I eat one…or two…or three, or, well, you get the picture. They are so yummy. Here you go, get the kettle on and curl up with a nice warm tea and a warm almond biscuit.  You can also make them grain-free by using cassava flour instead of rice flour.
NUT'N BUTTER THAN ALMOND COOKIES
March 13, 2016
: 12 cookies
: 10 min
: 10 min
: 50 min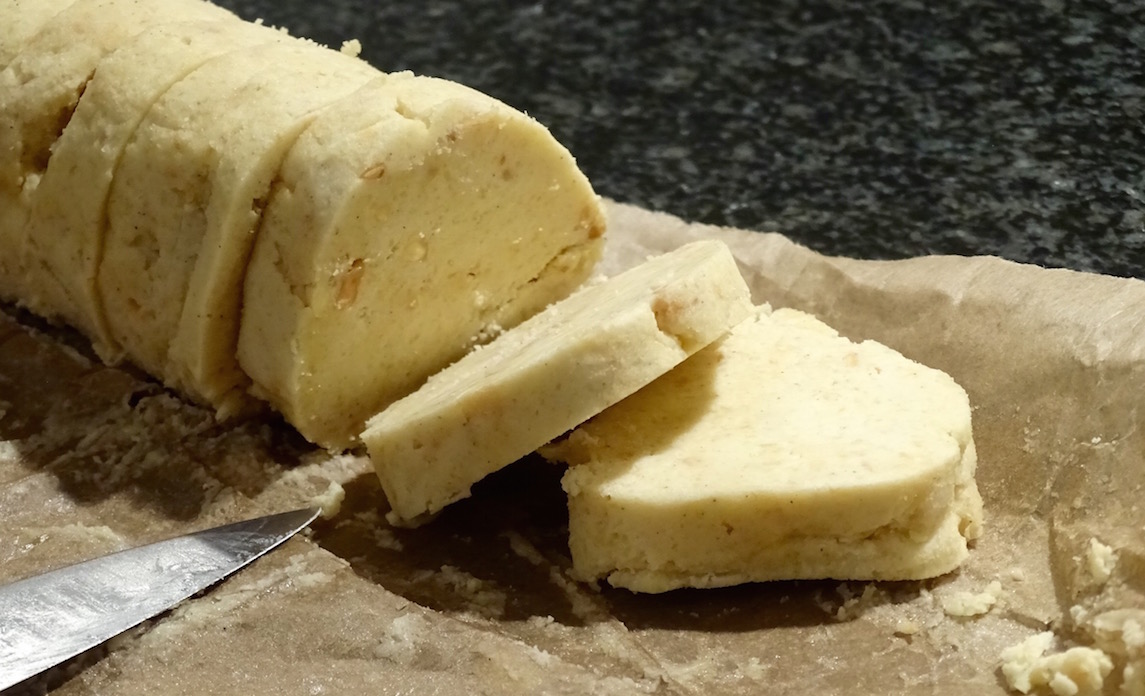 Ingredients
3/4 cup organic butter
1/3 cup pure maple syrup
1 tsp pure vanilla
1 cup almond flour
2/3 cup brown rice flour or cassava flour
2/3 cup cornstarch
1/2 tsp Himalayan salt
1/2 tsp cardamom
1/4 cup chopped toasted almonds
Directions
Step 1

Heat oven to 325 degrees

Step 2

Cream together butter, maple syrup, vanilla, and egg in a large bowl.

Step 3

In a small bowl whisk together the dry ingredients. I use a fork to mix it up.

Step 4

Slowly add the dry ingredients to the wet and beat well for about 3 to 4 minutes. I use a mixer here, but hand mixing will do as well.

Step 5

Place the dough on a sheet of baking paper. Form the dough into a long tube about 3″ round and about 8 inches long. Place the dough in the freezer while you clean up. About 10 minutes.

Step 6

Line a cookie sheet with a sheet of baking paper. Take the dough out of the freezer and peel the paper off. Slice into cookies about 1/4 thick. Place on a baking paper-lined cookie sheet. I press a few toasted almonds on the top before putting in the oven!

Step 7

Cook in the oven for 10 – 15 minutes or until the edges turn brown.

Step 8

Remove from the cookie sheet and cool completely before eating.

Step 9

These will keep forever in the freezer. Pop them in the toaster oven to warm them up, and they will taste like you just baked them, or just set them out for about 30 minutes. If you keep them out, do not seal them in an airtight container, or they will become moist. Leave the lid cracked! I never seem to have them out very long…they are always gobbled up!