OK, well I haven't quite stopped cooking altogether it's just that I'm back and we've been on the go ever since we've returned from the USA. April we're taking off for a month long road trip. How to eat "sweet" (clean, not sugar) on the streets while traveling in Europe is my new move!
We got home from one rainy country to another safe and sound but then we were off again! It seems like the months of March and April I won't be doing much cooking. If I do get the chance to cook at home then it will definitely be something from my website. Maybe one of my yummy soups or one of my super grill dinners. At least I know what I'm eating!
I've decided that March and April's posts will be pictures of legal (ok, legal-ish) foods I eat while traveling. I know many of my subscribers travel a bit and this might help when ordering or locating good restaurants. Plus I'll make sure to share the name of the restaurant and address so if you're in the area you can stop by!
So let's begin!
Coming home was wonderful but not to an empty cupboard! Of course, the closest place to find fresh healthy food was our favorite Vietnam place, Saigon Bistro located at Eisenbahnstraße 68A, 67655 Kaiserslautern. I failed to bring my camera but here's what I ate! Yes, I did eat rice but next time I'll ask for more veggies. At home, I make my own Tapioca Spring Rolls and  Tom Kha Gai with cauliflower rice. They have changed hands so…was a little different from the original owners.
Bright and early Saturday morning we were off to the open market for some fresh goodies. Our favorite organic veggie farmer was there as well as our favorite meat stand Doug's Farm. I got my fresh chicken for an Italian crockpot dish I'll post later. And stopped at the Asian store from some coconut cream milk! You never know when you'll need it.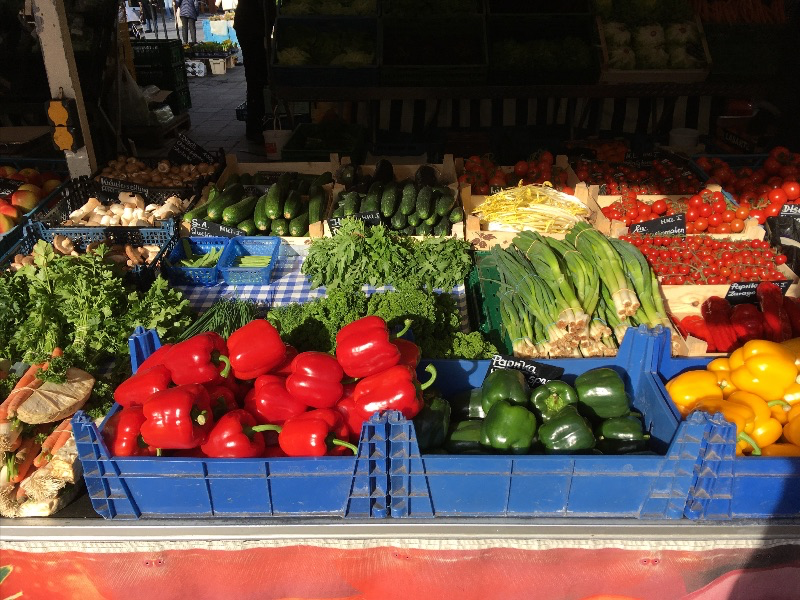 Then Off we went to the Black Forest to check out the Fastnacht events in Wolfach.  If you've never been to the Black Forest to share this wonderful century-old tradition in chasing the winter away you have got to go one day. It is so full of culture, history and amazing craftsmanship of masks carved from wood. Truly a must see! The parade of Kaffee Tante (Coffee Aunts) was led by a band of drumming chef's as they hurried for mid-day coffee.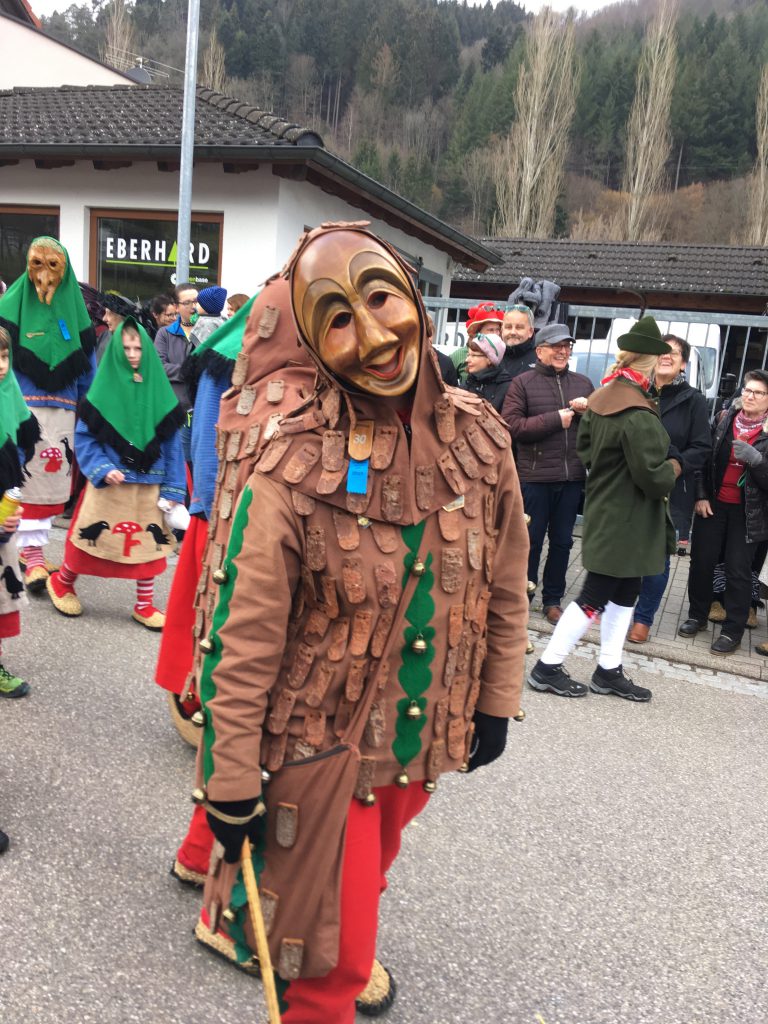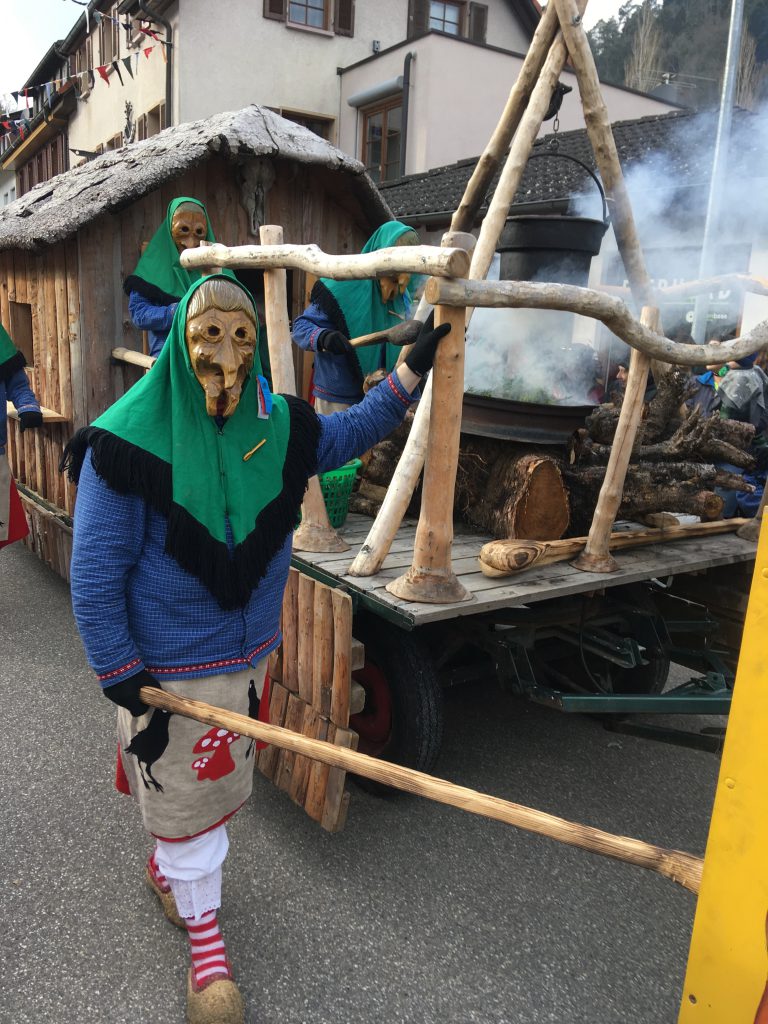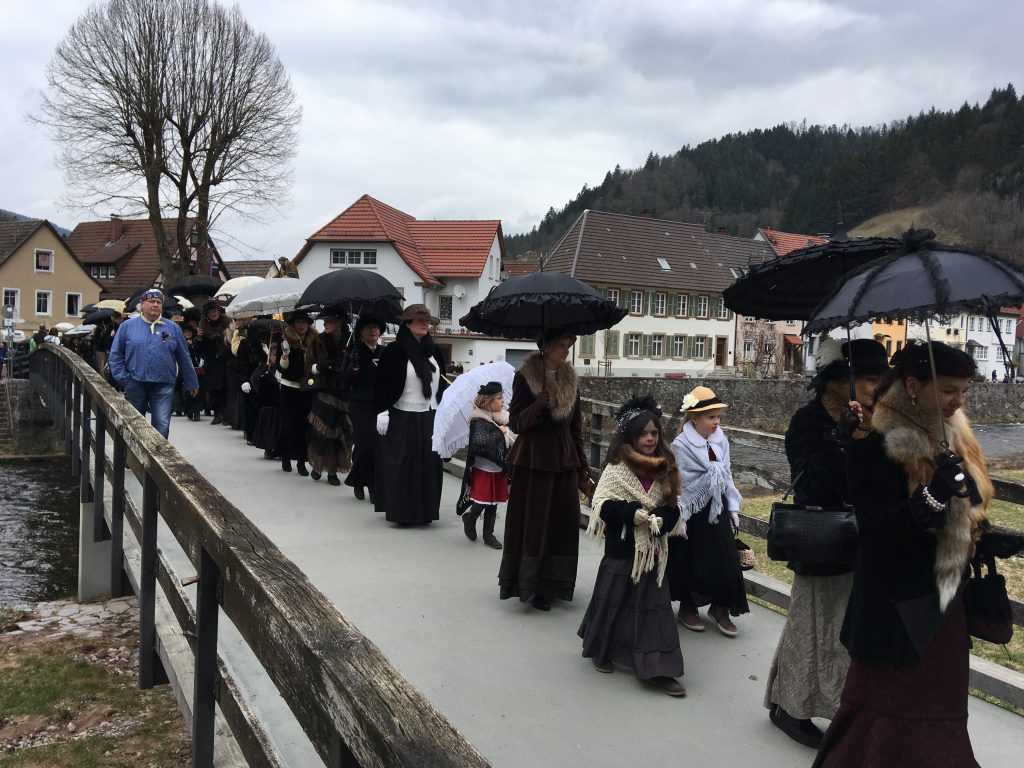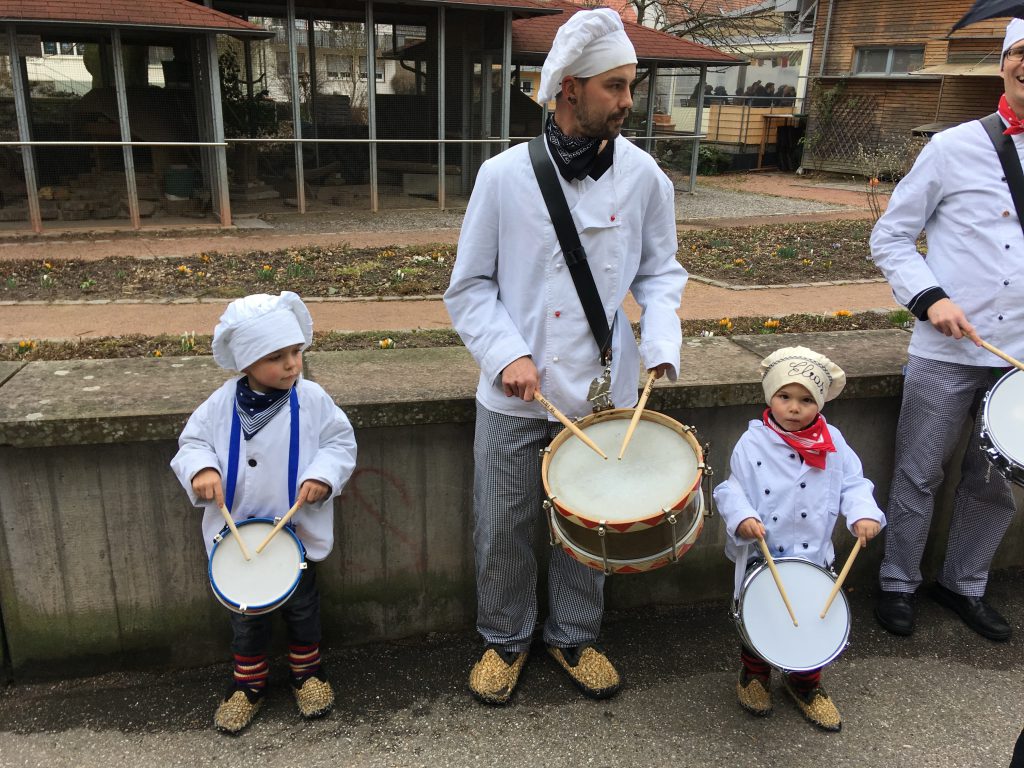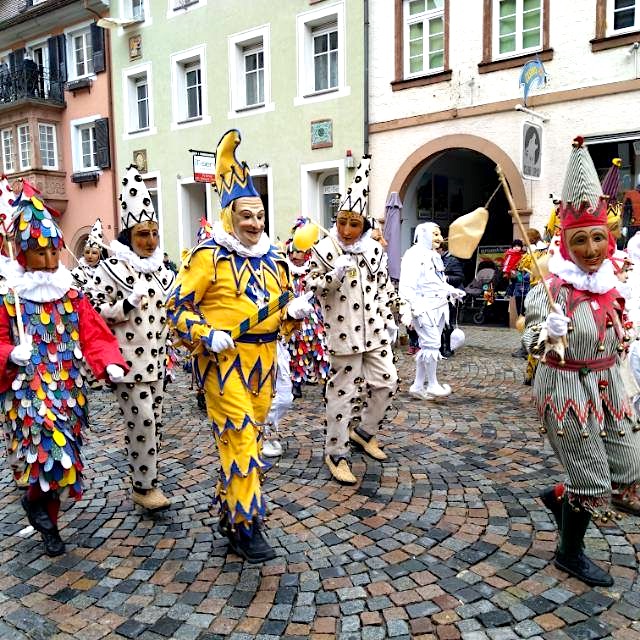 While in Wolfach we spent one evening at our favorite restaurant, The Hotel zum Hecht located at Hauptstraße 51, 77709. This unique treasure has been here and in the same family for generations. Lutz's father frequented this quaint restaurant as a young man and throughout his life. The chef is AMAZING and I strongly recommend reservations. The lighting was low so the pictures do not do justice but the taste, flavors, and presentation are top notch. 
We started with a Cream Lemon Chili Ginger Soup with Fowl.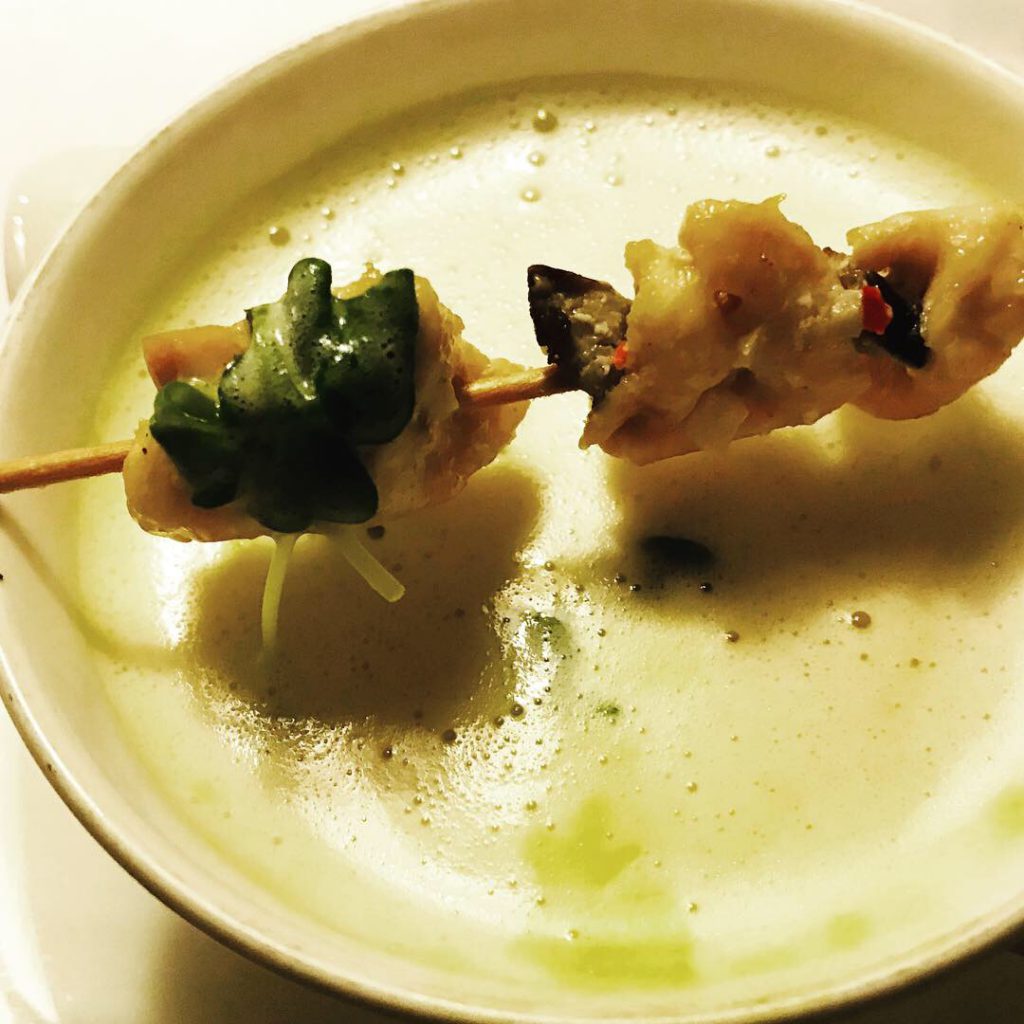 This was followed by Asparagus Risotto with Fresh Grilled Fish & Shrimp.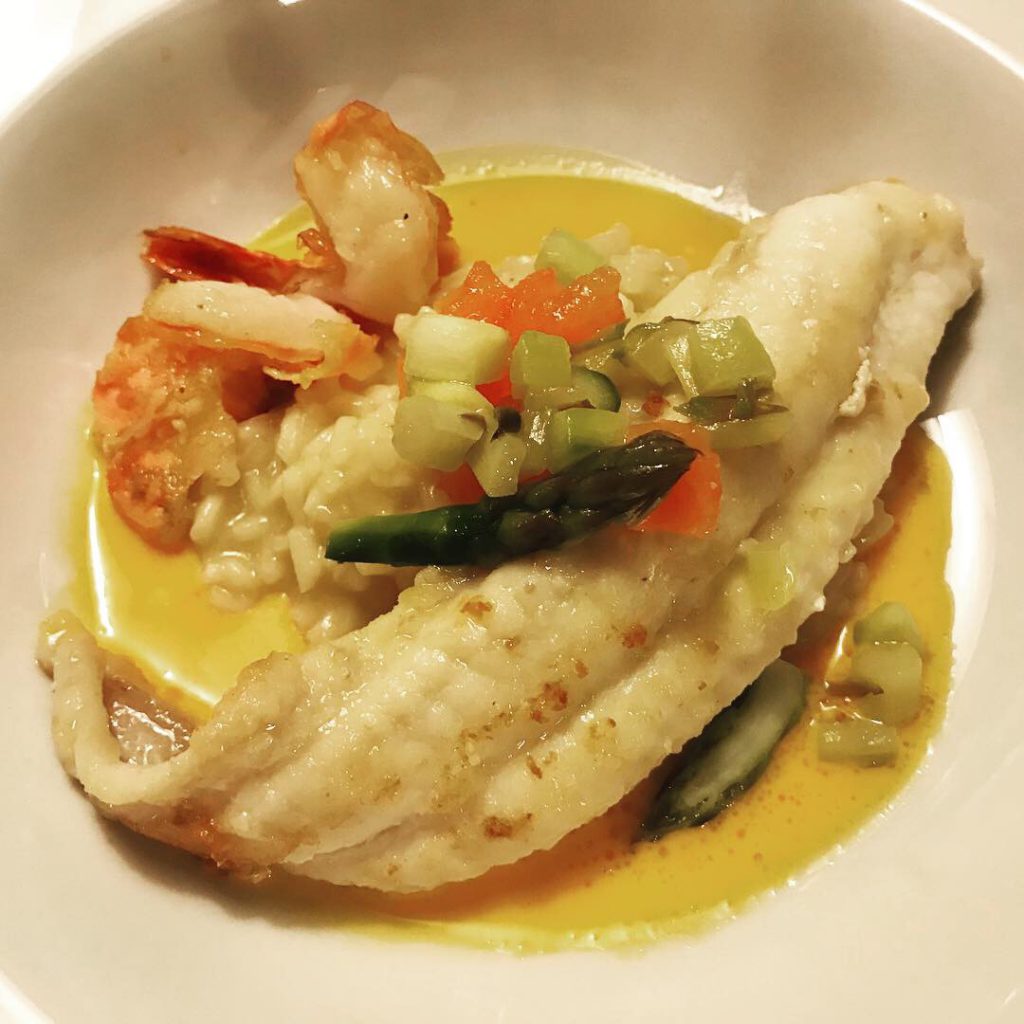 Then arrived a Lemon Sorbet with Mint & Vodka.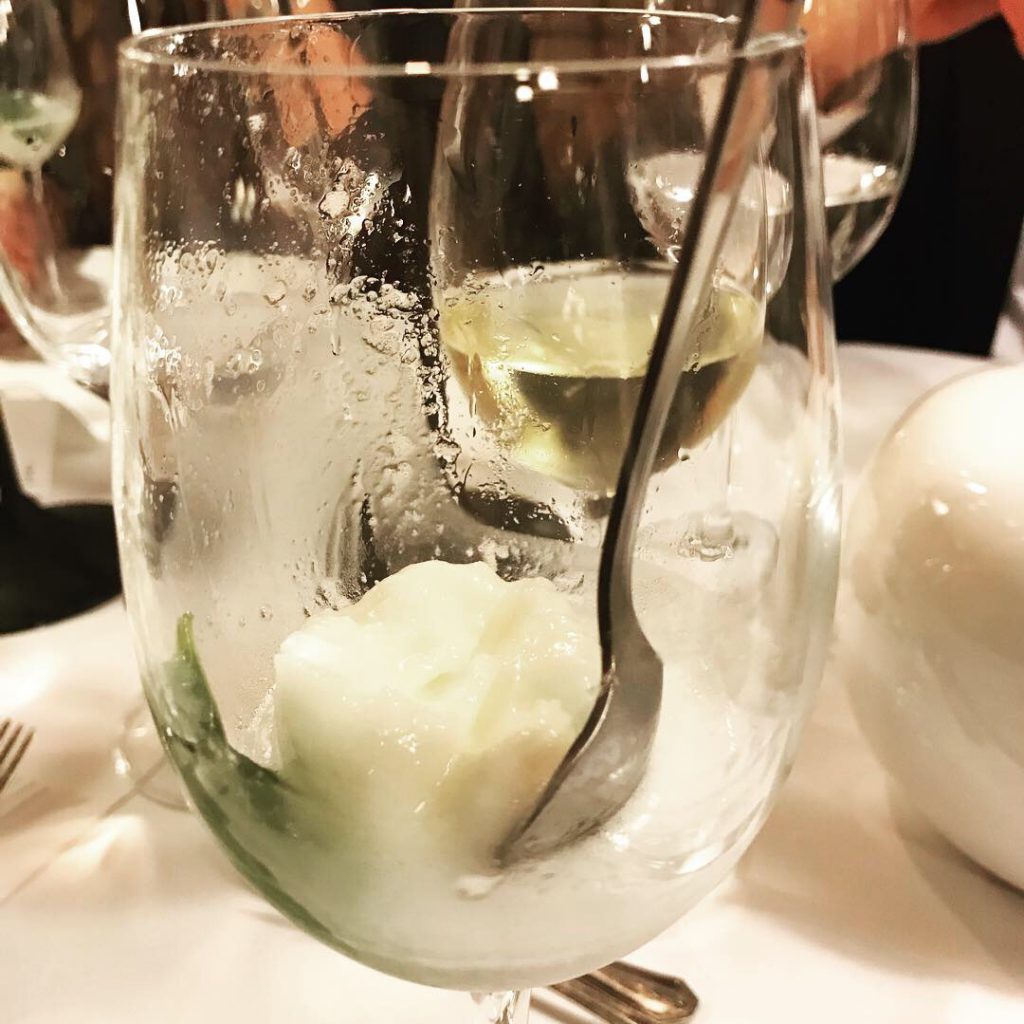 The main meal was Roasted Local Veal, Pea Puree, Brussel Sprout and Creamed Potatoes, Red Onion Chutney.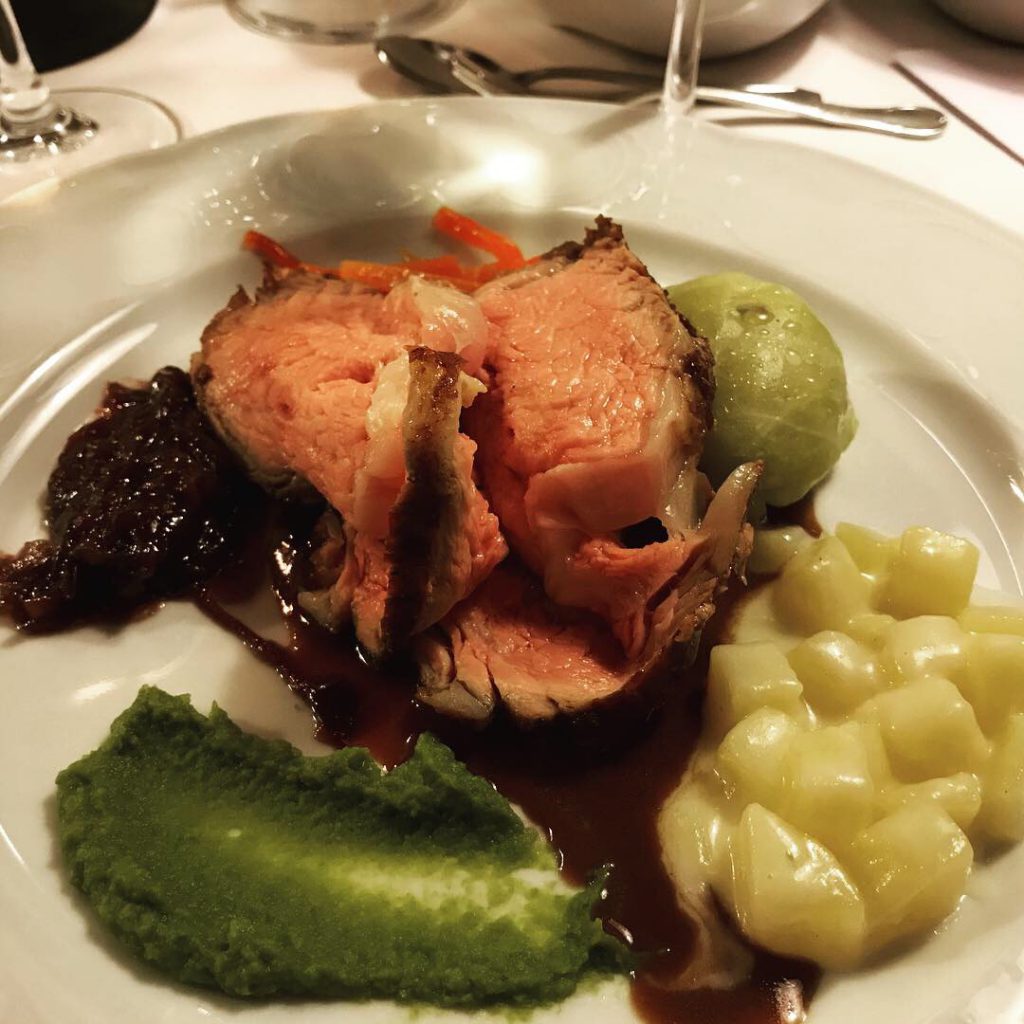 Ending with an amazing dessert of Chocolate and Vanilla Panna Cotta/Mousse, Cream Catalan and Orange Salad.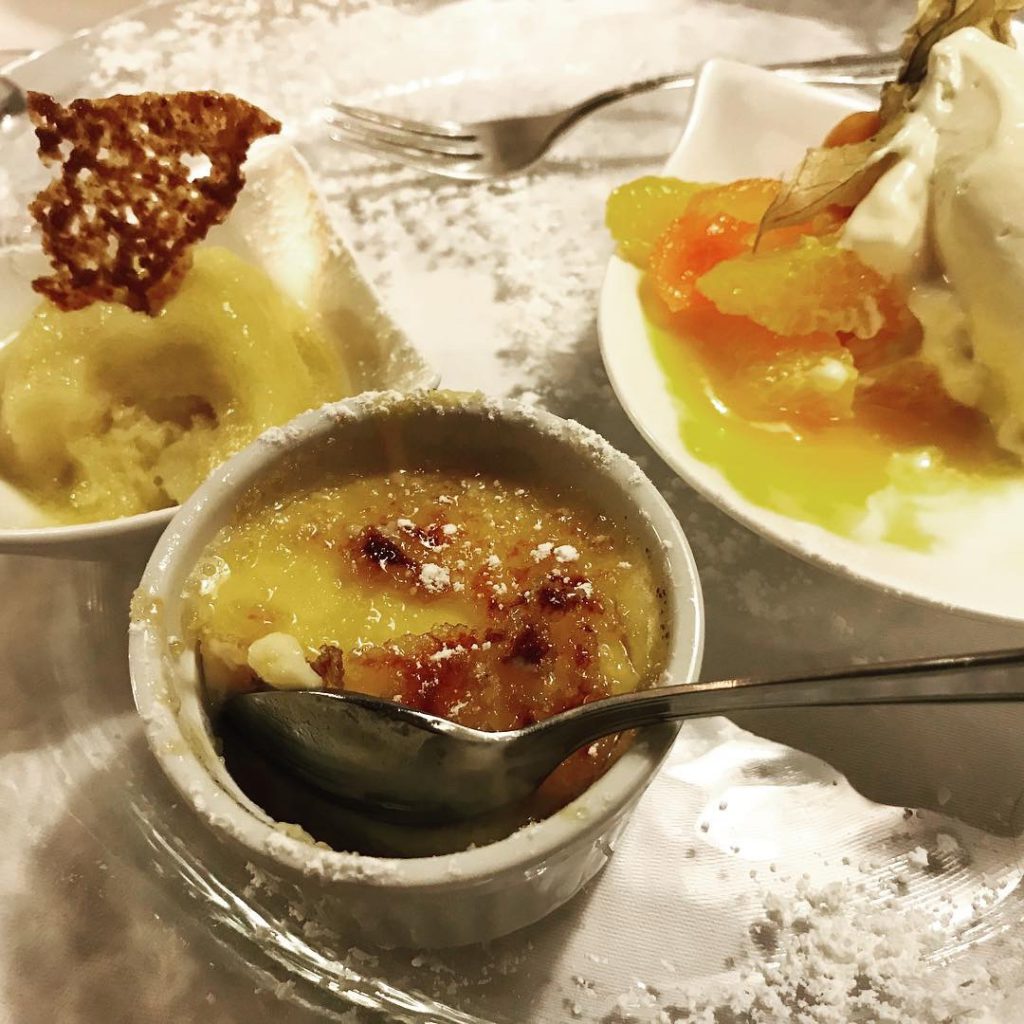 So need I say more? This meal was amazing and at least I avoided gluten…as far as dairy, well don't get the creamed potatoes or the desserts!
We made a day trip to visit Elli, Lutz's late cousin's wife in Bigen. We headed out for a mid-day lunch at one of Elli's favorite spots, the Zum geschwollenen Herz (The swollen heart). It's located at: Vorstadt 21 55411 Bingen am Rhein Germany. They do have a website in German and English with amazing prices.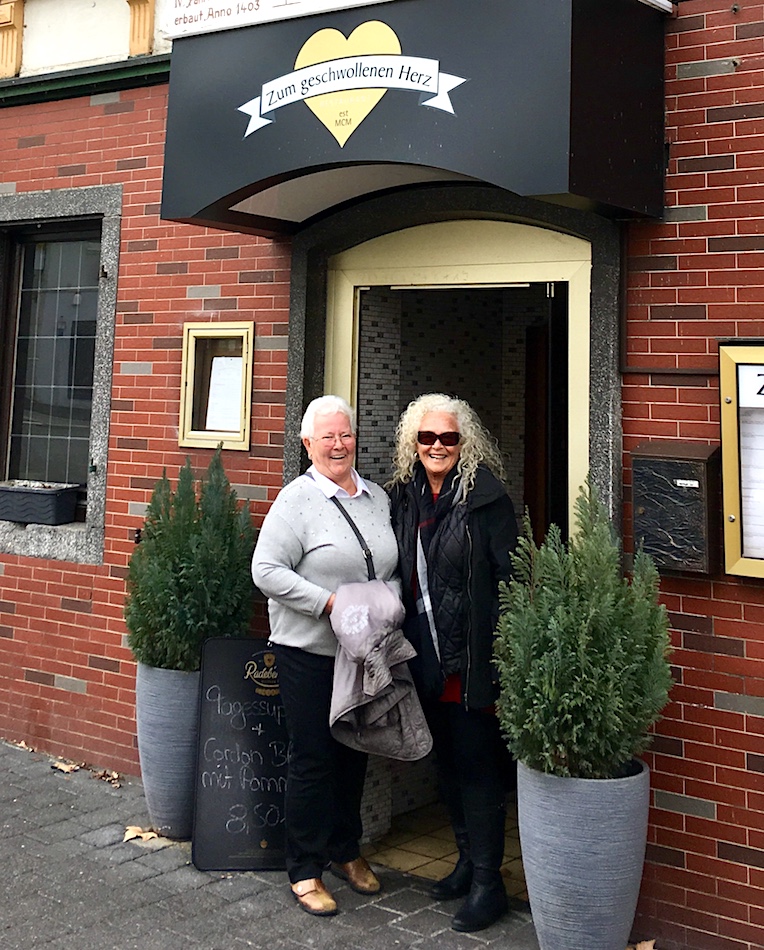 This little local place has been around for centuries. It feels so strange to be eating in an establishment like this. I always wonder who sat in my seat hundreds of years ago? Apparently, it was the local pub where the tanker and ship captains would come to tell their stories. I suggest reservations. The place was packed by 1 pm. My meal was a no brainer and one I LOVE any time and any day. Feldsalad (field salad) with beef stips and potato bacon dressing! Lutz was quick to decide for the deer meat special with potato dumplings or what we call knoedels. Not only was this delicious but the prices were so great for such a large meal! They have daily specials as well.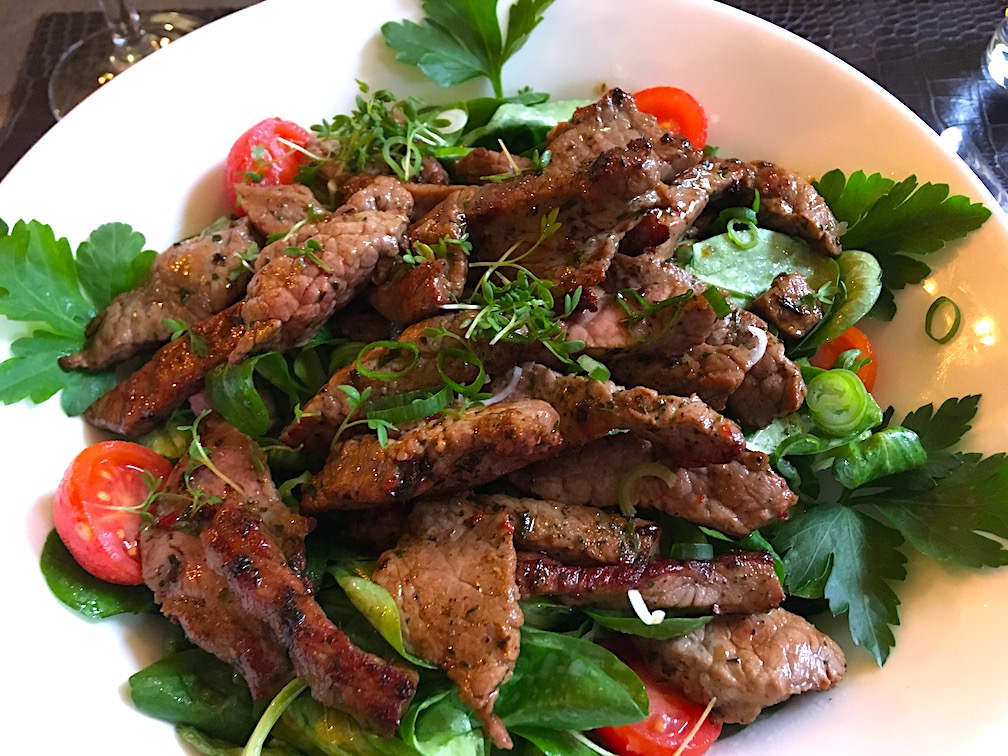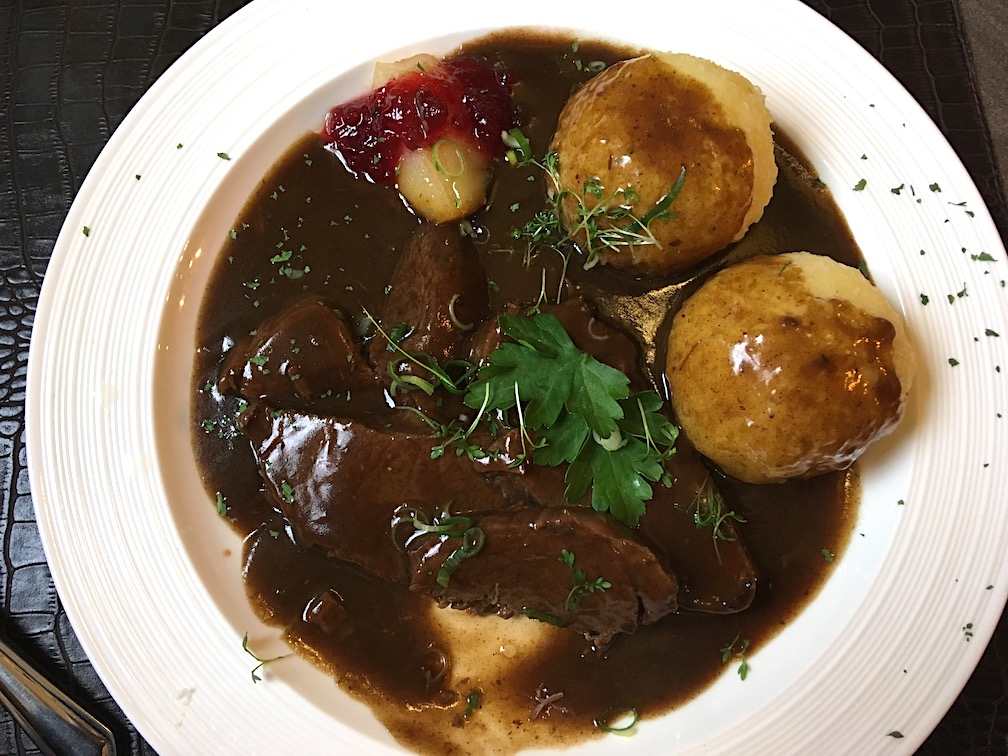 Oh, let's go back to the Panna Cotta…
My impressive dinner experience at the Hecht gave me inspiration! I now realized what my purchase of cream of coconut milk was going to become! I could make my own version of Panna Cotta, why not?  So back to the house we came and for a few days, I was off the "streets making my own eats"! This is by far the simplest and most elegant dessert I've ever made. It is luscious, creamy with a hint of vanilla bean and a mist of cardamon that invades the last bite as it accents the coconut cream. Top this crazy easy recipe with some berry fruit compote or my Medieval Raspberry Compote and you've got a 5-star dessert! Click here or on the picture to get my version of Dairy Free Cardamon Panna Cotta with Berry Compote!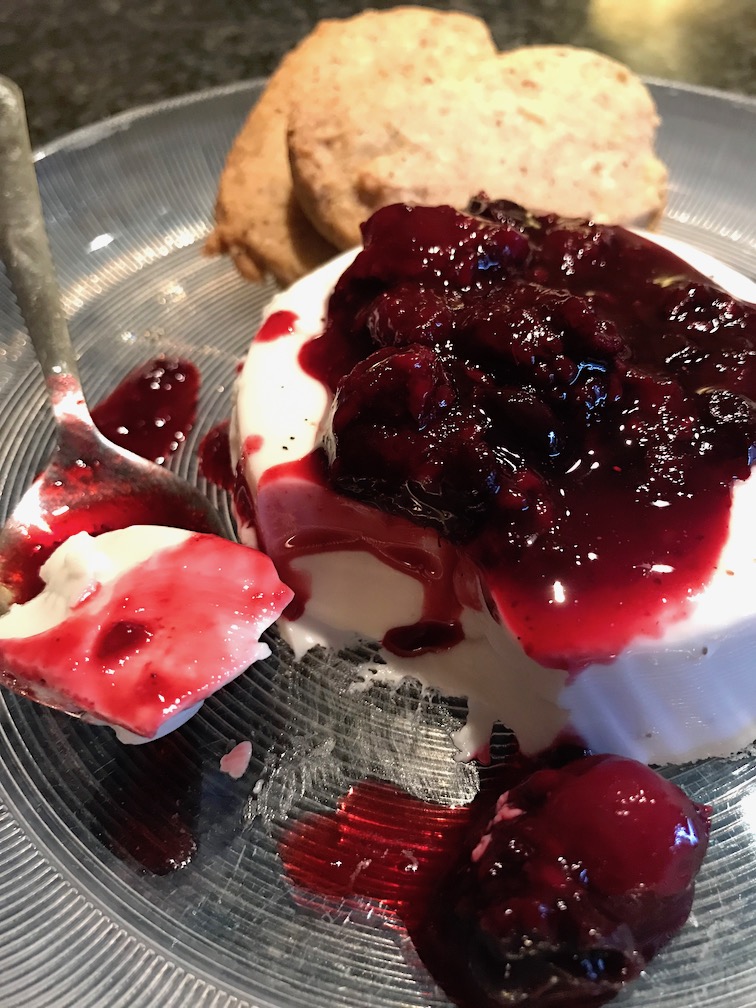 Resources & More
While in the USA lot's of folks asked me why "I" didn't eat soy products. I know many folks out there eat it including the vegetarian and vegan communities and have no problems. But I thought that as well until…click here to see what I found out!
Goodbye for now…
I hope you enjoyed this little food tour and are looking forward to my April post as well. It should be filled with locations, pictures, and yummy food. We will be off to Munich, Vienna and then Italy. For the whole month of April, I will have to dodge gluten, soy, and dairy while eating on the streets… it should be interesting. Of course, I'll pack my stand-by goodies and do some research on local foods and "safe" places to eat. One eating establishment I will visit again in Vienna is the Italian restaurant located around the corner from our hotel. They have gluten free pizza…the best (oops, there goes the dairy)! Until next month, keep on creating every day by cooking something new! Follow me with #streeteats!