Well, as many of you know, living the gluten/dairy/soy-free lifestyle has been pretty easy for me. I've been able to recreate everything I miss except one thing… Pizza crust! Yes. I am fine with my Basic Bold Tomato Sauce, nut cheese and my Bella Italian Seasoning, but creating the right crust has been my quest and mission.
To date, I have not found a replacement, just a lot of mistakes in the trash. But it is spring break and I am off once again, pursuing the perfect crust!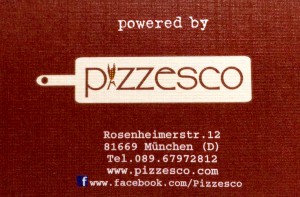 This past week, we headed to Munich for 3 days where I searched the internet for gluten-free pizza restaurants and discovered Pizzesco. It turned out to be one of the best I have tried so far! Yes, it is a close call between Ferro in Idyllwild California and this fantastic hole in the wall in Munich.
We took the subway and followed the directions to the Pizzesco. The seating area was about 100 people and the room was packed! This did not detour me, though. I was determined to check out this gluten-free pizza and I even told the gentleman that led us to our cramped table, fighting off the walk ins, that I planned to publish my experience on my website. He gave the sign of a long Pinocchio nose and laughed.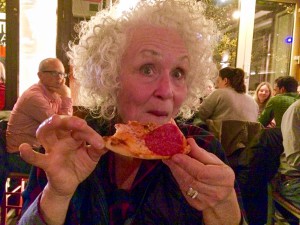 Well by the end of the evening we were laughing. It was amazing! The crust crunchy. I had the standard salami and Lutz had the most delicious one: truffles with thinly sliced potatoes covered in buffalo mozzarella.
When the gentleman realized I was serious about my review, he treated us to their homemade tiramisu with gluten-free lady fingers. I will have to recreate this one using coconut milk to really indulge, but the bite was worth it.
I didn't leave empty-handed, I was able to pick his brain and left Pizzesco with some new material at hand. Yes, a secret ingredient I have not tried yet… My mind is ticking as I type. I see the perfect crust on the horizon. Stay tuned!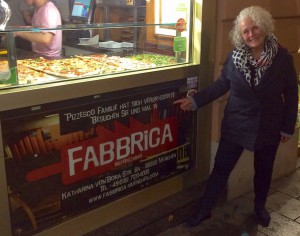 It was a close call between Ferro in California and Pizzesco in Munich. Tomorrow we are off to Vienna and the hunt to find the perfect crust continues!