This red robust sauce gets its color from my 2 secret ingredients. Ok, no secret anymore. But its due to the sun-dried tomatoes and the dash of dark paprika. Tomato sauce is a staple for me. I make a huge pot and then freeze it in individual family-size servings. When I'm ready to make anything that calls for tomato sauce or puree, I got it! Plus it's great for making your own ketchup.
Whenever you need it, take it out of the freezer and let it thaw on the counter or set it in a saucepan and warm it up on low. Depending on your recipe, you spice it up accordingly. Those tomatoes sitting on your sink that are on the verge of destruction, throw them in the freezer. Soon you will have a collection for turning the batch into a super Basic Bold Tomato Sauce! You might have to cook the frozen tomatoes a little longer to evaporate the extra water they retain from being frozen, but it still taste great!
BASIC BOLD TOMATO SAUCE
April 3, 2016
: 8 cups
: 15 min
: 2 hr
: 2 hr 15 min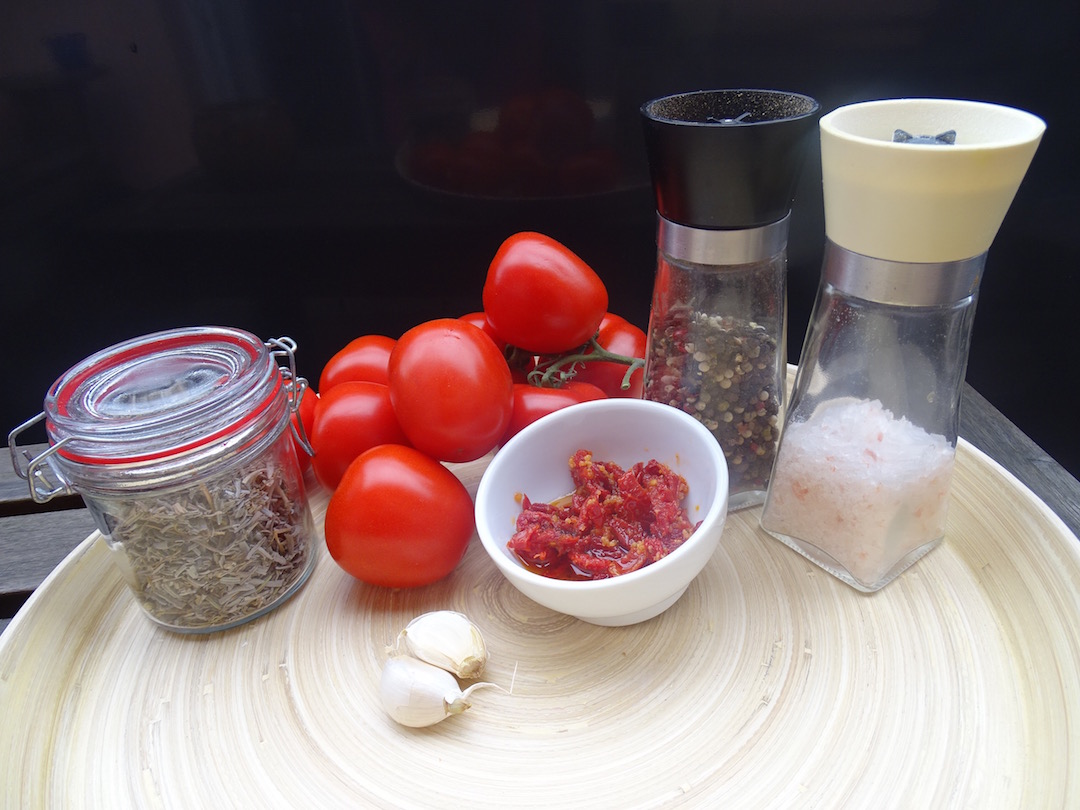 Ingredients
3 pounds chopped tomatoes I even use the skin!
2 tsp himalayan salt
1 tsp pepper
1/2 tsp birch tree sugar or coconut sugar
3 roasted garlic toes The roasted add a little smoky flavor.
1/4 cup sun dried tomatoes In olive oil or dried in a bag work as well
1/2 tsp crushed rosemary
1 medium onion
1/4 cup olive oil
1/4 tsp paprika Adds a deeper red color to sauce
Directions
Step 1

Place all the ingredients into a large pot. Use a potato masher to squeeze some juice out of the tomatoes to prevent initial burning.

Step 2

After an hour use your immersion blender and purée the tomatoes. If you don't have an immersion blender put the sauce in your blender but be careful it is hot!

Step 3

Continue simmering for another hour or more with the lid off. Stir ocasionally. There you go – Best sauce ever!