This German winter weather has got to change. I'm a California girl, and my body needs the sun's warmth. Last month, the cold, rainy, windy, cloudy weather was enough to keep anyone locked in their home. Almost everyone, Germans love the change of temperature and adapt quite well. I'm always cold and wear the worst outfits that have done nothing to enhance my Love life if you know what I mean. I haven't brushed my hair for weeks. I'm surprised Lutz still recognizes me.
Well, I have to say these past few weeks, my spirit has been recovering, and this long winter tunnel I've been driving in is coming to an end (oh, please read on. It was all too good to be true). The sun has shown its beautiful face, and the skies are blue. This month, our travels have taken us to the top of mountains where I thought I had a heart attack. You can tell from my face! I had to sit down and breathe.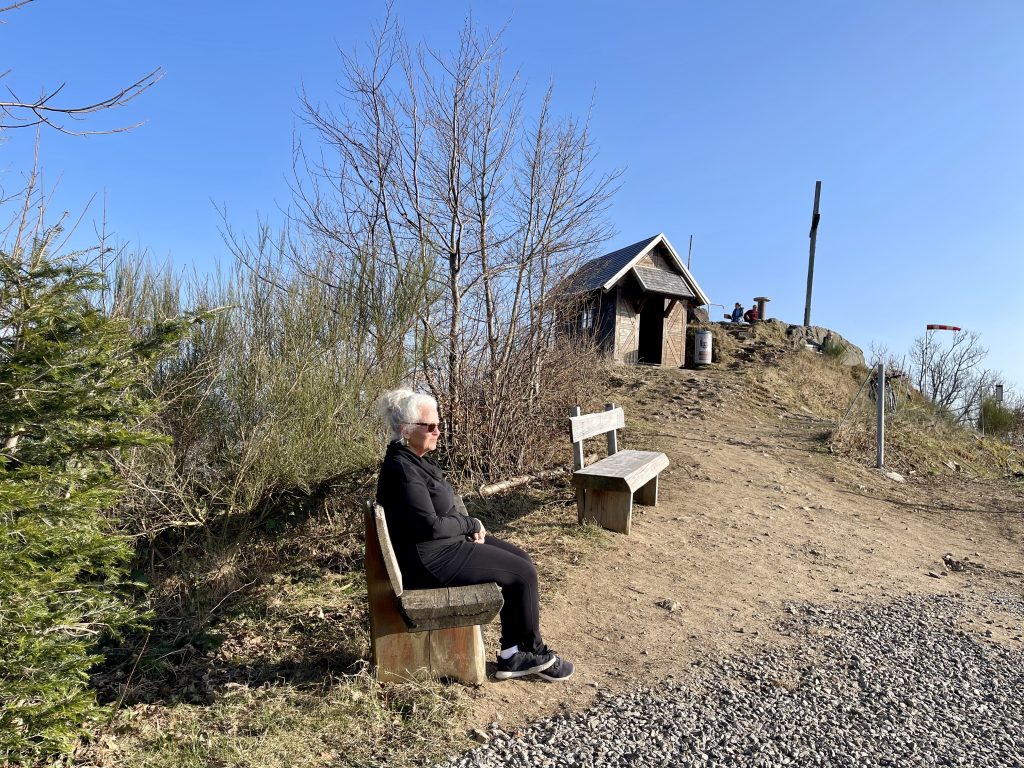 This adventure almost led to a divorce. Yes, we have E-bikes, but mine is one of the originals, and Lutz's has a new mountain e-bike. Lutz sport E-bike has more power. He tends to forget that I am half his size and my bike still needs all my strength to go up these mountains even at the most effortless speed. Seriously, folks, the path did not zig-zag like typical paths. It went straight uphill, only leveled for two seconds as you rounded a corner.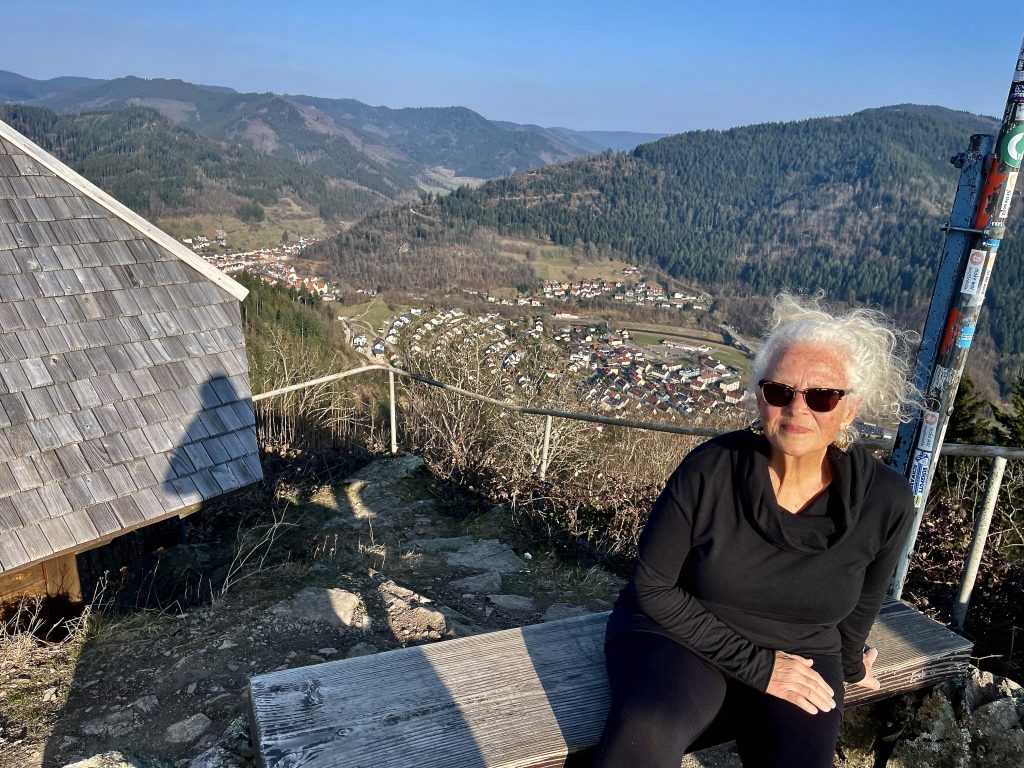 This picture is of our village below, and our home is across from the train station below. And yes, I am still trying to smile. I forgot to say we had just completed a two-hour ride along the river, and Lutz decided to take me on this "fantastic" trail ride back to the house. What was even more frightening was the trip down. Since my bike is not off-road equipped, I had to manage the trip down a rocky road without sliding off the path and to my death. Ok, the ride was beautiful, I did get a workout, and I am still married.
I swore that he'd have to find someone else to accompany him on his next adventure since I could not keep up. The other option was a new off-road E-bike for over 3000 euros! We're still debating, but I have to say he was much kinder on the next trip.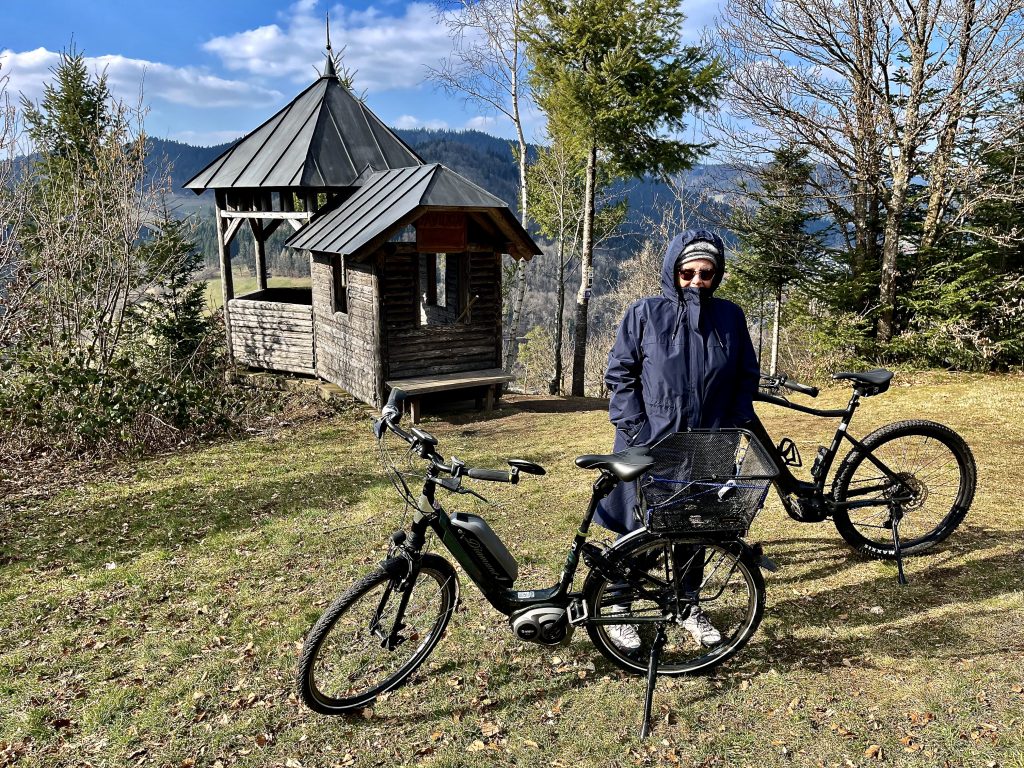 I don't mind the cold if the sun is out, and this trip was much better. We had sun and a zig-zag road to the mountain top on the other side of our home. The views are spectacular. This one was worth the peddling.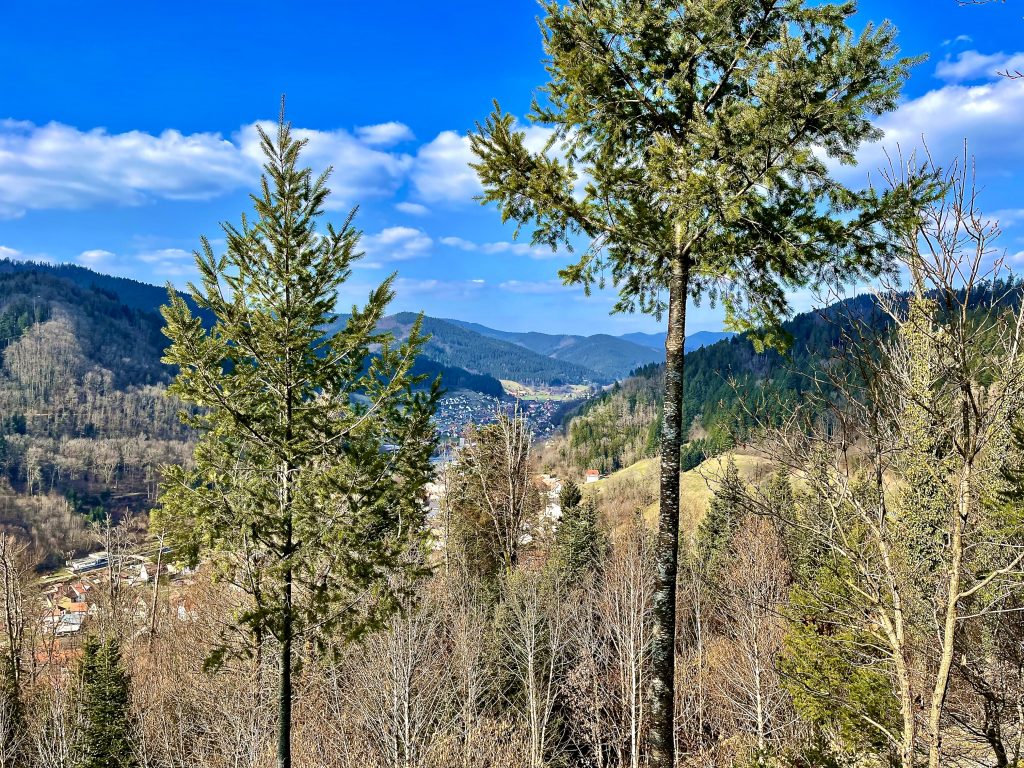 Our home is directly below in the left-hand corner of the above picture. We took a small road home and ended up at the deer farm adjacent to our home. We got to visit our next meal. I've made several attempts at cooking wild boar and venison goulash. It has been a great success and delicious. I've learned living abroad, you never say never! I am not a fan of wild meat, but I've learned to appreciate some fantastic recipes since living here.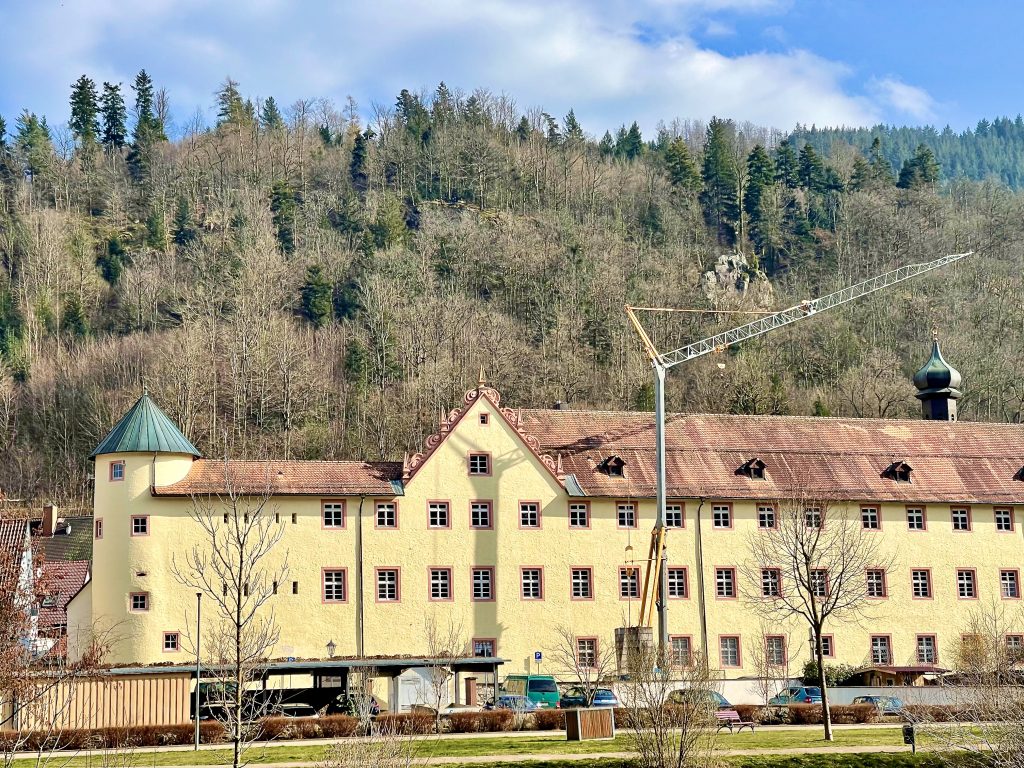 Here is a view from the bottom of our last trip. If you take your finger and scroll up the picture just on the left of the building's foreground A-framed roof, you'll see a small pergola with a unique pointed roof.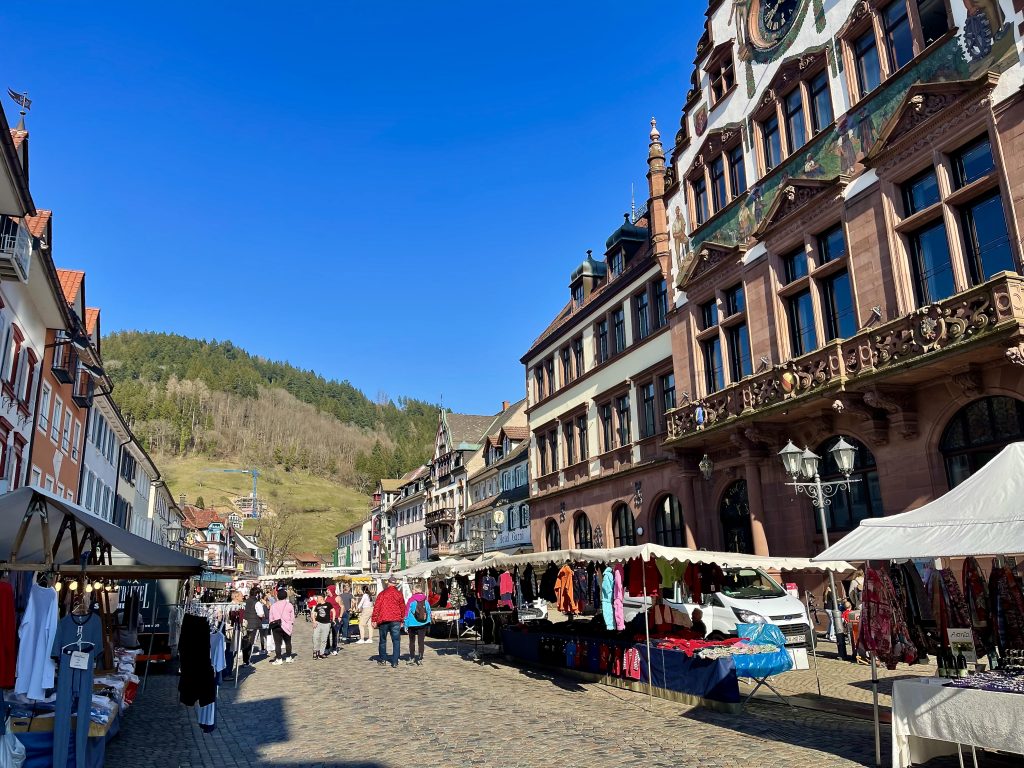 Now and then, the city of Wolfach has a more extensive than the weekly market. It's tiny, but sellers come with household goods, clothes, and things you never knew you needed until you see them. I made it out alive and money in my pocket! I'm doing my best to cut down on spending. I have other essential investments coming up. My kid's visit in June, our boat trip this summer on the Rheine, and the final touches to our balcony arrived this morning.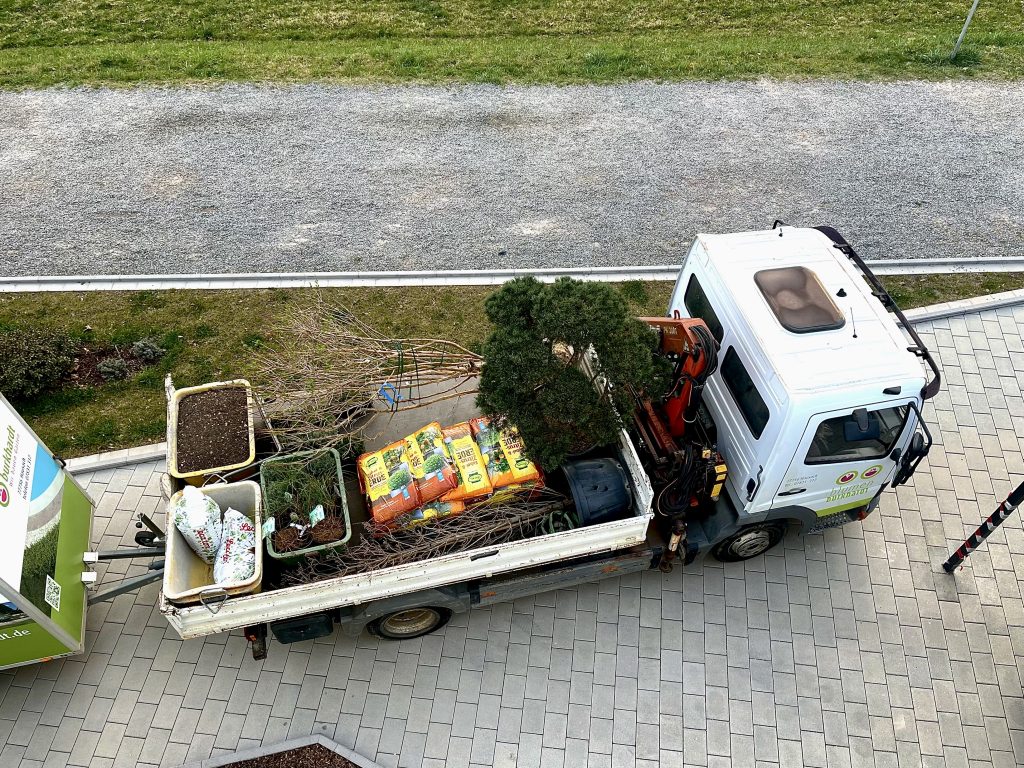 This morning at 7:30 am (way too early for me), the truck arrived with our plants! Let the planning begin.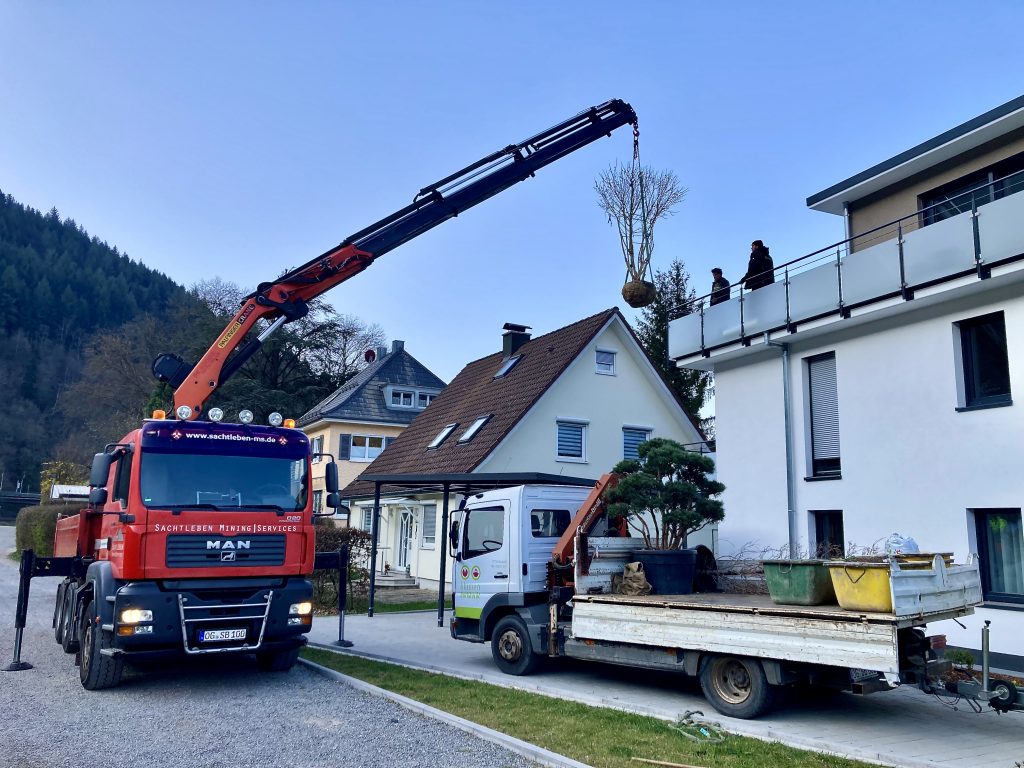 The crane was up and running as it delivered the beautiful trees and plants. I'm hoping for full bloom by summer!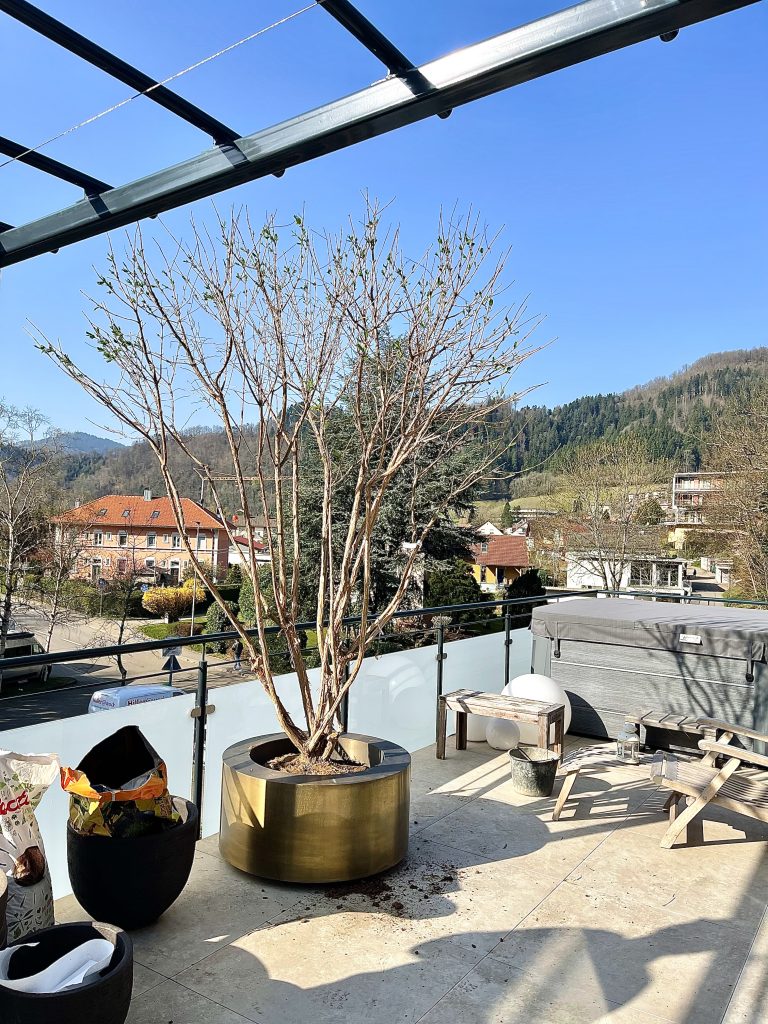 A nice full one to block the wind coming off the river!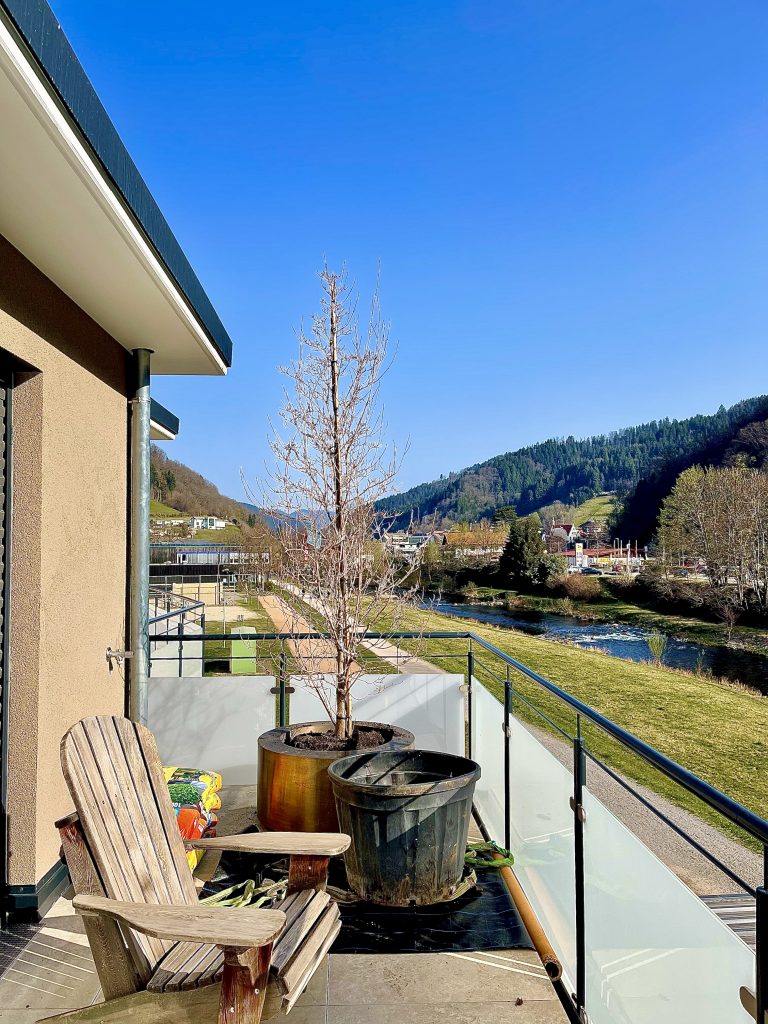 My favorite is our Christmas tree. We don't have a place for one inside due to the gorgeous windows, so this one on the balcony will work just fine! It's set right in front of our living room sliding door. Perfect for decorating and lighting up with holiday lights.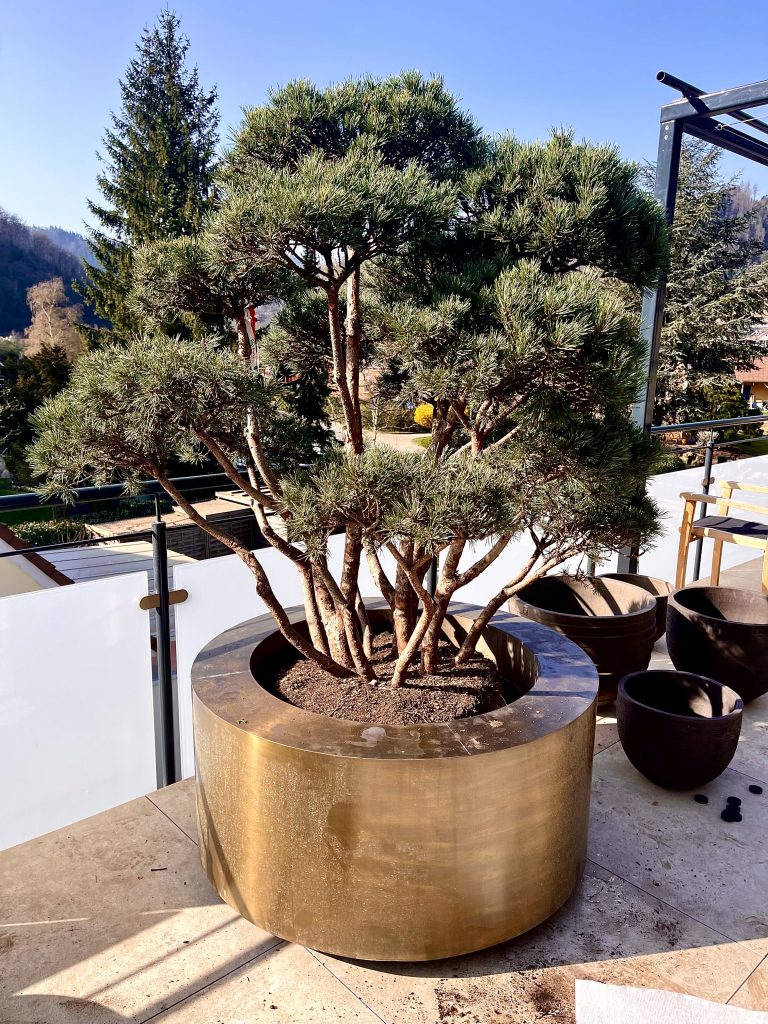 I love bringing Mother Earth closer to my window. Dominik, Lutz's son, did a fabulous job designing this fantastic balcony. It's so beautiful and a view I will enjoy seeing while being stranded during winter. He has arranged a selection of plants that will always be blooming every season! Smart right!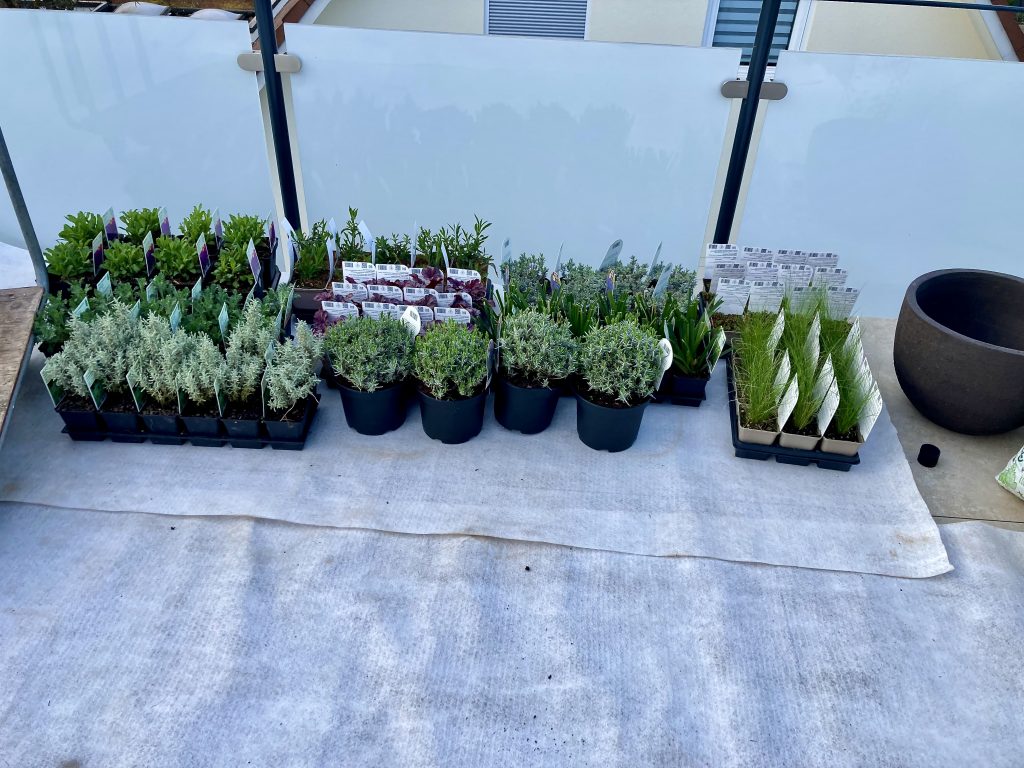 I'll have all these beautiful plants tucked away in their unique pots waiting for the sun like me, by the end of the week! I love living in Germany even with the few months I hide in Pj's and don't brush my hair. There is always something happening. Like today, we have plants arrive to care for our home, but we had an extraordinary visitor come to service our fireplace.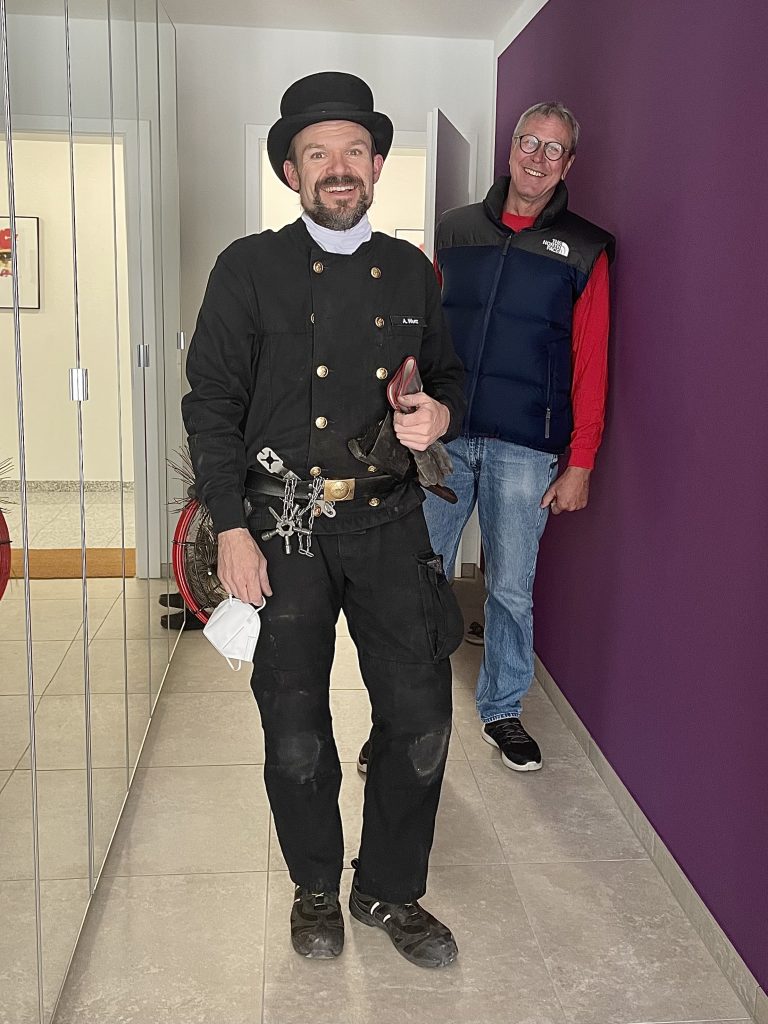 He climbs on the roof, adjusts the chimney's mechanics, and cleans the stove pipe inside.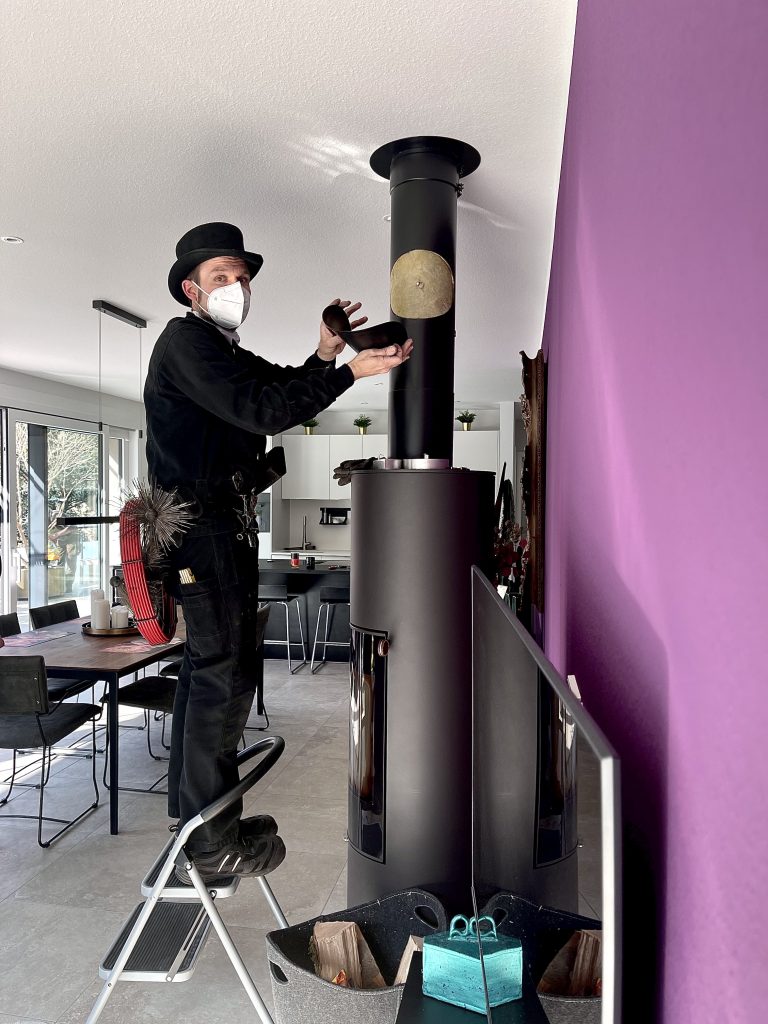 This profession is very respected across Germany. They take great pride in their work and consider this a traditional and severe service. It's even said they bring you luck. If you're interested in learning more about this unique profession and its history, check out this exciting article, LUCKY CHIMNEY SWEEPS, GERMANY'S SCHORNSTEINFEGER.
Well, I was surprised but not taken by surprise. When I woke up this morning to send you this post, our beautiful patio was covered in snow, and more to come. I knew it was to good to be true. I think Mother Nature has covid or the sun is on vacation and the weather has lost its mind. It will be a while until we can enjoy our new landscaped patio.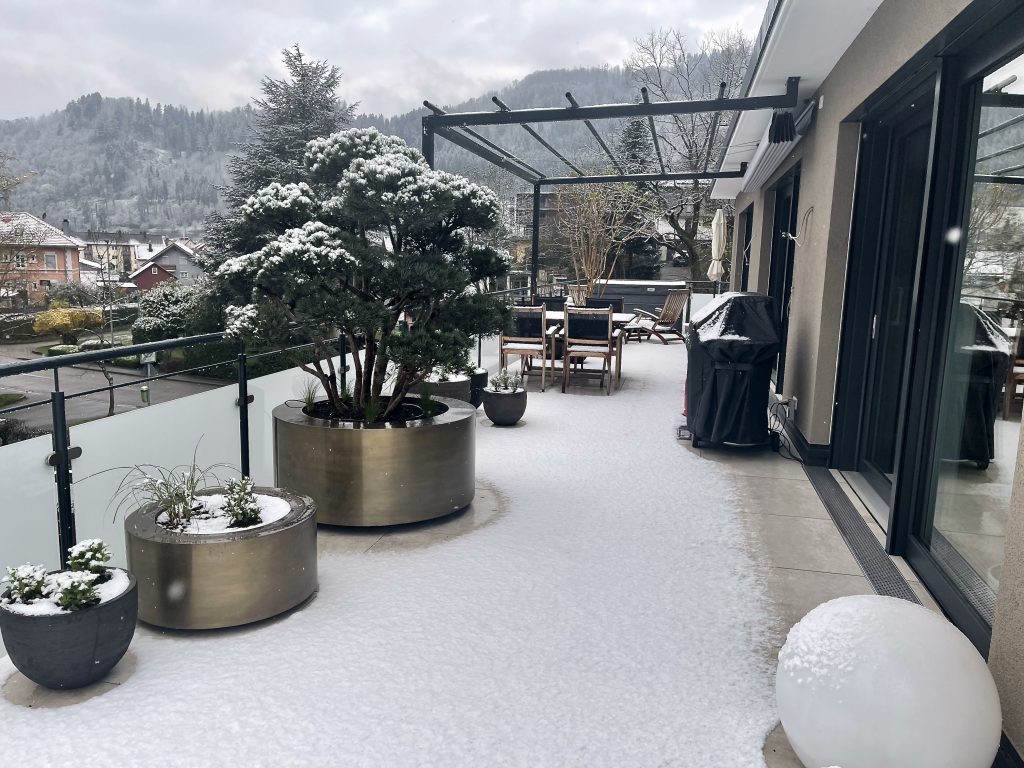 Al least we got in a few days of good weather this month, and I am certainly looking forward to a trip on the boat next month. It's been fun, folks. Always something brewing around here. Keep your eyes peeled for next months post. I plan to give you some before and after pictures of our balcony with everything in bloom (fingers crossed). I'll also be sharing our upcoming summer plans.
Fave Recipes:
In the meantime, print off these new recipes I've posted, and enjoy your sunny days.
What is better than a chocolate chip cookie? A BROWN Butter Grain-Free Chocolate Chip Cookie, that's what. Melt in your mouth cookies: crispy edges and chewy centers. Eat three for me! This recipe is a "can't stop" snack or dessert made with Monk Fruit, so you are set to indulge. Click here for the recipe.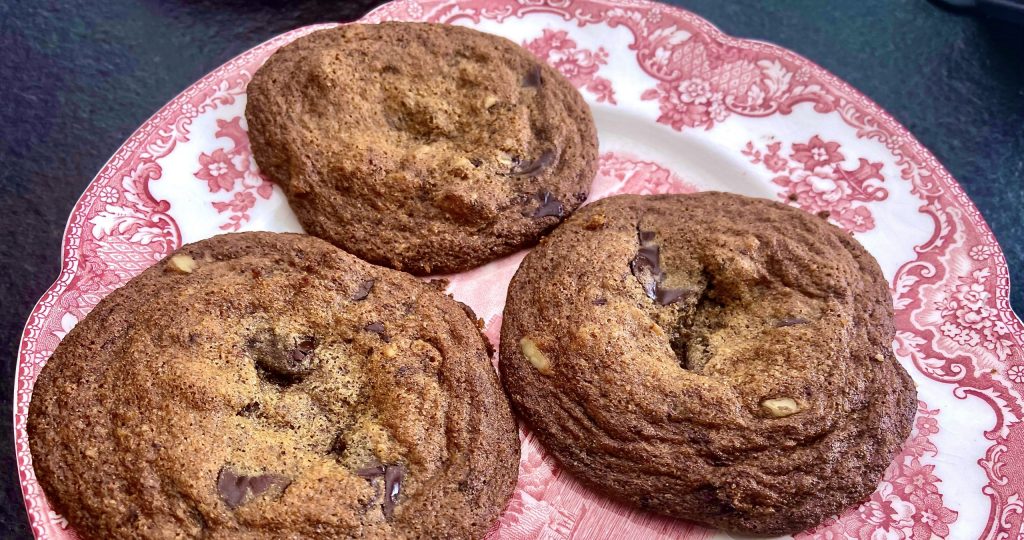 Are you lighting up that Grill? Don't have a short side? Are we tired of french fries? Ok, well, no one ever gets tired of fries, so add this side of Bacon Fried Cabbage and you'll get your veggies in for the day. It's excellent cold, so make it the day before and serve alongside that barbeque meal or eggs in the morning. A must make for sure. Click here for the recipe.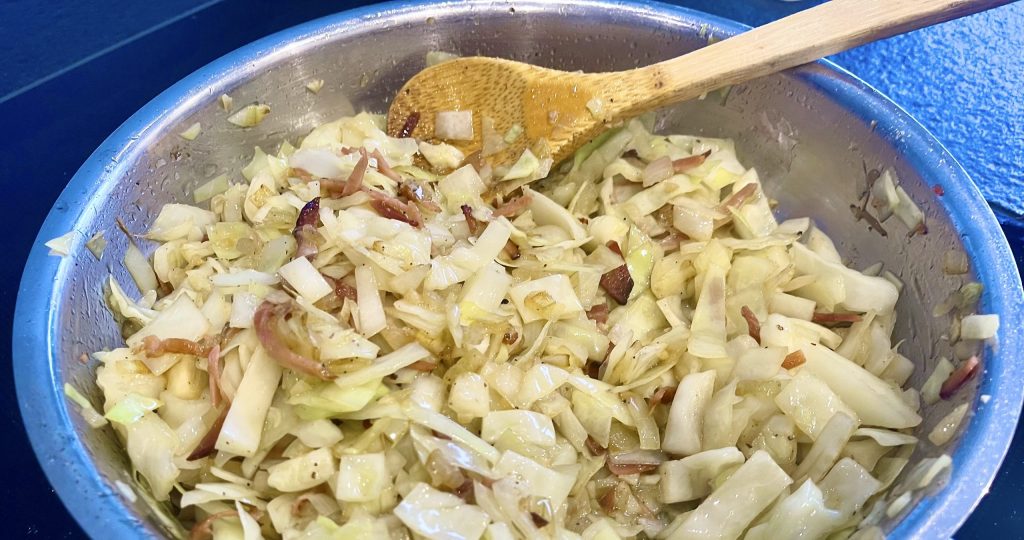 Fave: Resource
I'm always on a quest for the best gluten-free pizza crust. This month I think I found the perfect storebought mix. It's incredible, Caputo Italian gluten-free mix. Read this post if you like pizza! Seriously you guys.