Yes, that's the truth. In a tub! I love my crockpot and when we have electricity on the boat it's my best friend. We try to hit the road and see the sites during the day and when we come home there's nothing better than the smell of my little "tub" cook'n away!
Netherlands and Belgium pride themselves with their ribs. I thought the south had the best but…I guess they have some competition now. European ribs are amazing and yet covered with a BQ sauce that is more than likely loaded with sugar.
I wanted to find a way to avoid the sauce but also provide that fresh smokey grill flavor and the option for adding the sauce. Plus you don't have to light up the grill if you don't want to. Awww go ahead, light the grill and throw them on for 10 minutes after they have cooked in the "tub" for 8 hours or more. You'll look like you've been at it all day!
I used to boil or broil the heck out of the ribs first to make them tender then throw them on the grill. NEVER again…I want to spend time touring, or with my guest, my man, or creating a delicious side or dessert. Dust off your crockpot and lather your ribs with Rub-a-dub-dub Rib Rub and enjoy your friends, loved ones, or create something new instead of working in the kitchen all day.
Read the tip at the bottom for adding BQ sauce of your choice and/or grilling.
BELGIUM RIBS IN A TUB
June 17, 2018
: 2
: 5 min
: 8 hr
: 8 hr 5 min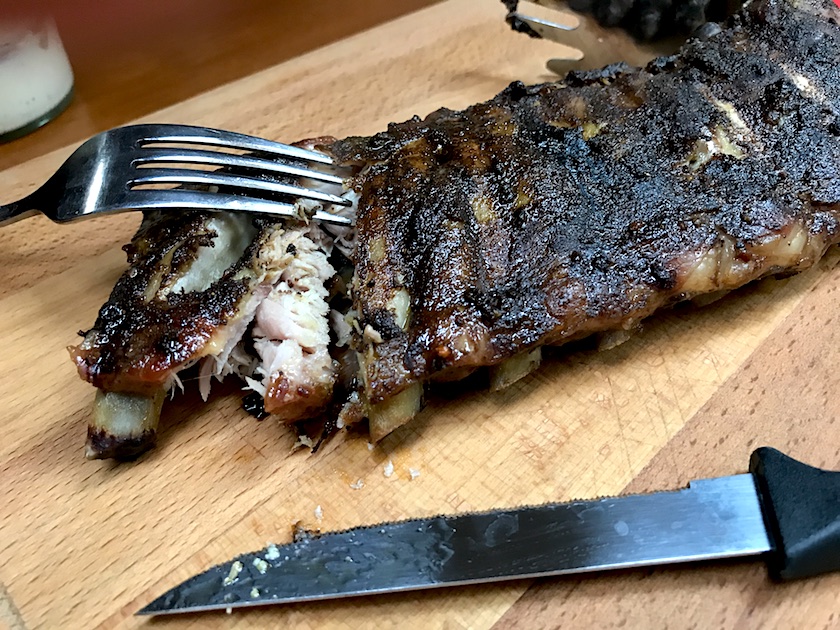 Ingredients
2 crushed garlic cloves
2 Tbsp Rub-a-dub-dub seasoning or your own
1 lb spare ribs
Directions
Step 1

Wash and lather your ribs with the crushed garlic. Come on now…both sides, please!

Step 2

Sprinkle Rub-a-Dub-Dub seasoning on top and rub it in.

Step 3

Both sides, please!

Step 4

Place these babies in your "tub", crockpot! You might have to cut your ribs so they fit your size "tub".

Step 5

Place the crockpot on low and leave for the day, about 8 hours minimum! If you're enjoying your day…leave them 10 hours.

Step 6

When you come home, be ready for the treat of your life!

Step 7

Seriously, so tender, smokey spicy and DELICIOUS!

Step 8

Tip: After 7-8 hours, spread a few tablespoons of your favorite BQ sauce on your ribs and let them cook in the crockpot for another hour. If you want the BQ grill touch, take them out of the crockpot after 7-8 hours and throw them on the grill with or without BQ sauce for 5 minutes on each side.