Ok so everyone knows how to cook a pot roast in a crockpot right? But how about a Poached Pot Roast in a crockpot? Check out my recipe for Poached Pot Roast. I cover it with homemade broth or organic bouillon. My son taught me this trick. It keeps the meat from drying out when you find you have to work later than expected. It reminds me of the French way to cook your foods, slow poached pot roast. My new cooking term.
Ok, so it was delicious and we dined on this lovely LARGE meal and my brain started racing what to do with the leftovers. Sure, I could make my carne asada or beef stew, but then the light dawned. I had a freezer full of kale and since it was taking up most of the room in my freezer I sprang into action. Check out my yummy Poached Pot Roast Kale Soup recipe, and plan on creating it with the left overs…that is, if anything is left.
POACHED POT ROAST
June 6, 2016
: 8
: 15 min
: 30 min
: 45 min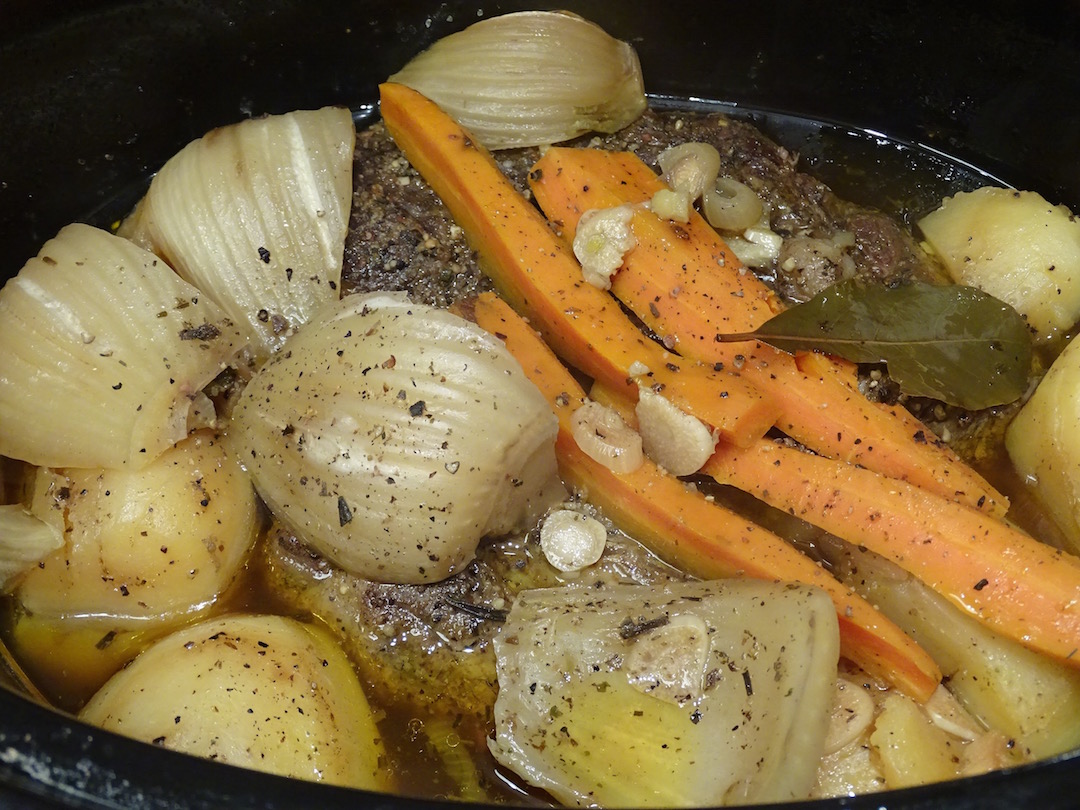 Ingredients
4-5 lb Free range Pot Roast
4-5 cups Organic or homemade broth veggie or beef
3 medium potatoes peeled cut in 1/2
3 large carrots peeled cut in 1/2
1-2 medium onion sliced
1 medium fennel sliced
2 cloves garlic chopped
1 Tbsp Montreal Steak Seasoning thehealthyfoodie.com
1 tsp fresh/dried herbs Italian, Spanish etc.
1 tsp red pepper flakes optional
1-2 bay leaves
1 pinch cloves
1 pinch nutmeg
Directions
Step 1

Get out your crockpot! You can use a dutch over as well. The crockpot will take 10-12 hours on low while the dutch oven will take 4 to 6 hours on 150F.

Step 2

Rub the pot roast with the Montreal Steak Rub or one of your choiceI. I use Sonia's at thehealthyfoodie.com. Add a pinch of nutmeg and a pinch of cloves to the rub. Let the roast sit out while you prepare the veggies and broth.

Step 3

Slice the onion, fennel and garlic. Place this in the bottom of the crockpot. I use some garlic on the top with a few onions as well. Up to you.

Step 4

Place the rubbed pot roast in the crockpot on top of the cut onion, fennel and garlic.

Step 5

Slowly pour the broth over the pot roast until it just covers the meat. Add water if needed. add the carrots, potatoes and extra onions on the top of the roast. Add a couple by leaves on the top with pepper and salt!

Step 6

Cover and cook for 10-12 hours.

Step 7

Gravy: Optional

Step 8

You can quickly make a gravy with the broth if you choose not to use the leftovers for Poached Pot Roast Kale Soup. Just remove the meat and veggies. Leave the onions, fennel and garlic in the crockpot.

Step 9

Add 1/4 cup potato flour to 1/4 cup of cold water and stir until smooth.

Step 10

With an immersion blender, right their in the crockpot, slowly add the potato flour mixture. Add more potato flour until you have reached the consistency you are looking for!

Step 11

Add salt and pepper if necessary but taste first! The seasoning from the rub are still floating around and for me seemed just right!