Yes, fall is falling upon us, and I'm trying to get ready!
This month has been exhausting! To catch you all up, we made it home from Berlin without incident and put Virus to bed. Lots of repairs from bumps and bangs, but nothing the admiral, Lutz, couldn't fix. As for me, well, I've been in a gorgeous spa hotel painting my toenails, laying in the sun, reading books, enjoying the jacuzzis, and working out in the gym. This hotel is amazing, and I have no desire to do anything else. But it's time to get my act together and grow up. Okay, well, my home feels like a Black Forest spa. It is the best spot for recuperating from our travel to Berlin and preparing for a boatload of appointments and paperwork. Plus, the sun has been out for a few weeks, and I'm soaking it in before fall falls on us. Well, it actually has, but I'm ignoring it for now. The days are warm, the trees are still green, and I'm in the sun.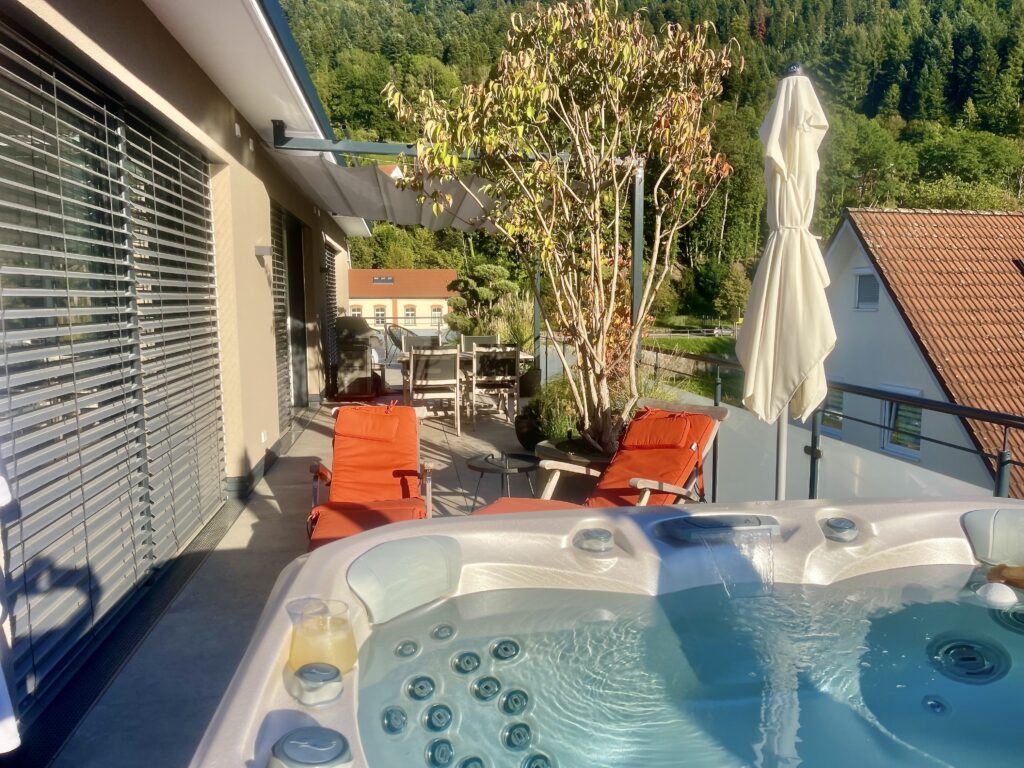 It would be best if you didn't think I've been too lazy, folks. We've been back for almost three weeks, and we've had some kind of doctor's appointments practically every day. Seriously, people, I do not understand how working people do this, and if they have children, it's doubled. I've been taking it easy at the "spa" because I knew I needed to get busy before October. I had to clean the bills off my desk, restock the house with food, wash the clothes, iron, and replant half our plants due to the heat that murdered them while we were gone. Now the long two months of appointments start.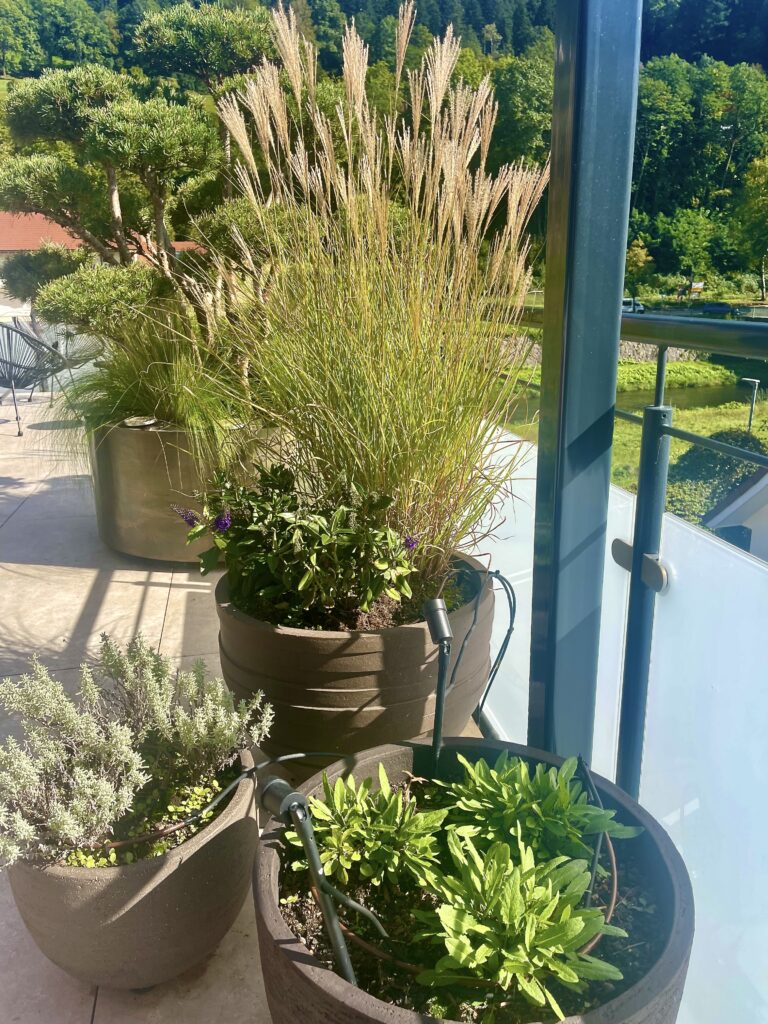 I love these new plants. It's like sitting in a beautiful garden in the Bahamas.
You all know what I'm talking about: dental appointments, lady appointments, skin doctor appointments, annual physicals, blood drawn to fill a blood bank. And not just me, Lutz as well. He's got to go to visit the knee surgeon. He's limping like he just was thrown from a bucking bronco. Lordy lordy. But there is always good news! I still have my hair and am just grateful I have insurance. I'm sure you all are interested in each appointment and pictures to match, but I'd rather share some new locations with you. We all know what a doctor's office looks like. Let's get on with the great places we've been since home. Of course, we headed out to Hornberg for a bike ride—another one of Lutz's brilliant ideas.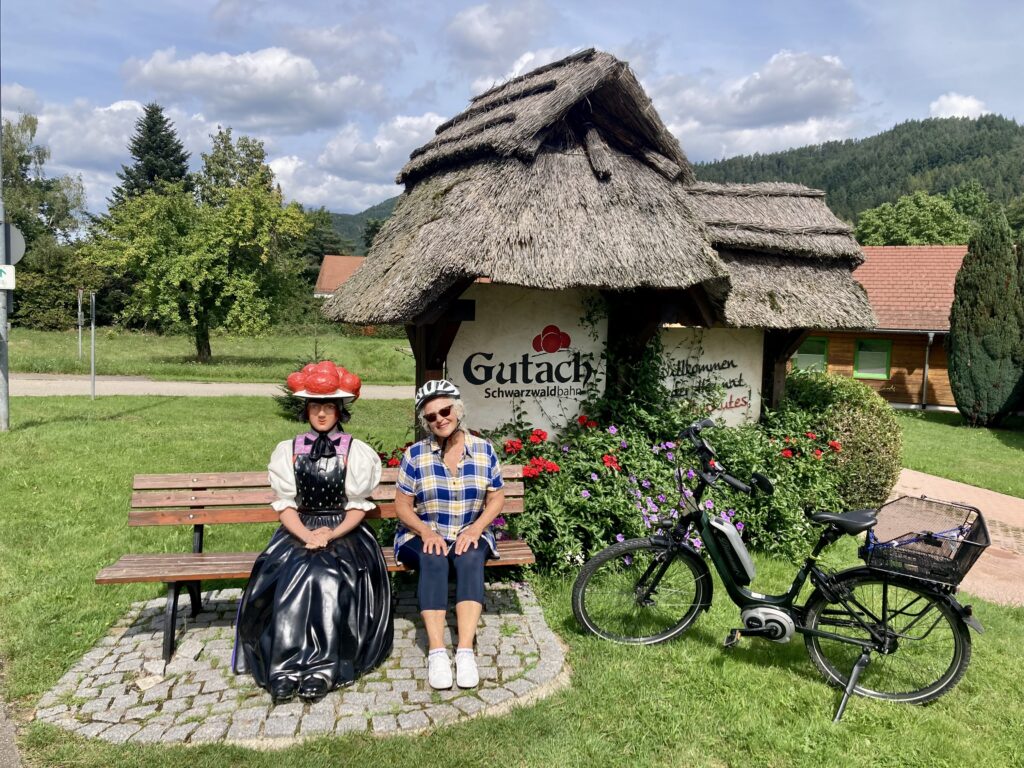 "Oh, it's not far to Hornberg, and there is a Renaissance fair. I thought you'd like to see it". Okay, off we went on our bike date, and yes, it was wonderful! The first 8km was beautiful. The last 3km was an uphill ride. It was a little tough for this old lady, straight uphill. Yes, I have an e-bike, but it is for the street, not climbing the Grand Canyon. I can't believe folks were walking this trail. Crazy!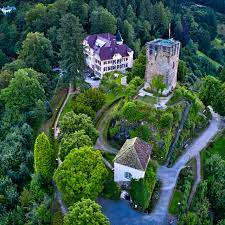 Upon arriving, I was thirsty and sweating like the poor pig on the spit!
It was worth the ride to the top. The Hotel Schloss Hornberg was once an old castle. My mom and I stayed here years ago. A ghost in armor awakened her in the middle of the night. I thought it was indigestion, but today, at 93 years old, she still swears it was real. Hmm, who knows? With all the armored knights decorating the halls, it's no wonder she had nightmares. This is a beautifully restored hotel and a cute city below if you're looking for a cozy location in the Black Forest.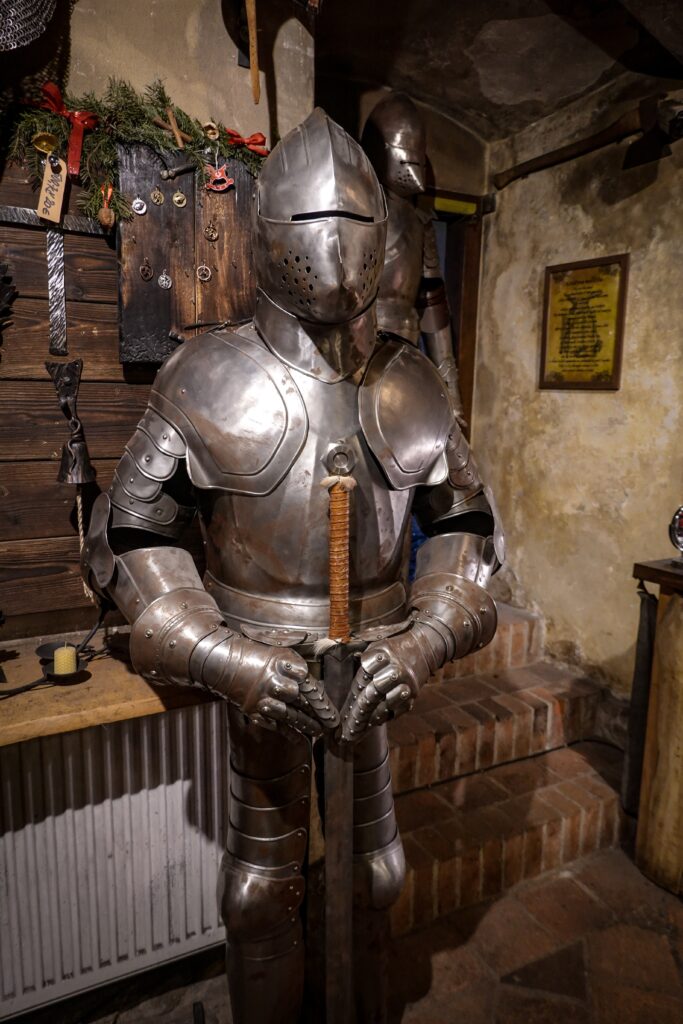 There was a stage for singers and musicians to perform using authentic instruments from the era.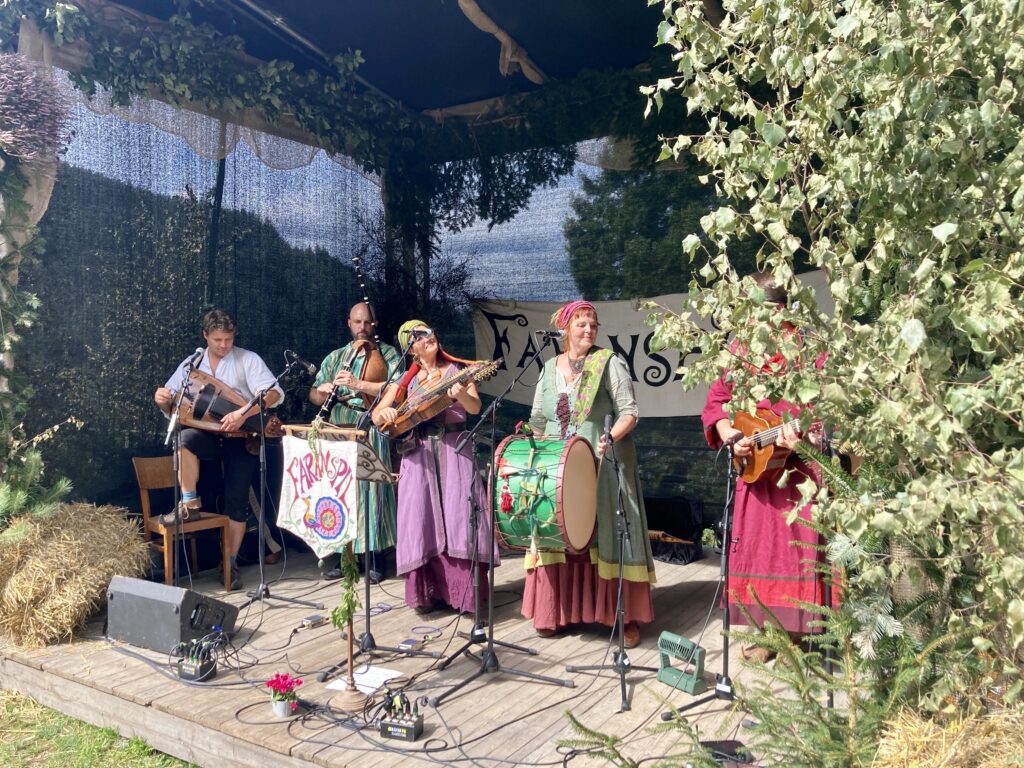 By now, I was so thirsty I would have drank sand. It just so happens that Lutz's date did not include buying refreshments. He could only dig up six euro in change from his pockets. So, down the hill, we went to an ice cream cafe to beg for water. Surprise, surprise, we had enough money for water and one ice cream! I love these spontaneous dates. They are so memorable! I almost forgot that we usually stay on the bike path on our tours and wear helmets. You can't trust these old folks in the area. They've lived here for ages and own the road. A van decided to join us, and I had to stop suddenly and fell off my bike. I banged my head (thank the lord I had on a helmet) and messed up the last two fingers on my right hand. Oh, well, what's one more doctor's appointment, right?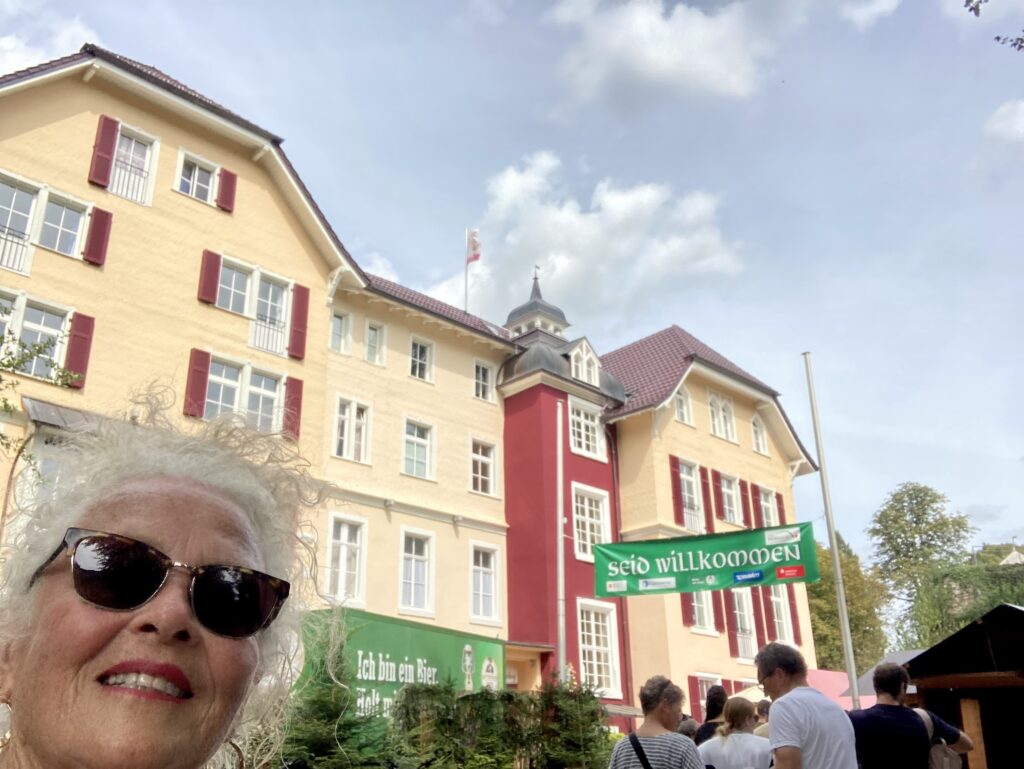 We spent some time enjoying Doris' (Lutz's sister) birthday last month.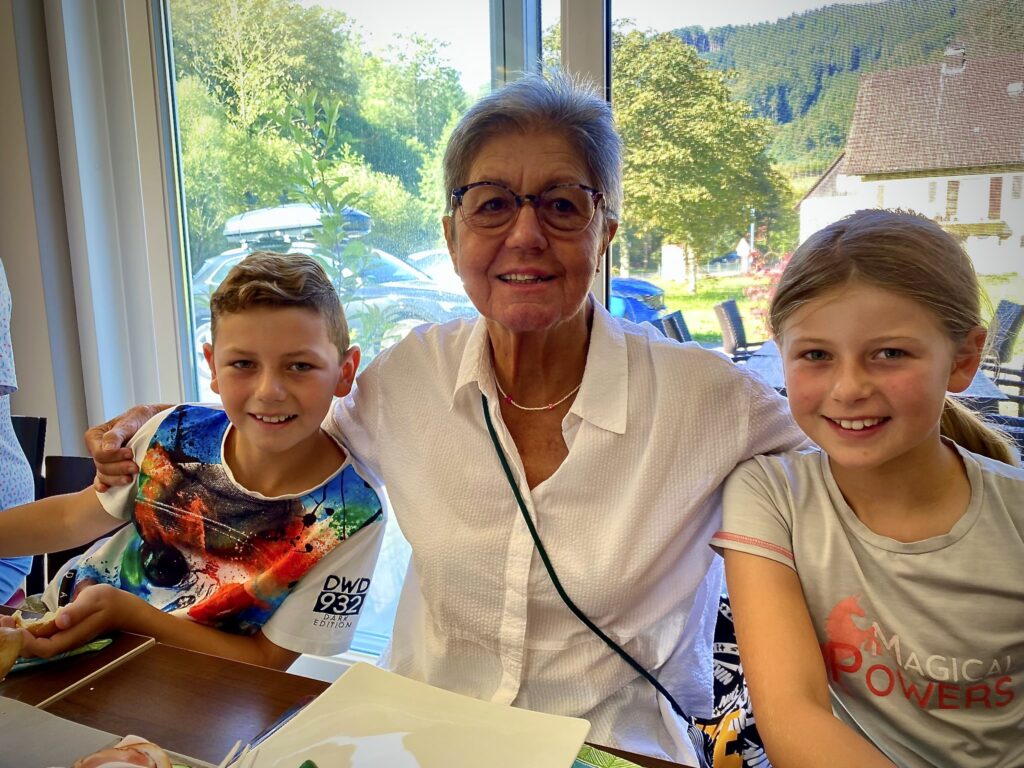 Her son, Matthias, from the USA, came, and her other son, Thomas, and his family from Munich joined us for some delicious meals. First, stop, breakfast! s' Moccacino, Rudis Backstübe crew in Oberwolfach outdid themselves. Everything was elaborately displayed and prepared for a traditional German frühstuck (breakfast). You need to call and reserve breakfast, so ensure you do if you are down this way.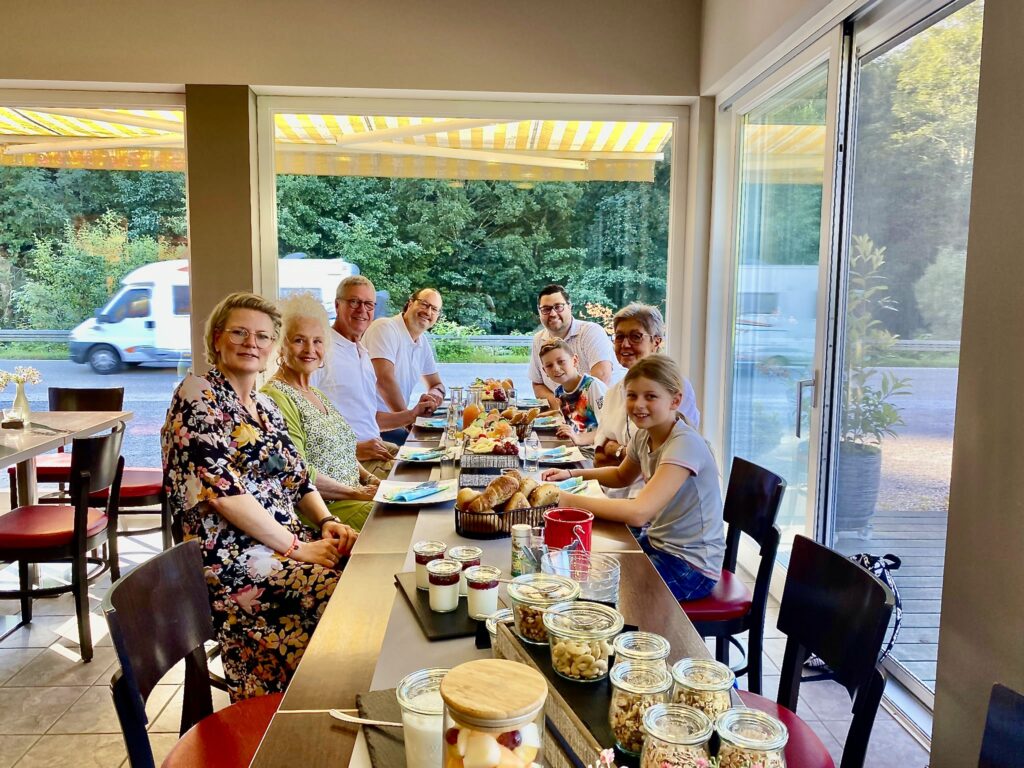 That evening, we gathered again for another delicious meal at a new location to continue Doris' special day. Hotel and Restaurant Fuxxbau in Fischerbach was perfect. The view is breathtaking, and the food to match. The best part was the company. Visiting with Doris and Dieter and their sons and family was wonderful.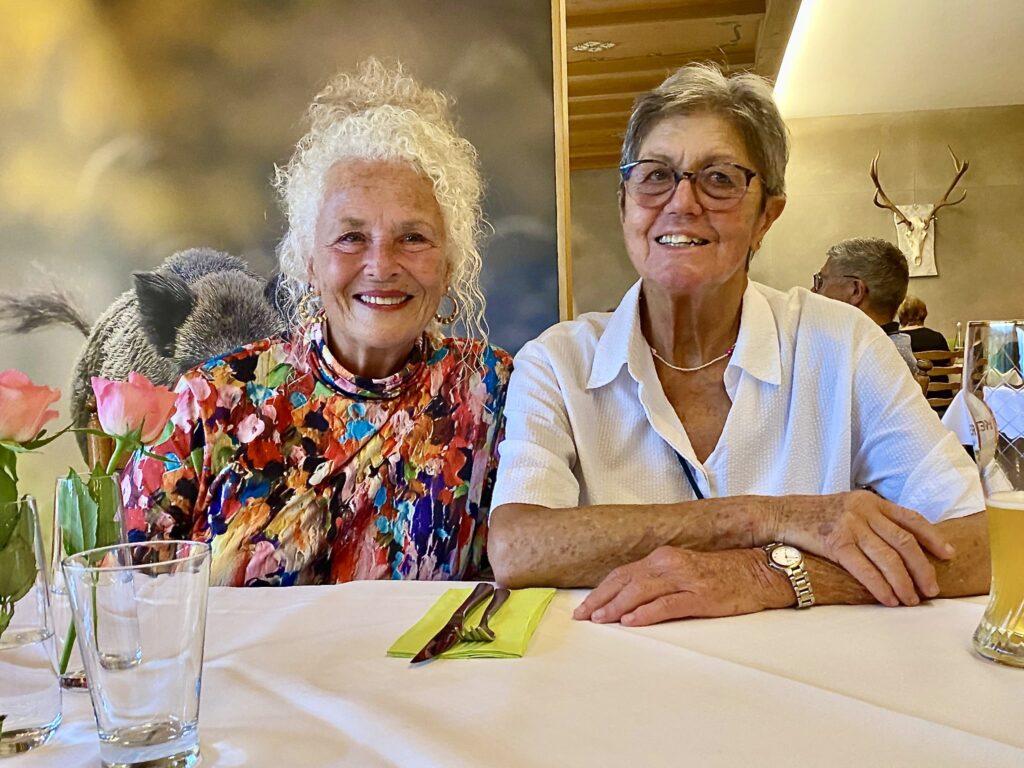 I even had a personal trainer for the card game UNO. I am looking forward to the next tournament, Isi!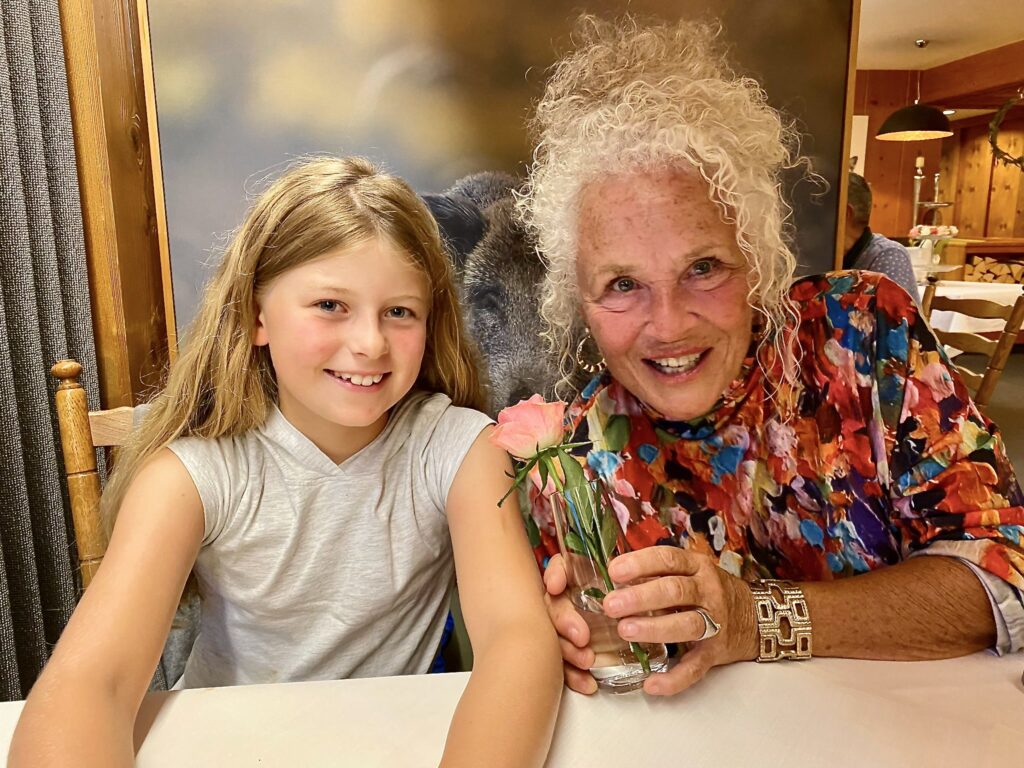 I had my first cataract surgery, and after five days,  I sit and wonder why the "@#$%"  I did that. I can't exercise, swim, or see. I believe that was one of the simple surprises I shared last month- to appreciate the fact that I can see. Now, it's blurrier than ever. Such is life. I'll let you know next month if I do the other eye.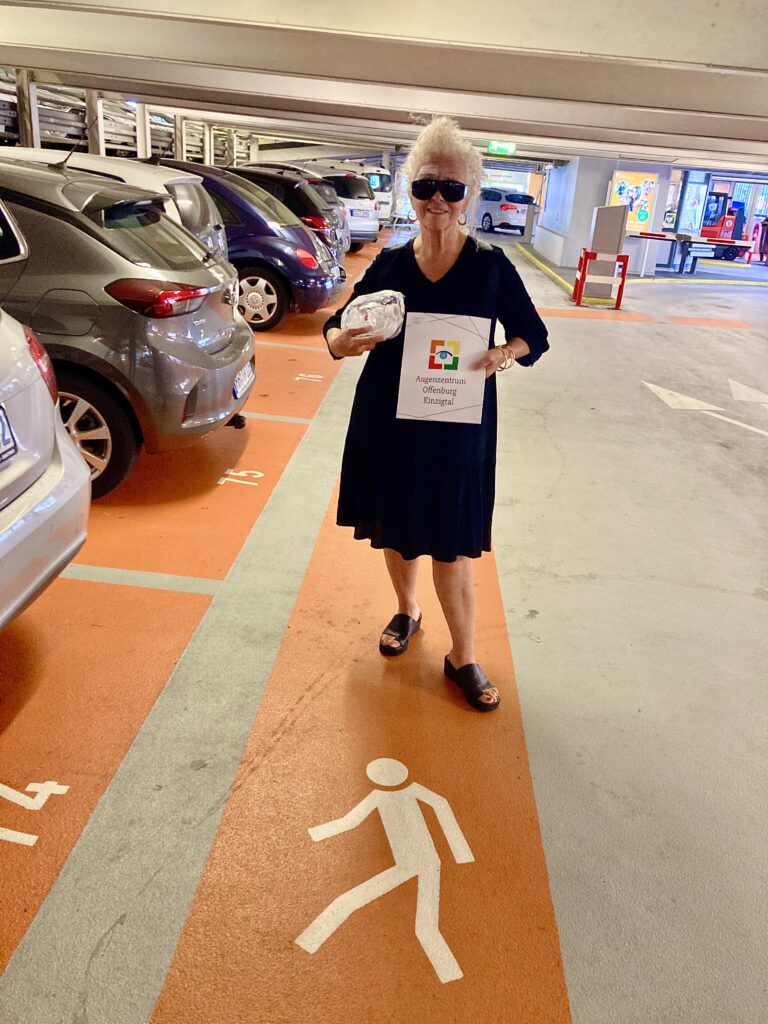 The support for local service people in these small German towns always amazes me. The fire department in each city holds an annual fun-raiser by selling dinners with traditional cuts of meat along with whipped potatoes and sauerkraut.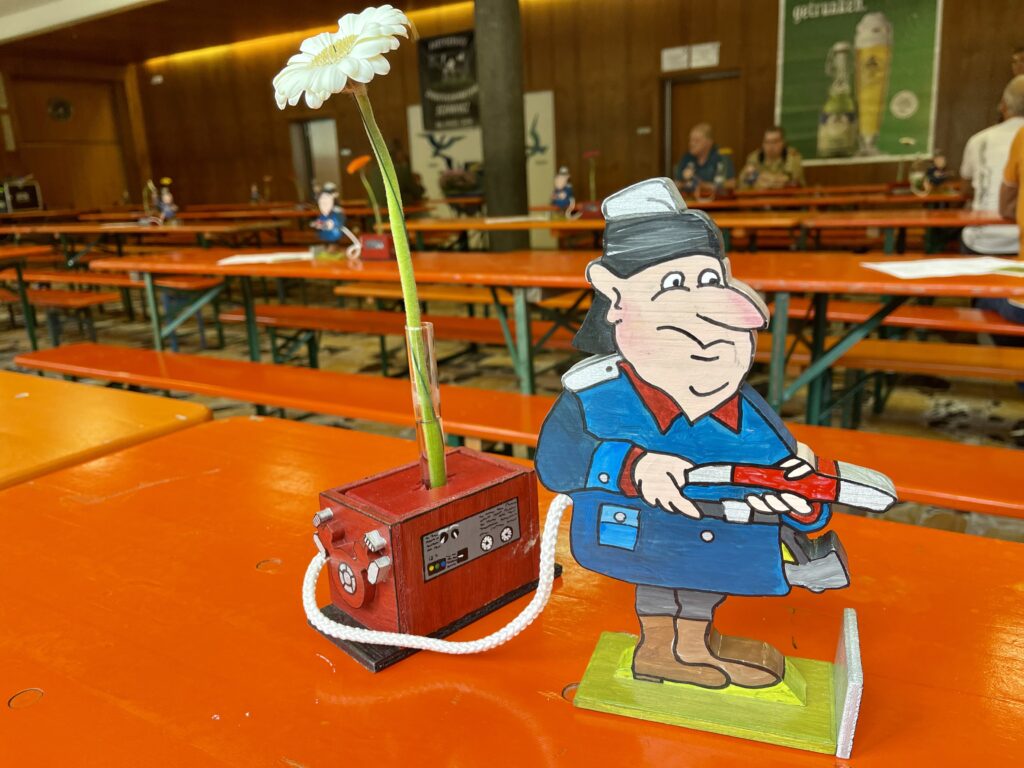 Prices are not bad either!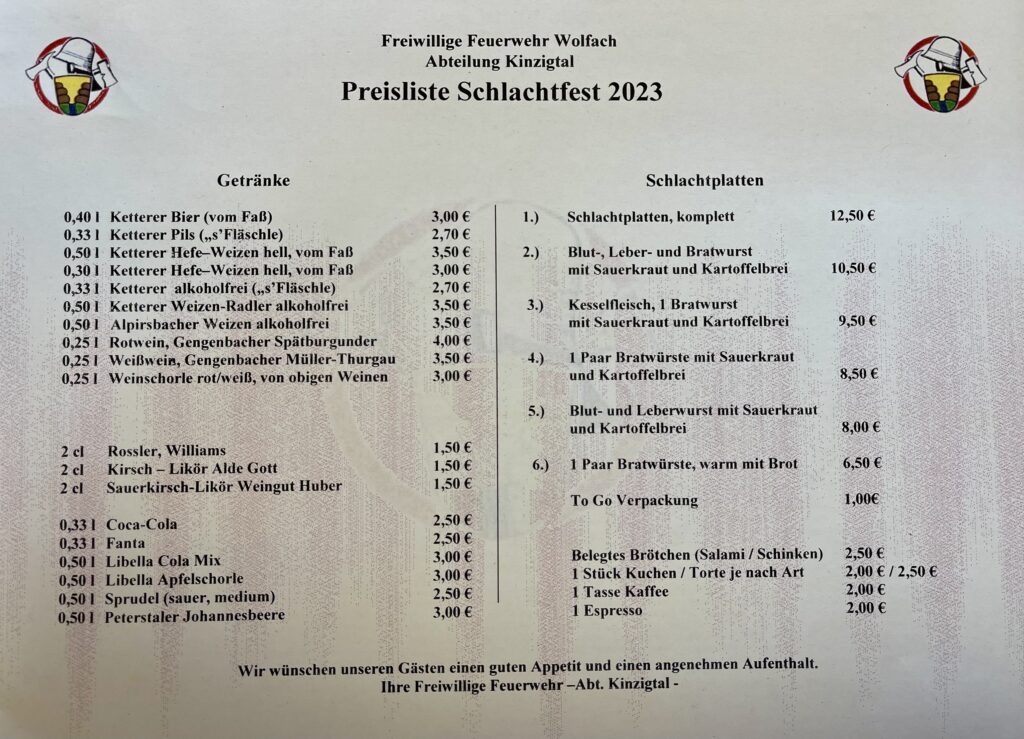 The choices were quite interesting. From bratwurst to…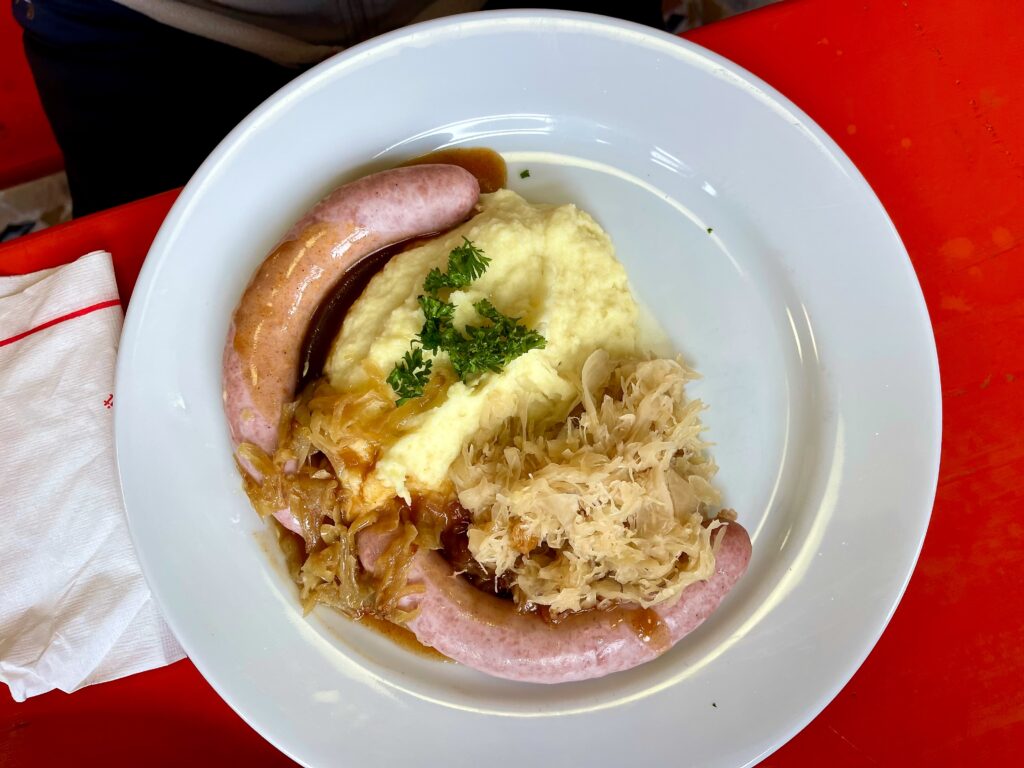 to liverwurst and bloodwurst (yes, blood) cooked in the tubes from the animal to…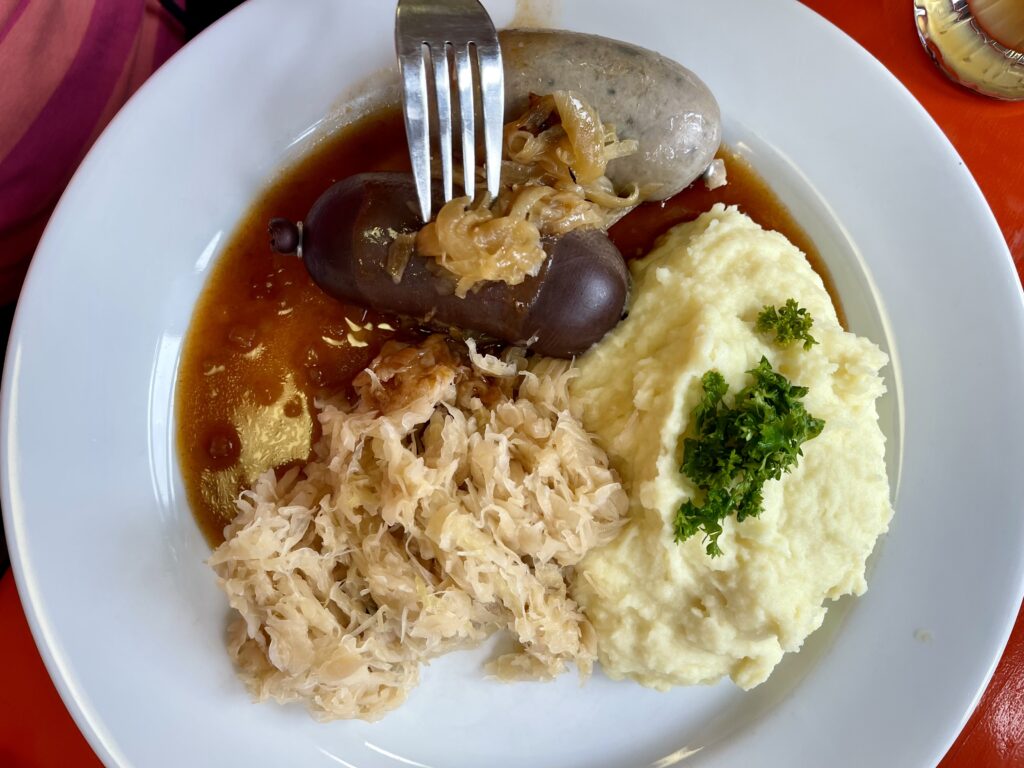 Good old boiled pork belly and a bratwurst!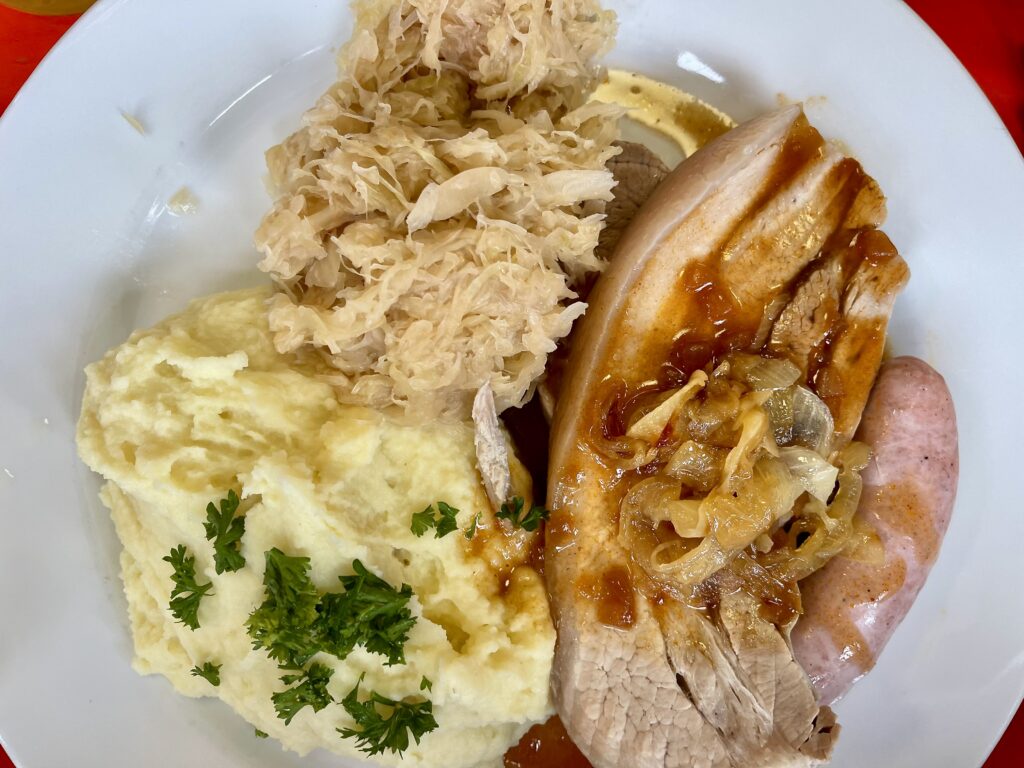 The evening was great, and hats off to our local fire departments.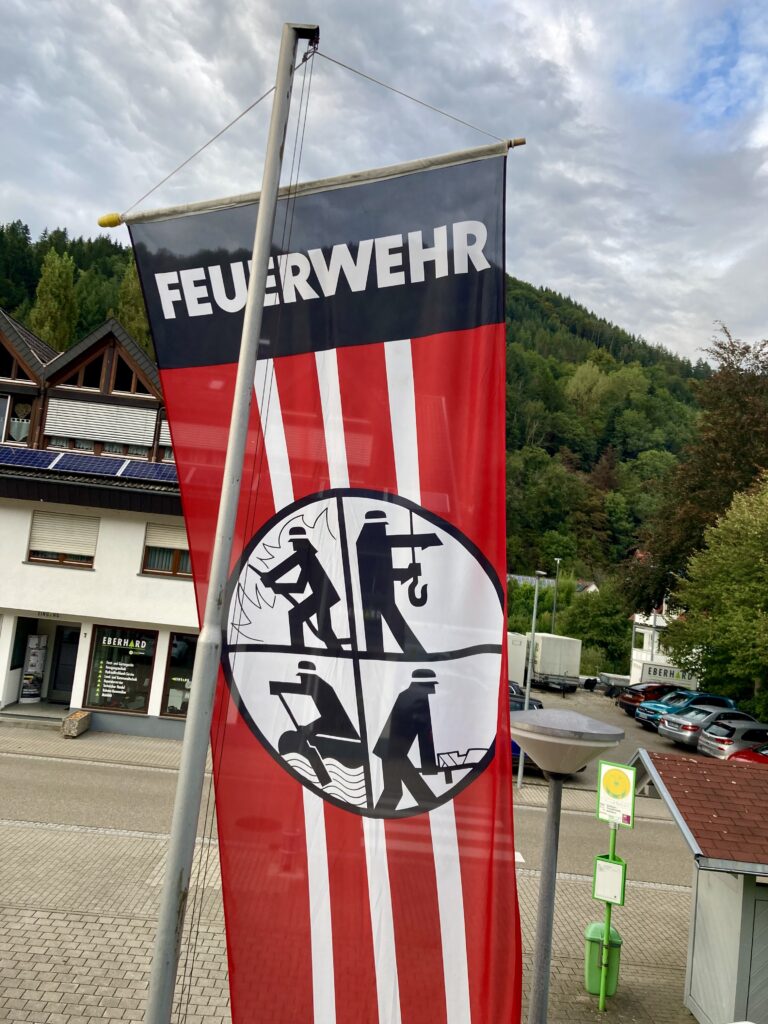 We had another special event that was put on by the area's local band. It was held in the open courtyard of the Schloss Wolfach. The band was awesome; the participants ranged from high school to retired. Since we live right across from the Music School, we hear them practice every Friday night—such a treat. Most people had walked to town or rode their bikes to support the community band. The turnout was a success, and once again, an example of local support was demonstrated. You've got to love this kind of community.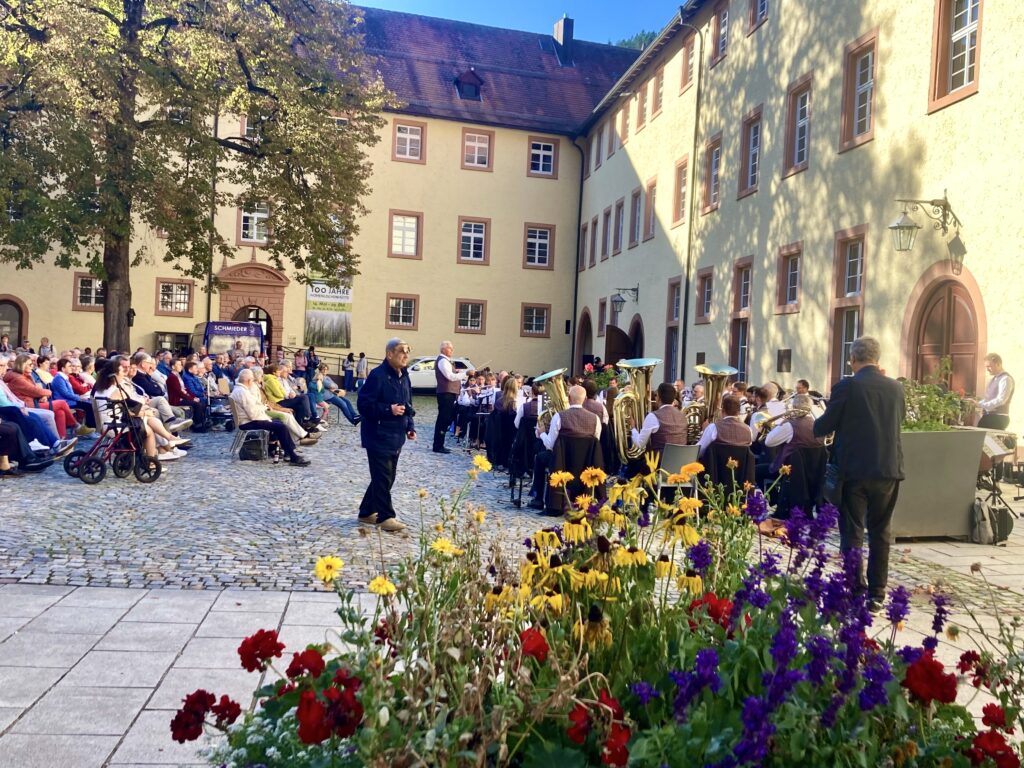 It was a great day for taking Fritz out for a spin. I've had this car since 1994, and it is still going strong. However, he does get hot now and then!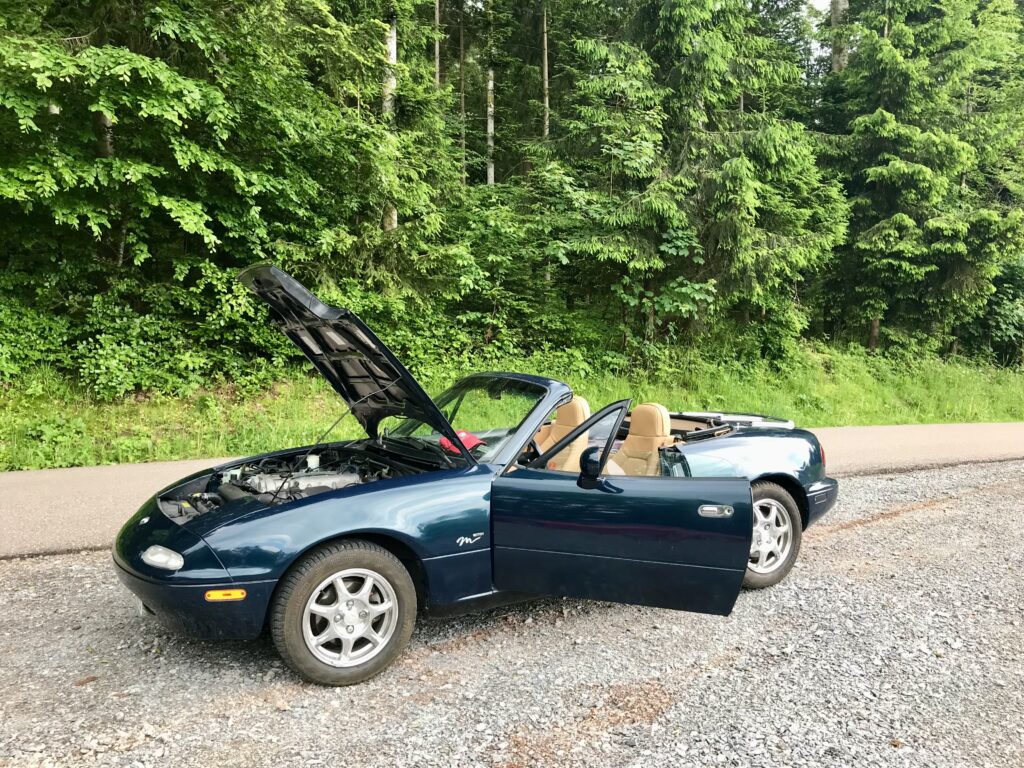 This day's outing took us to a location we passed every time we visited Offernberg. It is a youth hostel in an old castle that sits high on the hill just south of Offenberg.  This is Ortenberg Schloss. It is so enchanting.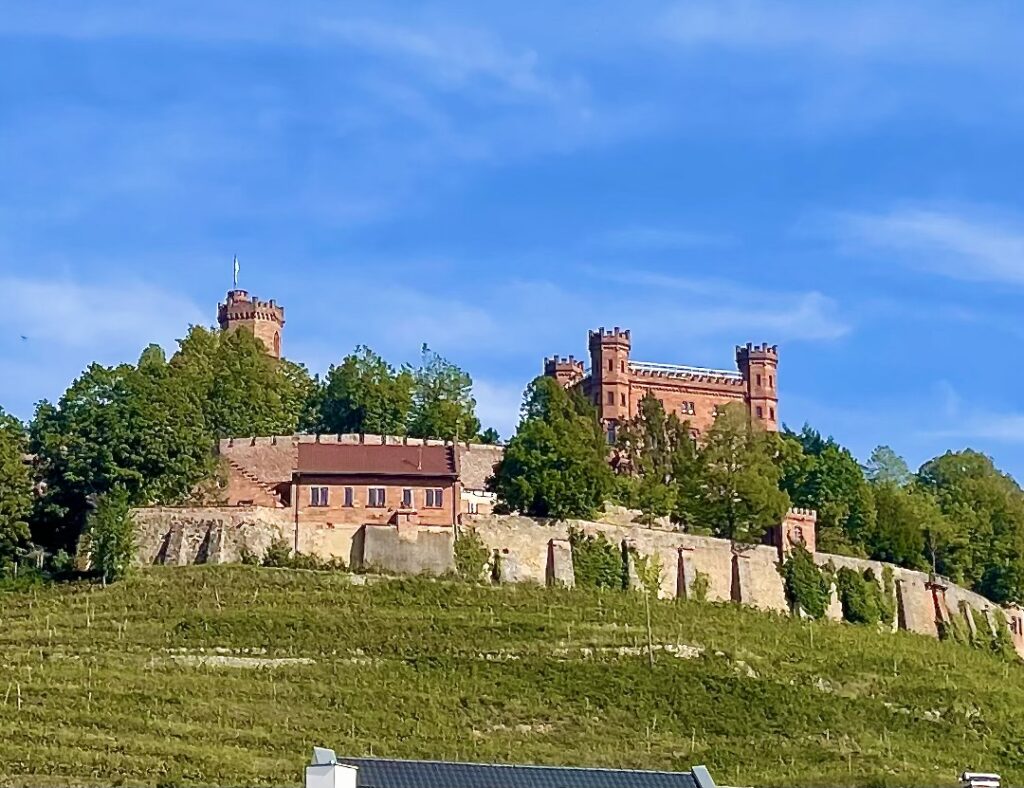 The restoration is continuous!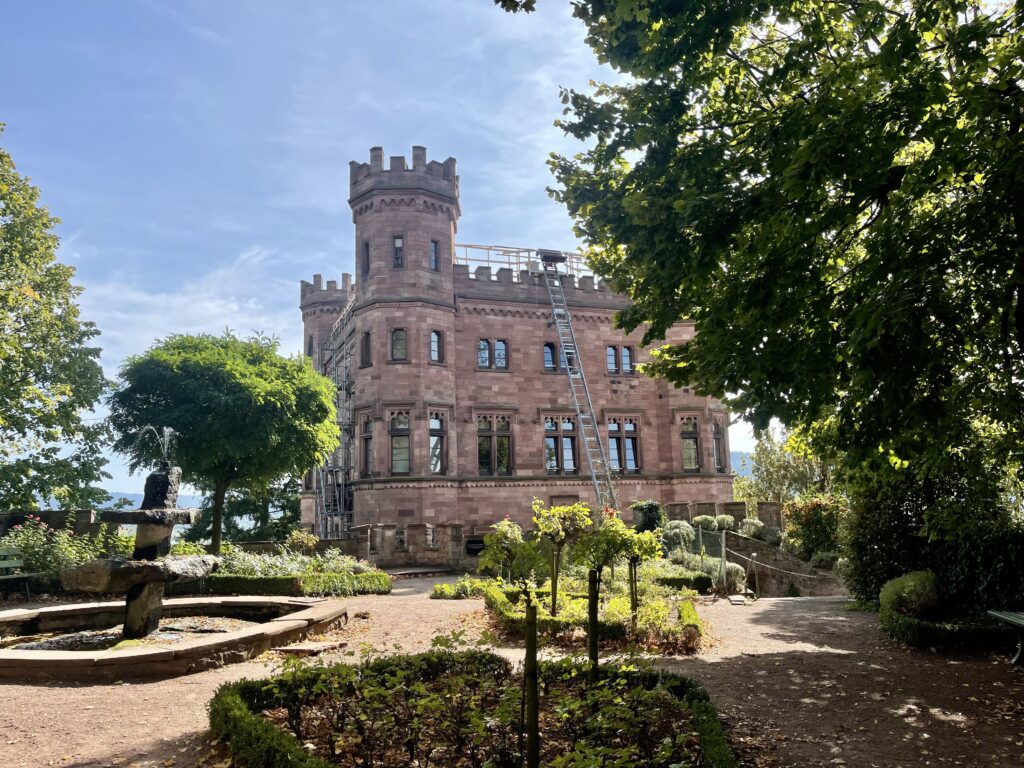 The views are amazing! That is the Kinzig River beyond, and you can see the Vosges in France in the far distance.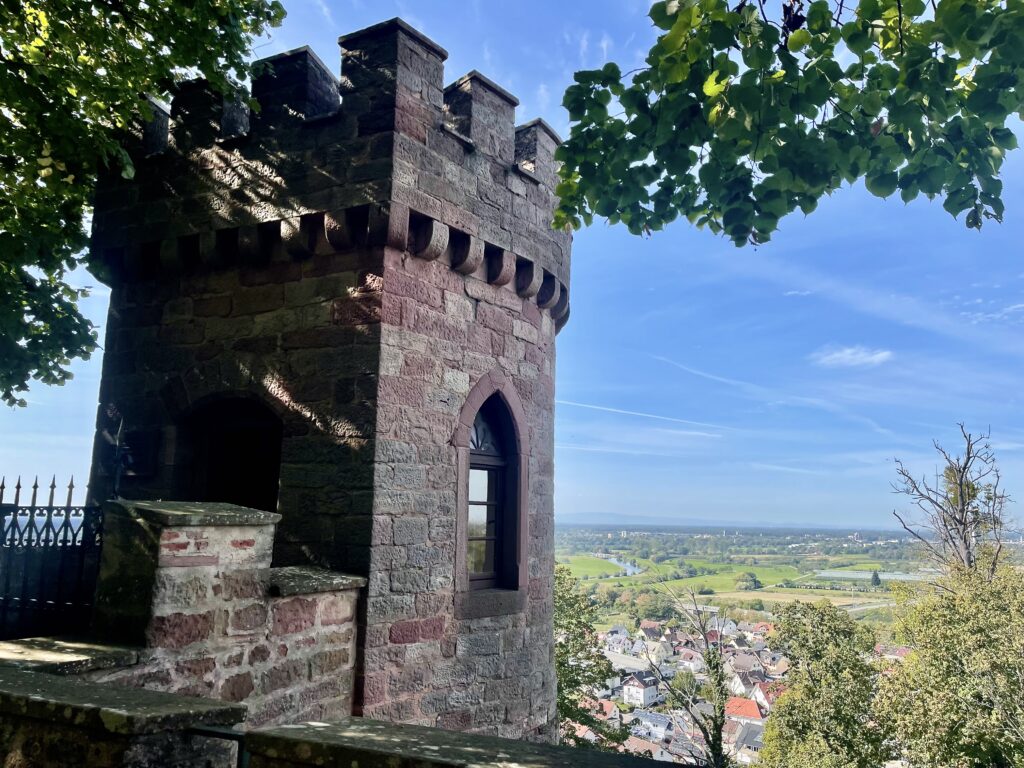 And yes, I climbed 200 steps up and 200 steps down for this view! This is a great area to explore, and the town below has small cafes and shops. A few km away is the historic town Gengenbach, which is the perfect spot for refreshments or to stay a night in the town and explore!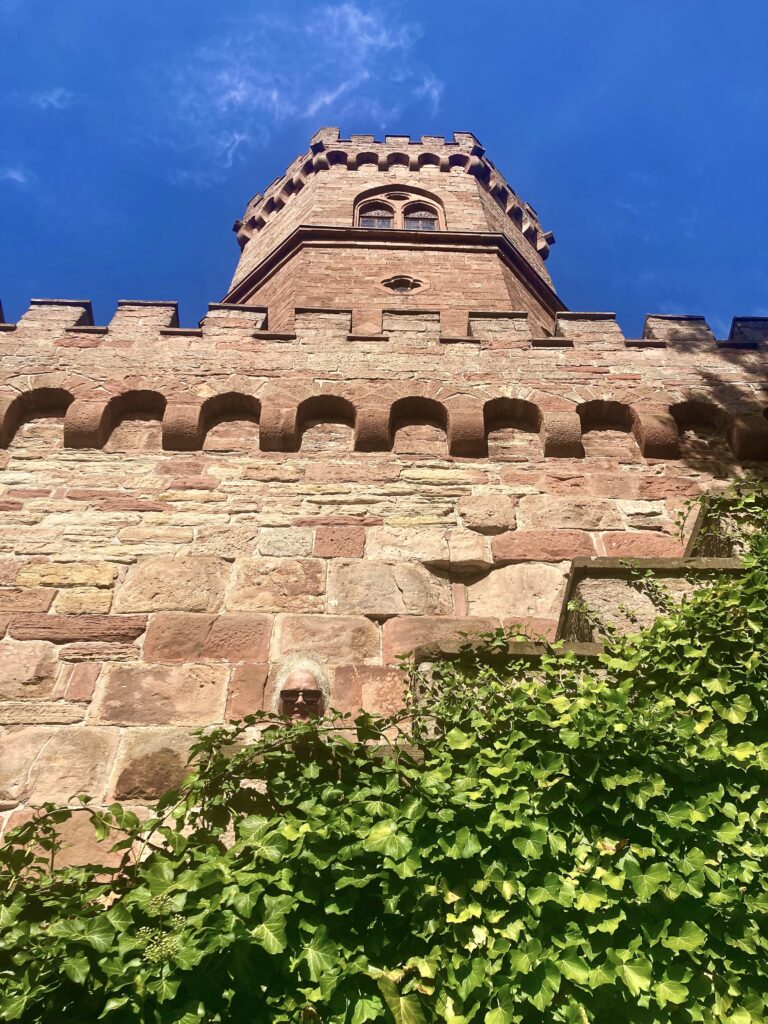 Every year, Lutz gathers with his university friends to catch up, hike, chat, eat, and drink! Can you imagine twenty-five engineers in one spot? Quite a lively discussion. We met up for the weekend in Grunbach—a small town outside Stuttgart. The host of this year's event set up some super activities. The first was a visit to the Mercedes Benz museum in Stuttgart.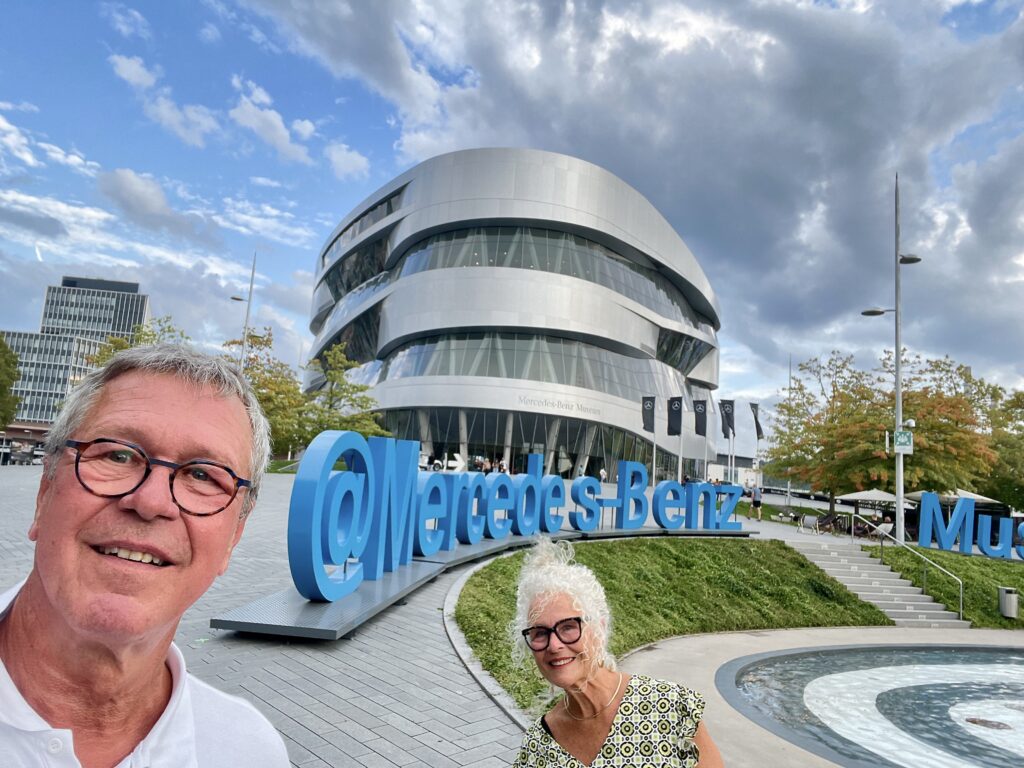 If you haven't been yet, it is a must. The displays are set up by world events and Benz's progress throughout history from the beginning to now. I learned a lot about Benz and how history affected the company's development. The architect, inside and out, was incredible. The green one in the photo below is my dream! The black one next to the truck was my first car at sixteen. I drove it for two weeks and wanted a VW van like my friends!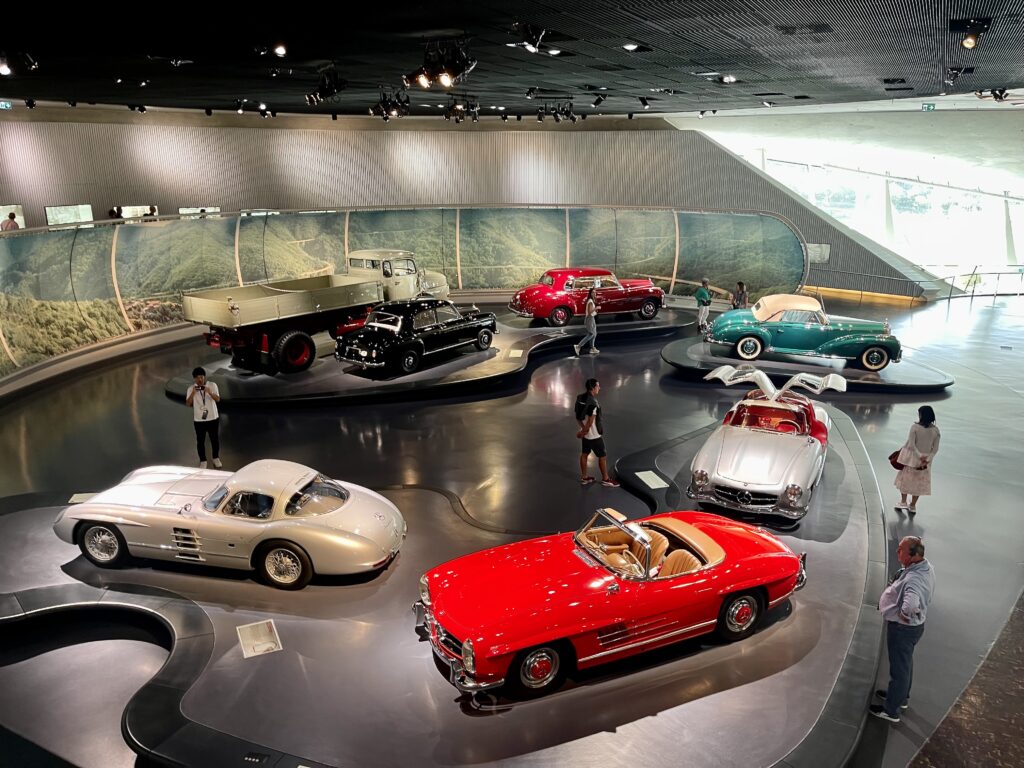 The next morning, we headed for an all-day walk in the vineyards.
We had lunch in a cafe along the trail and headed to Doreas Bio Winery as we headed back to the hotel for dinner.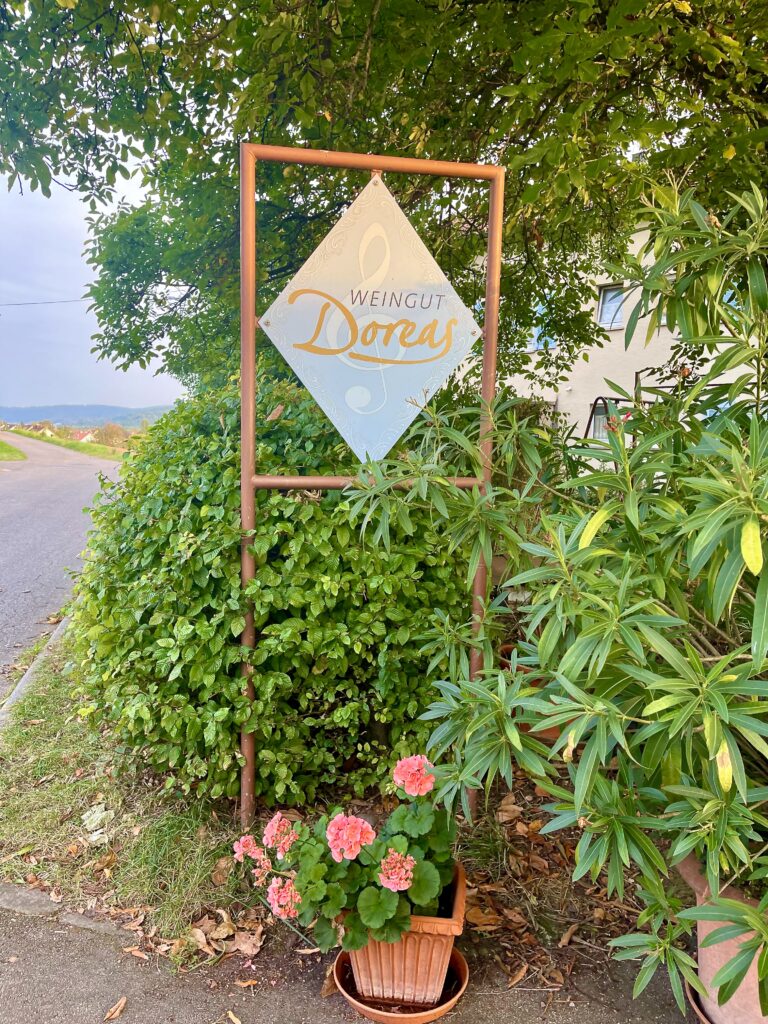 Sampling is always a good start!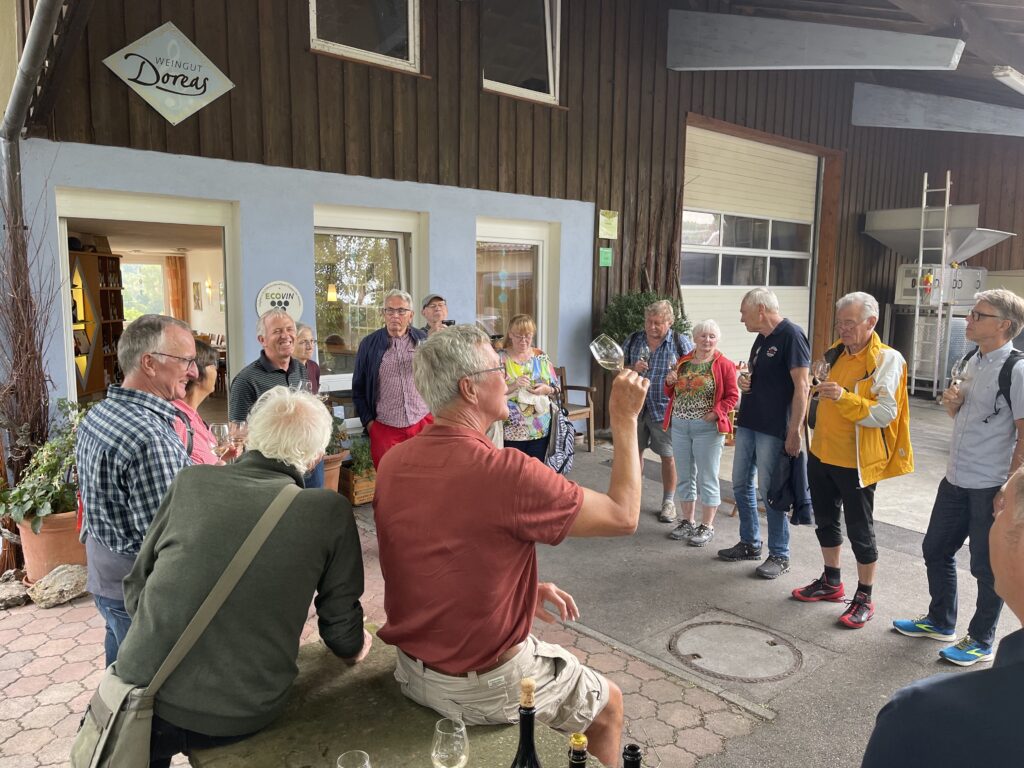 The tour was interesting since they are considered Bio and had specific regulations.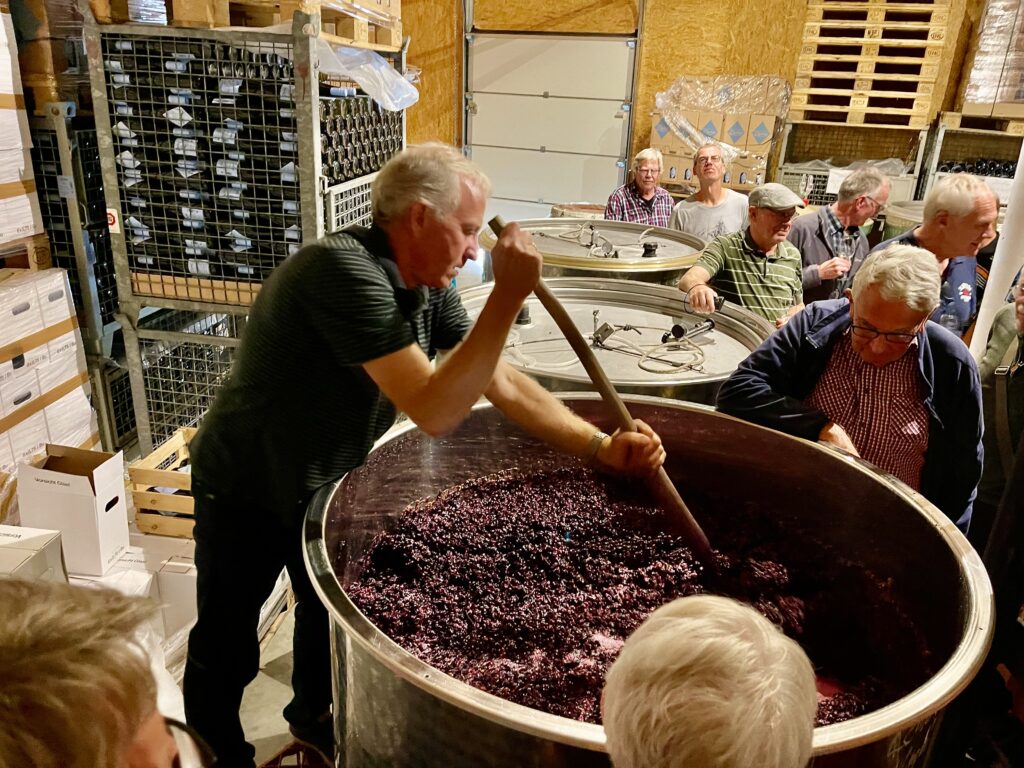 On the way back to the hotel, I was "surprised but not taken by surprise" (borrowed by General Lee) to see this automatic wine dispenser. You've got to hand it to the Germans for such an incredible idea. Imagine this on the hiking trails in the USA! We'd have a lot of lost hikers!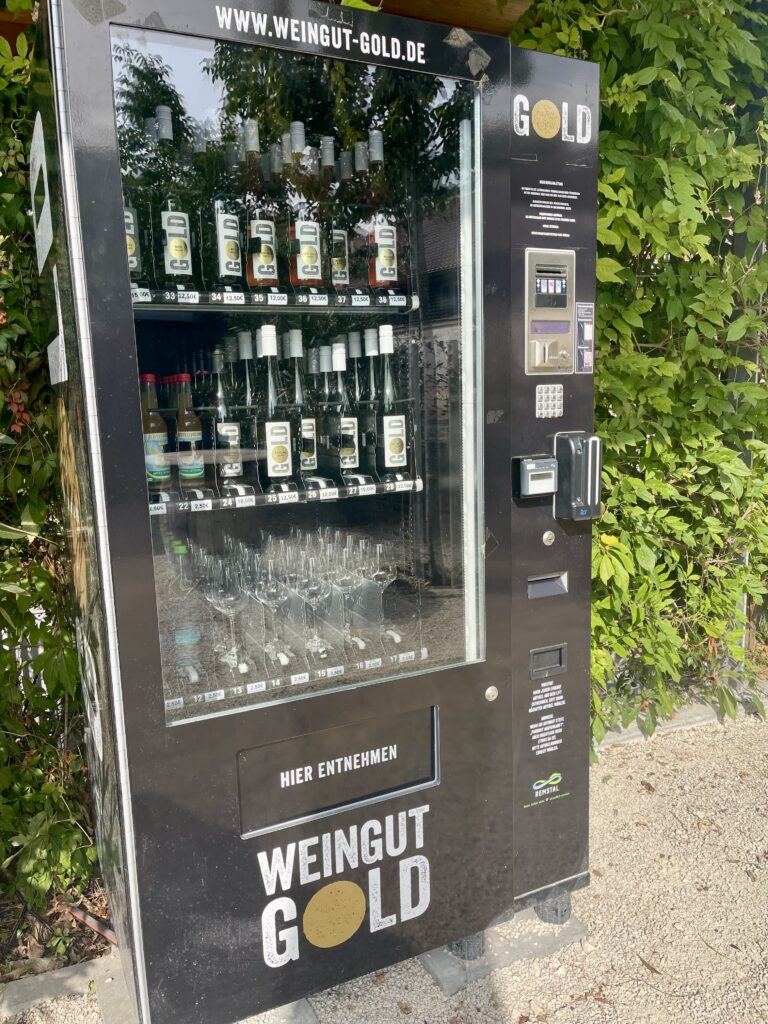 Well, that's it for this month. For now, I feel quite ready to face the fall. I've cleaned my desk, attended half the doctor's appointments, and now I can enjoy baking and watching while Mother Nature does her magic with the scenery. I have a grateful heart, even for one eye at this moment. Thank you for checking out my Fave Recipe and Fave Resource below. Let me know what you think. Chat with you all next month!
Fave Recipe: Plum Cake
This is the season for plums in Germany, and this Plum Cake, or Zwetschgenkucken, is perfect!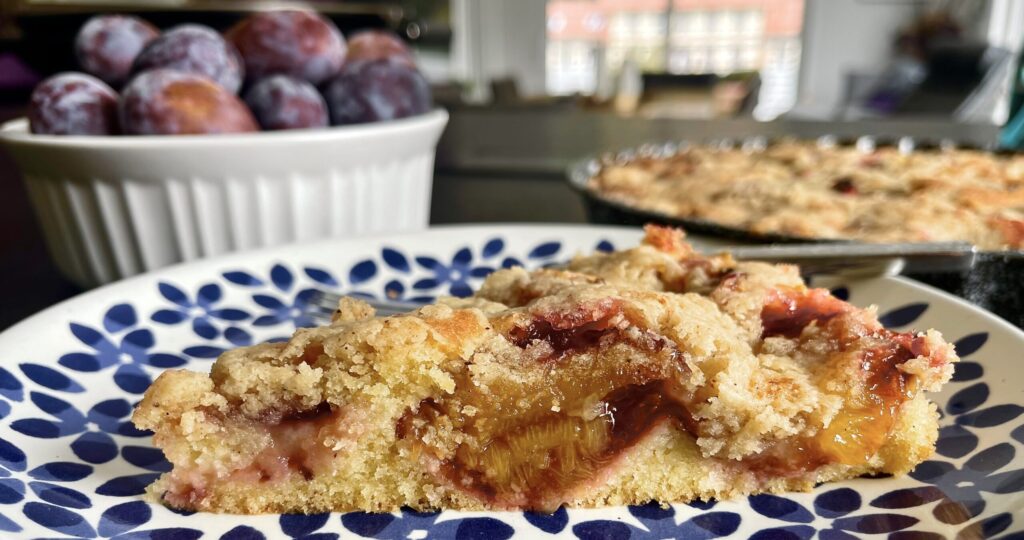 Fave Resource: All Day I Dream About Food
This site is radical—so many delicious recipes. There is something for everyone, from gluten-free to Keto.