I am refusing to let go of asparagus season or what the Germans call "Spargel Zeit." I've been stockpiling the ends. I carefully peeled all my spargel, cut the ends off, and then froze them until I had enough to create a farewell soup to the season. You can also use a batch of fresh asparagus sliced into one-and-a-half-inch pieces. Either way, make sure to peel them really well.  This recipe worked exceptionally by using almond, oat, or cashew milk instead of coconut milk.  It allowed the asparagus flavor to come through without the bold flavor of coconut milk. Slice up a loaf of Century Bread smeared with fresh dairy butter!  Any leftover soup can go right in the freezer. I just pulled out a tub of this delicious soup and let it thaw, then warmed it up a bit. I used my immersion blender to purée it again since I had left a few good chunks of potatoes in it, and they don't freeze well. It was amazingly smooth and creamy. Meanwhile, I had some frozen ends of asparagus, and I took them out of the freezer and added them to the last 20 minutes of the reheating time.  I topped it off with some organic smokey bacon and a few leek rings, and holy moly that frozen soup was like it had just been made…what a treat! Vegan or vegetarian? No problem, use veggie broth, leave out the bacon and enjoy!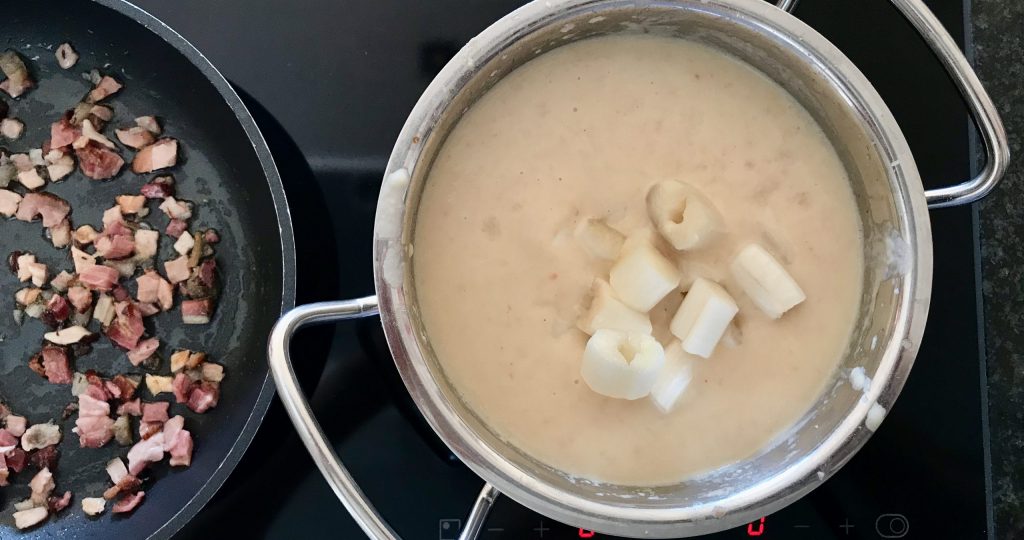 You can use either green asparagus ( a nice green tint when served) or white or a combo of both. I've done a variety of combinations, and anyway you mix it, it comes out delicious.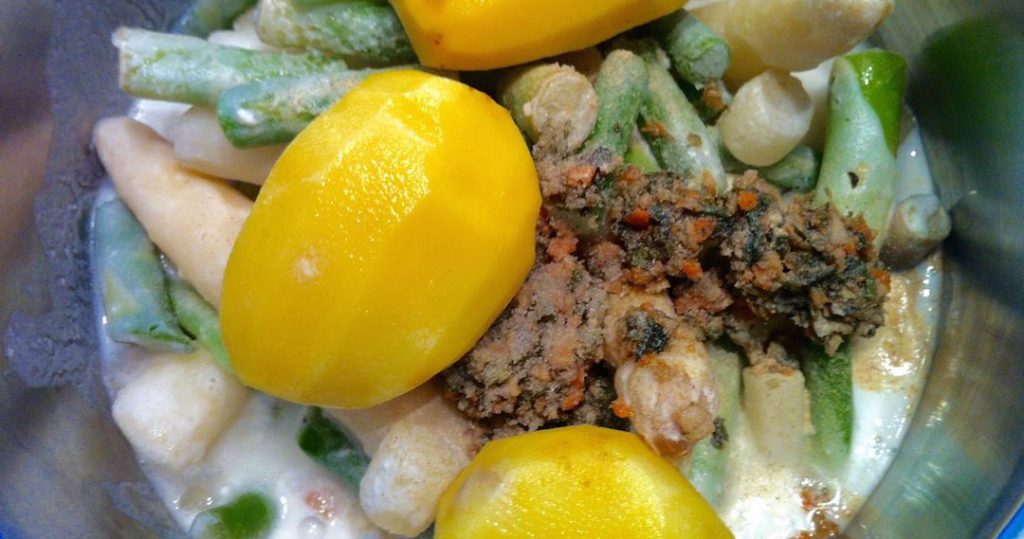 Please take a peek at the Salted Herbs I used on The Healthy Foodie's site to see how to make them, or read below for an alternative option. But…you'll thank me later for turning you on to her site and her recipe….trust me!
CREAMY ASPARAGUS SOUP
July 14, 2016
: 6
: 15 min
: 1 hr
Ingredients
1-quart almond or cashew milk
2-3 cups chicken or veggie broth
1 1/2 tsp Himalayan salt
1/2 tsp white pepper
pinch of nutmeg
2 tsp fresh chopped parsley dry work as well
1/2 white onion chopped
2 clove garlic chopped
1 Tbsp salted herbs (see step 5)
4 cups asparagus ends divided or a fresh batch peeled and divided in half. Make sure they are peeled!
2-3 small potatoes peeled
Directions
Step 1

Place the almond or cashew milk, organic chicken broth, and all the spices/herbs, onion, garlic, and half of the asparagus in a large cooking pot on medium-low. Peel and dice potatoes and put them in the pot. While this begins to simmer, read below for a substitute option for salted herbs. It's great for seasoning soups or adding to marinades.

Step 2

stir your soup, lower the heat, cover, and cook for 25 minutes on low.

Step 3

After 25 minutes, check to see if the potatoes are soft. You might need a bit more time. Bring to a boil, then turn to low. When the potatoes are soft, use your immersion blender and puree until smooth and creamy. Stir in the reserved 2 cups of peeled frozen asparagus ends or freshly sliced asparagus. Taste and add more salt, seasonings, or herbs to your liking.

Step 4

Simmer for another 20 minutes while you set the table! Enjoy with or without bacon and leek rings.

Step 5

The Salted Herbs are amazing. I got the recipe from Sonia's site, The Healthy Foodie. It makes a huge batch and keeps for months. It's great for seasoning soups or adding to marinades. Sonia is from Canada, and apparently, she said this is a "must-have" in the Canadian kitchen. It is a combination of parsley, onions, garlic, carrots, celery, and more herbs covered in rock salt. It keeps for months in the fridge. If you don't have this made in advance, add a selection of finely diced herbs and veggies of your choice. But her site is worth checking out, for sure.