What an amazing morning this last Saturday. I learned so much and met some great new friends! No better way to spend the day than cook'n with a crew of talented, kind, and energetic people.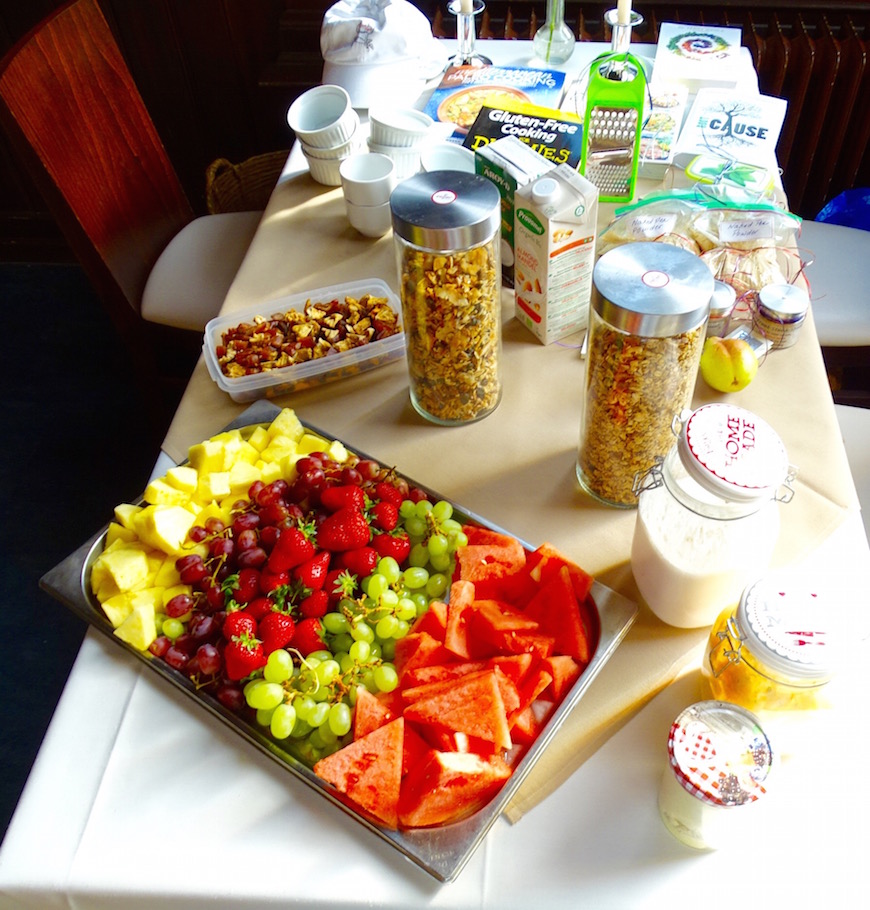 We kicked off the morning with homemade Creamy Dairy-Free Yogurt, fresh fruit and two kinds of delicious granola: Great Grain Free Granola and of course, Granny's Granola.
We had some lively discussions reviewing some terrific articles from Dr. Mercola, Dr. Hyman, Dr. Izabella Wentz, and Dr. Suzy Cohen. This lifestyle is not just for thyroid challenges, it offers health to those suffering from any autoimmune problem as we discovered. I hope you all have a chance to check out their sites on the net. They have valuable information to help you on your way. Both Izabella and Suzy are pharmacists and will respond to your questions. All of these specialists have articles that address various challenges you might be facing and it's worth signing up for their weekly newsletter. It's time to take control of our own health, right?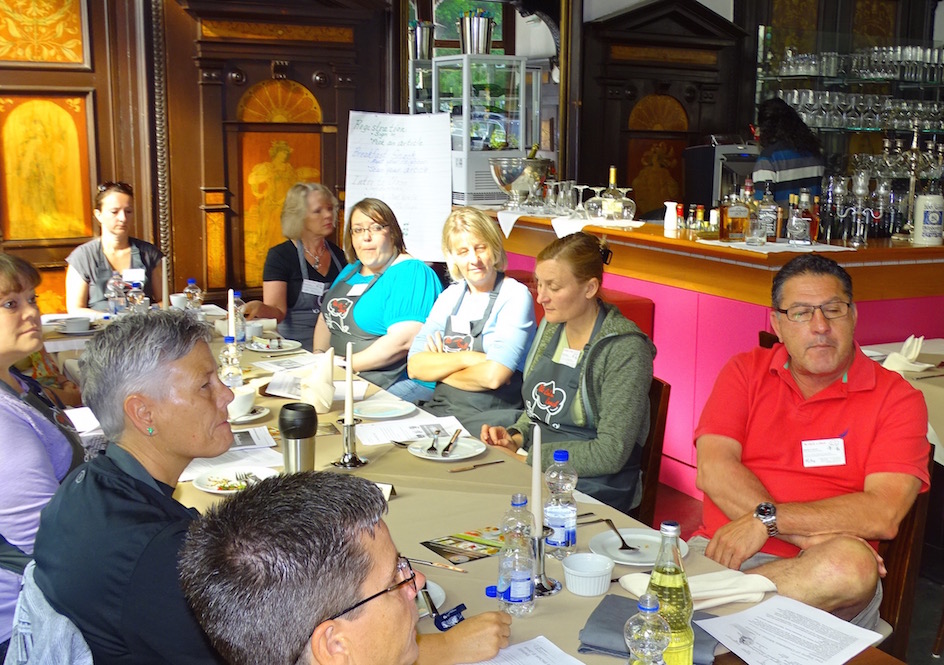 I always like a twist to my classes and this time names were drawn to create cooking partners for the 6 stations that were set up in kitchen. To top that, each team drew their station from The Cook'n Coach hat! I was still not done. I had 2 stations that were experimental. That meant, I inserted a recipe that I had not tested. Time to create!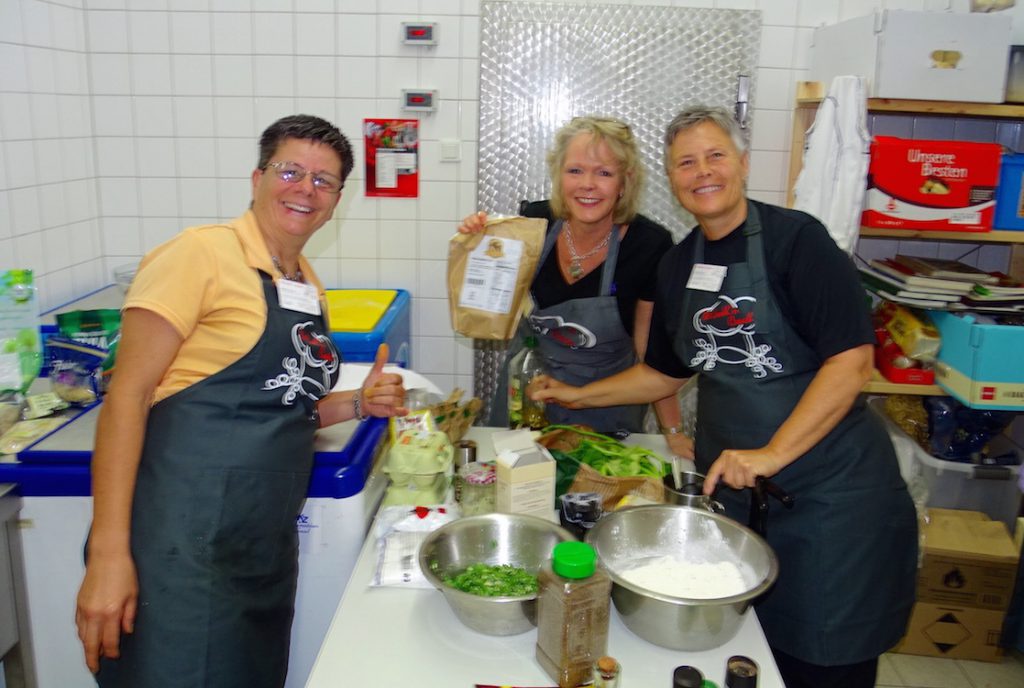 Station 1: Sausage or Spinach Empanada
Barb and Lyn were faced with the experimental challenge of using Yummly.com's empanada crust. WOOOOO what a dish. Barb, I finally met someone that likes things hotter than me. The sausage filling was amazing. Do you put that much red pepper on everything? Lyn tackled the crust with gusto and discovered sticky was not the way to go. A little more arrowroot flour and these puppies were a hit. The dough was perfect for pressing out and with a touch of spice in the dough made the empanada crust a real treat. I will be using this recipe more often, that's for sure…oh yes, the spinach empanadas were super as well girls. They had the right amount of dairy-free ricotta cheese. I snuck some of the Italian Sauce from the Infused Egg Bake on top to the Spinach Empanada…oh yeah babe.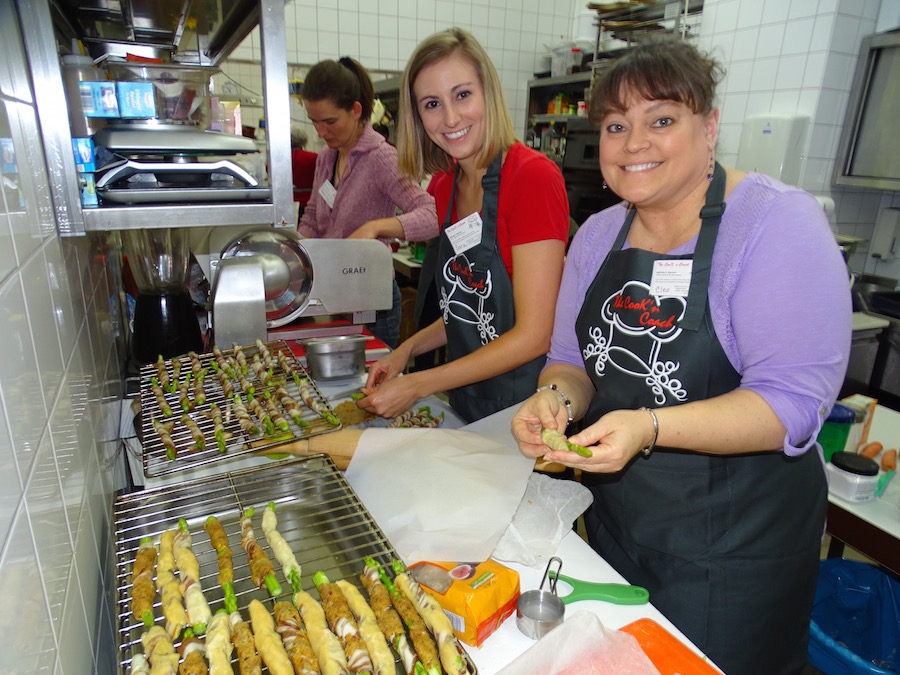 Station 2: Bacon Wrapped Asparagus with a Ribbon Crust
This station was headed up by none other than Cleo and Sara…sorry Sara but it was the luck of the draw you got bacon!!!!! Both Cleo and Sara met their match with persistence. Their experiment was to use the 3 pre-made crusts and discover the challenges of working with gluten-free. I applaud you both for sticking to it even when you felt like giving up. I saw Sara a couple of times strangling the wrapped asparagus with the crusts while Cleo calmed her down with encouragement. Sara do you really dislike bacon that much or was it the crust? We all learned something that day…the empanada crust would have been a much better ribbon crust! Despite their efforts, the Fig & Mustard sauce was a dream. I have plans to rub this sauce on my pork loin 15 minutes before taking out of the oven! Sara, I hope one of these recipes was workable for the shower you're planning on hosting, ok well maybe not the bacon-wrapped asparagus but… Cleo, you made my day when you said you are definitely going to make some changes to your lifestyle and that you'd love to come back. Keep checking the site for upcoming events! I'd love to have you back as well.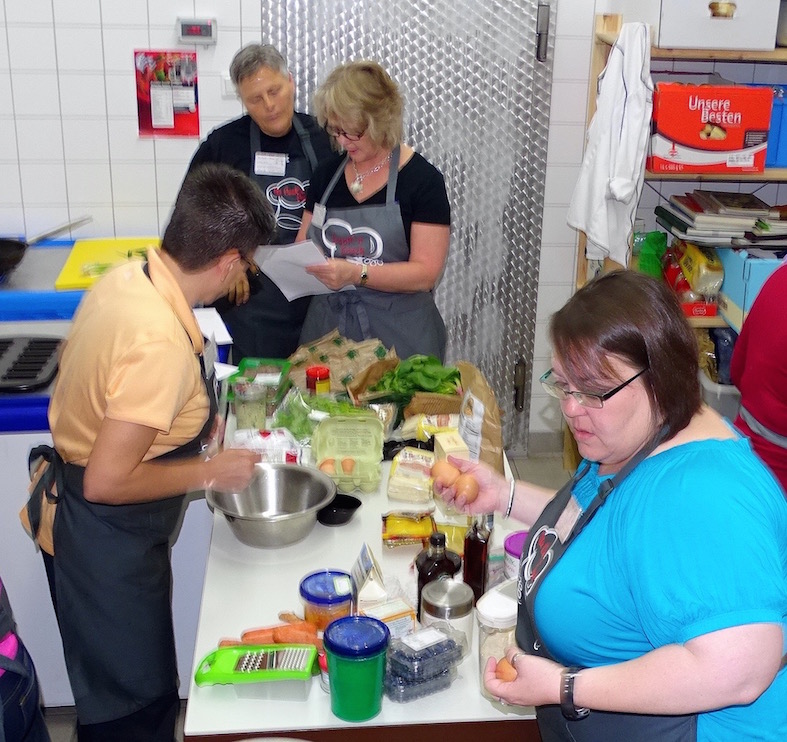 Station 3: Turmeric Sweet Potato Protein Muffins
Jodi and Emily were a dynamic team creating the Turmeric Sweet Potato Protein Muffins! While Jodi mixed the dry and Emily whipped up the wet their efforts paid off. I hope your fingers are back to normal after the turmeric grating. These muffins were so good and the smell almost took over the whole kitchen as they baked…ok well you'd have to have been there. The Chai Cashew Butter really set them off. I also hope you both were able to take a few muffins home and check them out the next morning. Still as moist as ever I bet. Super job ladies! Thanks for pitching in and helping out and learning from the other stations while your muffins cooked away. Teamwork…love this. Jodi, I am waiting for your waffle recipe so I can post it. Do they have turmeric in them? Emily, I promise next time you can grate the apples, carrots, and zucchini. You'll have to come back though.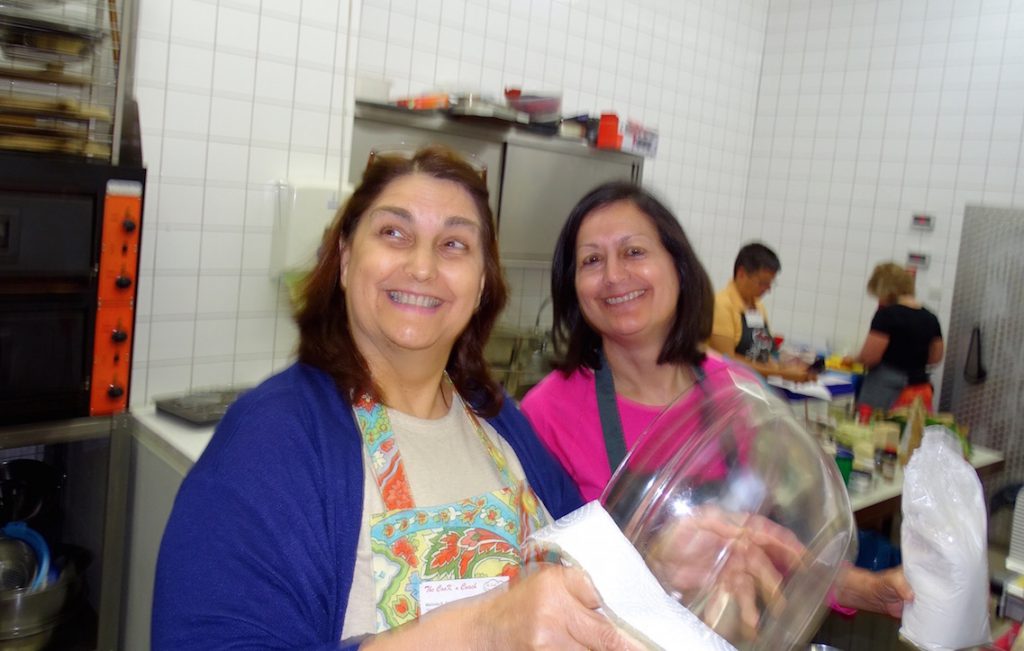 Station 4: Sweet Potato Crepe with Rhubarb & Ginger
Jan and Peggy did not flinch when they drew the Sweet Potato Crepe with Rhubarb & Ginger Sauce. They acted as if they made them every day. I wish I was so assured. Seriously, the Wallonenhof had a professional crepe skillet and lord if I knew how to use it. Not a problem for them. They dug right in and didn't blink an eye when they discovered they would also be using Cassava flour in the recipe. These babies were so good, light and thin with just the right amount of sweetness. I love how they touched up the Rhubarb & Ginger Sauce. They added their own unique seasonings and after tasting I could tell something was different. I tried to replicate what they did on my site recipe by watching them out of the corner of my eye. I saw it all…a little more lemon juice, a little more nutmeg…come on girls, post what you did.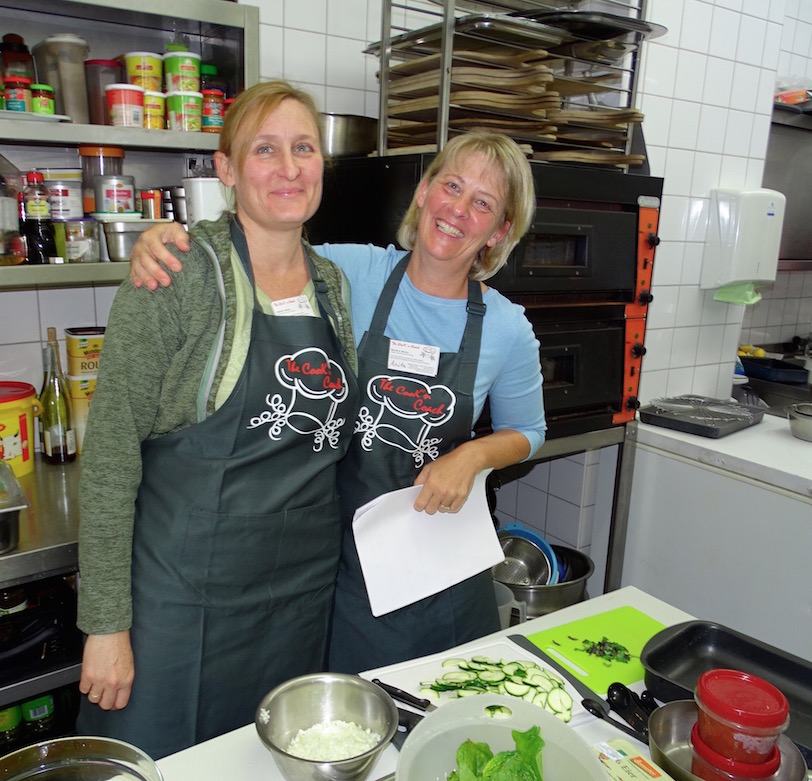 Station 5: Infused Egg Bake
Melanie and Anita drew the perfect dish to prepare, Infused Egg Bake PLUS Italian. I had to laugh since this was the one recipe Anita and I forgot to cook when I did a Cook'n Cozy with her in her home last month. Now you got it, girl. The only challenge the two of these ladies faced was speed…lol oh yes, and me reminding them "come on girls this needs to be cooking away…chop-chop and I mean it literally CHOP!". I think they used a ruler to measure each slice of vegetable. Right when Melanie was on the verge of a creative idea, I came along and interrupted all plans. Now you have to implement your creative idea at home, Melanie, and post it on the site. The Italian sauce was right up my alley…HOT! We like it spicy hot. Anita I can't leave you alone with red pepper flakes anymore. Great dish ladies, all kidding aside. This was another perfect powerful breakfast meal.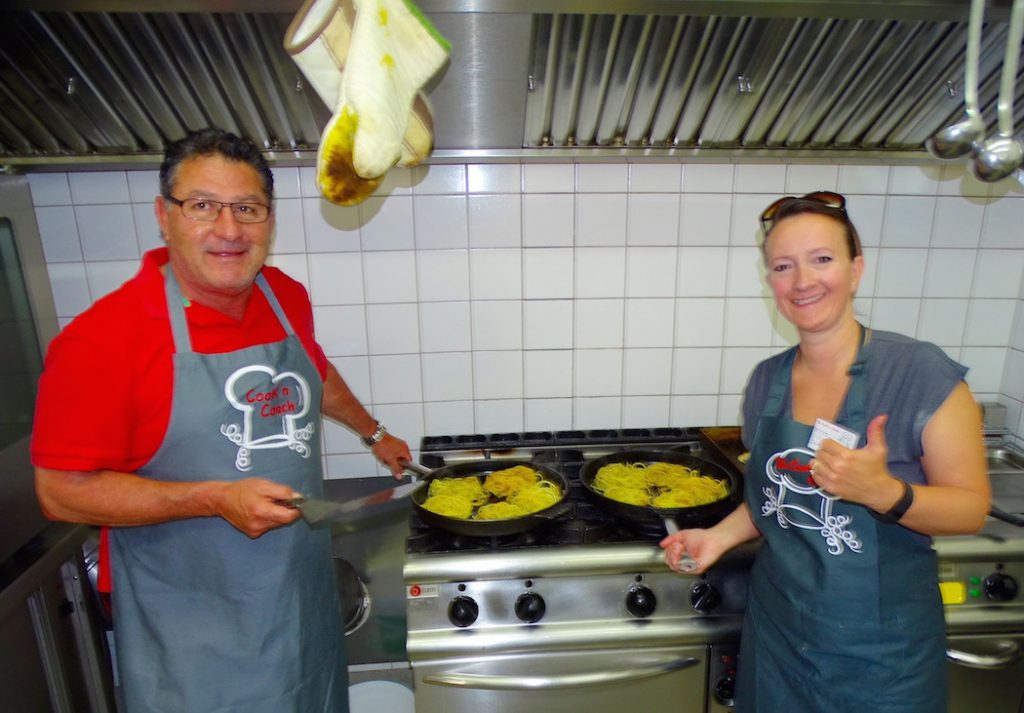 Station 6: Eggs In A Nest
What a pair! Mike and Dana cooking together are like placing Picasso with Michelangelo in the same room to paint…2 creative peas in a pod that worked TREMENDOUSLY together to pull off a more time-sensitive dish, Eggs In A Nest with Spicy Hollandaise Sauce. Which they both took to the limit. Again, I hope I did justice to my Hollandaise update online by taking your advice. Please post your improvements! The world is waiting. I might have forgotten something. The spiraled potatoes were crisp and warm with the right touch of seasoning. My egg was PERFECT just runny enough to coat those taters! Loved the additional Rustic Cajun Spice you added to the spinach and the fried bacon flavor, to die for. Dana, you have got to post what you added to the Hollandaise. I brought my homemade horseradish and could taste a hint in the sauce. The added touch of Louisiana sauce gave it a nice twang and just made the difference. Mike, I'm going to have to think of an award for you. You have attended each of my classes. Your support is amazing! Wonderful prepping and dishing it up team, right on time.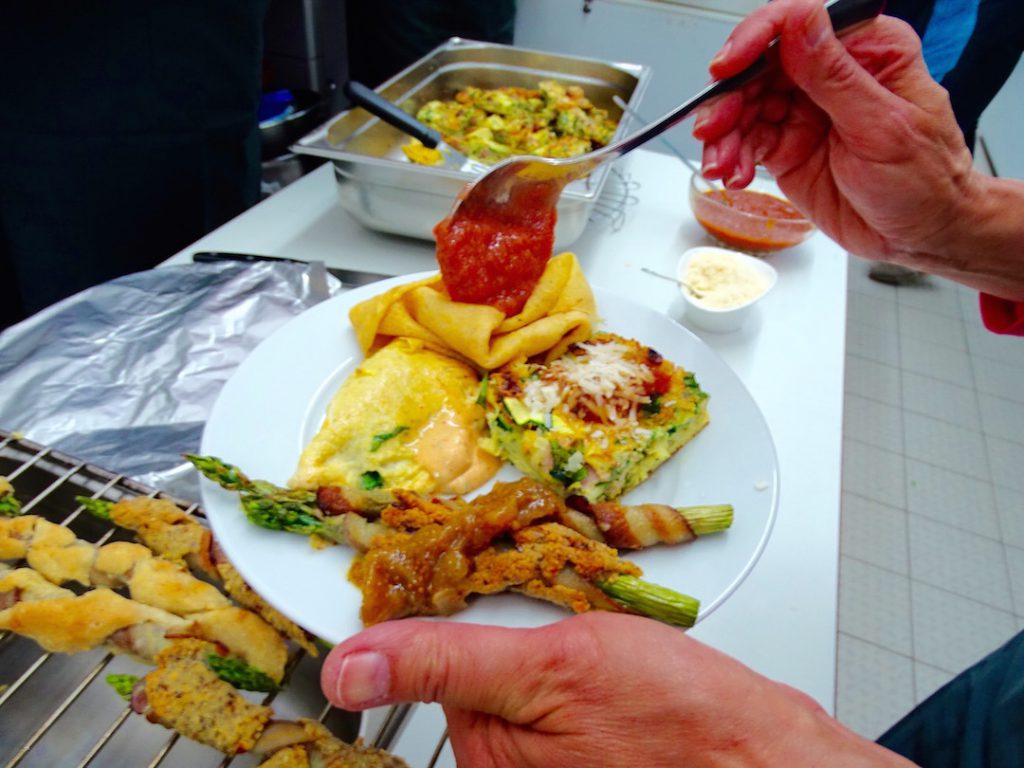 All in all, this was one fast and fun morning. I hope you all enjoyed it as much as I did and my thanks go out to all of you for supporting me and the other cooks who are trying to make healthy changes.
Thanks go out to Stefanie and Sedun who GRACIOUSLY allow us to use their beautiful restaurant for these cooking events.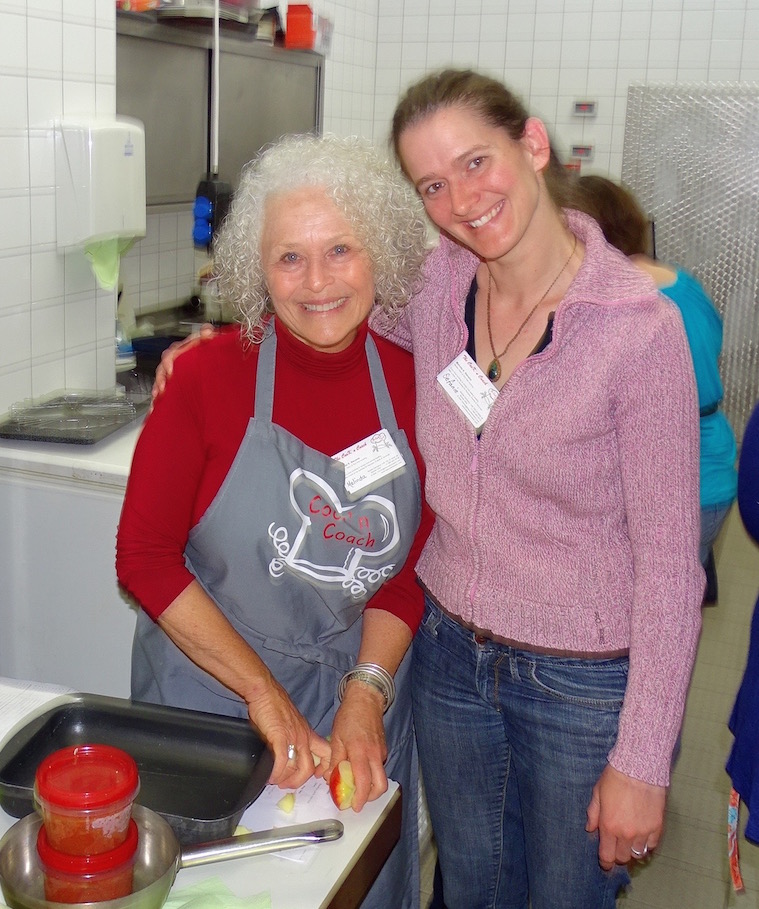 A HUGE thanks go out to my amazing husband, Lutz for his many talents, one of which is a critical skill not all can do or want do, DISHWASHER! He was on it and kept that machine going full blast. Honey, can I get one of those for my kitchen?
Seriously, he is my right-hand man. Lutz has an amazing skill with the camera and has worked wonders with my site (along with my son, Jarrod). Thank you for supporting me my dear amazing husband!
Keep an eye out for the next Cook'n Coach class by signing up for weekly posts and recipes.
Your Cook'n Coach
Melinda