Butter Chicken is a warm creamy dish that smells and tastes superb. It has a hint of cinnamon and the scent of cardamom that just begs to be eaten with Spicy Lime Chutney! Once again, I searched several sites and read the book Complete Indian written by Hamlyn, whose chicken Masala inspired me. I am always adapting to dairy, soy, and wheat ingredients to fit my lifestyle. This recipe is the result of much reading and searching the net for the perfect combination for making butter chicken. For now, this is as good as it gets!
I created this with my own recipe of Garam Masala and Cashew Cream (see below). It came out so creamy and just delicious. Better than our local Indian restaurant my husband said!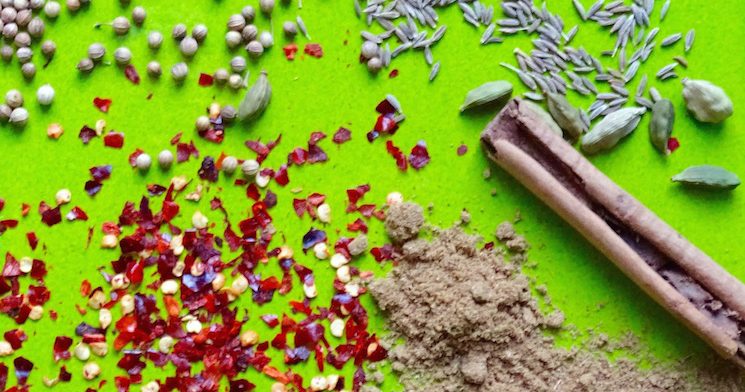 NUT'N BUTTER THAN BUTTER CHICKEN
March 20, 2016
: 6
: 20 min
: 40 min
: 1 hr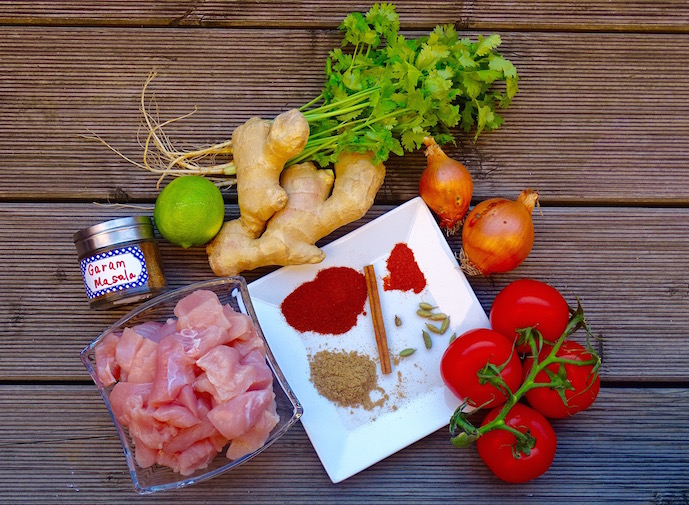 Ingredients
4 - 6 tbsp ghee 2 for frying chicken & 2 for heating spices
6 chicken breast cut in bite-size pieces
2 tsp Garam Masala Check out my homemade recipe
2 tsp paprika
2 tsp coriander powder
2 tbsp fresh grated ginger
1/2 - 1 tsp chili powder I like it hot!
1 stick cinnamon
6 bruised cardamon or more if desired
1/2 cup chopped onions or more if desired
1 cup tomato puree check out my recipe!
1 1/2 cup coconut cream
1/2 cup cashew paste soaked raw cashews in water overnight. Drain and place in a food processor and blend until a creamy paste.
1/2 cup cilantro
2 Tbsp fresh lime juice
1 tsp Himalayan salt Add more if needed
Directions
Step 1

In a large frying pan heat 2 tbsp of ghee on medium-high. Stir-fry the chicken until slightly browned. You might have to do this in 2 batches if the pan is too small.

Step 2

Remove the chicken from the pan and set it aside.

Step 3

Add the other 2 – 3 tbsp of ghee to the frying pan and slowly heat the spices, cardamom, and cinnamon stick for 2 to 3 minutes.

Step 4

Add the chopped onion and sauté for 3 to 5 minutes. You might need a little more ghee.

Step 5

Add the homemade tomato puree and cook until well blended and hot.

Step 6

Pour in the coconut milk and mix well.

Step 7

Add the cashew paste, chopped cilantro, and lime juice. Place the chicken back in the sauce. Add 1 tsp of Himalayan salt or more to taste and give it a stir.

Step 8

Simmer for 15- 20 minutes on low with lid off. Stir every few minutes to check the consistency. If becomes too thick, add a bit more coconut cream milk. If too thin, add a bit more cashew paste and place lid back on for the remaining time.

Step 9

Serve over my recipe of Seasoned Indian Cauliflower Rice or your favorite rice. Garnish with a sprig of cilantro, a slice of limes, and a sliver of ginger!