Oh yeah, babe! This is Sunday Brunch at our house. We love to sleep in, wake up slow and then head to the kitchen. My job: breakfast; Lutz's jobs: coffee, music and taking photos or working on photos. Then off to the gym…well, after a morning rest from all the hard work! These Eggs In A Nest are fun to make, simple and easy. They are loaded with vitamins and protein…plus a little potato carb on the side. You can top them off with your favorite hot sauce or Spicy Hollandaise Sauce found on my site. Enjoy!
EGGS IN A NEST
May 22, 2016
: 4
: 20 min
: 25 min
: 45 min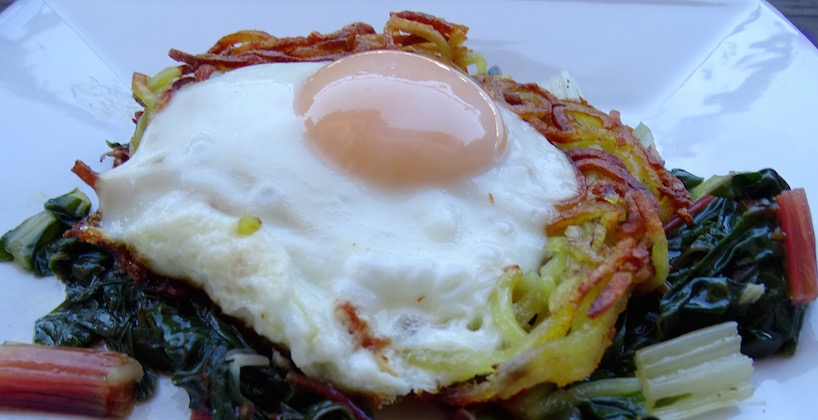 Ingredients
1 pound spinach chopped: kale or chard works too
2-4 tbsp ghee or coconut oil or macadamia oil
1 tsp Himalayan salt
1 clove fresh garlic or more...
1/2 tsp pepper
1 tsp red pepper flakes or more...
1 small onion chopped
3-4 pieces bio ham or bacon diced or optional
2 large potatoes leave skin on! Clean & spiral
1 tsp seasoning spice organic or my Rustic Cajun Spice
2 tbsp hollandaise - optional optional-Check out my Spicy Hollandaise!
1 dash Louisiana Hot Sauce
Directions
Step 1

Serial your potatoes!

Step 2

Add 1 tbsp ghee/coconut oil to another large frying pan and sauté on medium garlic, onions, salt pepper and red pepper flakes in the oil. If using bacon or ham, slice in 1-2 pieces and fry in the mixture as well. Cook for about 5 minutes. Add your spinach or greens when meat is cooked. Cover with a cooked lid and get back to cooking your nest!

Step 3

Melt 2 – 4 tbsp of ghee in a large frying pan on high for 1 minute. Create 4 – 6 circular nest from spiraled potatoes about 4″ each (you might need 2 pans depending on how many your making).

Step 4

Turn heat to medium and fry the nests in hot ghee until the bottom is toasted brown.

Step 5

Flip the potato nests and make a hole in the center of each one with a spoon. You might need another tbsp or 2 of ghee. Crack an egg for each nest and drop in each hole. Sprinkle with seasoning salt or my Rustic Cajun Spice. Cover and turn heat to medium/low. Cook for about 6-8 minutes.

Step 6

When eggs are to your liking, place a small circular serving of cooked chard, spinach or kale on a serving plate. Lay the nest with the egg on top. Drizzle with Louisiana hot sauce or my Spicy Hollandaise Sauce.

Step 7

If you're not into frying potatoes, use a piece of gluten-free bread and try this recipe with poached eggs! We love experimenting with your Sunday Brunch so all combinations work for us. You create your own comb and enjoy it.