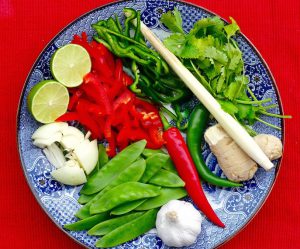 We go to a little Vietnamese restaurant called Saigon that is right around the corner. It is one of the restaurants where I feel confident that all the veggies are fresh and come from the open market. Plus, they are happy to accommodate my gluten, soy and dairy-free lifestyle. They serve this delicious chicken coconut soup dish that you pour over rice. It is so tasty and the aroma is beyond the moon. Actually, just inhaling it I can feel my body gaining strength. I've read a few recipes and thought about creating this meal for about a year. I practice each month, and this week I decided to finalize this baby. I have to say it is in strong competition with Saigon's version. Try it and let me know what you think.

1

lbs

lean bio pork or chicken

sliced thin
Curry Paste: Food Processor
1/3

cup

red curry paste

I use Panang CurryPaste or try mine on my website!

1/2

cup

cilantro

leaves only

3-4

cloves

garlic

roughly cut

1

fresh lime

juiced

2"

piece

fresh ginger

peeled and roughly cut

1"

piece

lemon grass

peeled and finely chopped

1

Tbsp

almond butter

organic

1

fresh red pepper

seeded & roughly cut

1

fresh green hot pepper

seeded & roughly chopped

1

tsp

himalayan salt

2

rounded tsp

coconut sugar

more if you like it a bit sweeter
2

cups

coconut cream milk

shake it before measuring

2

cups

Organic or homemade chicken broth

3

tsp

tapioca flour

optional: thickening the sauce
1 1/2

cups

snow peas

1

medium

onion

quartered

1/2

fresh red bell pepper

sliced in match sticks

1/2

fresh green pepper

sliced in match sticks

1

large

carrot

sliced on the angle
1

medium

pumpkin or sweet potato

cut in 1" pieces

1

medium

eggplant

cut in 1: pieces

1/2

cup

mushrooms

sliced

1

cup

fresh spinach or kale

sliced in strips

Any veggie you LOVE!
OPTIONAL: for thickening the sauce mix 3 rounded tsp of tapioca flour into 1/4 cup cold water. Drizzle into the sauce while whisking until you reach the consistency you desire. Sometimes I leave it thin for a nice soup. This is up to you.
Pour over cauliflower rice or white rice. Check out my flavored cauliflower rice on line! I add ginger and cut cilantro to my cauliflower rice for this one!
Tip: I had about a cup of the final sauce left over and froze it so I could use it later.
Tip: You can also add 1/4 cup of fish sauce to the sauce for an authentic flavor!
Tip:I usually make my own curry seasoning but sometimes I run out so I keep this brand on hand for such occasions. I am able to get it from the local Asian store.