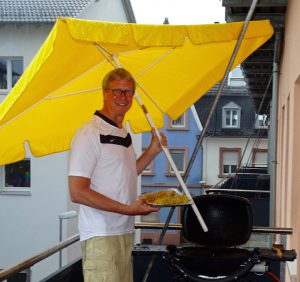 Whenever the sun is out, we are out BBQ'ing…well, even when it rains we are out there. We have a big umbrella! When the urge for Indian food hits, nothing can stop us. This recipe is so good. We had just gone out for Indian food the day before and had tandoori chicken, so of course I was in the kitchen the next day working my magic. My husband was so impressed with this recipe he asked, "Why do we even bother to go out?" I said, "So I can get recipe ideas." Simple right? Well here it is…
Oh yes, the Tandoori Chicken Marinade can be made a few days ahead and sit in the fridge until ready to cook on the grill. The Tandoori Sauce can be made in advance as well! Cook the veggies while you cook the chicken so they're fresh.

Tandoori Chicken Marinade
1

foil

Grill Tray

to protect your grill from the marinade

1

cup

dairy free yogurt

see recipe

1

Tbsp

Crazy Curry

see recipe

2

tsp

chili powder

2

tsp

paprika

1

tsp

turmeric powder

1

lbs

bio chicken skinned

breast cut in half or drum sticks & thighs
2

medium

tomatoes

chopped

1/4

cup

water

1

red

hot pepper

sliced

1

tsp

himalayan salt

to taste

2

cloves

chopped garlic

1

Tbsp

Garam Masala

see post

3/4

cup

dairy free yogurt

see post

1/4

cup

toasted raw almonds

optional
2

Tbsp

ghee

1/2

sliced

onion

1/4

cup

green onions

diced

1

clove

garlic

chopped

1/2

sliced thin

each: red, green, yellow, orange pepper

1/2

Chinese cabbage

shredded

1/2

chopped

fresh cilantro

1

fresh

lime

quartered

1

tsp

himalayan salt
Tandoori Chicken Marinande
Marinade for Chicken: Place the spices and yogurt in a bowl and mix well.

Add the chicken pieces and make sure all pieces are covered with the yogurt marinade. Put in fridge for an hour but over night or a couple of days is best. Start the sauce and prep the veggies.
Use a cast iron skillet or dutch oven on the stove. Heat up the ghee to hot!

You can serve this over rice (my husbands choice) or cauliflower rice (see below for recipe link) and top it off with the Tandoori sauce and chopped almonds and a squeeze of lime!