Oh so spicy and flavorful. This is a quick dish and one that sets the house smelling so good! If the windows are open you might have neighbors showing up for dinner.
I use a seasoning that is popular in the USA, especially in San Diego. It is called Tajin. This spice is used to season many Mexican dishes and is usually on every table at every meal…ok, most meals. In Mexico they squeeze fresh lime juice on cucumbers, roll them in Tajin and sell these treats on the streets. Recently I tasted a mango which had been dipped in this spicy chili pepper and lime seasoning. Not bad at all. It is a must when grilling corn! I like using it on my home made sweet potato or potatoe fries.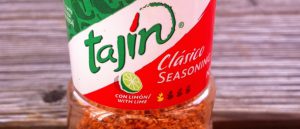 I was so bummed because the day I made this I didn't have any fresh cilantro and used basil instead. It was still good, but I would make sure that you have fresh cilantro! It will really bring out the Baja flavor and the lime.
I put this dish over the same zucchini noodles used in my Twisted Chicken. Mmmmm. so good!
Give it a try, I promise it will make you want to pack up for a surf trip to Baja!
Check out Amazon for ordering Tajin seasoning on line!

1/4

cup

ghee

or coconut oil

1/4

cup

onions

chopped

1

clove

garlic

pressed

1/4

cup

black olives

green are good or a combo sliced

20

cherry tomatoes

sliced

2

tsp

Tajin Seasoning

or 1 tsp chili powder & 1/4 tsp lime zest

1/2

tsp

fresh red pepper

1/2

tsp

himalayan salt

1/2

tsp

ground black pepper

1

lbs

raw shrimp

Cleaned and tails off

1/2

fresh lime

juice

4-6

cilantro leaves

chopped (or basil)

1-2

zucchini

spiraled
This can be cooked on the grill in an iron skillet as well but it happened to be raining the day I made it...no surprise the summer!

After 10 minutes, add the shrimp and simmer until the shrimp turn from white to pink. Make sure you are tossing all time. Don't over cook the shrimp. They will turn to rubber quickly.

As soon as the shrimp just turn pink, turn off the stove and squeeze the lime over the top and sprinkle with chopped fresh cilantro (or basil I didn't have any fresh cilantro)