This post is about our travels on and off the boat. Usually, we pack it up and hit the canals for three to four months this time of year, but with so many activities in Wolfach, we've ventured out by car to some new areas off the beaten path. We've also visited some incredible locations by boat as well. I even let Lutz drive so I could enjoy the sun! We are off and running.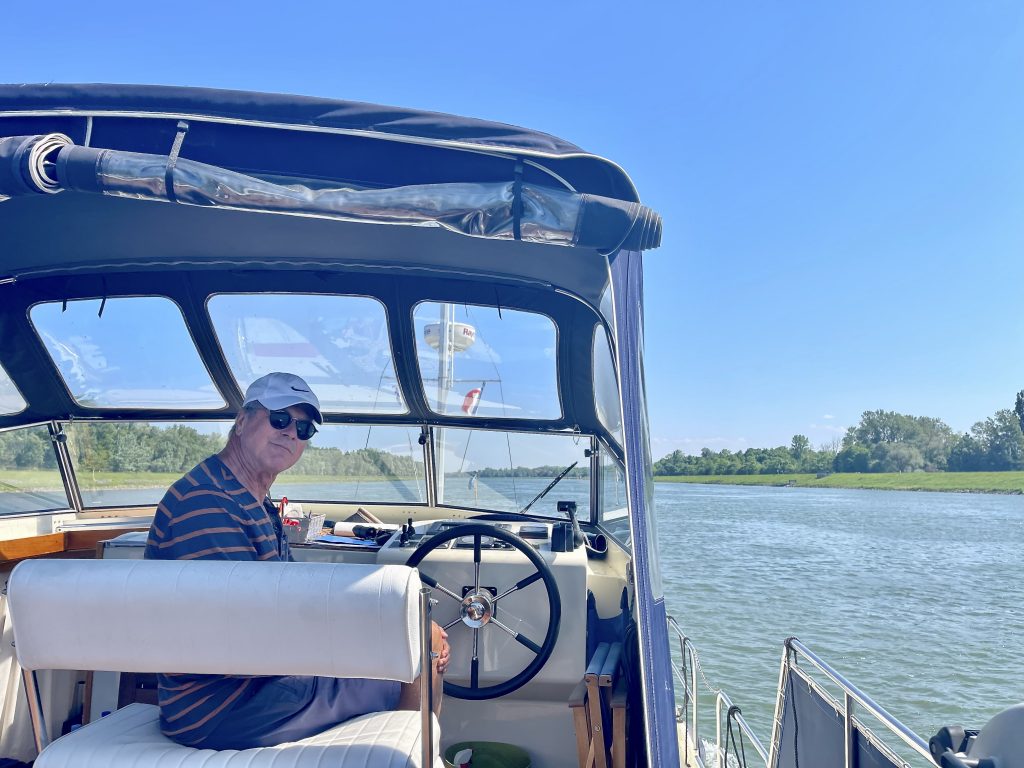 The last time we chatted, I shared our first two-day boat tour with the Kehl Boat Habor Crew to welcome the summer boating season. We continued for a ten-day tour. On our way to our first stop, our dear friends Igne and Thomas joined us. They hooked up with us on the Rhein from their home in Lahr to cruise with us for a few hours and enjoy lunch.  Remember that our boat goes 10k per hour. It took them over an hour to join us by bike, and after three hours of cruising with them downstream, they returned home in two hours and a half by bike. Thanks for joining us, you two!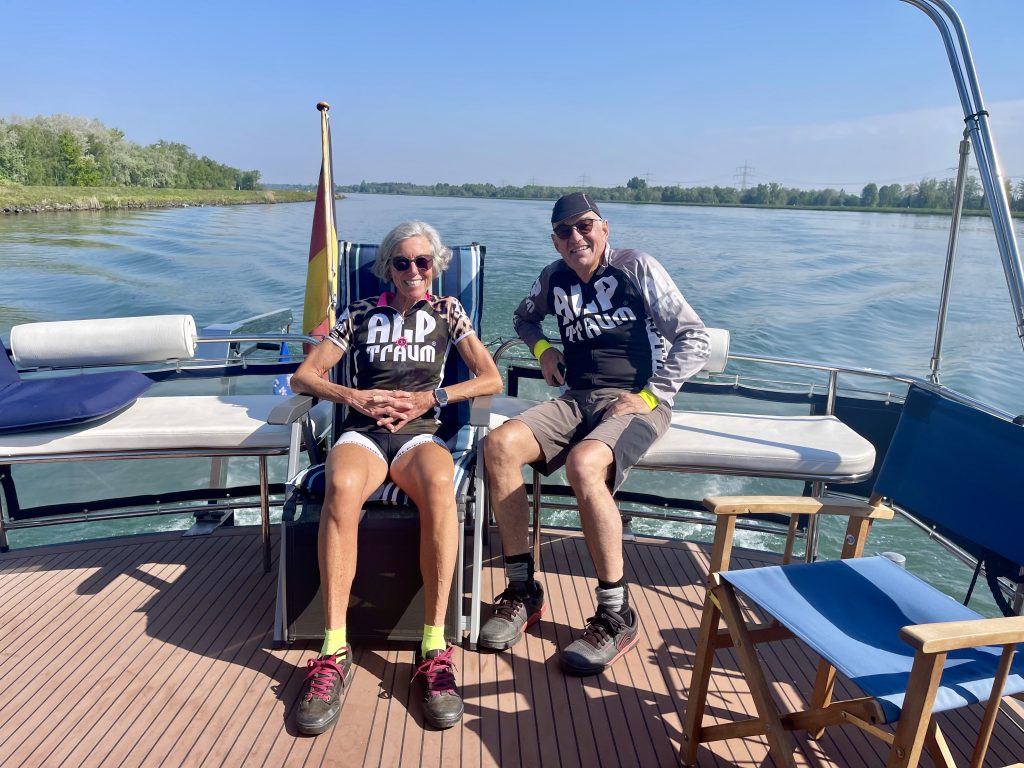 Our first stop was Breisach. This little gem is a quaint town along the Rhein stationed between Colmar and Freiburg.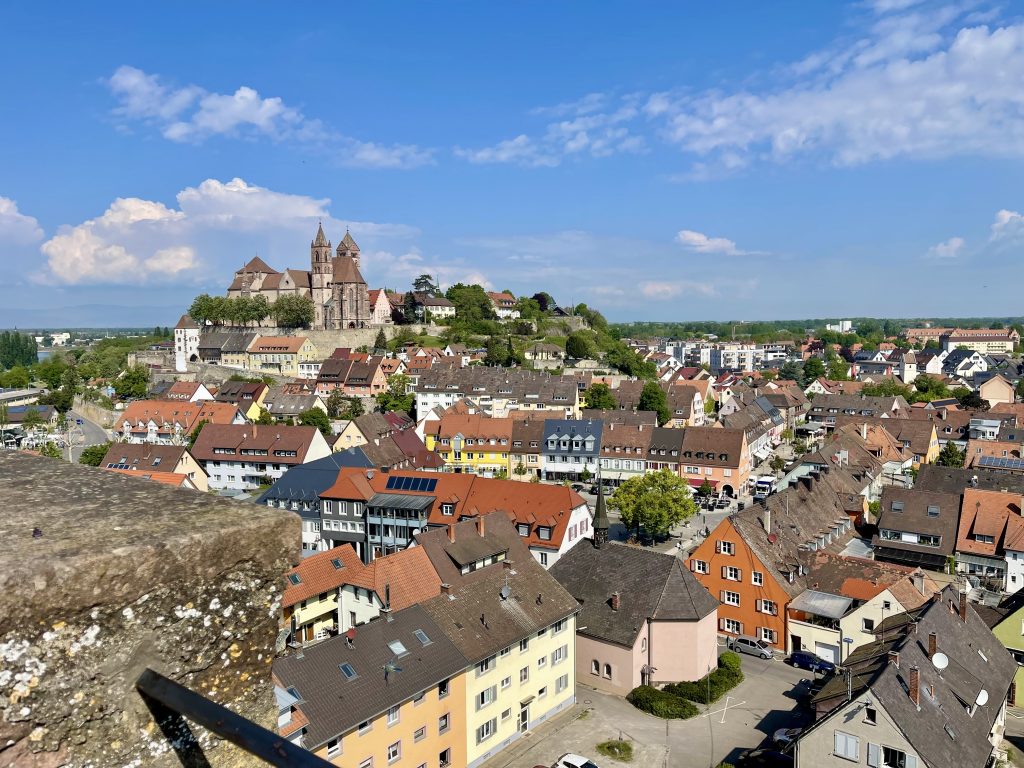 It's big enough to explore in a day and has some great views of the city from several vantage points. Across the town on a hill, St. Stephan's Minster is built between the 12th and 15th centuries. It's a beautiful town to visit. The main street is lined with original shops and alleys.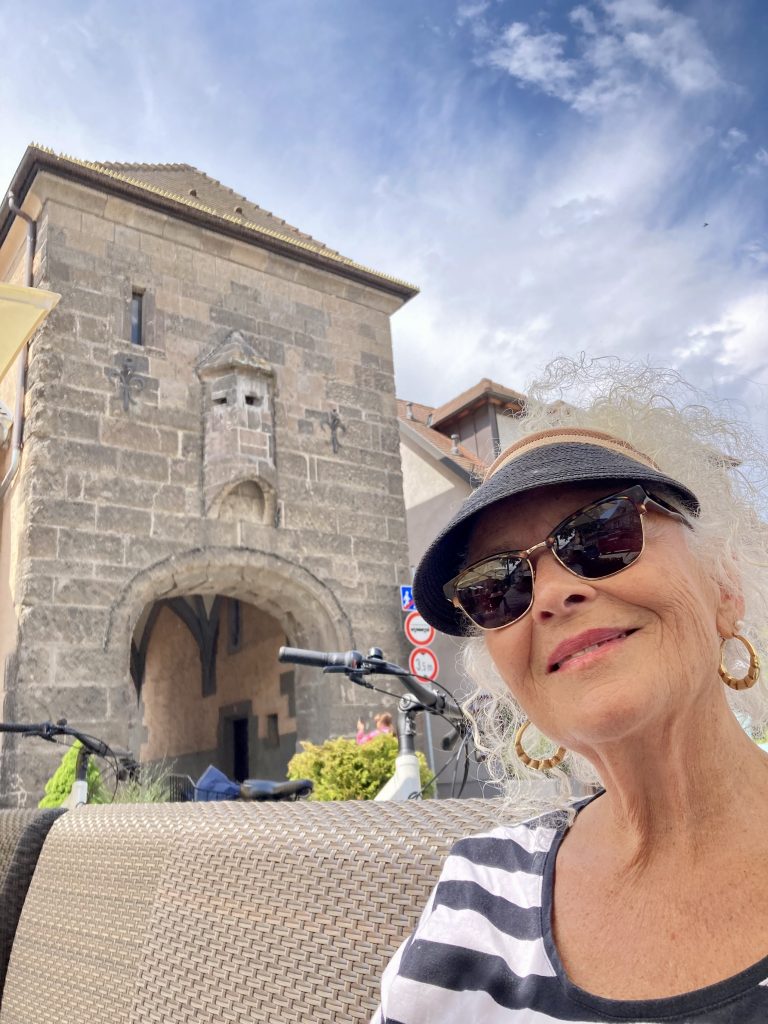 The town once was a walled city, and portions of the wall remain. Today much remains the same with the unique storefronts and little cafes to grab a drink or ice cream for the kids. (Even the big kids. LOL!)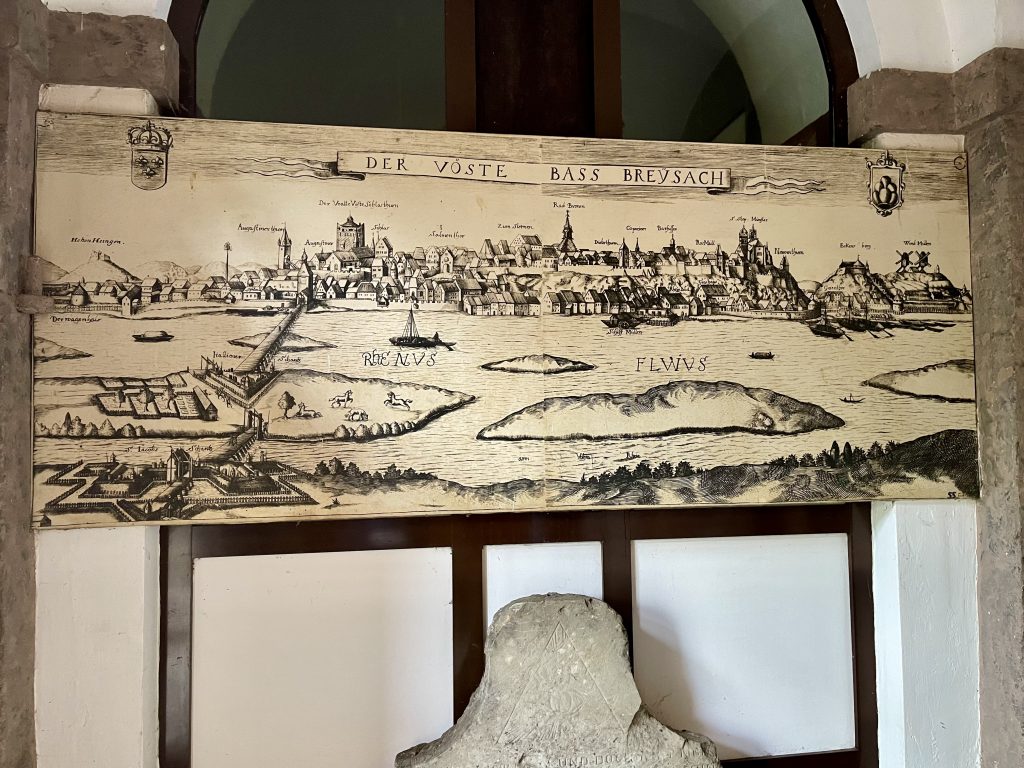 There is terrific information about Breisach's past and present was well posted at each attraction.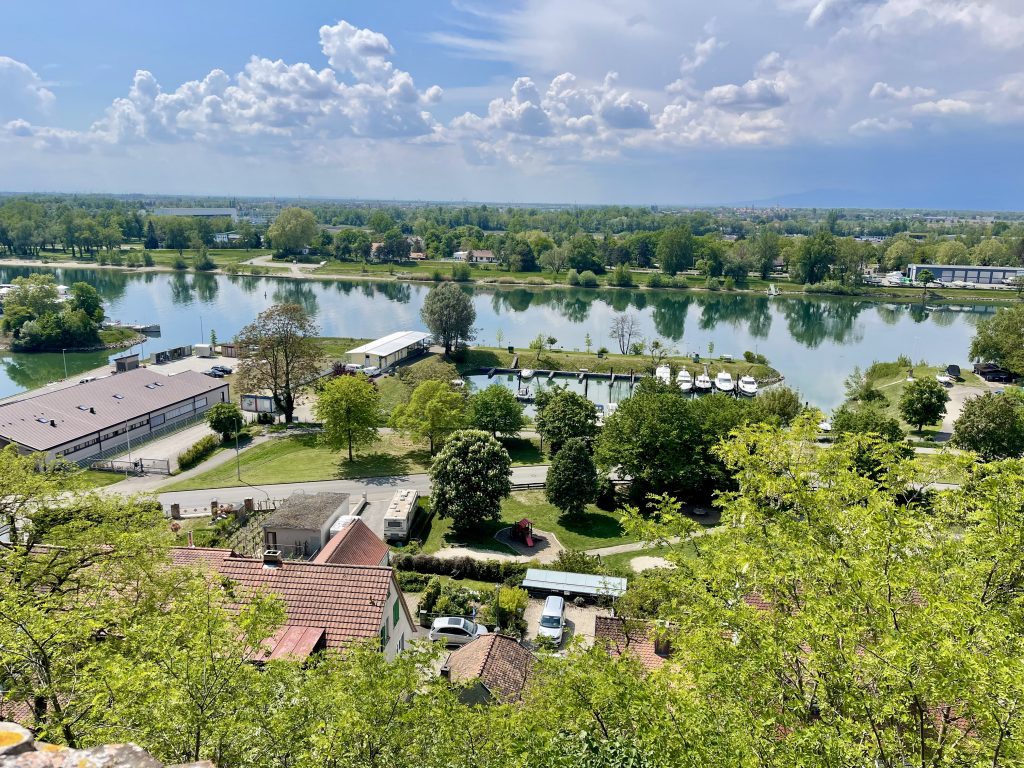 The harbor was small and secure. It is the perfect location for a 5-minute walk to town. Our boat, Virus, is hidden behind the trees. I took the above picture of our harbor from the top of the hill where St. Stephen's Minster is. There is a super restaurant at the top, open for lunch and dinner during the summer.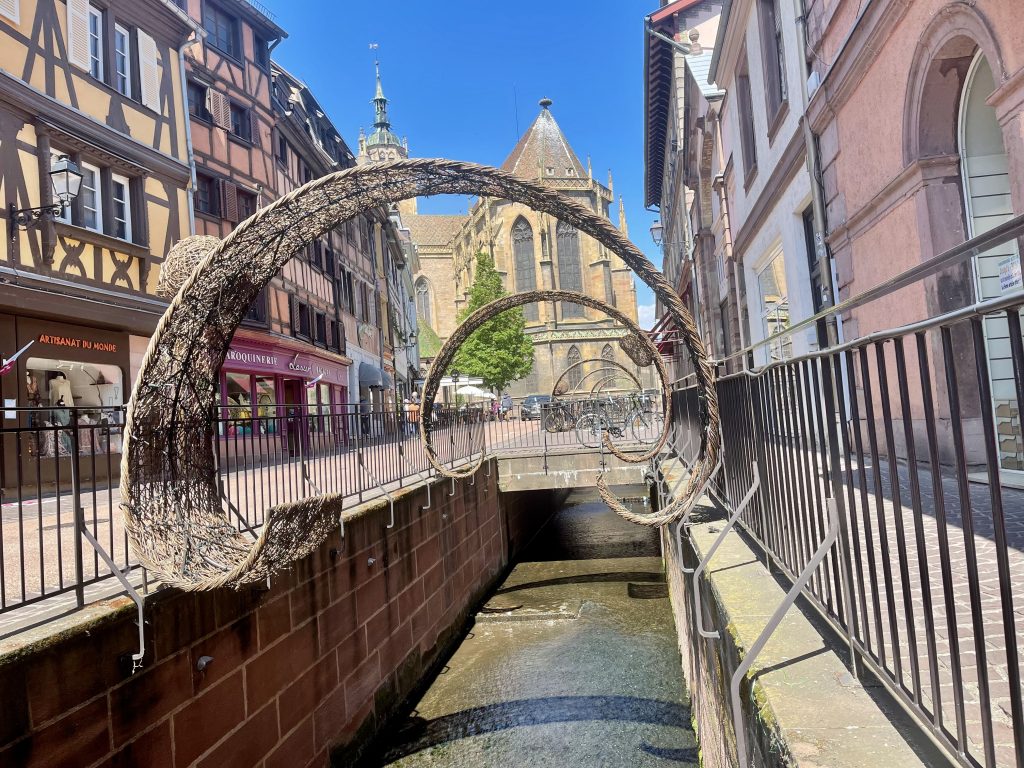 Our next visit was to Colmar. I was shocked by how big and exciting this town is. The harbor was outside the city 15 minutes by bike. Not the best we've stayed in but close and reasonable prices (20 euro a night). I have to say I've been to Colmar several times but always in the evening for the Christmas market. So this was especially interesting since we stayed in the nearby harbor and rode our bikes to town to check it out without all the fan-fair.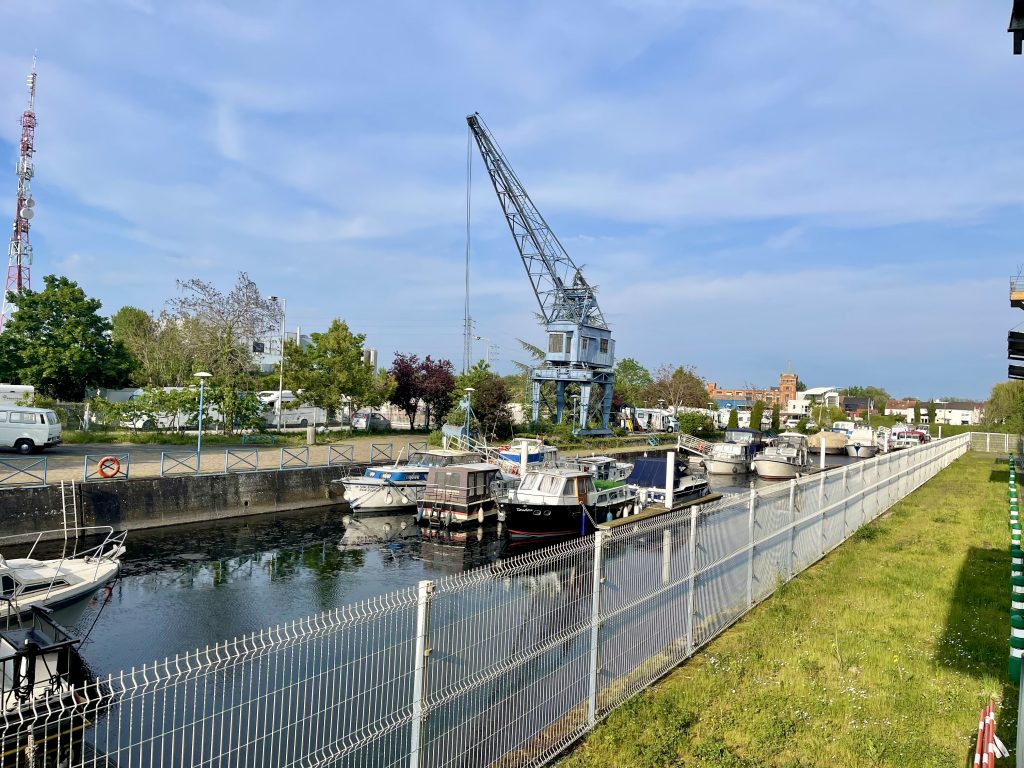 We decided to take the tourist train and get an overview of the city before exploring the museums and galleries. The homes, colors, and unique decor are all explained on the little train ride. I highly recommend this if you've never been to Colmar, especially if you enjoy learning about the history of incredible towns.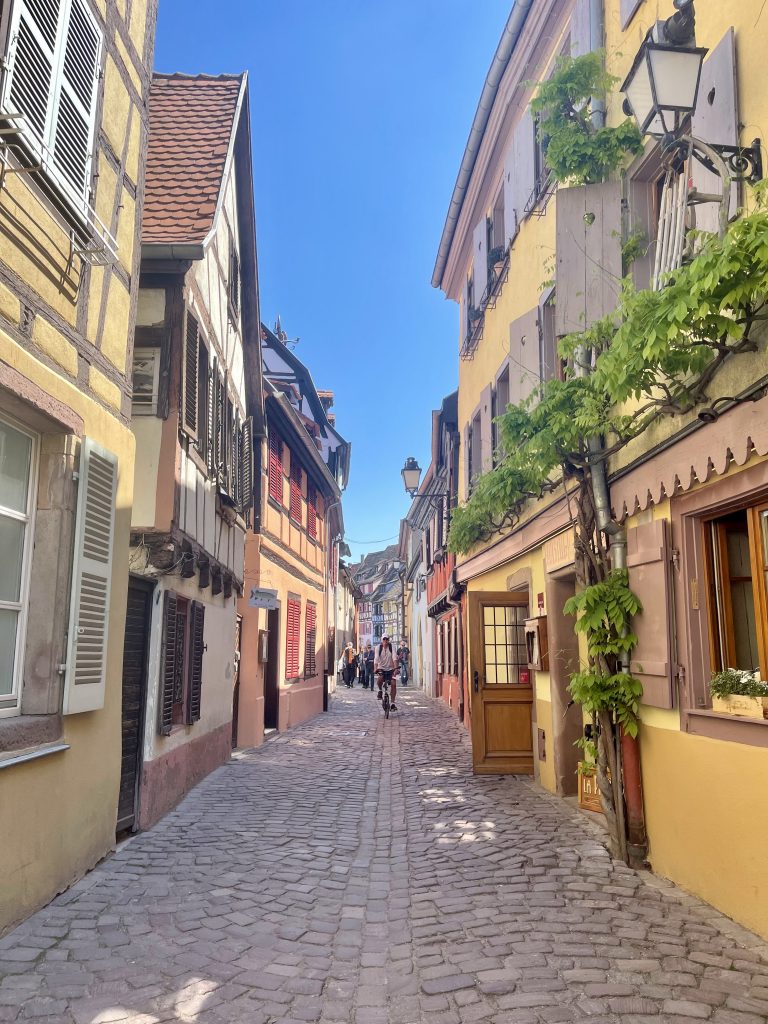 There are so many historical buildings and museums. We chose to visit the Eglise des Dominicains Museum and were not disappointed. Be prepared to spend a few hours reading the exhibits' English, French or German informative translations. It was a great chance to gain a complete history of the city and learn about its past and present.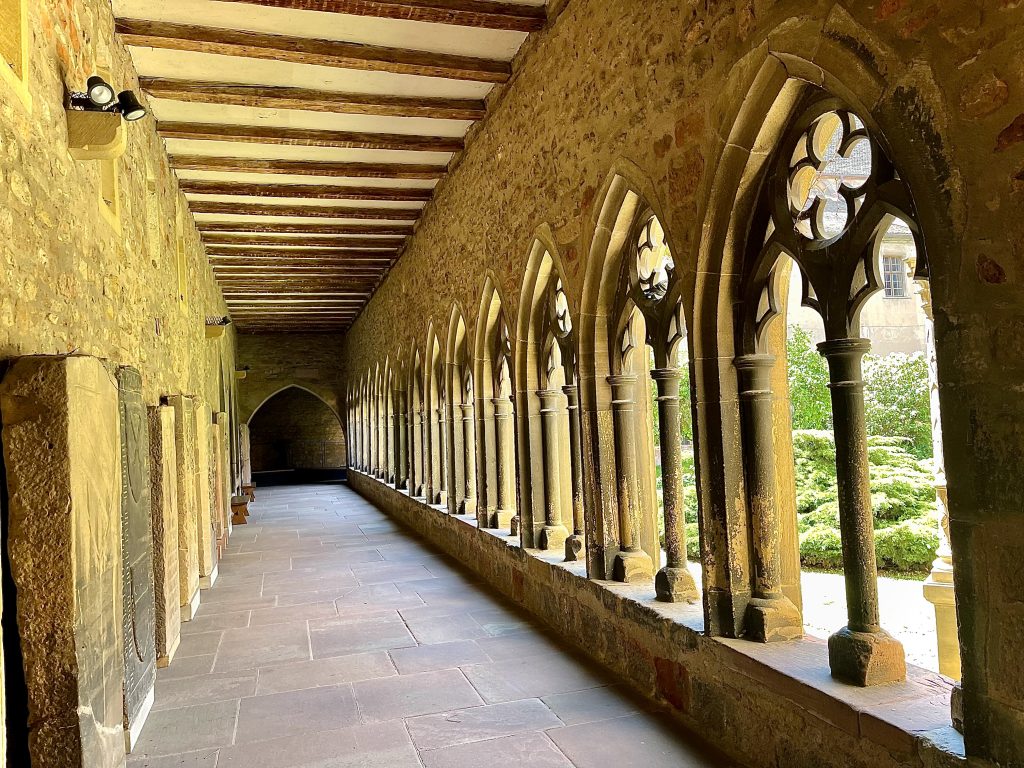 Since we were out of town and not in the tourist area, we chose a restaurant next to the harbor. Restaurant Au Port du Canal was a great choice. The fish I had was delicious.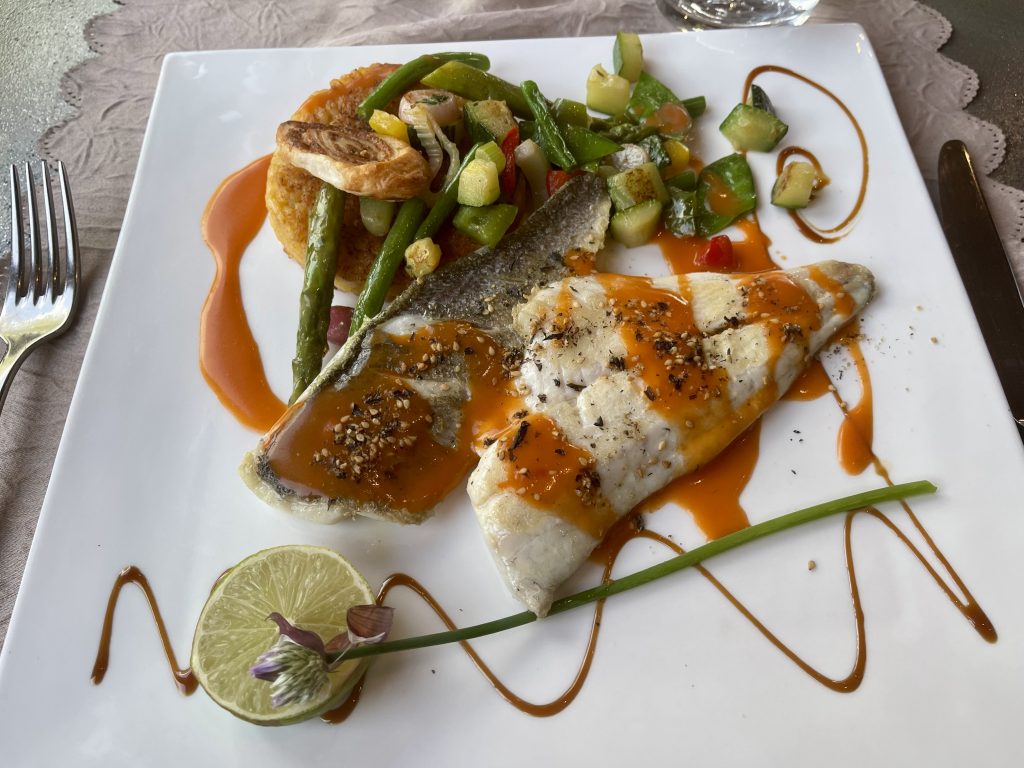 And Lutz's octopus was tender, and the sauce was crazy good.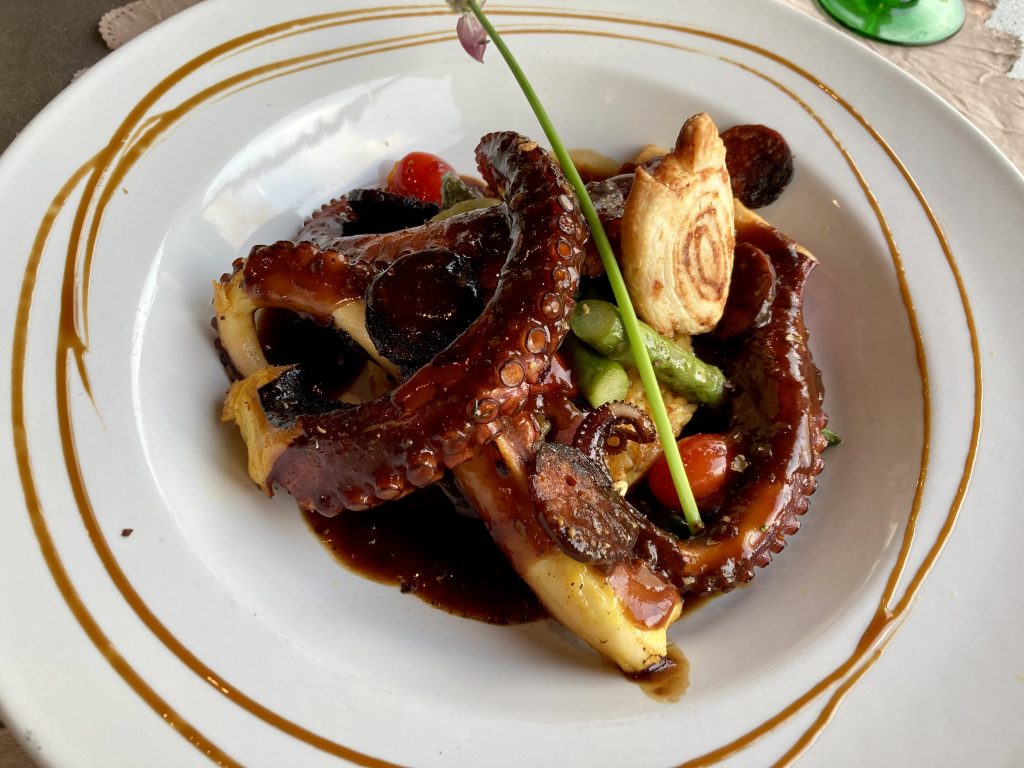 After two days in Colmar enjoying the sun and history, we headed back to our home harbor, Kehl. Once again, I allowed Lutz to take the wheel so I could enjoy the sun and scenery.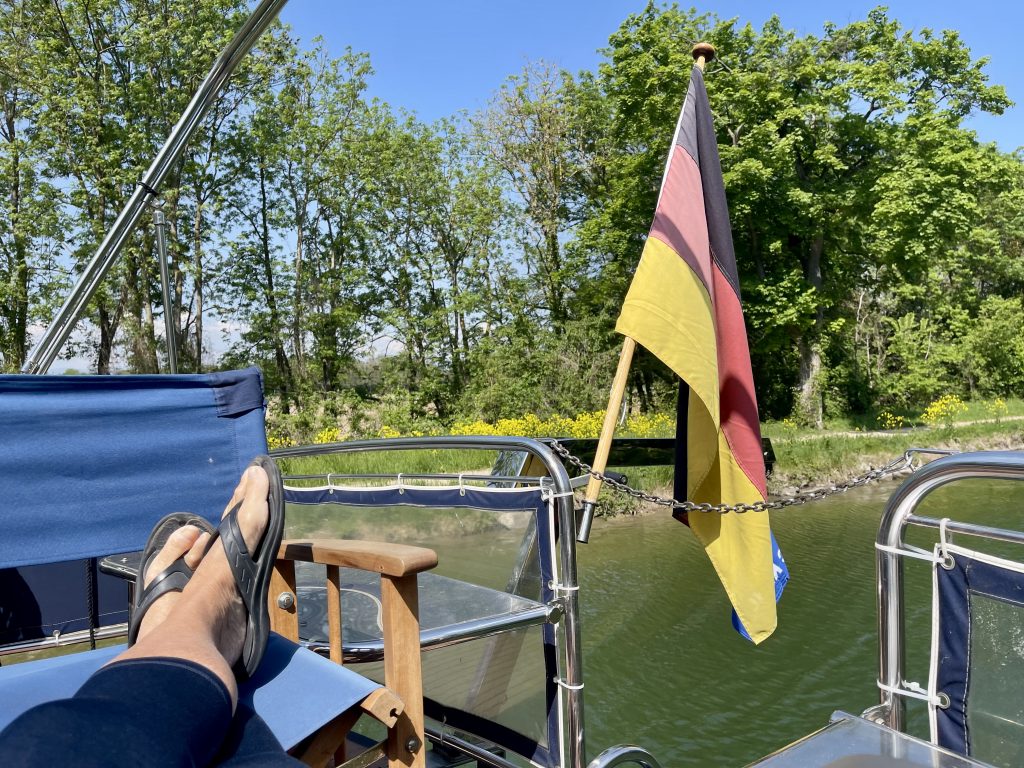 Upon arriving back in Wolfach, we were excited to hear there was to be an antique fair in our little village. This antique fair occurs several times a year with vendors from all over Germany and France.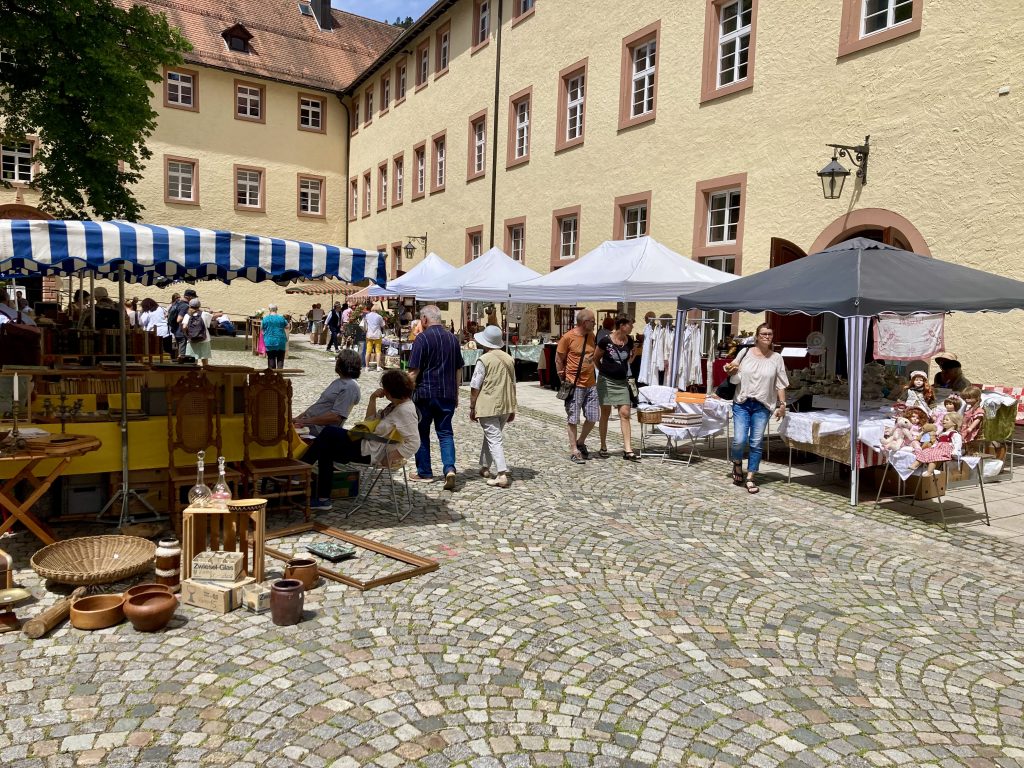 It was a blast to view, and we got suckered into buying some fake coins! LOL. If they had been authentic, we'd be a million dollars richer!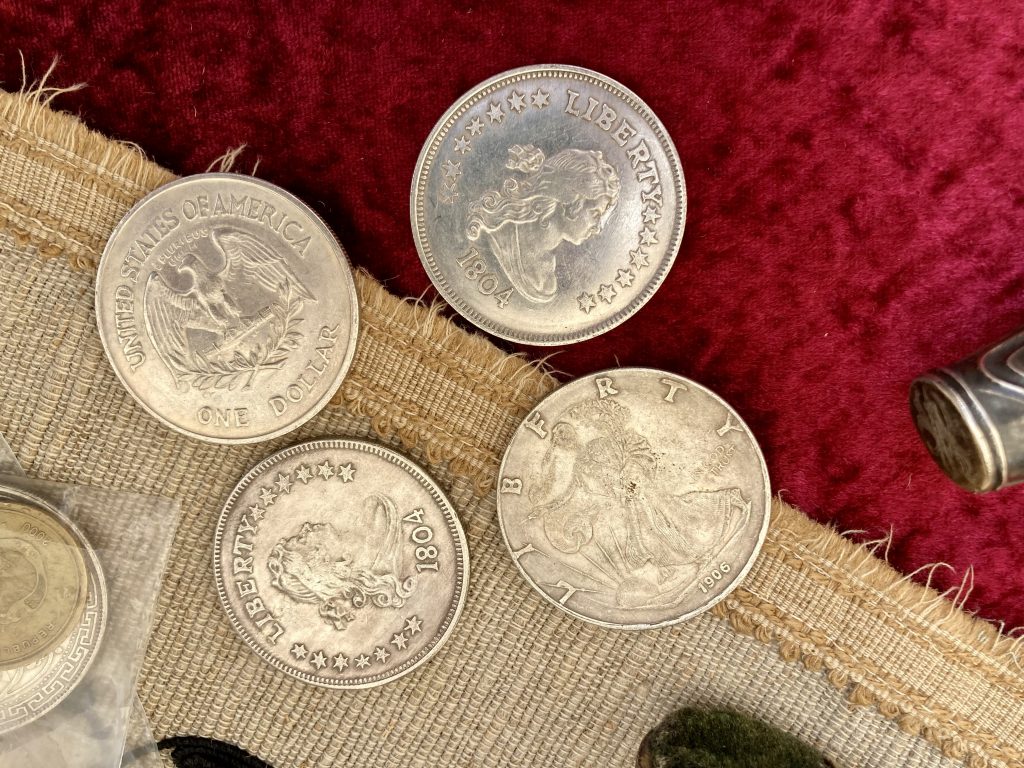 Lutz has joined the local Lions Club, and they planned an event to visit Rottweil. As we pulled up to the meeting spot for our Lion's day, I was shocked to see where our first tour would begin. (No, I did not bother to check this tour beforehand, I'm bad.) What an exciting city and I strongly recommend you plan to spend the night. This little town and the surrounding area are worth the trip.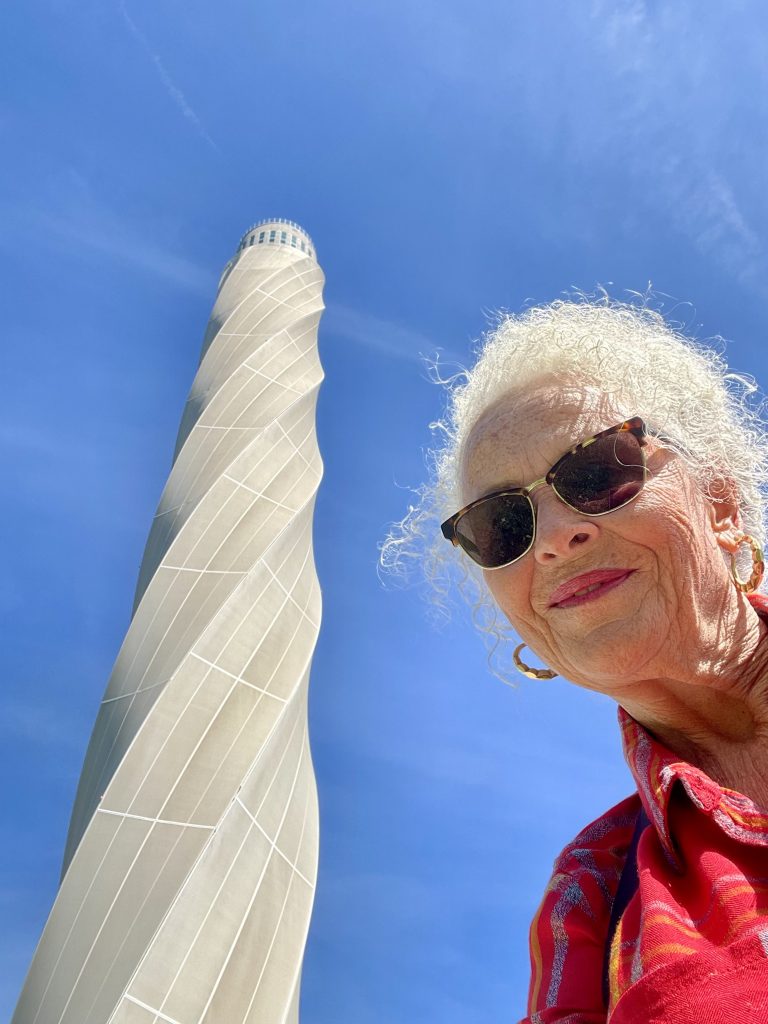 I'm not a fan of heights, but this was a must-see. It is the test center (Testturm) for elevators used worldwide. Yes, elevators. Fantastic tour and well worth the trip up even if you are afraid of heights. The kids will love this adventure—informative and state-of-the-art advances in elevators.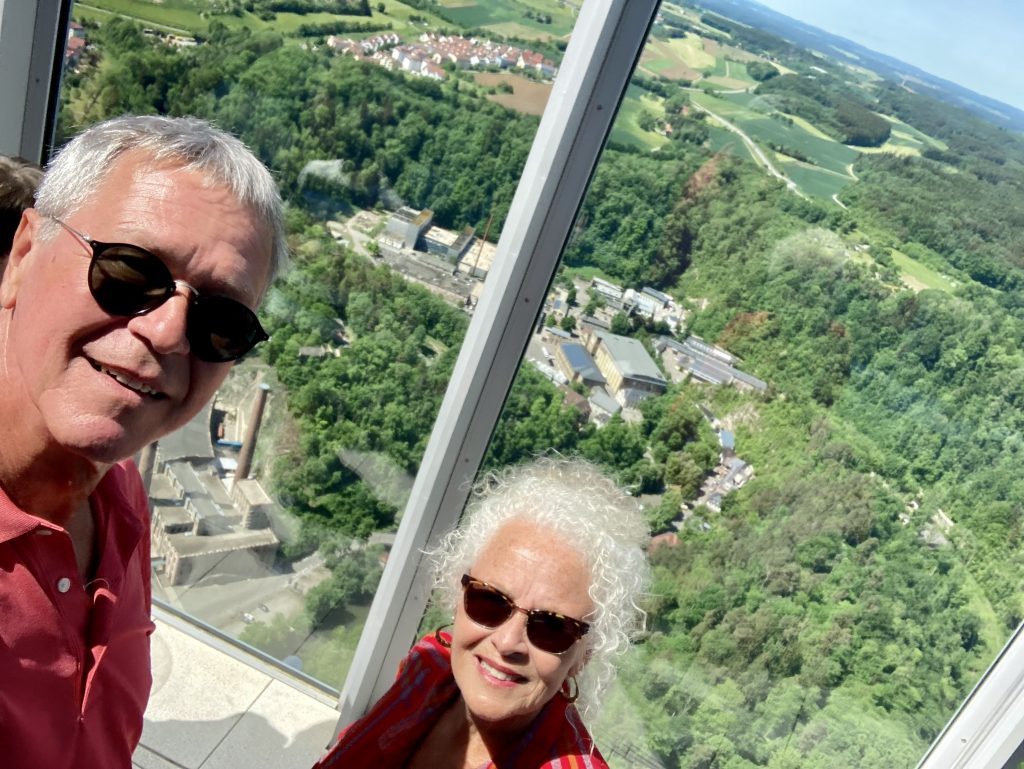 We headed to town and had lunch at a delightful hotel and gardens with another exceptional view. This place is located in the center of town and has parking. And no, I do not get a free night for sharing. LOL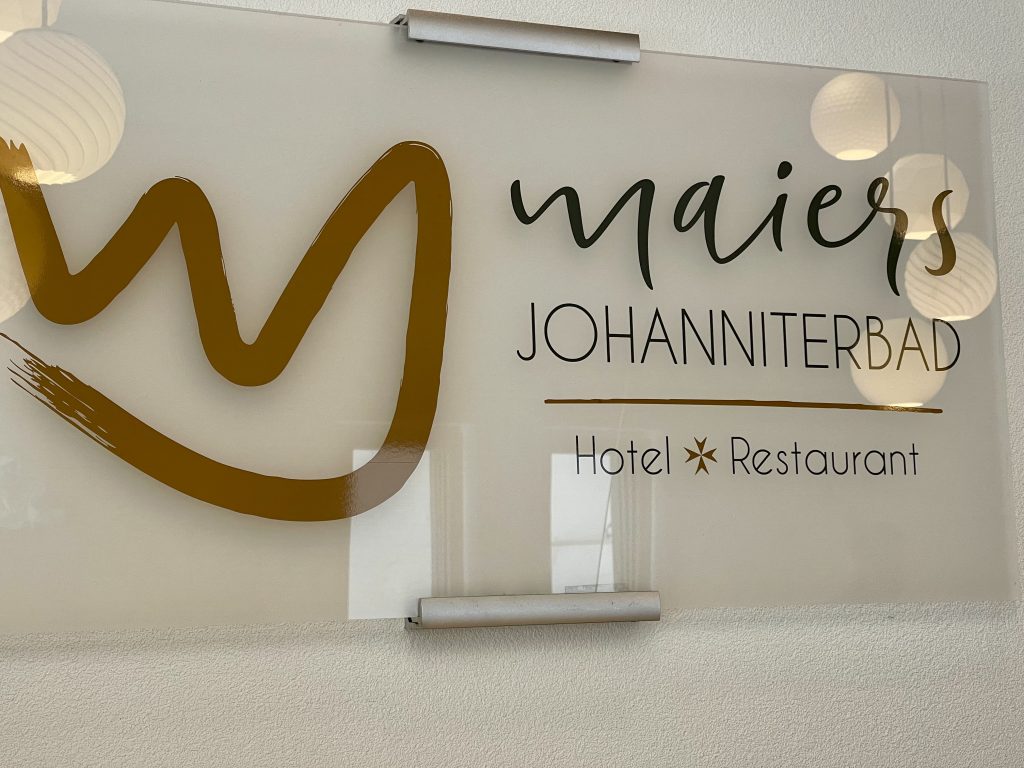 The town is well maintained, and each storefront has its own story.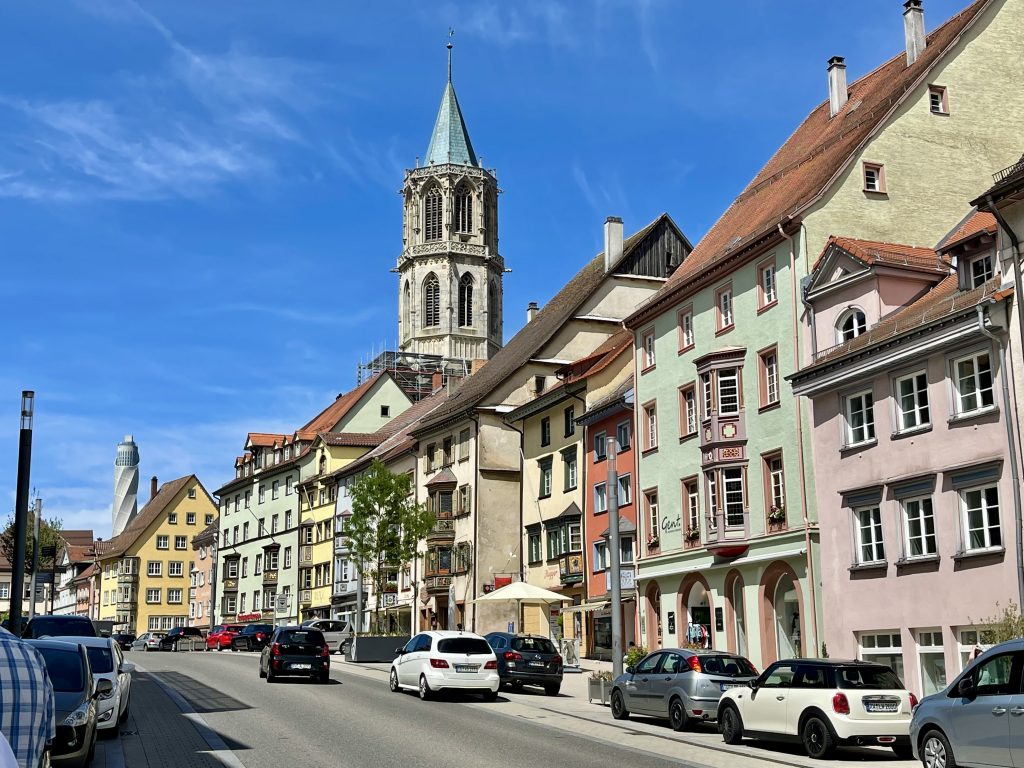 You can view the towering test center to the left from downtown Rottweil. And yes, this is where the breed of Rottweiler got so popular! Can you guess what this shop is? I love the way Rottweiler has preserved their city.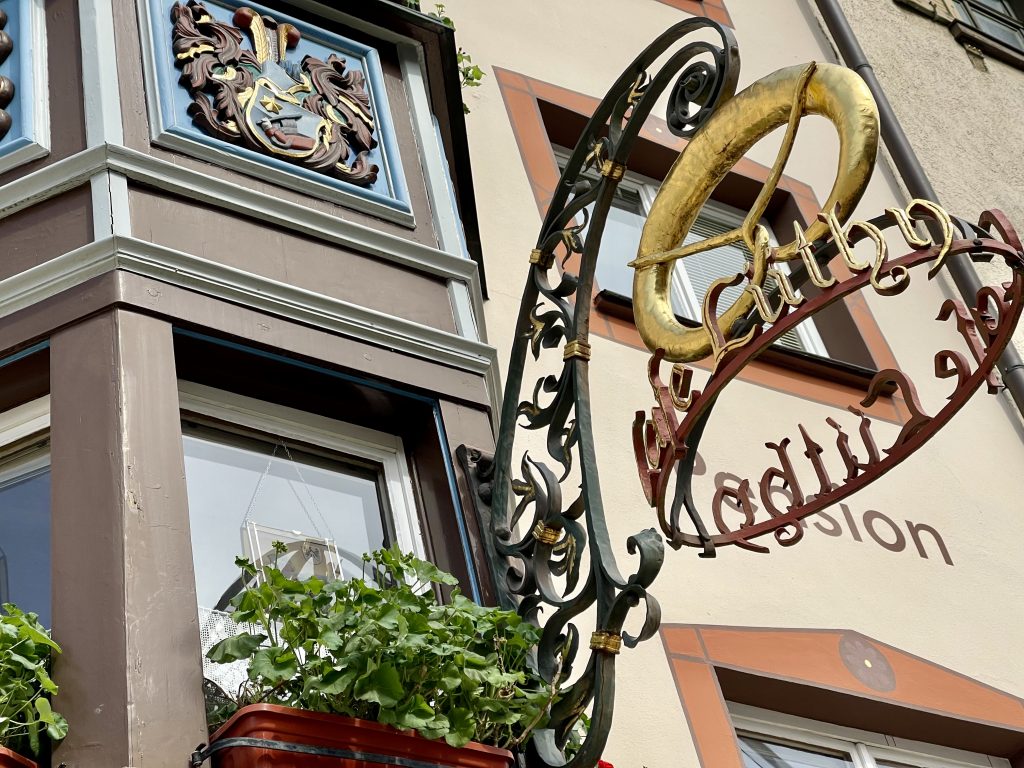 The streets are lined with many historical buildings, and the walled entrances are impressive structures.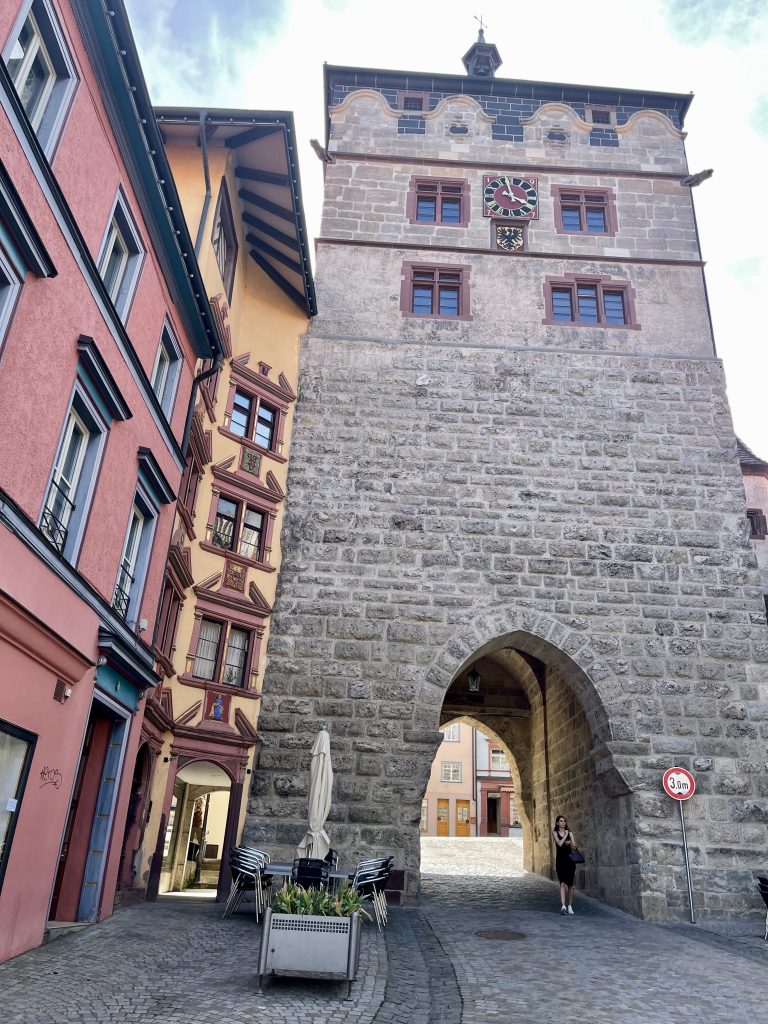 A tour is a must, so you don't miss a thing. Of course, you can do it on your own, but why not have an expert take you around and share the rich history of this beautiful city.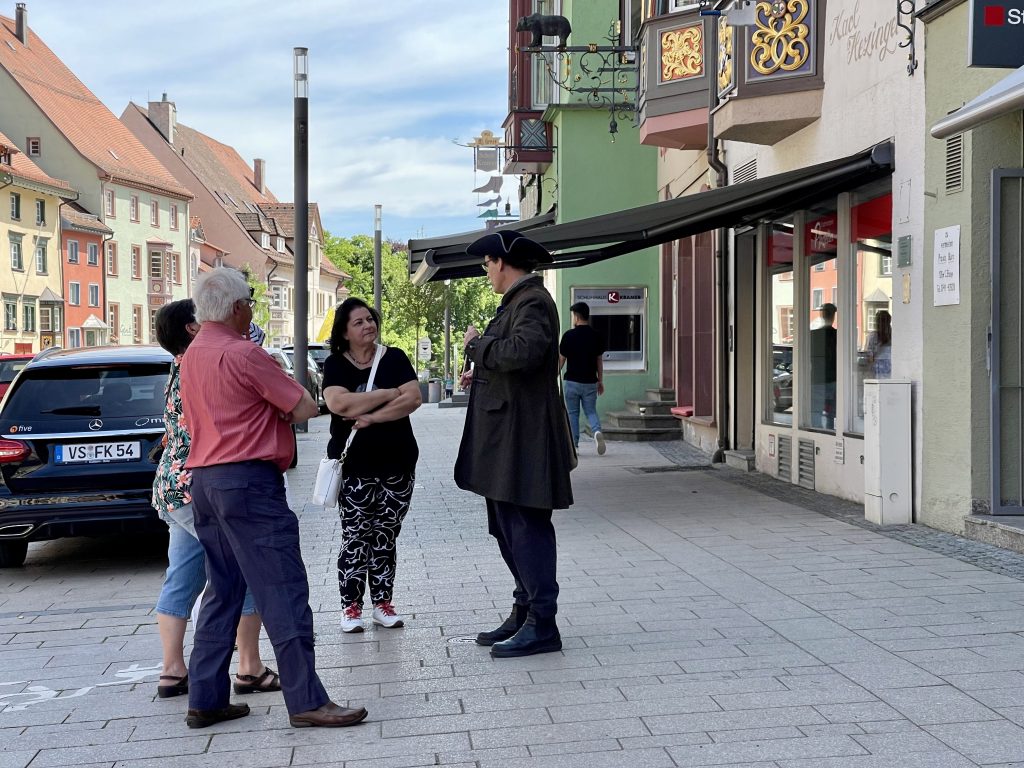 A visit to the local churches was a must!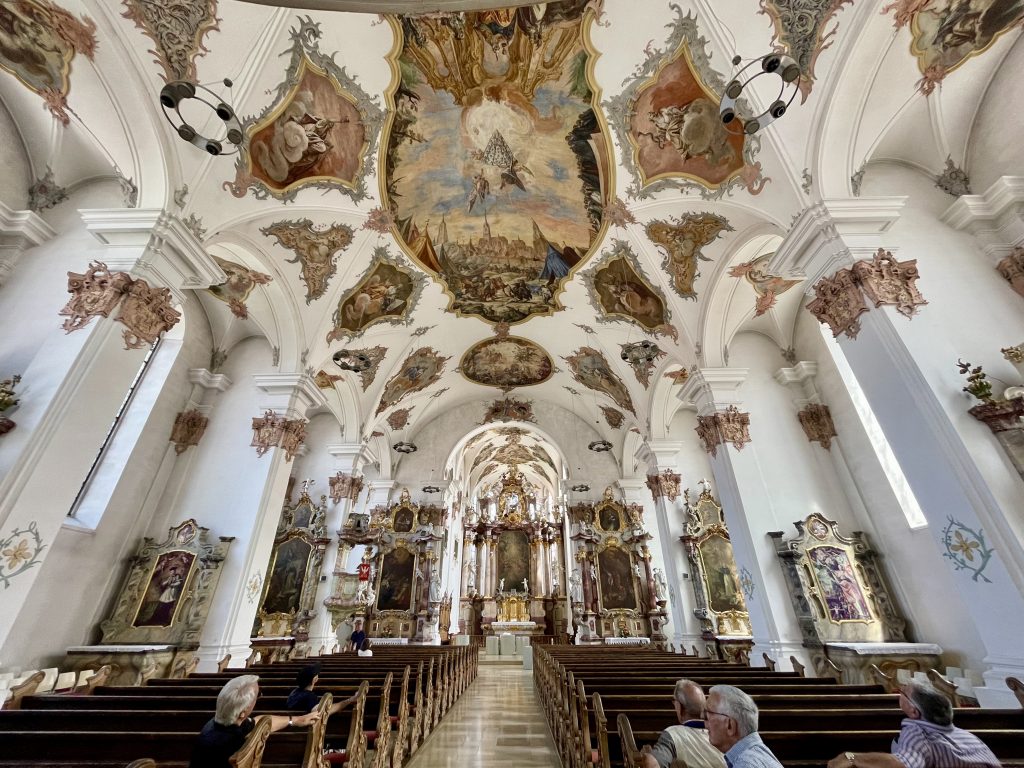 The views were beautiful. The Testurm, the test station in the background, dominates so many lovely views. And to the local museum with a section covering Roman times was interesting.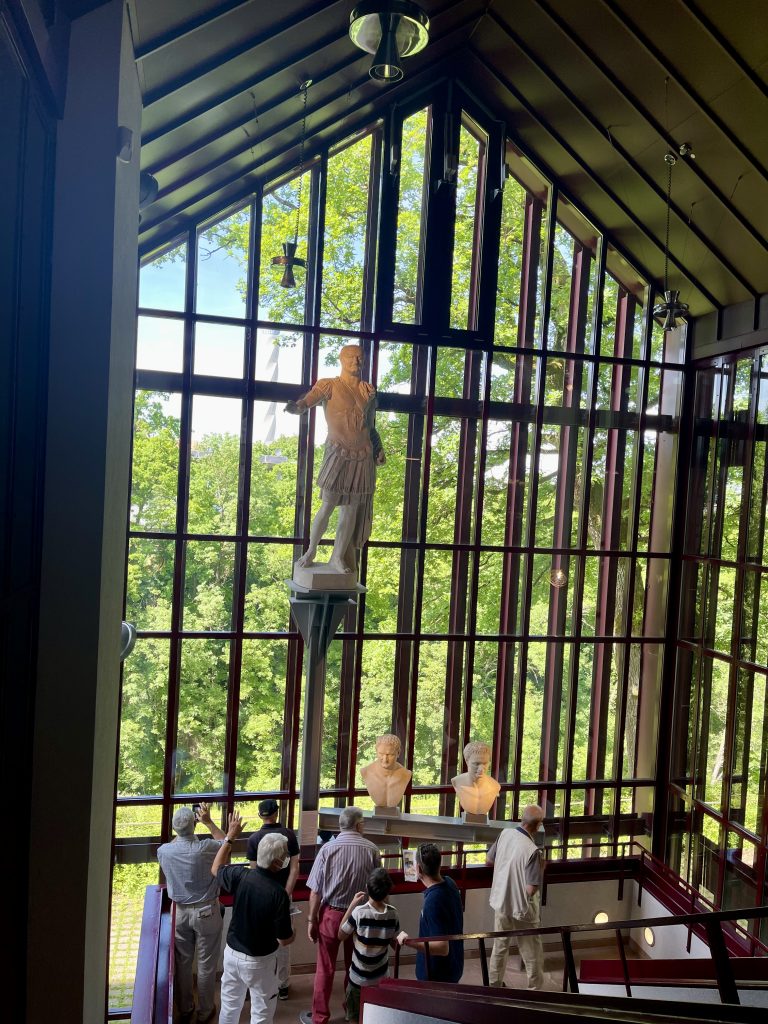 I shared with you briefly last month regarding Schiltach. It is a small town just 20 minutes away from us and is worth visiting. The first documentation of this town was in 1275, and it's had many changes since. We enjoyed taking a closer peek at this unique off-the-beaten-path location. We took a quick ride back to check out all the museums and were so surprised to see so many exhibits for the young. This town is an excellent spot for the whole family. The kids will love it.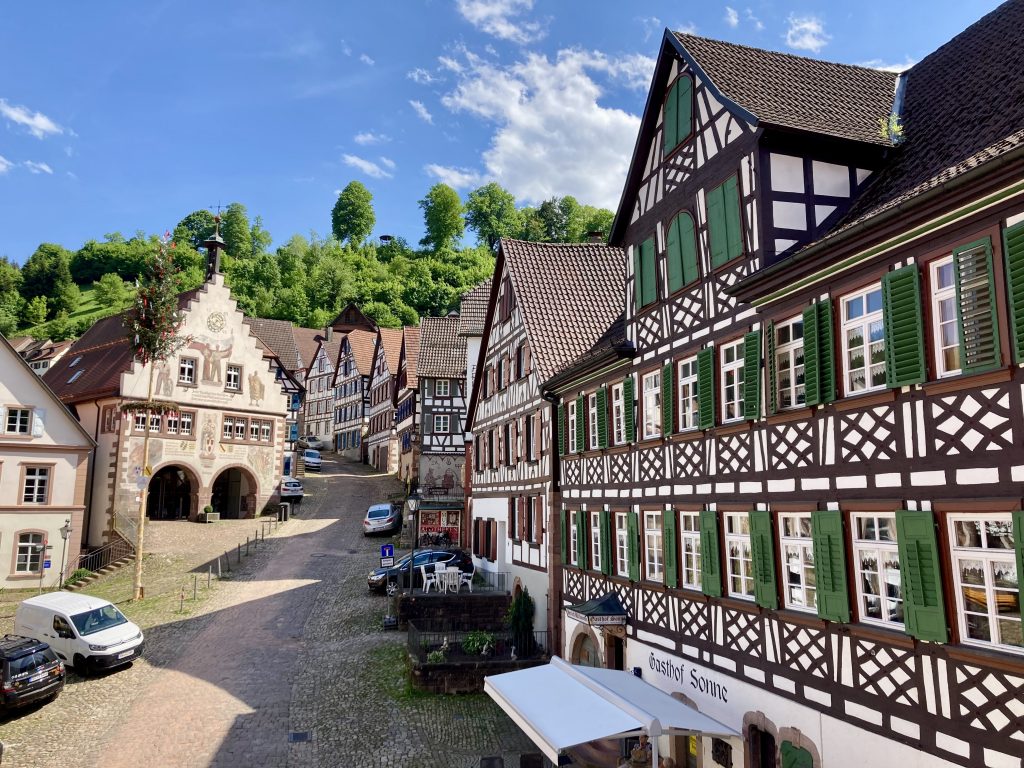 First off, all but one of the museums are free (The Apotecke Museum charges a Euro). I recommend going to visit the Tanner area Museum first. This Museum covers the work done in this village over the years, and The museum also gives information regarding the animals and the tanning industry, which is still an art today.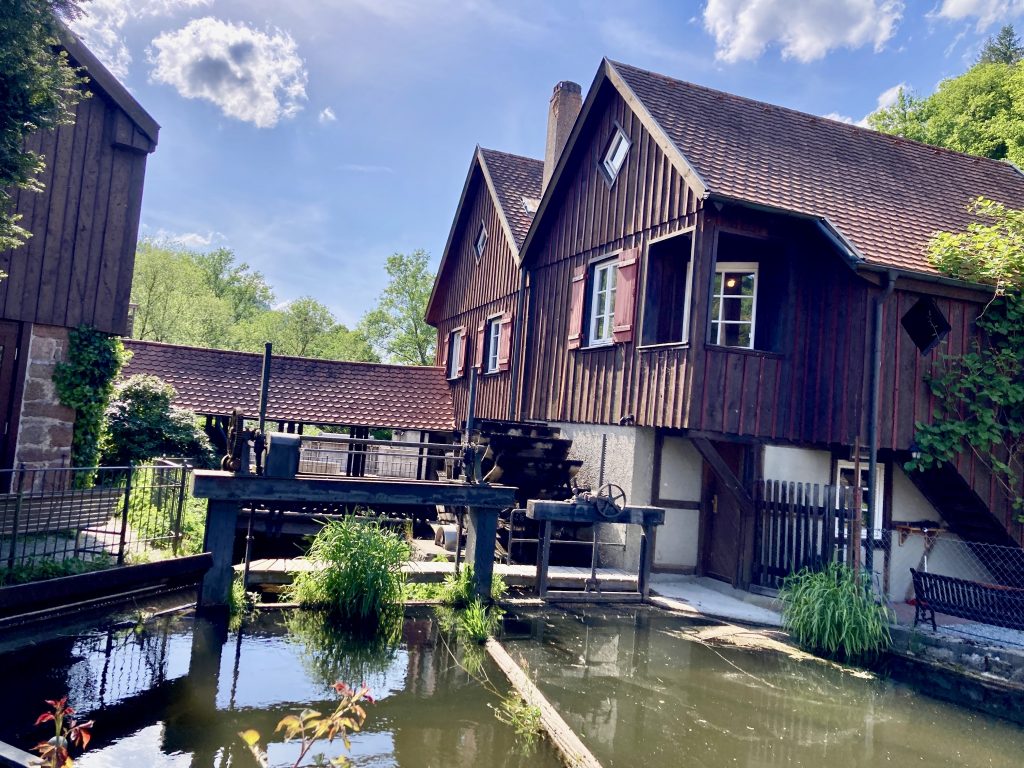 This museum also shares the history of the log rafting that made this town a significant point for transporting Black Forest timber. Don't forget to take a walk to the river and see the actual wooden crane used to flood the river for the rafts to move the heavy timber downstream to the Rhein.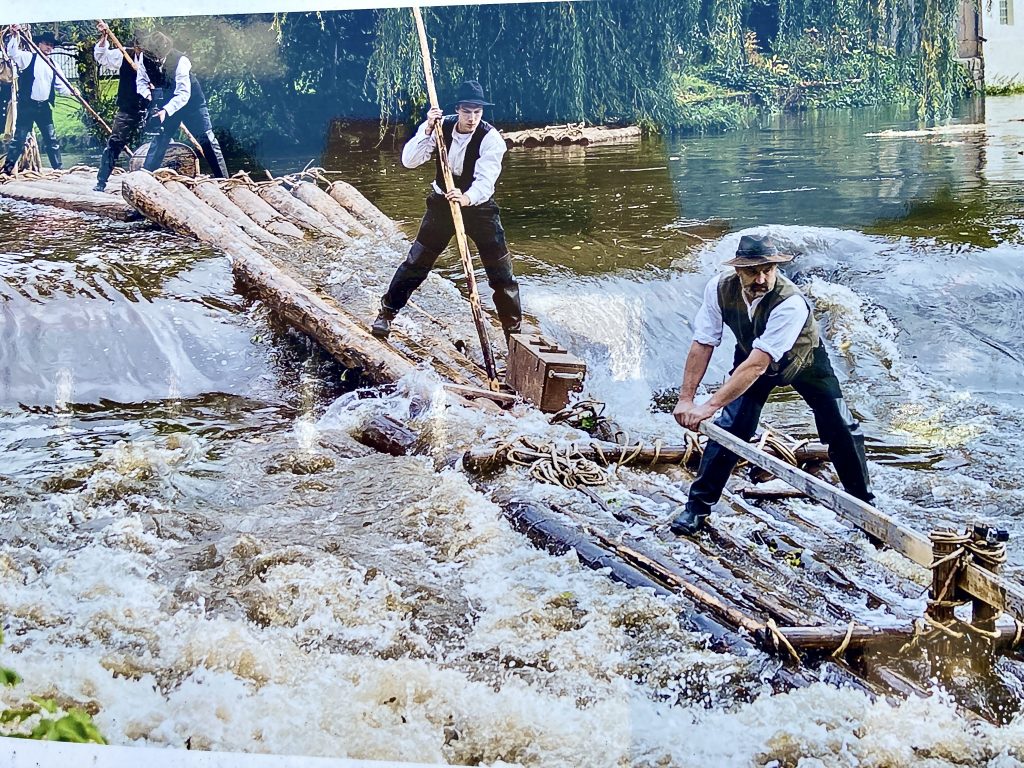 We headed to the Museum Am Markt, which provides sections with audio in English, French, and German. You will get to walk through one of the oldest homes in the area and imagine yourself living there, walking up and down four flights of stairs daily. The exhibits in this museum are fascinating and a real ghost story for the kids. Even the big kids will enjoy it.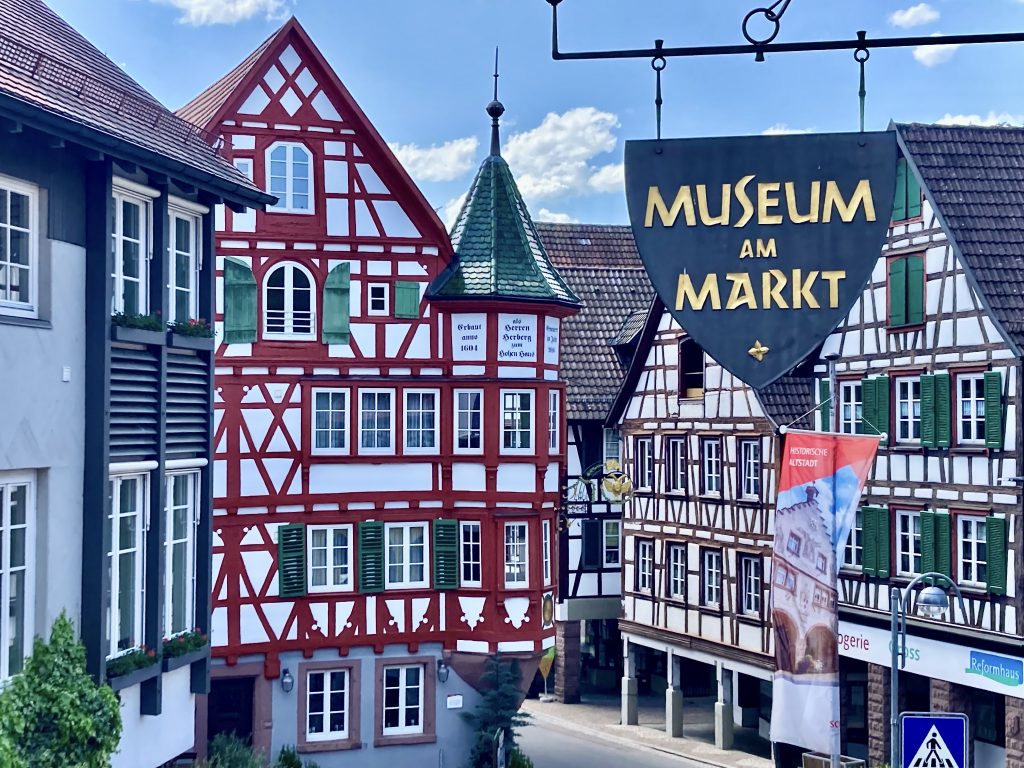 There is also an Apotheke Museum filled with jars and exciting materials for every age! It's just across the street from the Museum Am Markt next to the Town Hall.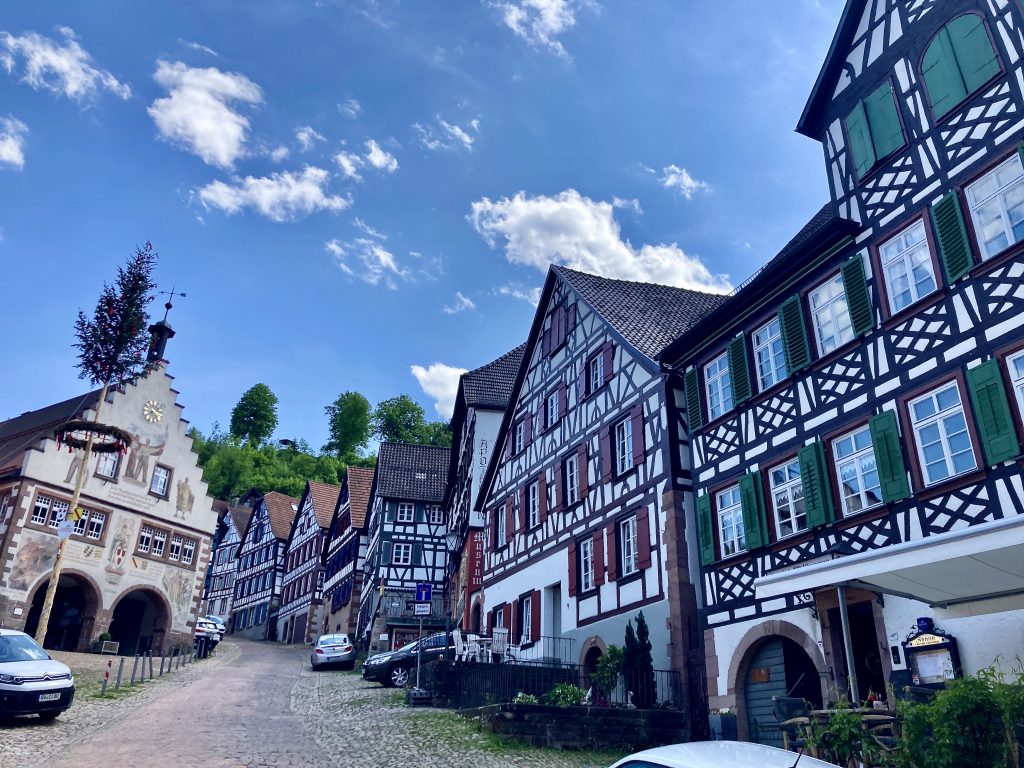 And Schiltach is one of the most fantastic clothing stores around. They sell men's, women's, and children's German-made clothing and are of the best quality. Plus, they have a room dedicated to sheepskins at reasonable prices.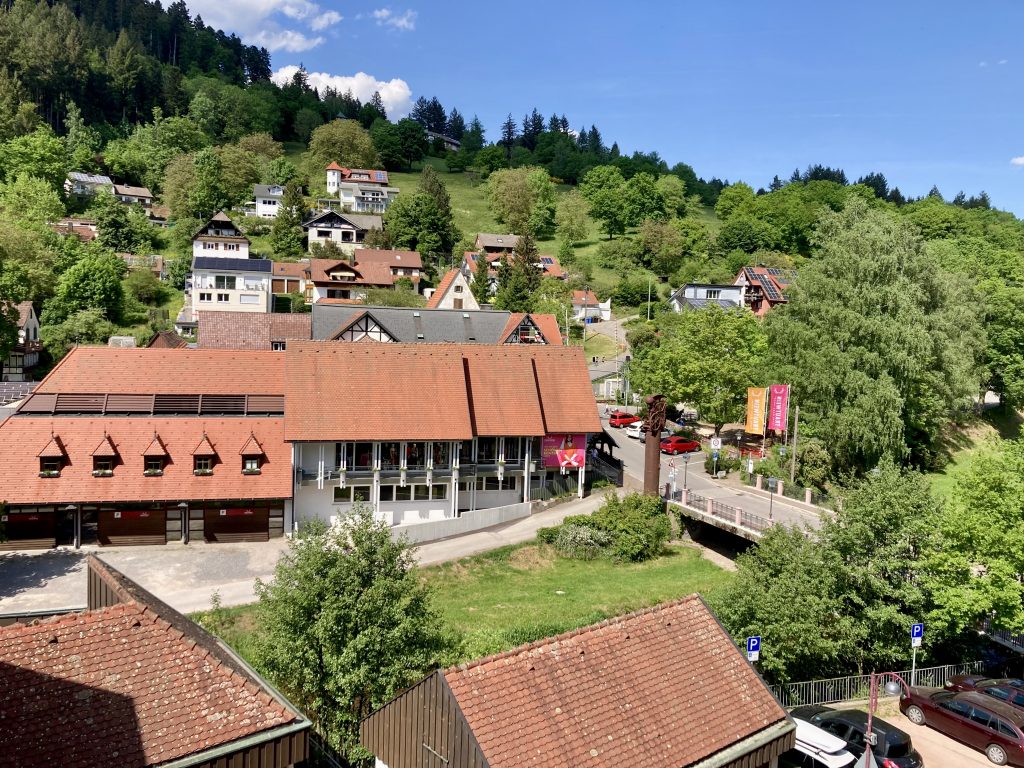 Our month ended with an excellent 6-hour bike ride with our close friends, Erich and Gabby. It was a long hot ride in the direct sun. But, well worth it, and what a delightful reward at the end.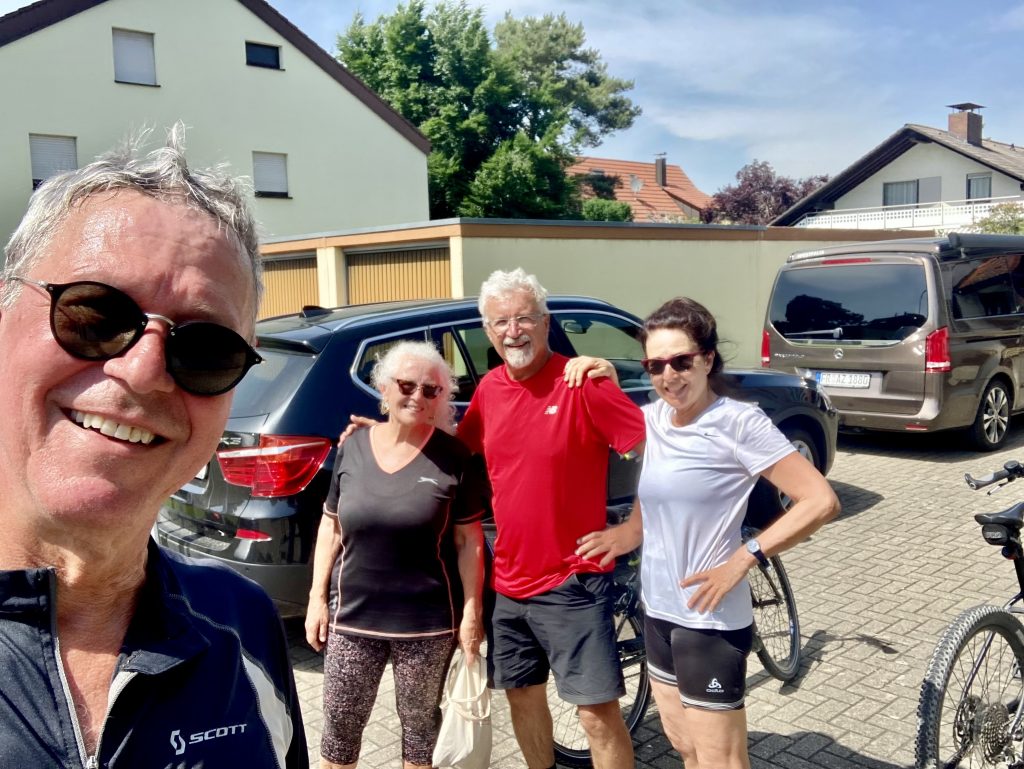 Gaby is an excellent cook, and we had asparagus mouse for a starter! It was so delicious (I'm searching for the recipe as I type!).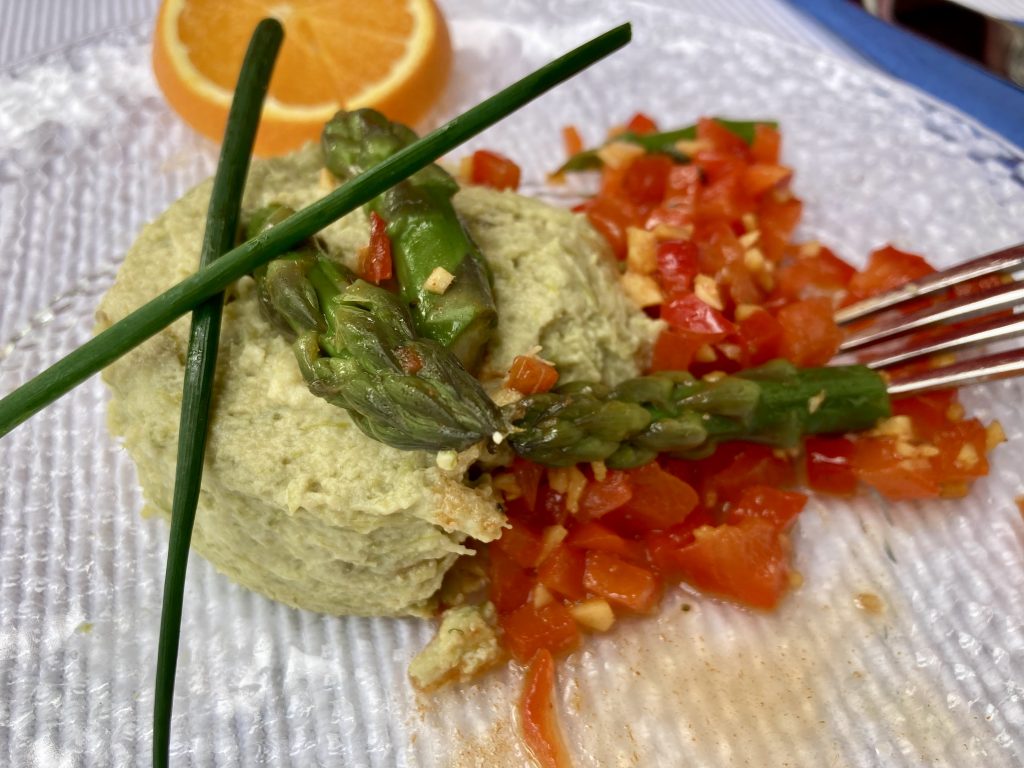 Next month's travel newsletter will be exciting. My daughter, her husband, and my two granddaughters will be coming for ten days. Plus, my son, from Washington State, will be here as well. We have a lot of adventures planned. I hope you tune back in next month for all the details.
Fave Recipes
I've got something new for you and something old! These Oxen Cheeks and Creamy Potatoes are excellent. Plus, no mess. I used my Instant Pot. Trust me; you've NEVER tasted this mashed potato recipe before!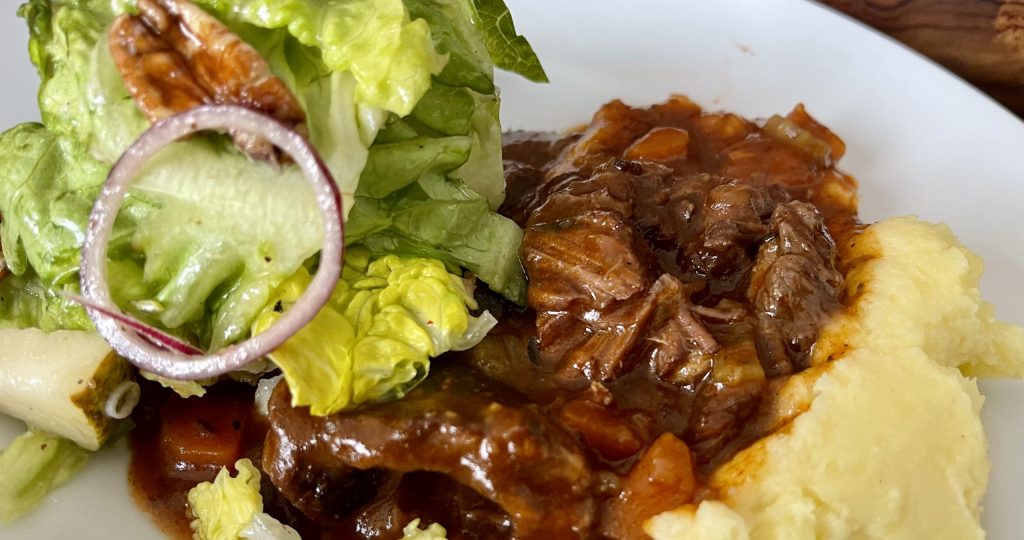 I've pulled up an oldie-but-goodie recipe for you and myself this month.  I figured, hey, why not remind my readers AGAIN it's Rhubarb time. There's no better way to celebrate this delicious healthy veggie than by making Cassava Sweet Potato Crepes and Ginger Rhubarb Sauce!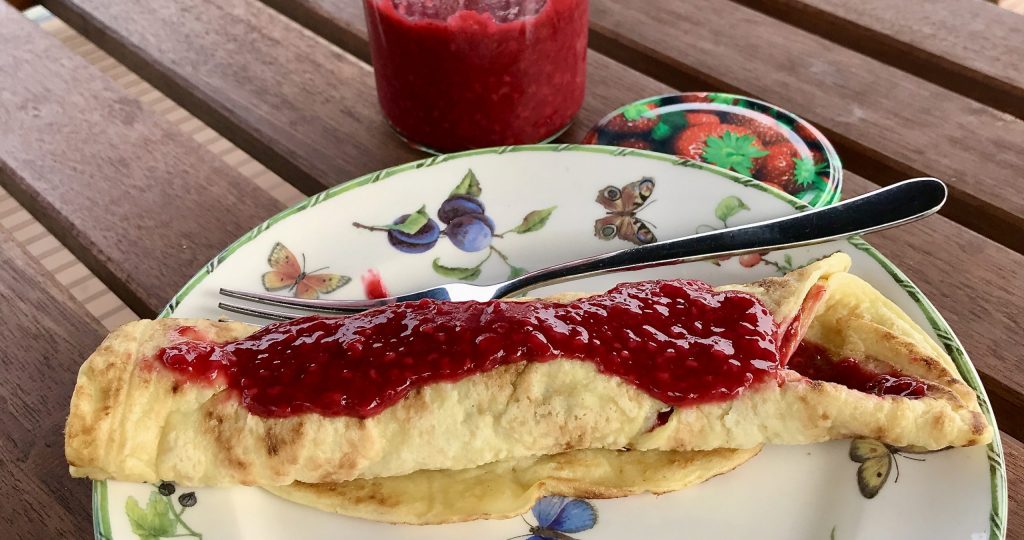 Fave Resouce
This month's resource is one of those questionable resources. Have you ever wondered if those french fries you've ordered have gluten? You'd be surprised. One of my last suppers would be a pizza and fries. I might change my mind after reading this article.