Ok this is for all you folks that have to stay away from grains… I think I'm a convert… This recipe is fantastic. It's sweet, warm and toasty. I also have another recipe, Granny's Granola you might want to try as well. It has a different topping/sauce that can easily be used for this great Great Grain Free Granola or vise-verse. Explore and create!
GREAT GRAIN FREE GRANOLA
May 24, 2016
: 1 large canister
: 15 min
: 30 min
: 45 min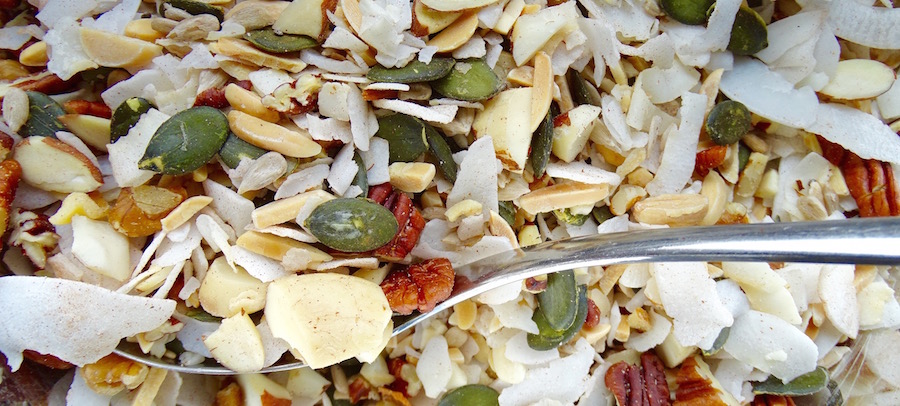 Ingredients
3 cups natural flaked coconut raw with no sugar
3/4 cup pumpkin seeds
1/2 cup black & white sesame seeds
1/2 cup raw sunflower seeds
1/8 cup chia seeds
1/4 cup flax seeds
1/4 cup hemp seeds optional
1 1/2 cup skinned raw almonds optional
1/2 cup organic honey
3 tbsp oil melted, coconut, ghee or light olive oil
2 tsp homemade vanilla
1/2 tsp cinnamon
1/2 tsp chai spice
1/2 tsp cardomom
1 tsp himalayan salt optional
Directions
Step 1

Heat oven to 300 degrees. Prepare a cookie sheet with baking paper.

Step 2

Place the honey, oil, vanilla, spices and salt in a sauce pan. Heat on medium low while you mix the rest of the ingredients.

Step 3

Place all the seeds and nuts, if using, into a large bowl. Mix with a spoon so all the ingredients are well blended.

Step 4

Pour the warm honey mixture over the grains and mix well. It will be really sticky!

Step 5

Spread the granola on the paper lined baking sheet.

Step 6

Place in the oven for 30 – 45 minutes stirring half way along. It's done when the top is toasty and slightly brown.

Step 7

Yes, it will still be sticky and wet. Don't panic. Take it out and set it on the counter while you make my Granny's Granola. Check it out.

Step 8

After an hour you can place the dried Grain Free Granola into a storage jar. It kept for me up to 3 week!