"Tis the season to eat field salad, fa-la-la-la-la la-la-la-la" Yes, really it is hopping right now. Field salad is so delicious and in restaurants, they serve a yummy bacon dressing on top. I had to figure this out and mastered it to the TEEEE. You can add your own touches and be creative but for us, we love adding pecans and cranberries. I've tried it with diced figs and sliced tangerines as well and it is so flavorful really tangy and then this blast of sweet and salty! Simple and easy one pan dressing. Let me know what creative way you serve your "Feld Salad" as the Germans would say. Try it over chopped Kale as well.
BEST FIELD SALAD WITH BACON DRESSING!
December 25, 2016
: 4
: 10 min
: 10 min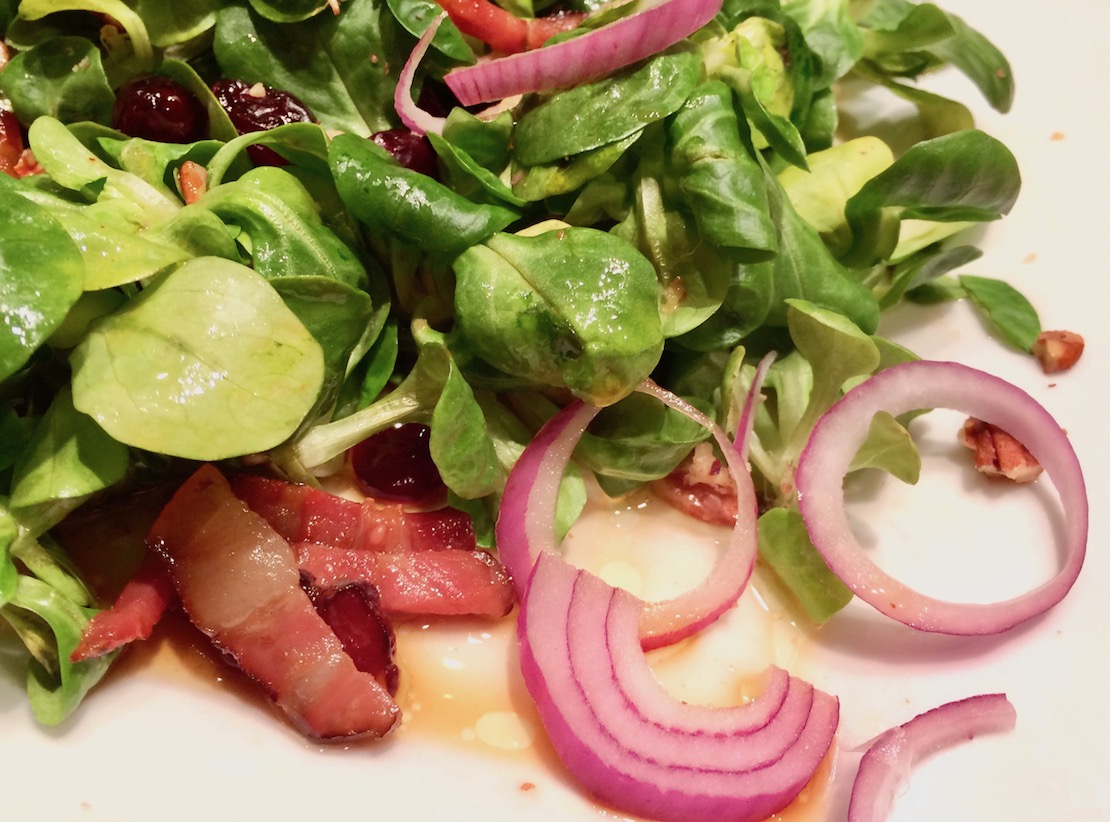 Ingredients
4 strips thick organic bacon plus 1 Tbsp coconut oil for frying
1/2 cup olive oil macadamia or avocado works as well
1/4 cup white balsamic vinegar
1/2 tsp fresh ground pepper to taste
1/3 cup cranberries or diced figs
1/3 cup chopped pecans almonds or walnuts work too
1/2 red onion sliced in think rings
4 servings Field Salad washed and spun dry
Directions
Step 1

Slice the bacon in little strips and fry. If it's organic and GMO-free, I always add a bit of coconut oil for frying since organic bacon has less fat.

Step 2

Let the cooked bacon and the oil, if used, sit for 15 minutes until somewhat cooled.

Step 3

Prep your salad and add equal amounts of pecans, cranberries and red onions to each serving.

Step 4

Dressing: In the same pan you cooked the bacon (don't drain the fat), stir in the white balsamic vinegar and the olive oil (or oil of your choice). Drizzle the dressing over your salad and enjoy!

Step 5

Tip: This is also delicious drizzled over the top of a finely chopped Kale salad. Try this dressing on Brussel sprouts, ho yeah baby!