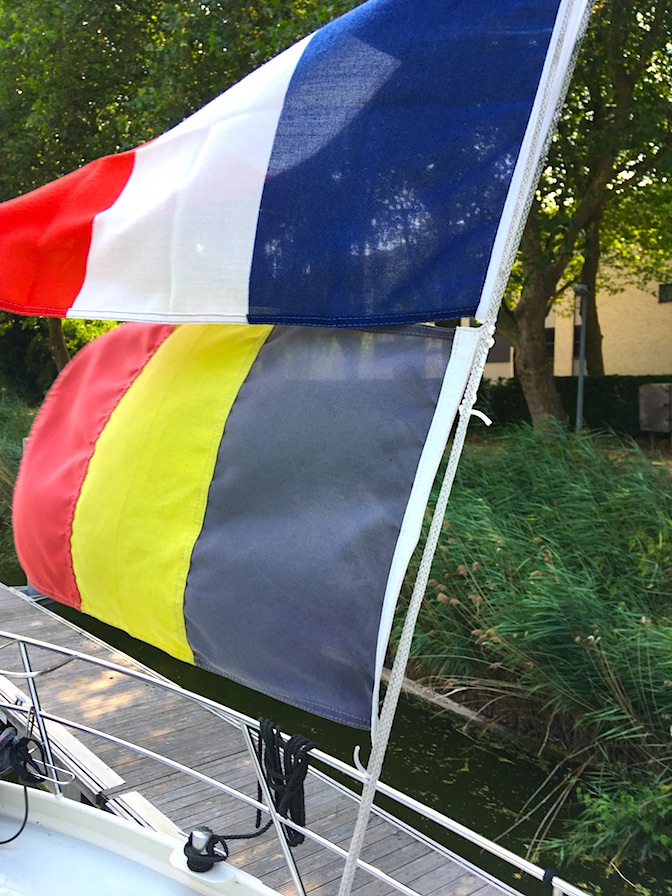 Last month's report I sandwiched in Ghent and Brugge with visits from family and friends. These last few weeks we've left Belgium and started toward our main destination, Dunkirk, France. Leaving Belgium and entering the canals of France was greeted with massive green algae due to the heat.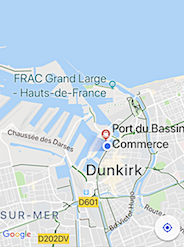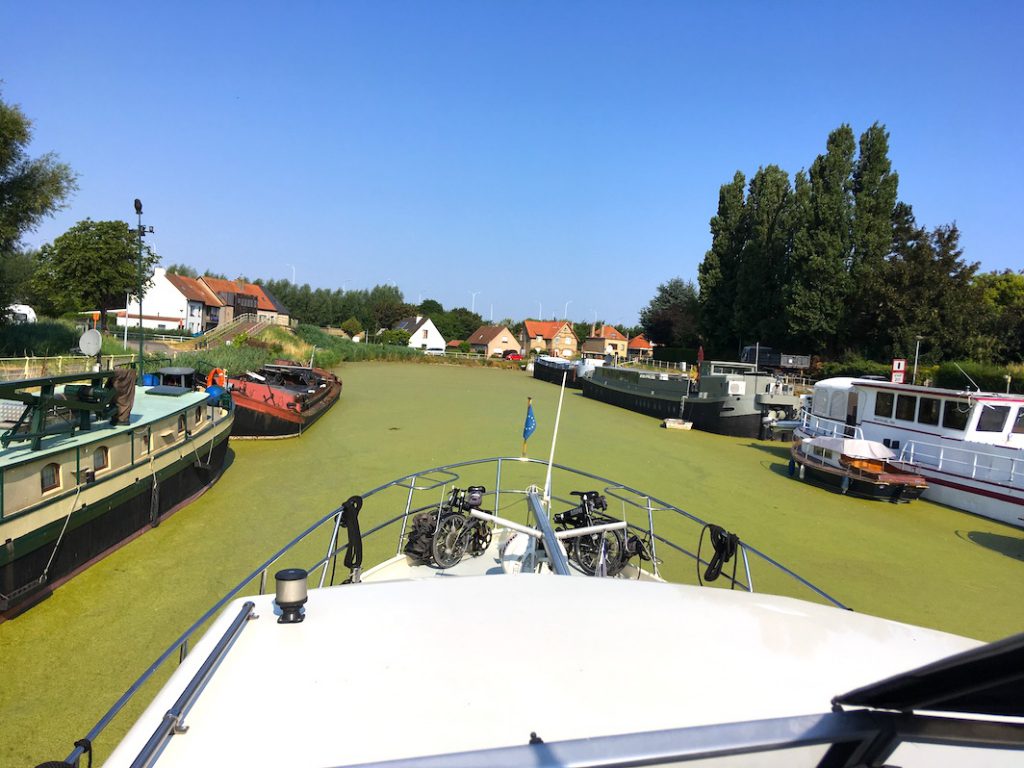 The Dunkirk museum was well worth the trip and very insightful. Small but filled with lots of information. Be prepared to do some reading. Every exhibit had quite a dissertation on the subject. It's crazy to think that in 1940 this same beach was filled with death, fire, ships at sea and destruction. Looking over this same beach today you'll see windsurfers, modern bridges and further to the right and left, shopping, cafes, and vendors.
Of course, a tour through the town of Dunkirk was in order plus a visit to a large old training vessel museum.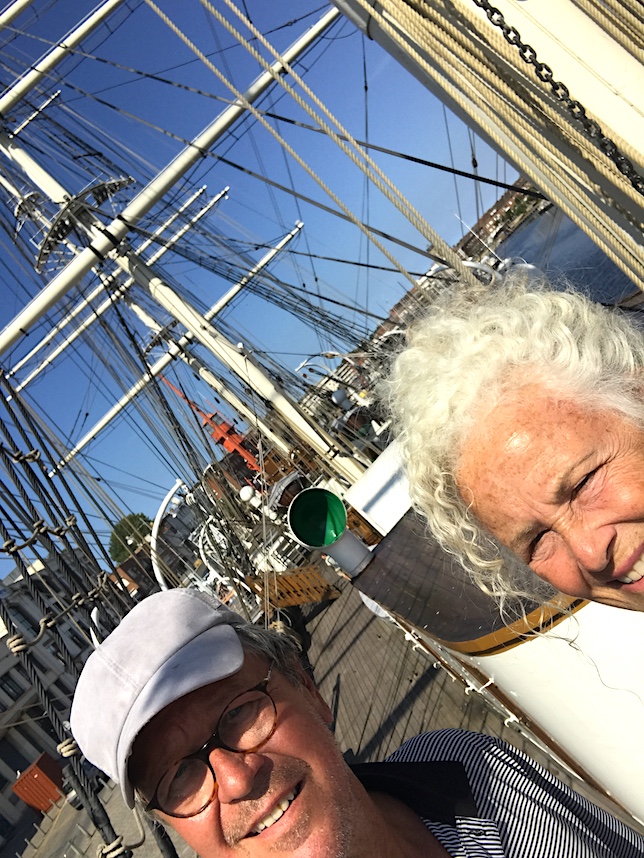 We were fortunate to have been in the harbor when a newer training ship came in with a group of young trainees. It made a beautiful sight watching them train. Especially in the evening.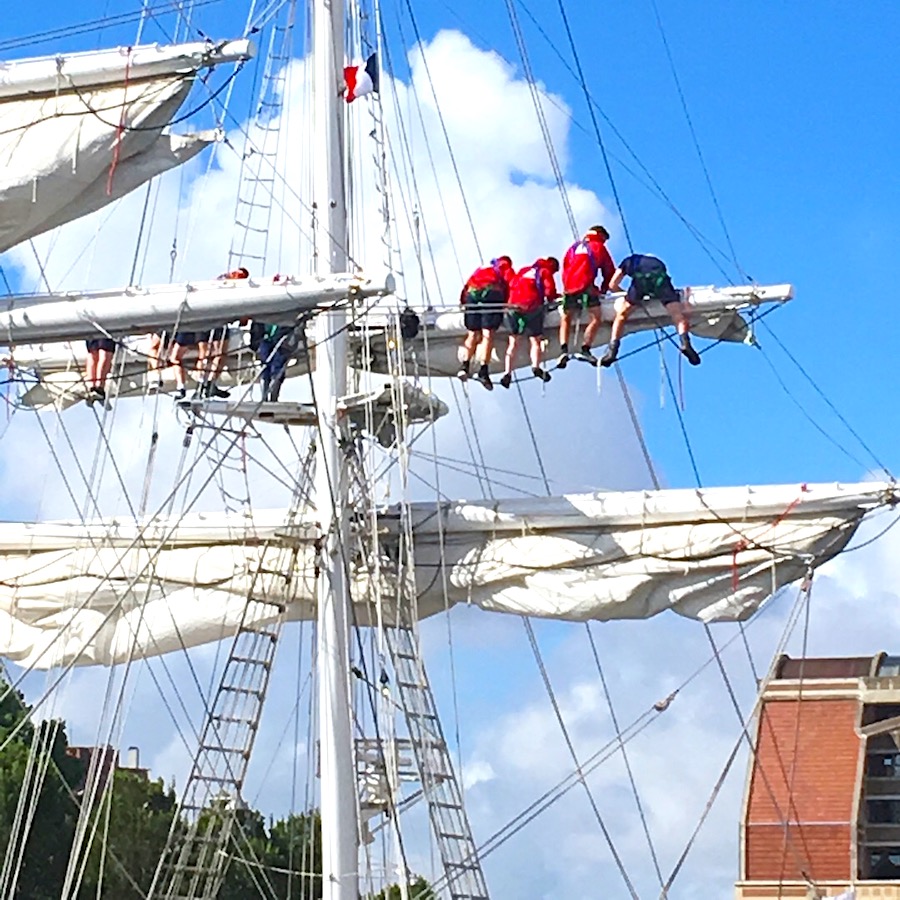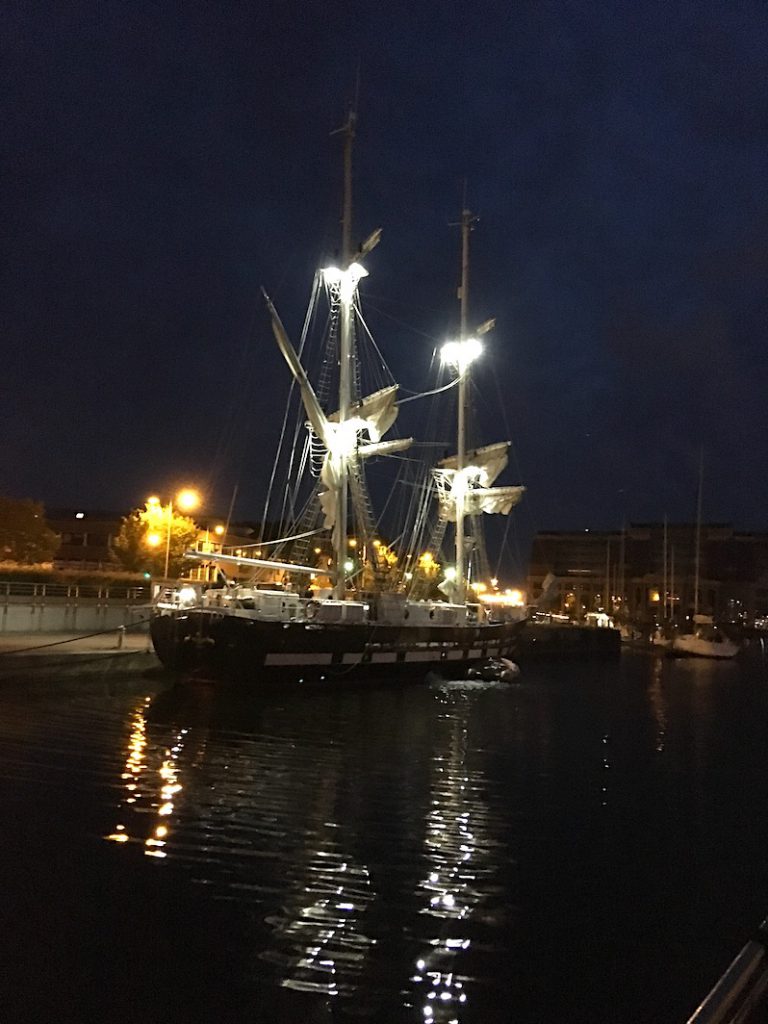 So Far we've had good luck with our boat Virus but sometimes luck runs out or old parts just break! The cooling pump broke and the water stopped cooling the engine. What a fortunate place to break down, Dunkirk! Harbors everywhere and repair shops on each side of the dock. Got the part but needed expert help and tools to replace it. Ha!…all workers were on vacation. Thank the heavens above for Wem. He is our mechanic in Ophoven and was there the next day (2 hours by car, 8 hours by boat).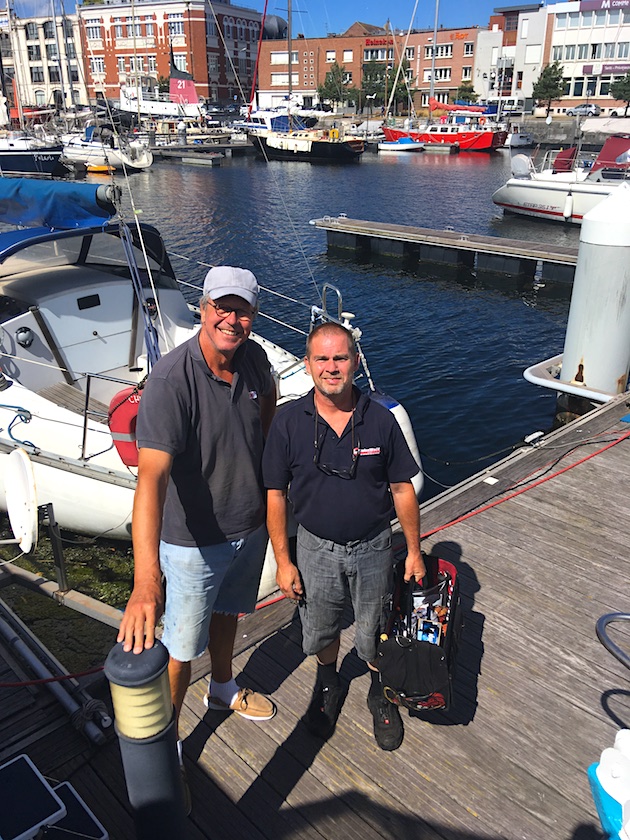 That evening we had the biggest thunderstorm I've ever been in. Thunder hitting all around us!  I made a video but am not skilled enough at this point to embed it into my newsletter. I tried but it doesn't play so just check out the pic and imagine. Holy Moly!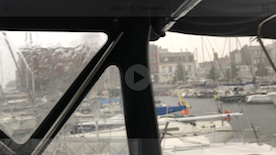 Our motor was ready and our time in Dunkirk was slipping away as well as our summer. We had planned to head south on the Maas River to Trier to leave our boat this year. Unfortunately, lack of water in the canals due to the heat prevented us from fulfilling our original plan…but as fate would have it something else was in store for us this trip.
We headed back to Ophoven by way of Seneffe. This time ascending instead of descending the huge lift. Pretty amazing engineering if you ask me.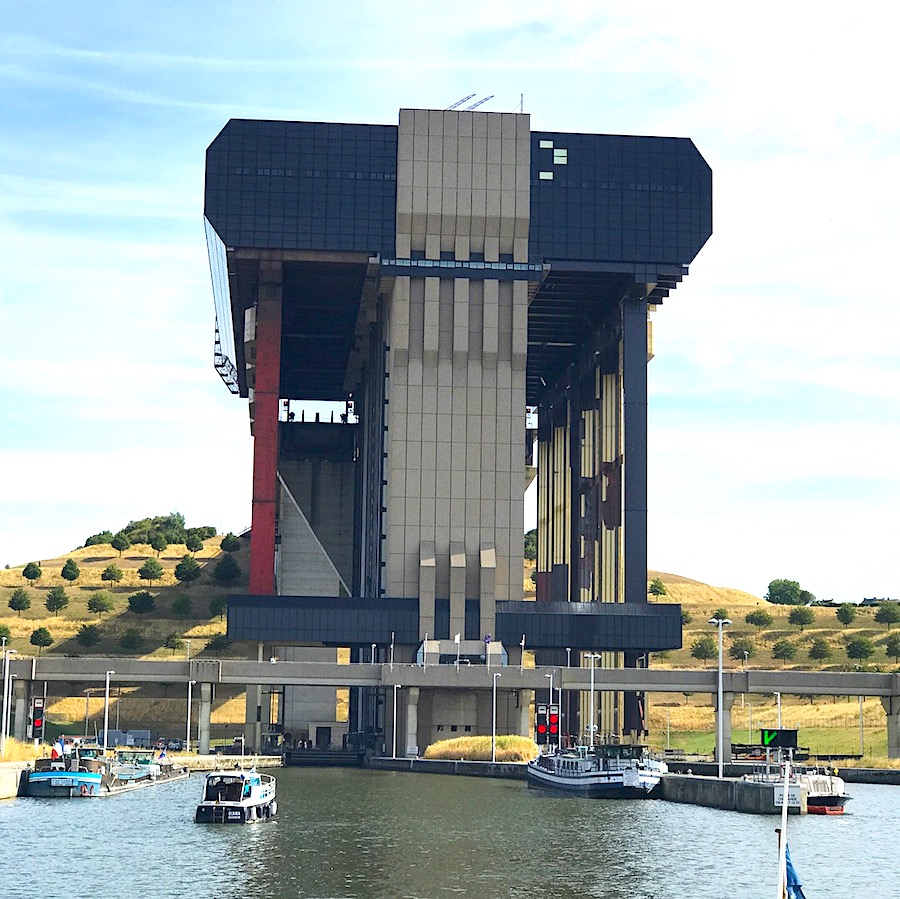 We arrived in Seneffe and met up with two other families heading our way through 10 locks to Namur! Best to travel in a group for this long adventure. The lock keepers are not really excited about opening a huge tanker lock for one little travel boat so we made good time and good friends.
What a fun trip back. Our wrong direction turned into a great direction with lasting friendships. We parted in Namur after 4 days of sharing food, fun, and company. With our new friend's suggestion and time on our hands, we headed to the city of Dinant, Belgium, one hour by car, 4 by boat! What a treat. This little city was filled with history and beauty. The harbor was on the main canal and cafes, shops, museums and just a great place to spend some time. The Citadelle (museum) built into the rock at the top was so amazing. A tram ride up and 408 steps down I went!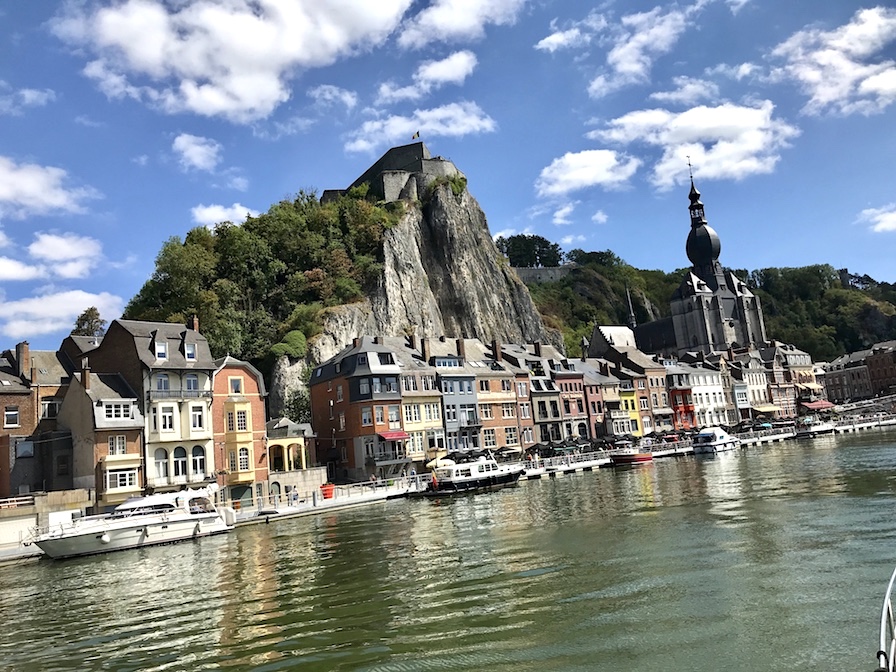 Our trip is slowly coming to an end and now we are in Maastricht. My "happy place" with the best Belgium Fries around! Plus the coolest harbor in Belgium.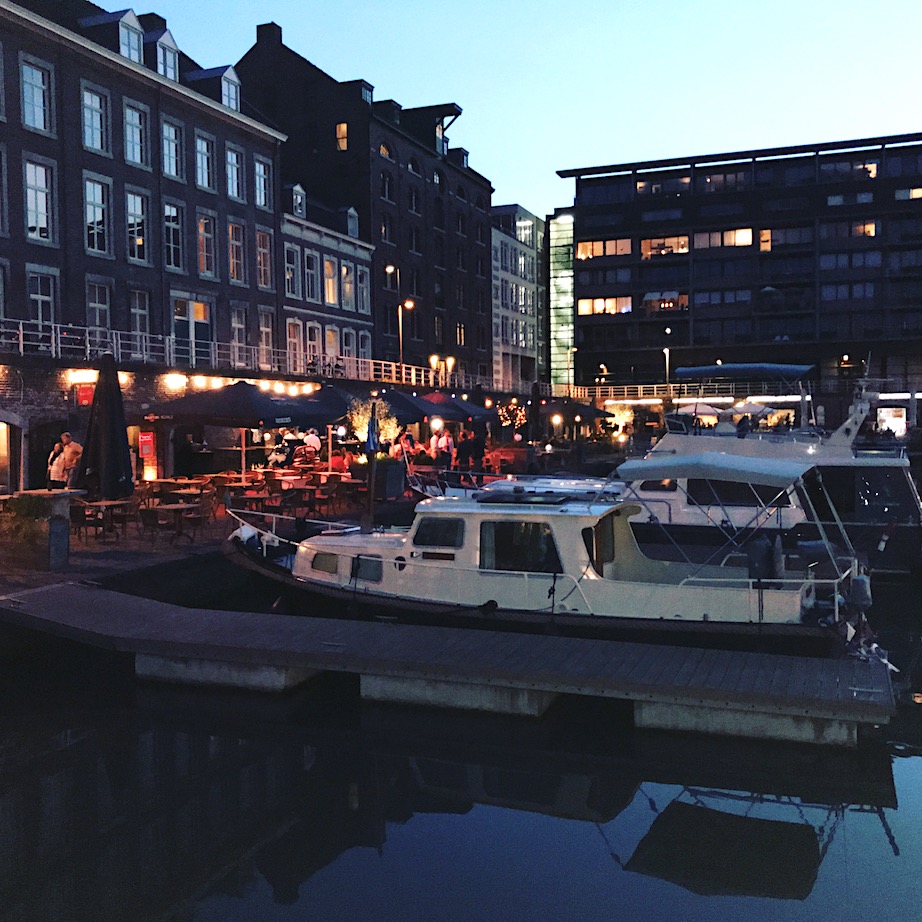 We'll be celebrating this Labor Day weekend on our boat with Terri Kriner, a truly good friend. She's taking us home!!! I've planned a meal just for us and will be making my fresh Quinoa Tabbouleh and using my homemade Rub-a-dub-dub on our flank steak. Try them both this holiday. I promise you won't regret it and neither with your guest!
Resources and More: Barlow Herbal
Are you interested in herbal healing treatments and research? You've got to check out this new site I found. These folks are real people and have taken over their botanist fathers business when he died. All their supplements are gathered and produced themselves. Click here for more info on this fabulous site!