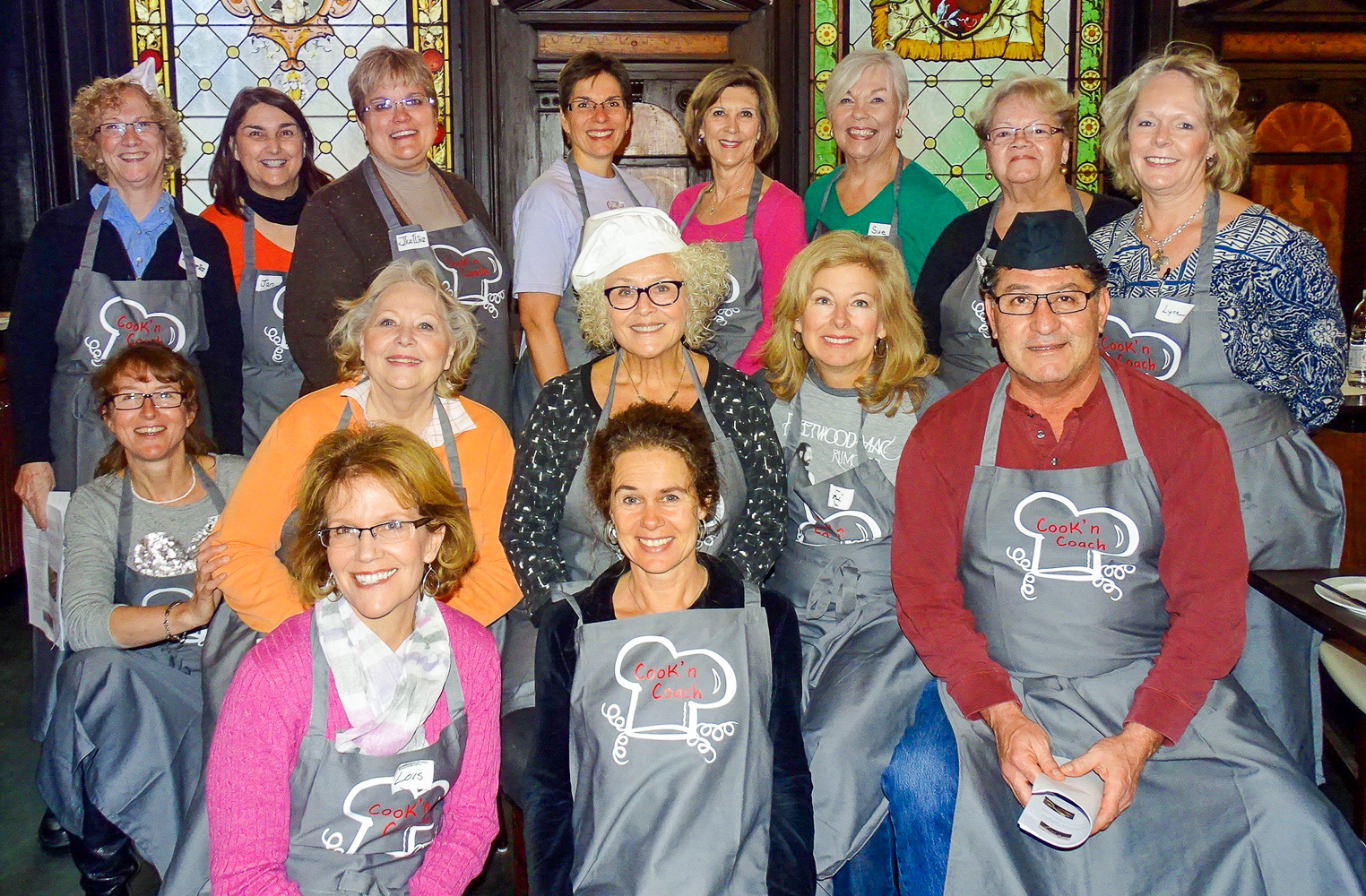 There's no better way to spend a Saturday than Cook'n with friends who are excited about improving their health! On November 20th, fifteen eager cooks, hungry for knowledge and good food came together to test the waters. The Cook'n Coach's first dairy, gluten and soy free cooking class was a hit. Thanks to the owners and the managers of Wollonenhof restaurant for their gracious hospitality and allowing this event to take place in your historic restaurant.
Two very influential people instrumental to my process showed up, Dr. Astrid Blank and acupuncturist and massage therapist Uschi Haehn. What a powerful team addressing the needs and questions of the participants. This is what I call collective medicine!
The morning began with appetizers. Cauliflower hummus, cashew ricotta herb, chia spread, homemade yogurt with a touch of Sonia Lacasse's Tex Mex spice from her new book Paleo Home Cooking, and homemade crackers from Diane Sanfilipino's book Mediterranean Paleo Cooking started the morning off with a desire to dig in!
After much laughing, sharing and nibbling on appetizers  we broke into two groups through an unusual activity that identified the chefs and their team. The rest of the morning was filled with  "yes Chef" as each chef delegated positions and jobs to their team.
Fresh kale salad with homemade mayo from Sonia's book gave us the base for a PERFECT mayo to experiment with. Topping it off with a teaspoon of homemade horse radish and a shake or two of Sonia's spices made the yummiest ever mayo for our warm bacon dressing.
Of course we had to have bread, and so be it. Using the base recipe from the Quilty Kitchen Site we twisted this one as well. Minus an egg, adding 1 tsp each of of black sesame seeds, white sesame seeds, chia seeds, sunflower seeds, pumpkin seeds, and instead of honey, we added molasses. I also used organic dark almond butter to give the whole bread a dark rich nutty texture and flavor. Topped with the herb spread it was DEVINE.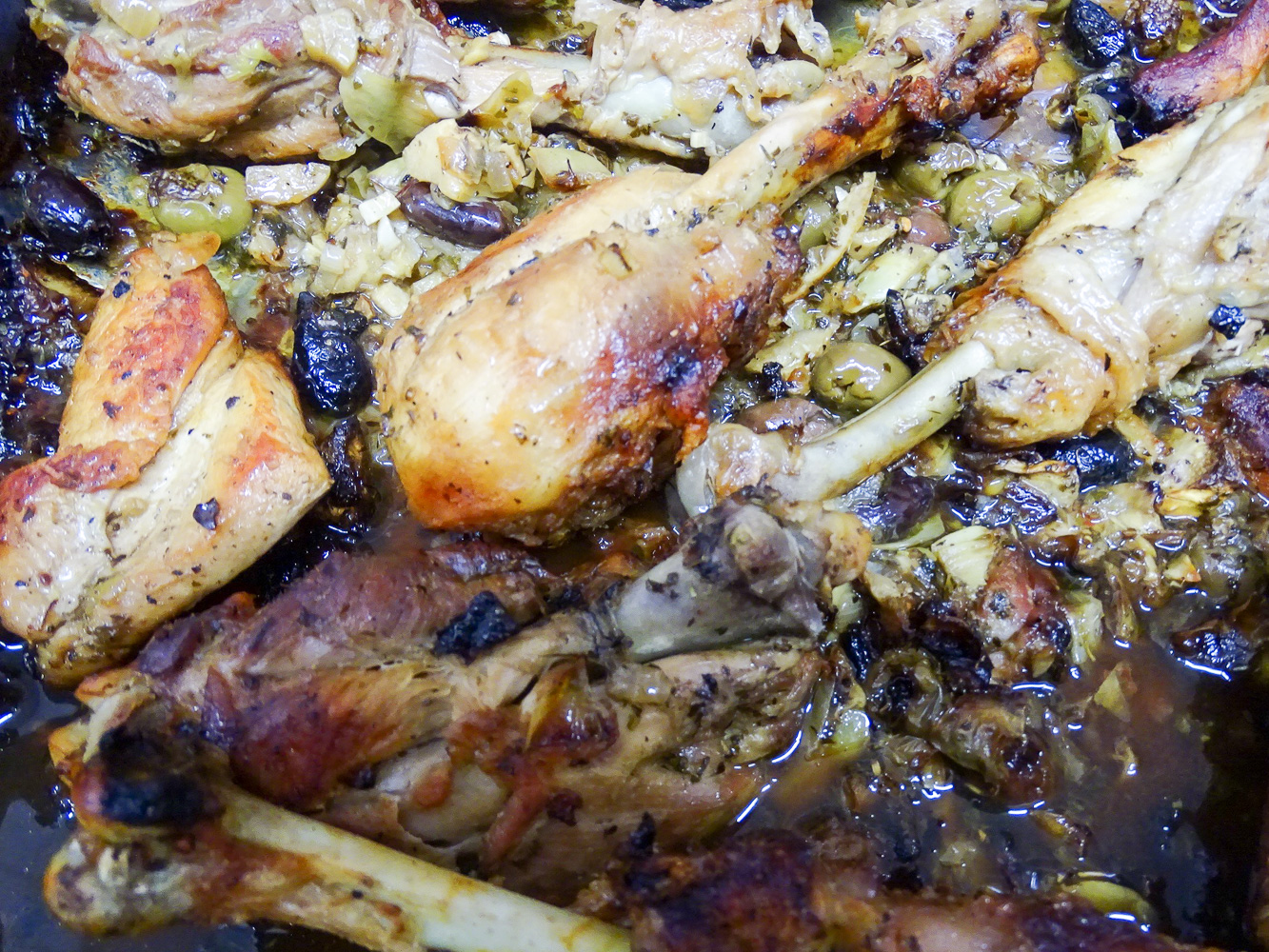 Next came the Twisted Chicken: flavored with unique twist between Sonia's Greek-Style Braised Lamb sauce and Diane's Nacera's Lemon Ginger Chicken Tajine sauce. Poured over pre-sautéed farm raised bio chicken with bones (and yes, my wonderful husband drove to the farm and got them!)… presto! You have the Cook'n Coach's Twisted Chicken.
Desert was incredible! Starting with a base brownie recipe from Paleo Grubs, once again the Cook'n Coach couldn't leave well enough alone. Combinations of coconut, raisins, walnuts and dairy, gluten and soy free chocolate chips were options for the teams to experiment with.
Whipping up the cream was a snap using Asian coconut cream. It was placed in the  fridge the same time the mixing bowl was placed in the freezer. When prepping for desert it was removed and the coconut water saved for smoothies and whipped in the frozen bowl. Raspberries were slightly mashed and drizzled on top. Chocolate chips were reserved with a bit of coconut milk to heat up and zigzag the top for a boob-a-rama desert.
Although take home containers were brought, there wasn't  a drop left!
Next event, Kaiserslautern Soccer Stadium Restaurant!
Stay tune for more events and times with me, The Cook'n Coach.