I've decided to title each new post with a song so it will be in your head all day long! Every time you sing you'll remember ME, The Cookn Coach!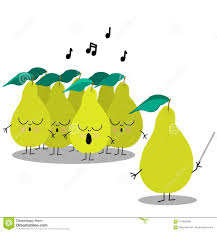 So let the music begin. What weather whirlwind we've been having. It's either rain, thunderstorms and when the sun does shine in it's hotter than…well you get it. The weather on Mother Earth is having a field day with us all. But…in spite of all the crazy conditions, we've seen some beautiful country! Last we chatted we had left Naarden and headed across the IJsselmeer toward Amsterdam.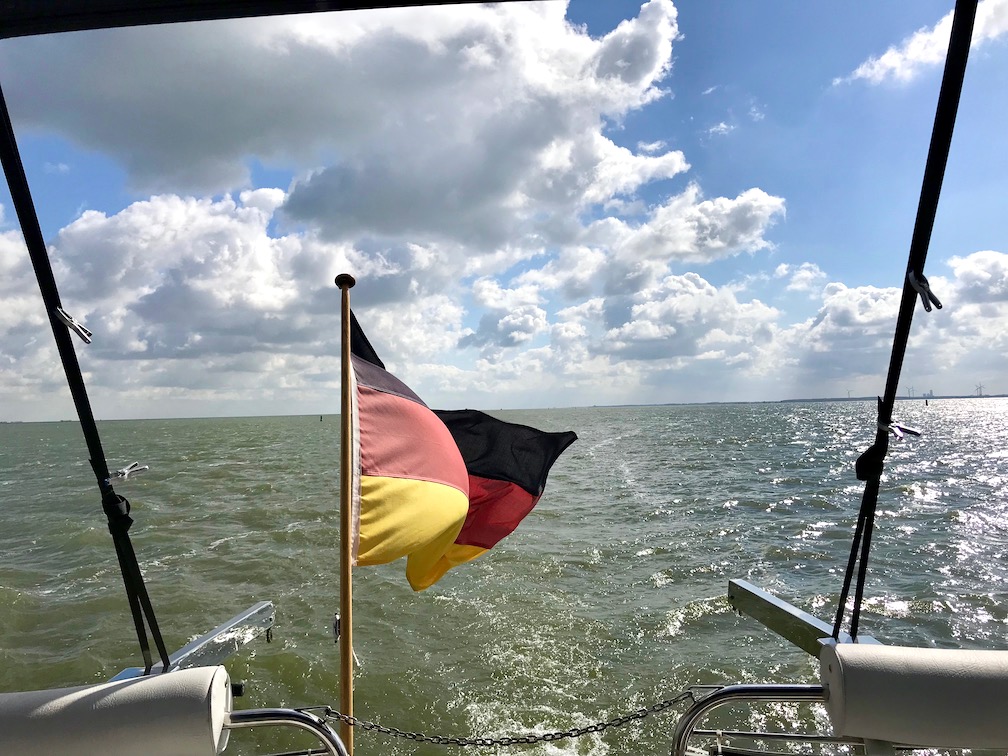 In Amsterdam, we picked up my childhood friend and her husband from Colorado, Jennifer and Steve Goodbody.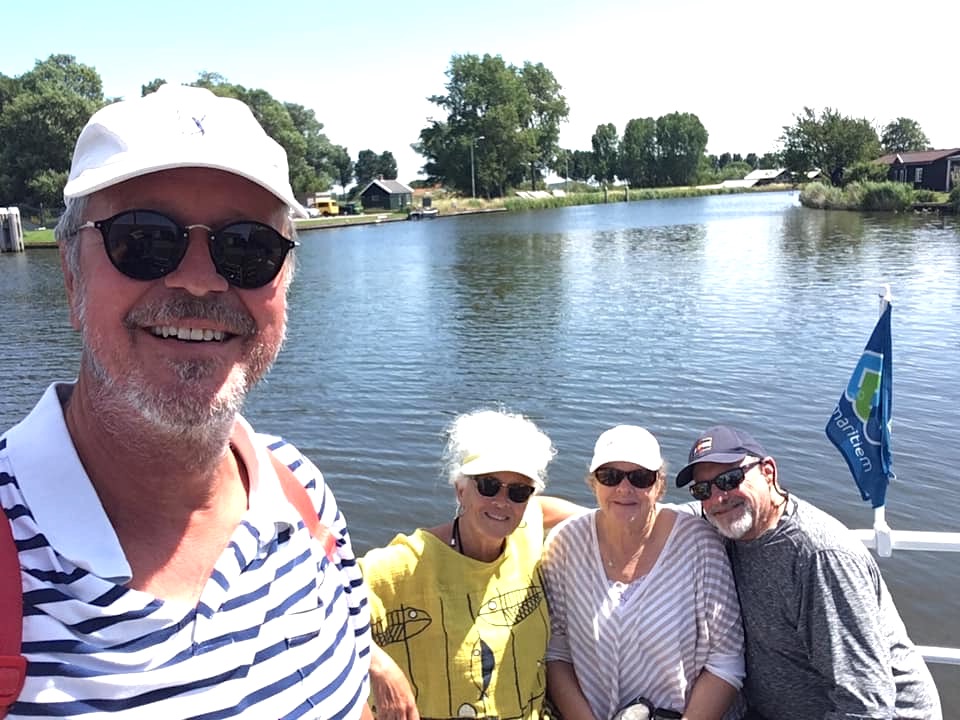 Our five-day tour took us through the northern loop above Amsterdam where we had some of the best spots for anchoring. First stop was De Rijp. The guys scouted the town and said it was beautiful and filled with SHOPS. So, of course, Jennifer and I had to take the two bikes back and check it out.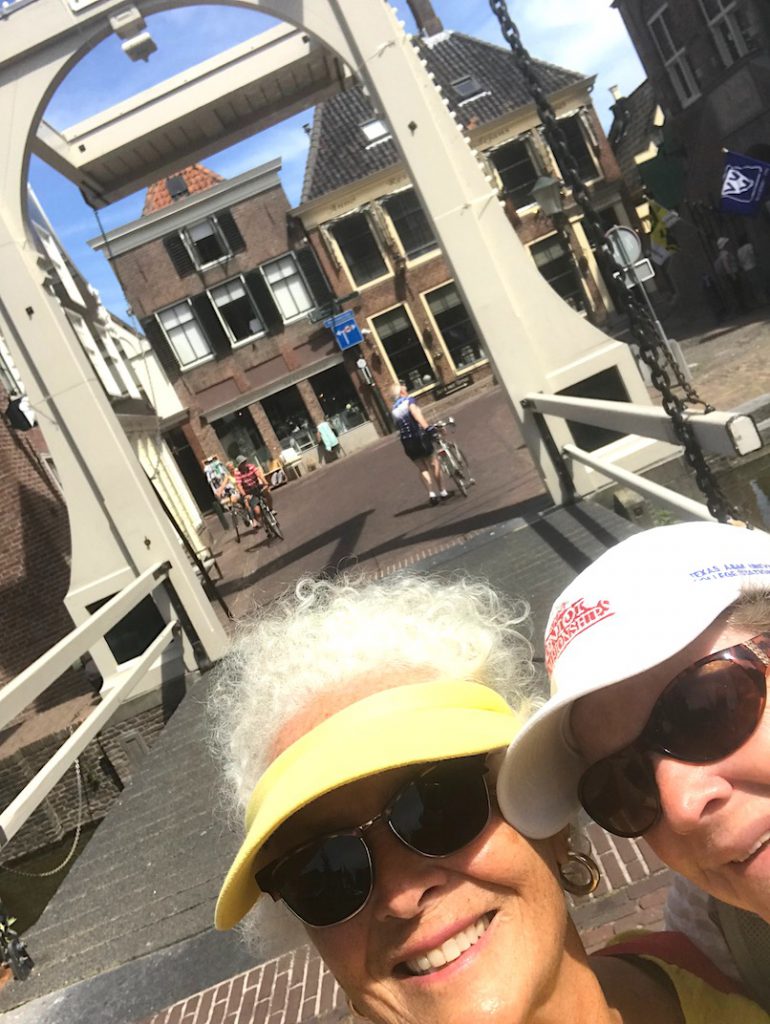 They lied…of course. The only thing open were restaurants and one gift store! Men..always looking for a way to save some money. But the town was so cute. Bridges everywhere and cool side streets.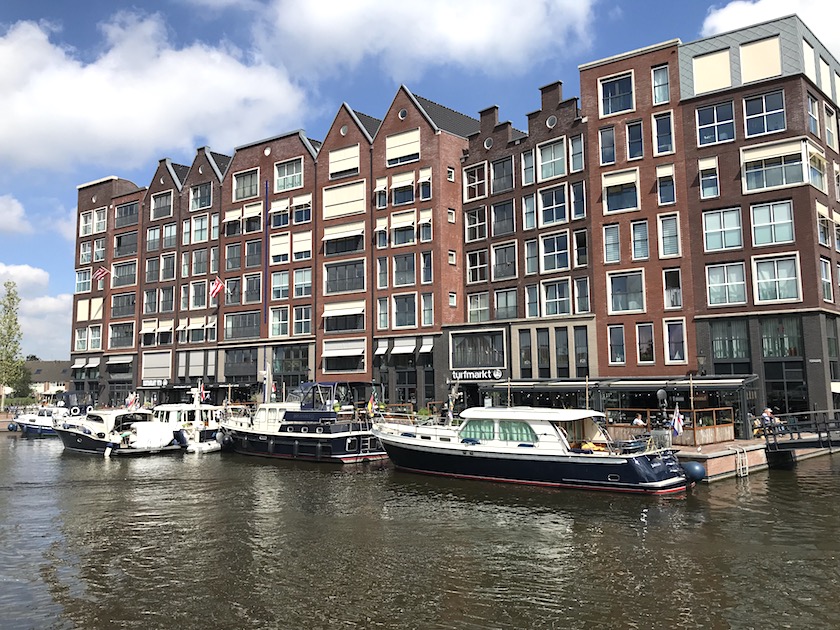 Then it was off to Alkmaar. We harbored right in the center of town. Our boat, Virus is the second boat from the right on restaurant row!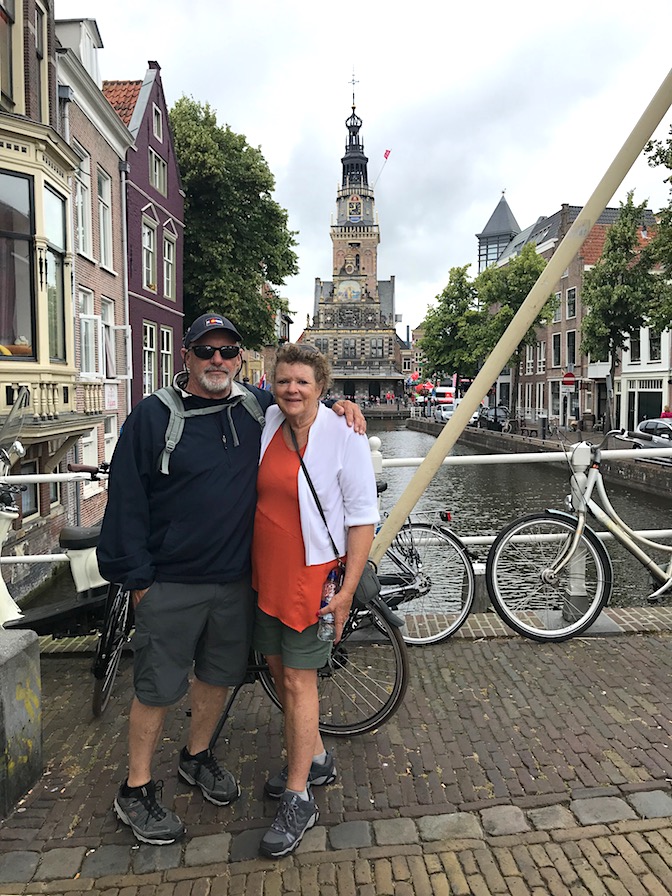 A walk through the city was so beautiful and the sun did shine on in a bit!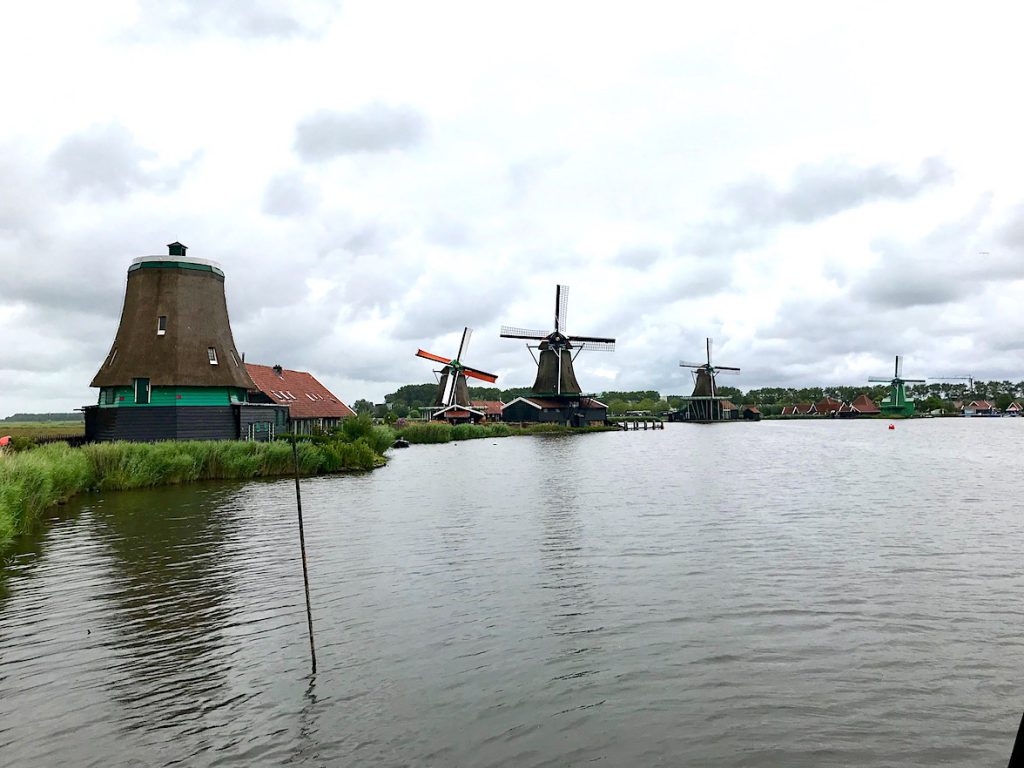 Our next stop was Zaan. This town is a very popular town for tourist. It is a museum village with replicated or restored businesses. Of course, we were in the wilderness and right next to a windmill. This is one of the most popular stops for tourist and since it was raining the population was way down.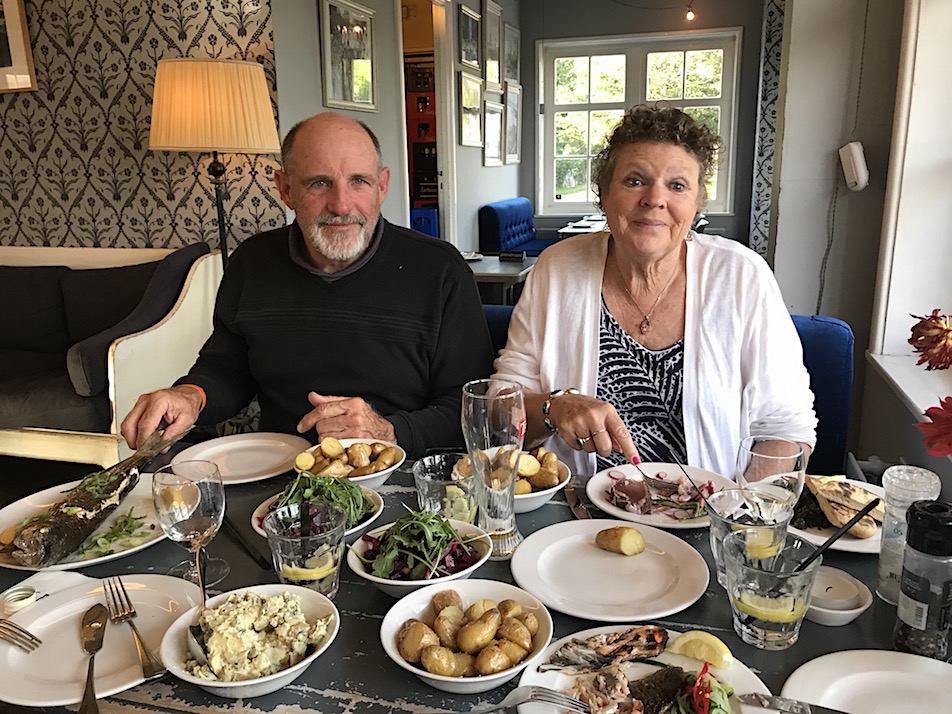 Our trip with Jennifer and Steve ended with our last evening together watching the soccer game between Germany and Netherland in the harbor clubhouse then we headed for a celebration meal of farewell.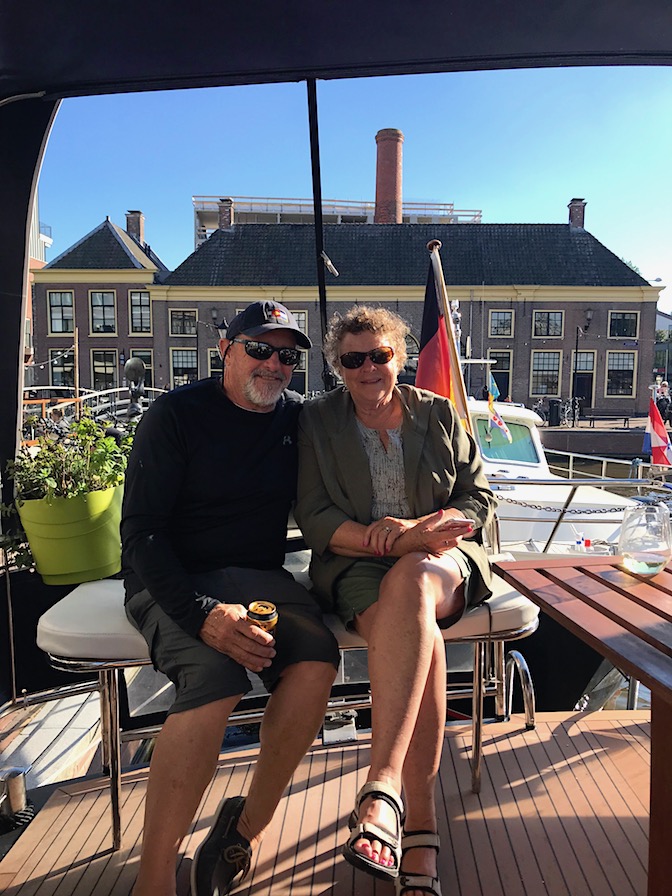 It was so nice to have dear friends accompany us for the five days and it went way too fast.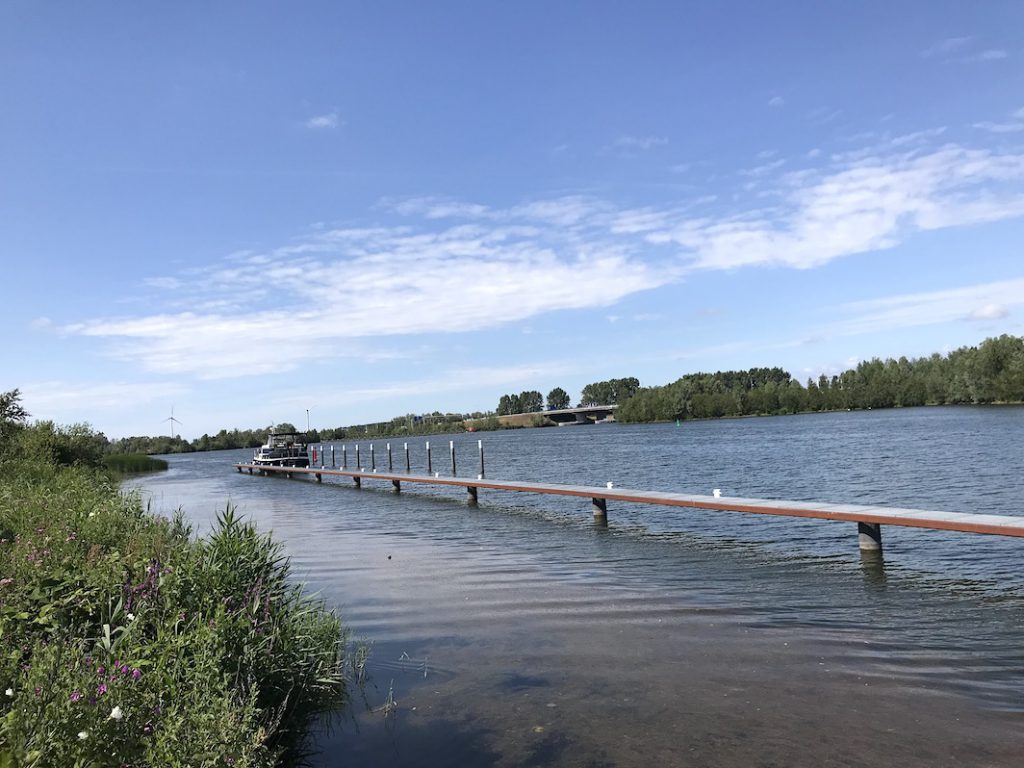 We headed out the next morning to continue our adventure to Friesland. Our first stop on the other side of the IJsselmeer was in the wilderness outside Harderwijk. So beautiful and peaceful.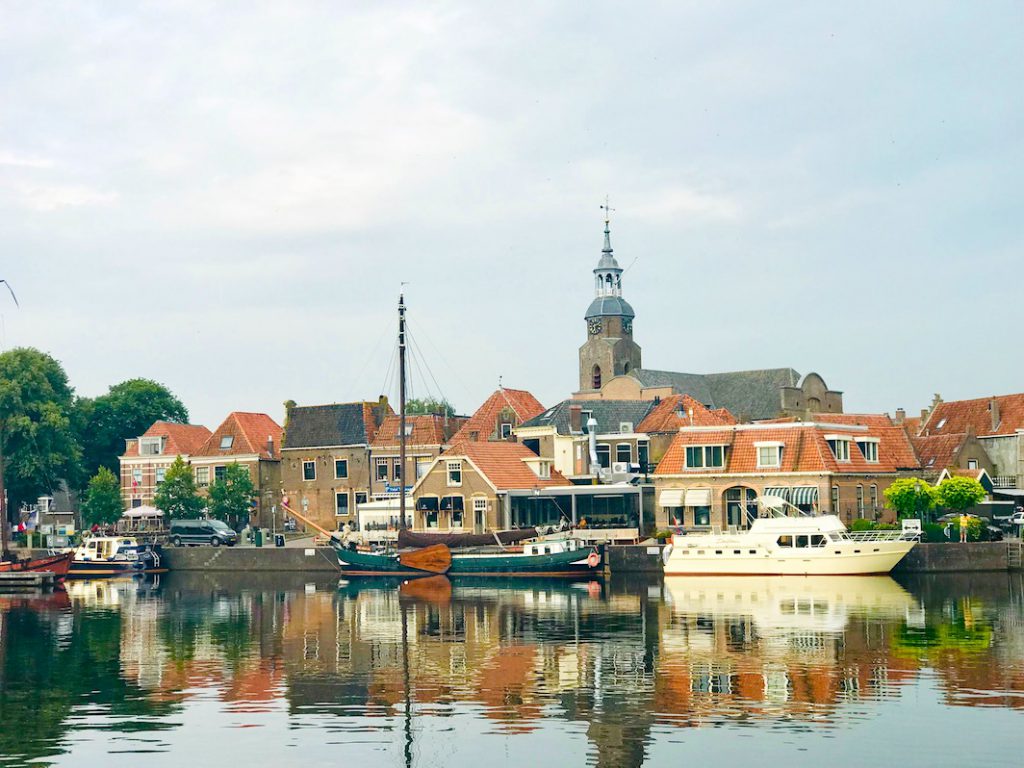 Next stop was in the small village of Blokzijt. At night we were entertained with music from a traveling boat band! Quite nice especially in the rain! Brave souls.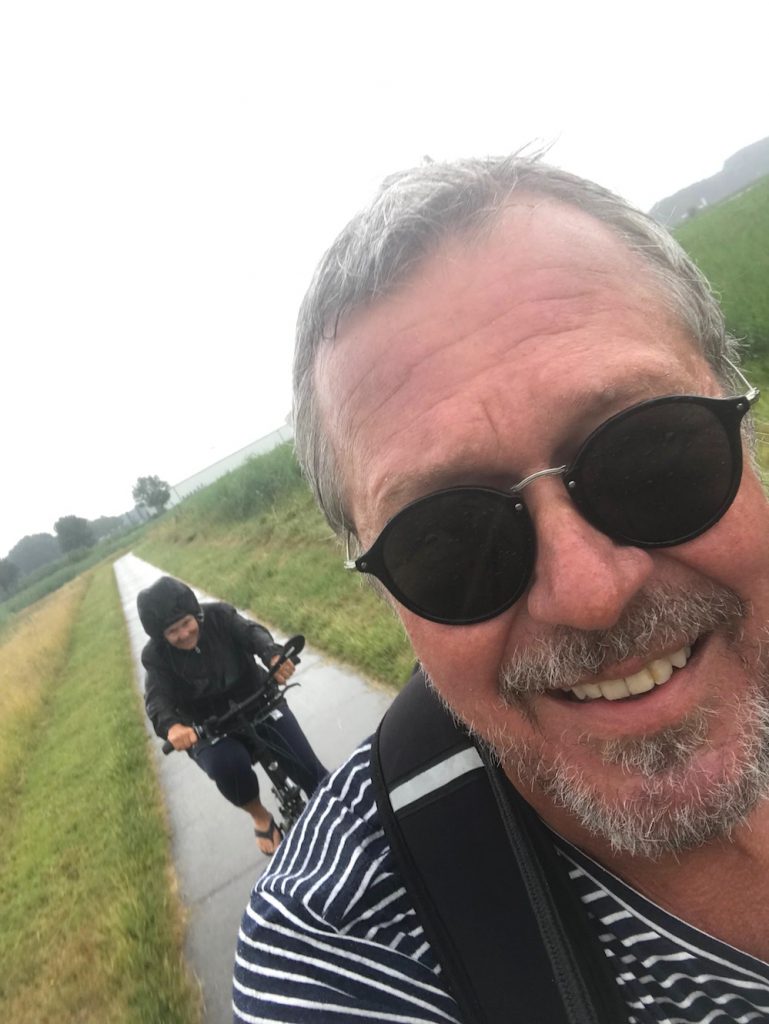 A bike ride caught us in the rain but we pressed on!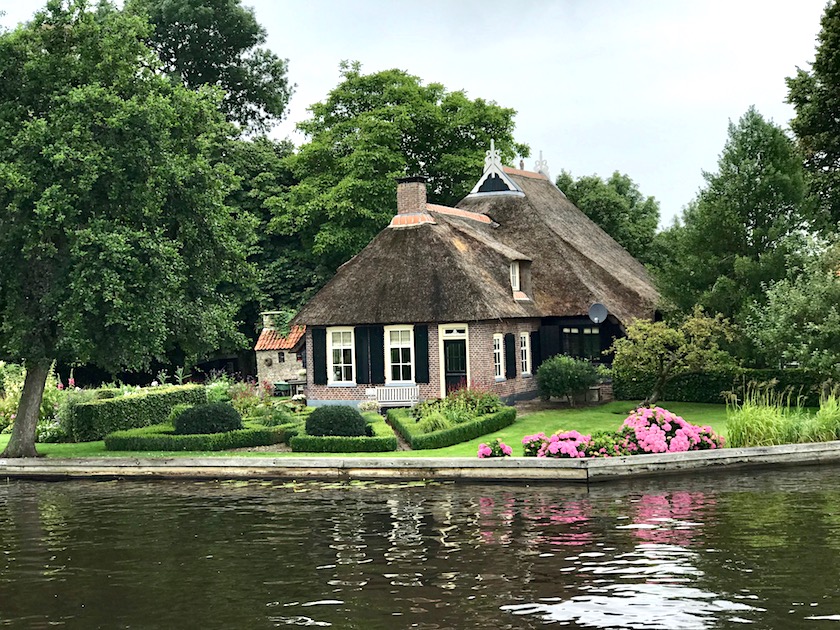 Off we went and spent one or two nights in several harbors in Friesland. My favorite part was driving all day through the backyards for peoples homes.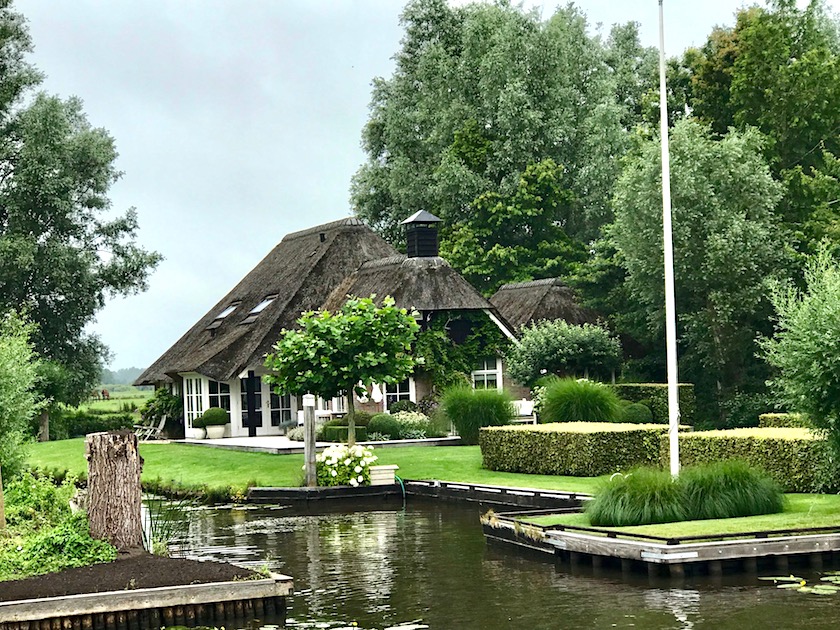 Each home was manicured to the hilt and blooming with flowers. Crazy, most homes had a " boat driveway" or a "boat garage"!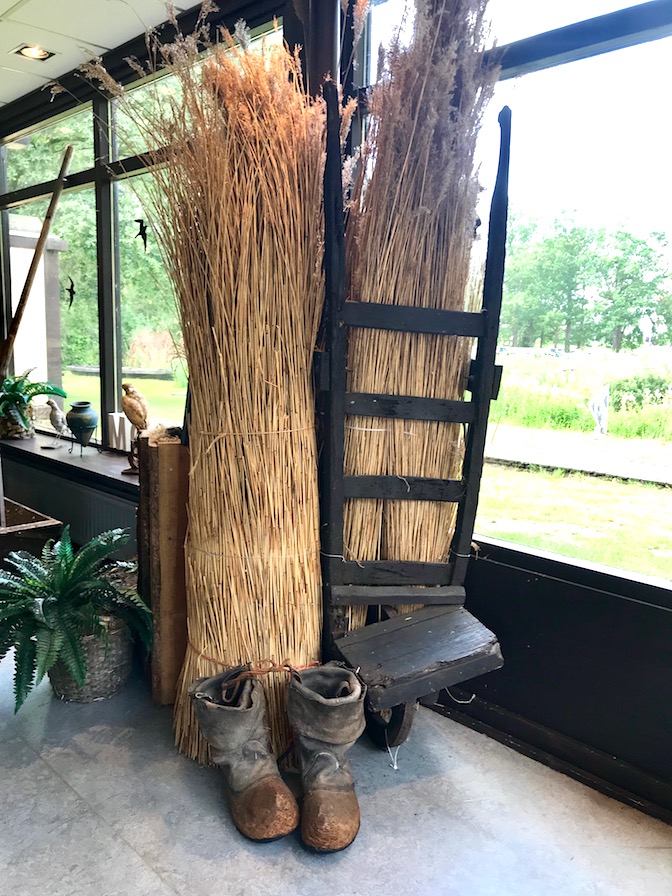 One-stop we had to check out was a local museum that shared the history through film and pictures of the traditional thatched roof production. What a job! Historically these roofs were for the poor. Today, only the rich can afford them. Plus it's not surprising to see many Netherlanders wearing the traditional wooden work shoes in their gardens today.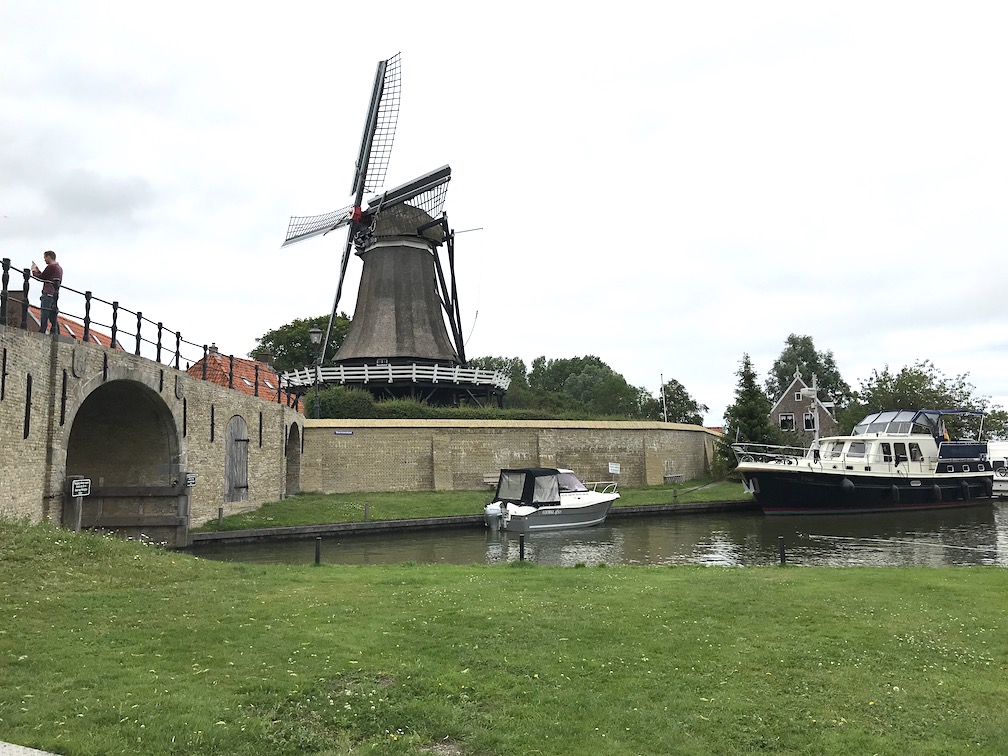 Off to Sloten, we went for a unique experience in a small harbor. Of course under a windmill at the city gates!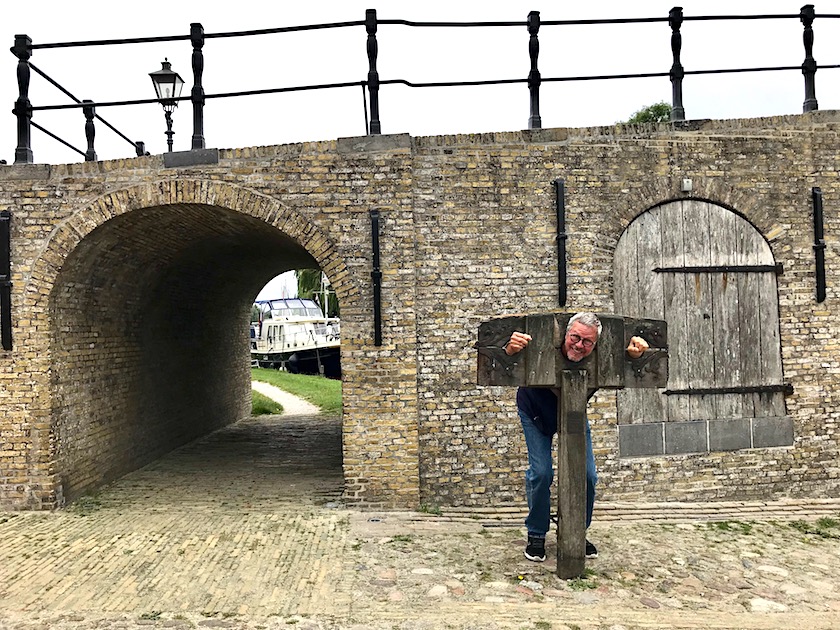 This section of harboring was designed for smaller boats. Ours was definitely too large as you can see through the gateway and in the previous picture, so I snapped a shot of Lutz being arrested!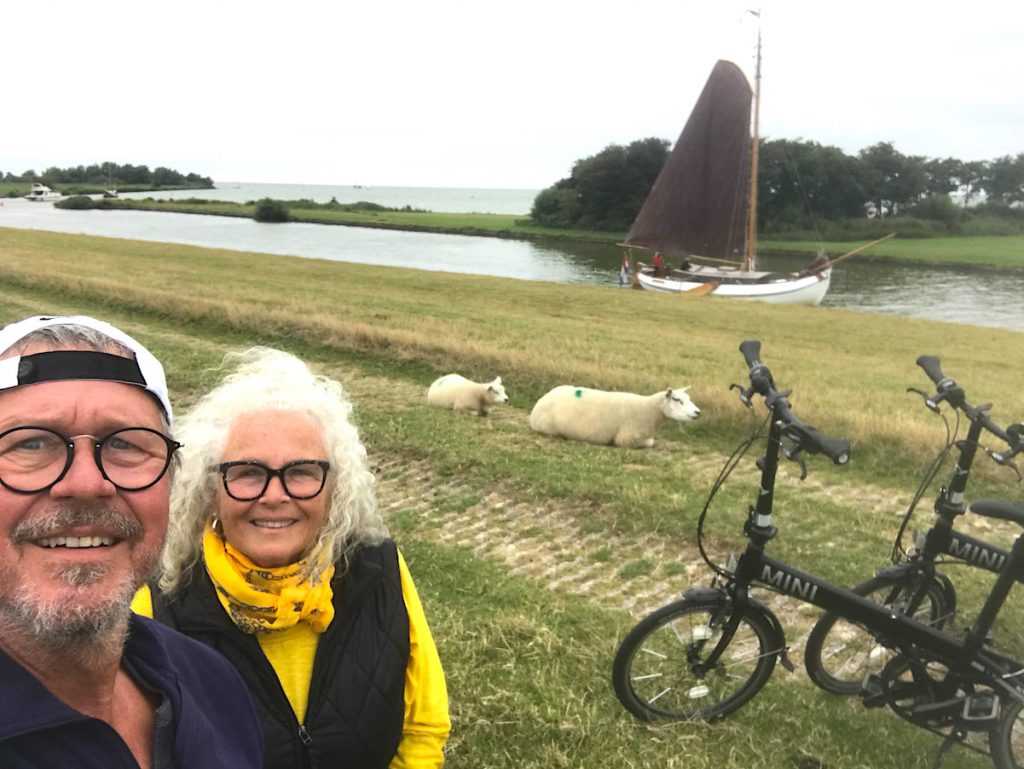 Next stop Workum! Yes, I "worked-him" cleaning the boat and tempting fate with a quick ride to the sea. This little village is on the edge of the IJsselmeer. It was a critical city for those merchants leaving with local goods and for those coming from other lands to sell their goods.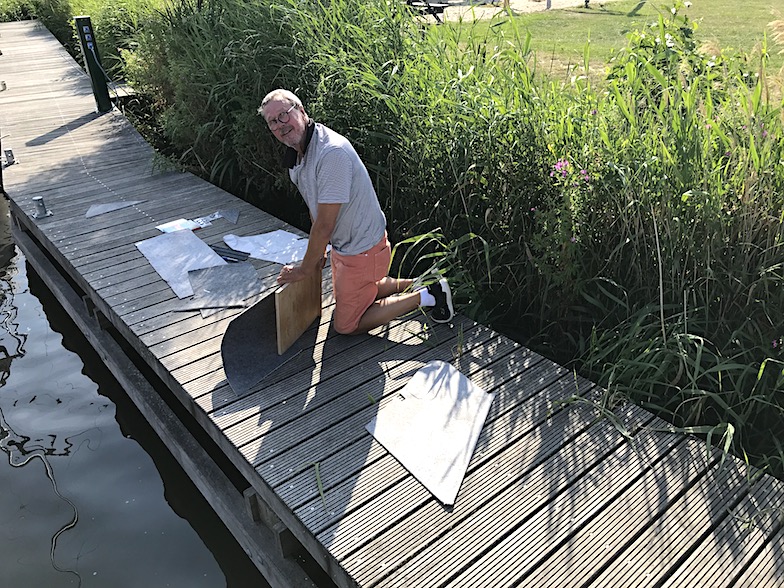 Lutz worked to replace the carpet in both bedrooms!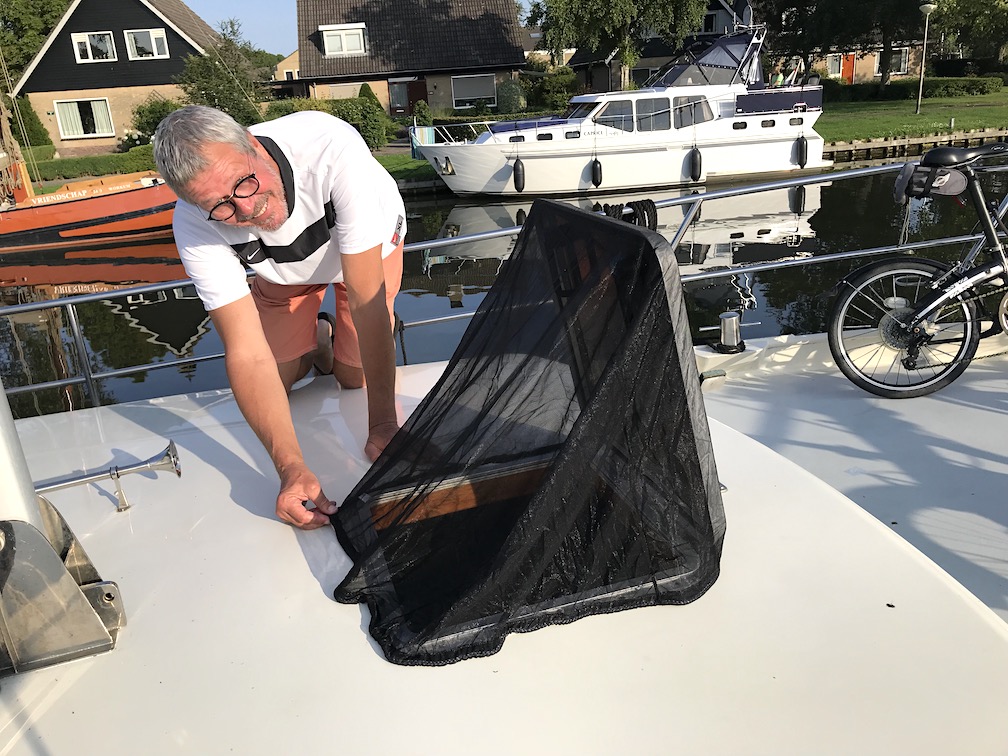 And bought a net for the front window to keep out critters and let in the fresh air just in case the sun came out!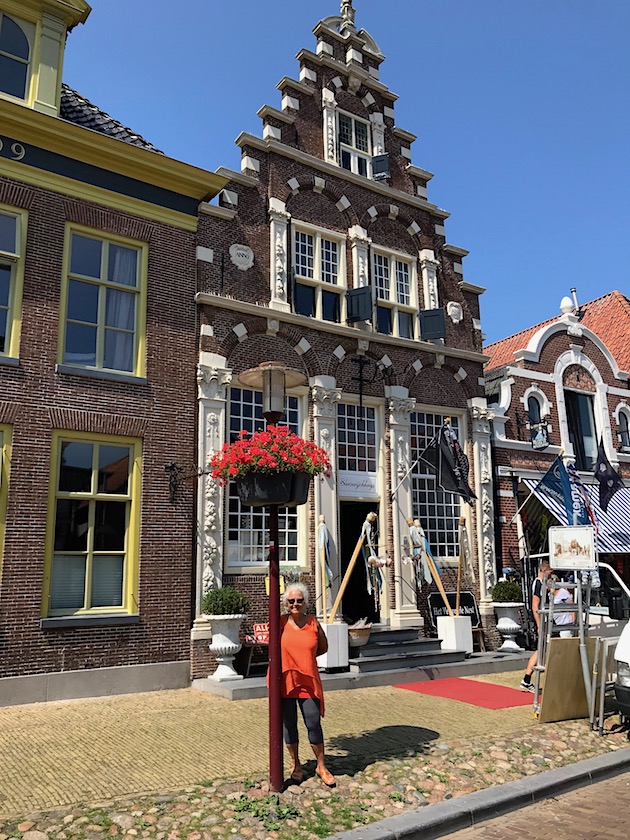 But a walk through the town was also in order on this sunny day! Love the buildings.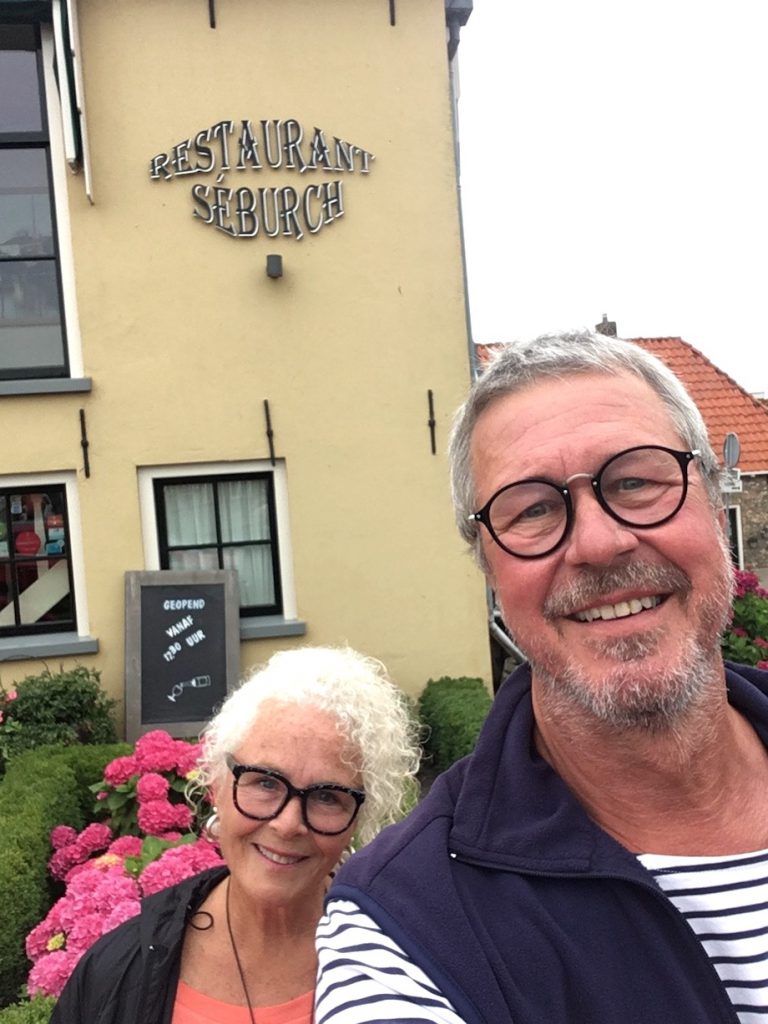 We celebrated our anniversary at the oldest restaurant at the entrance of the town. It was the local pub for sailors going to sea or coming in with treasures from other countries! I wish the walls could talk. What a story they could tell.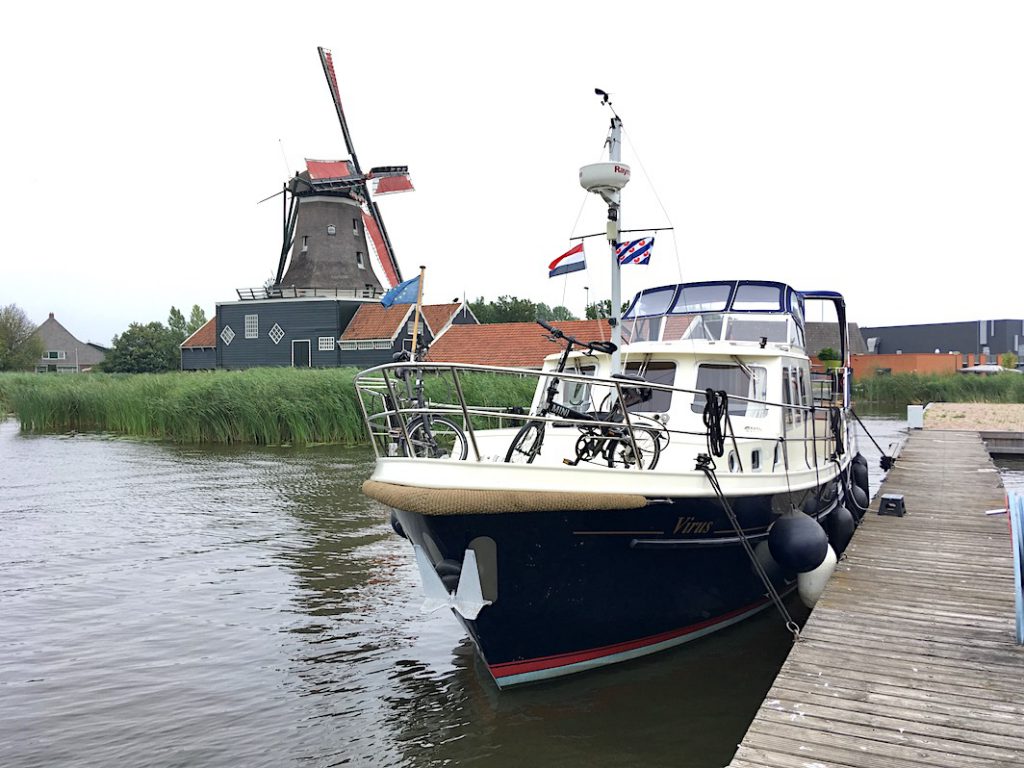 We made several stops along the way and toured several windmills of course. Each one has its own function. Some pump water, some grind wheat others were sawmills like this one which happened to be still in use!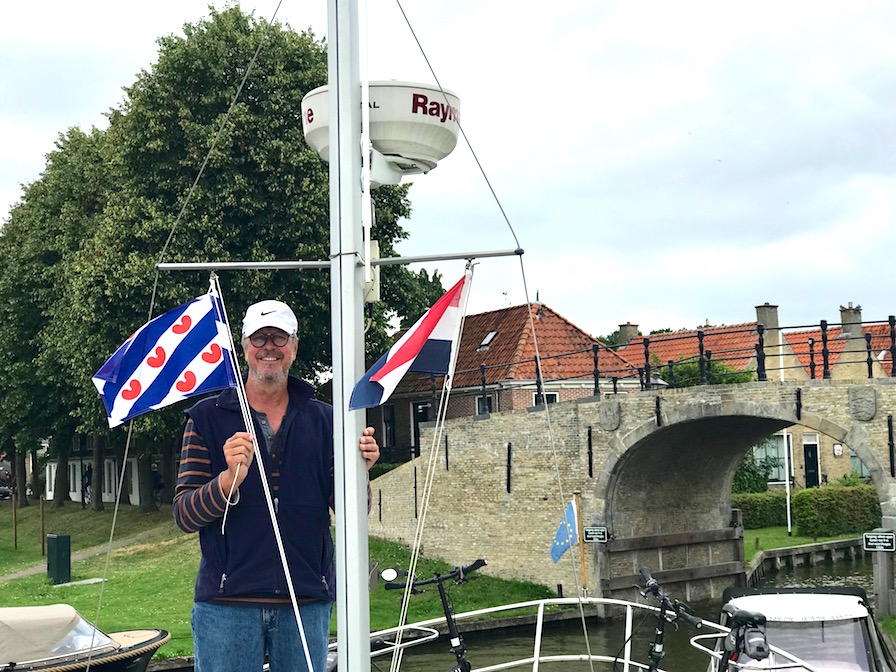 We made a pit stop in Sneek where Aquanaut boats are made to check on some repairs. The owner chatted a bit and then said, "I know your boat! I've worked here for over twenty years and remember it. How can you forget a name like that,"! We made plans to come back in a few weeks to have the toilets replaced and then off we went to do some more exploring. But first, a Friesland flag was in order.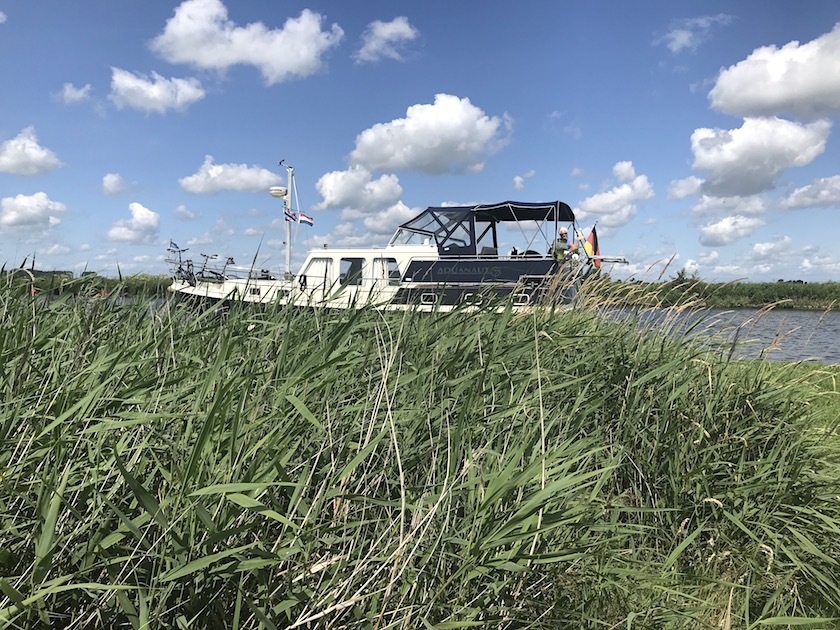 Wilderness boating is the best. Quiet, peaceful and just romantic!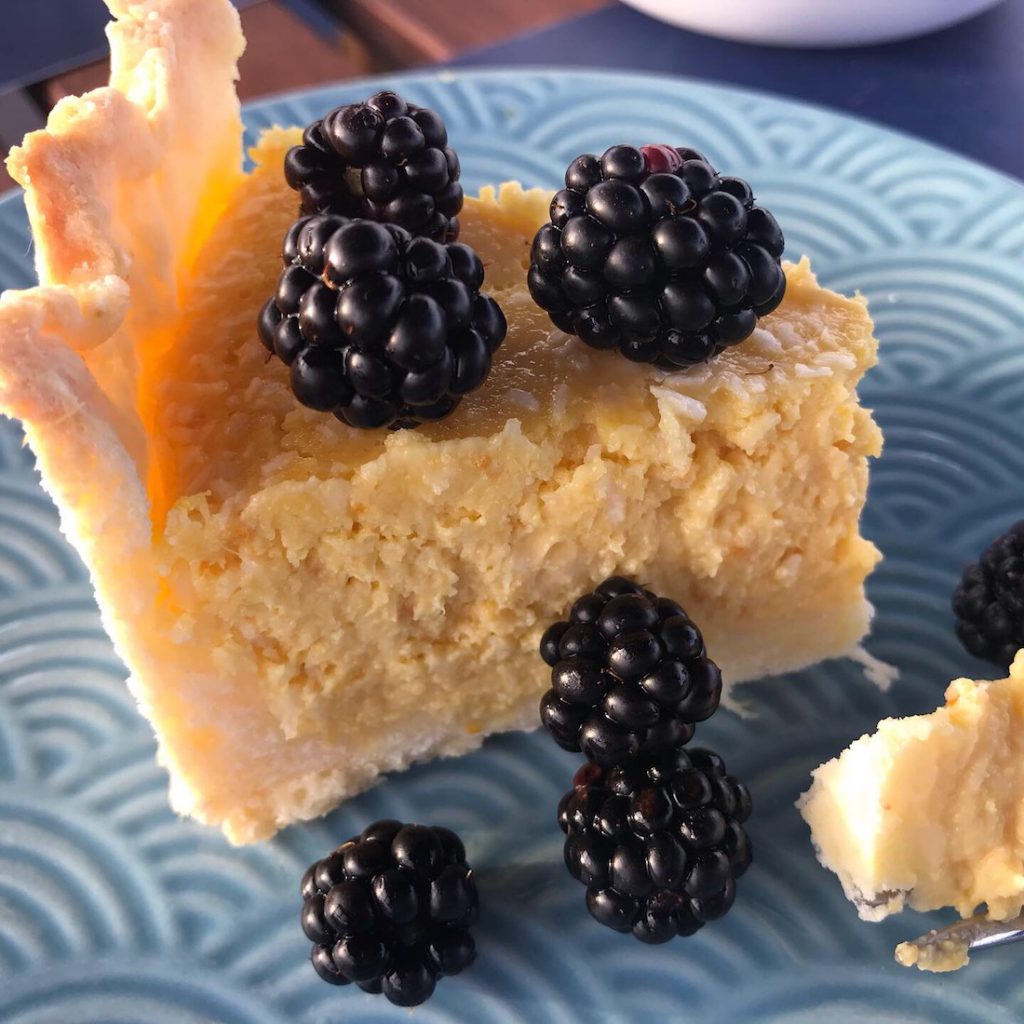 Near Grou, we even collected wild blackberries on the island for our dessert! This pie is seriously the easiest dessert I've made yet AND versatile! Look for the recipe at the end of the post.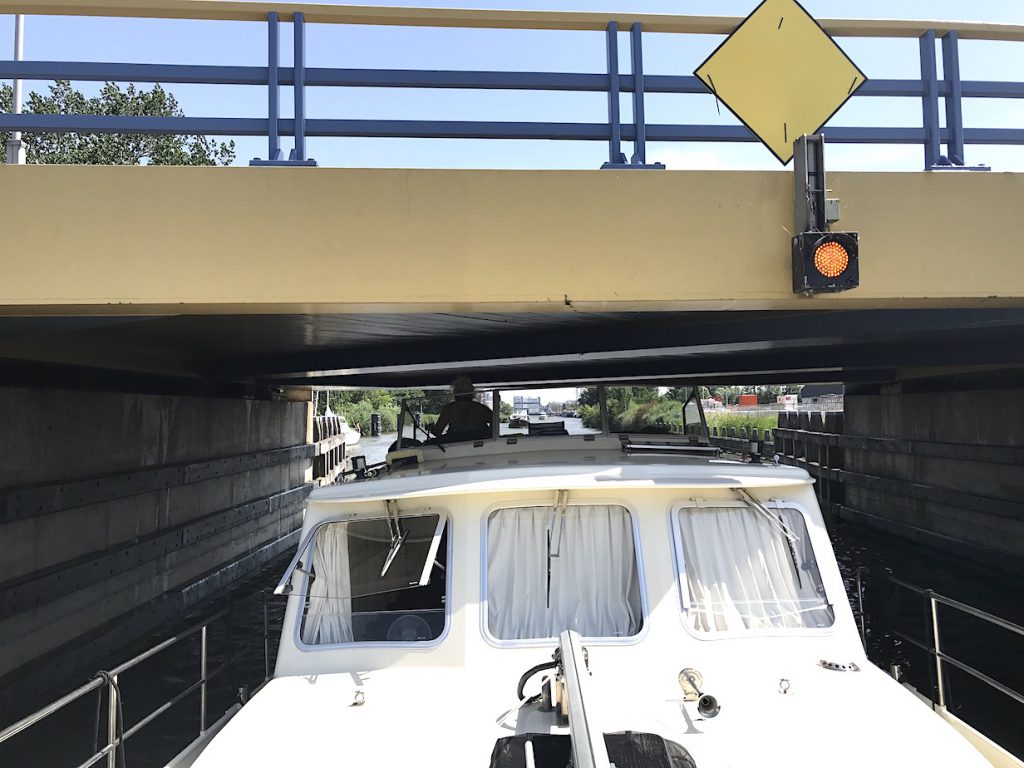 Finally, we made it to the capital of Friesland, Leeuwarden. The bridges were being worked on so we either had to wait for an hour or drop our top and keep going. We took the quickest route!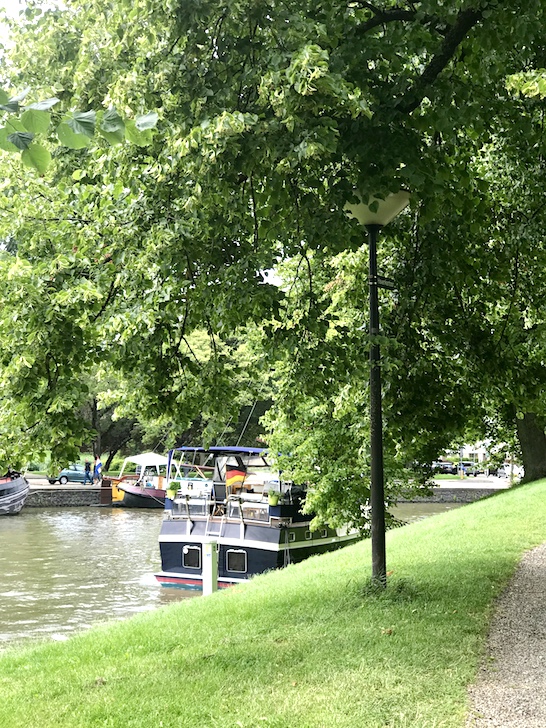 A beautiful city and the harbor was right in the center of town with full green trees and lush lawns.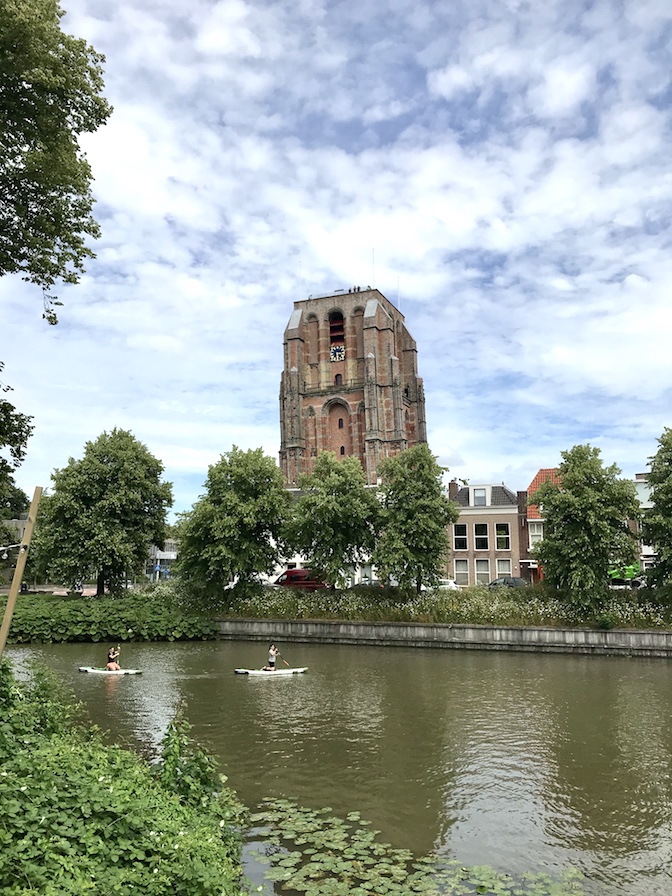 Several sites to see but this one defiantly caught your eye. I'd say the foundation needs a bit of repair! Actually, the original plan was to make this a church, however, the builder discovered the sinking problem and altered the bricks to adapt to the sinking. Regardless to say, no church made it in this spot!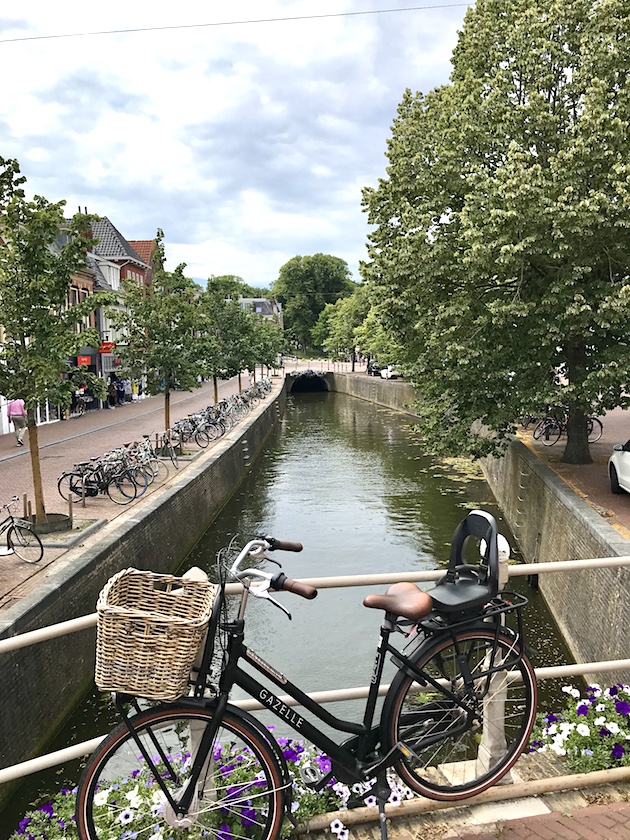 All in all the capital was impressive and well worth the trip!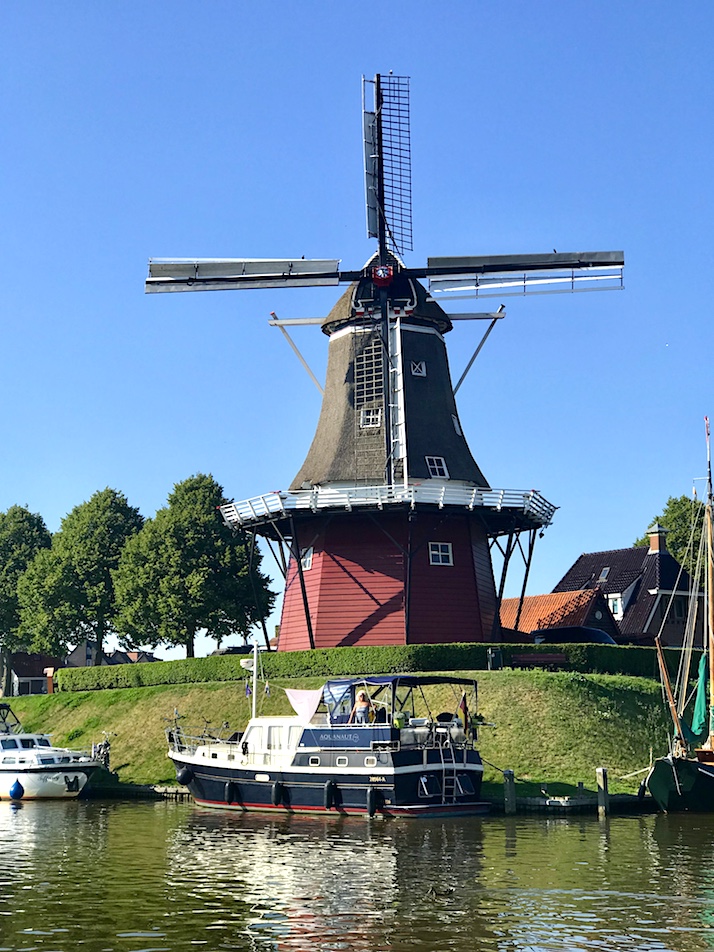 We visited another unique town in Dokkum on our route home. Again another windmill what can I say?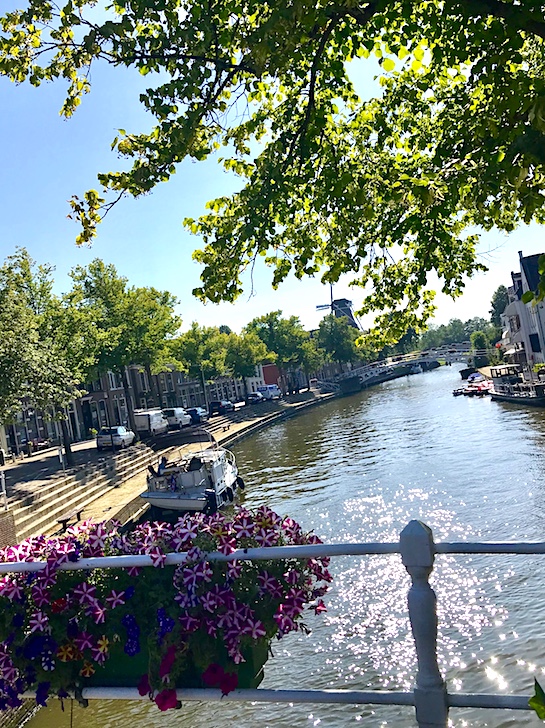 Restaurants on the canals, bridges and yes, flowers! Friends from last year boating trip connected with us here and we enjoyed a nice meal in the boat restaurant on the water on the far right.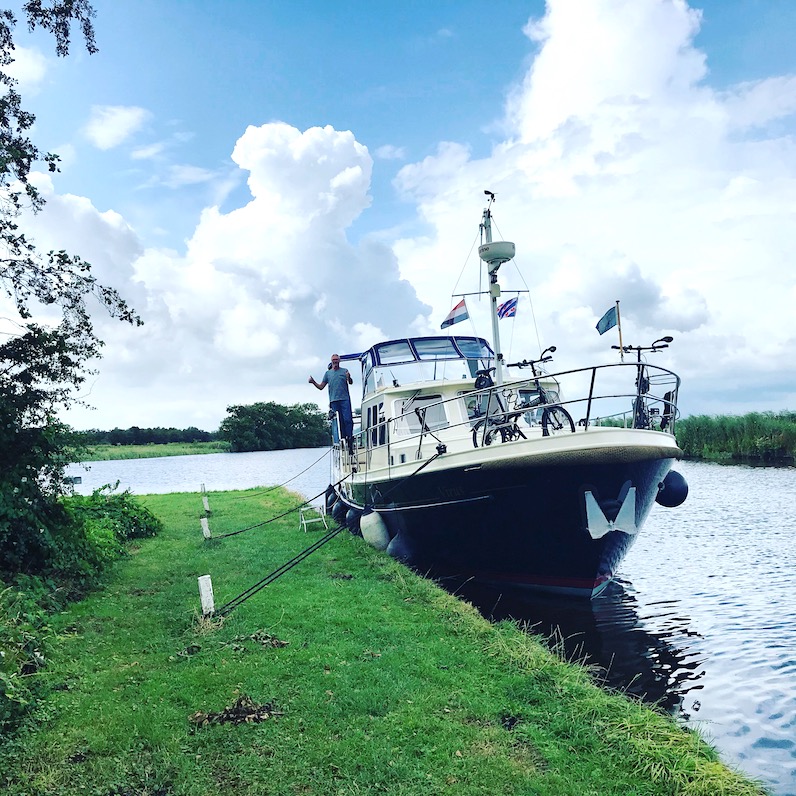 A few more wilderness stays and then we decided to head back to Sneek to have Virus checked out and new toilets installed.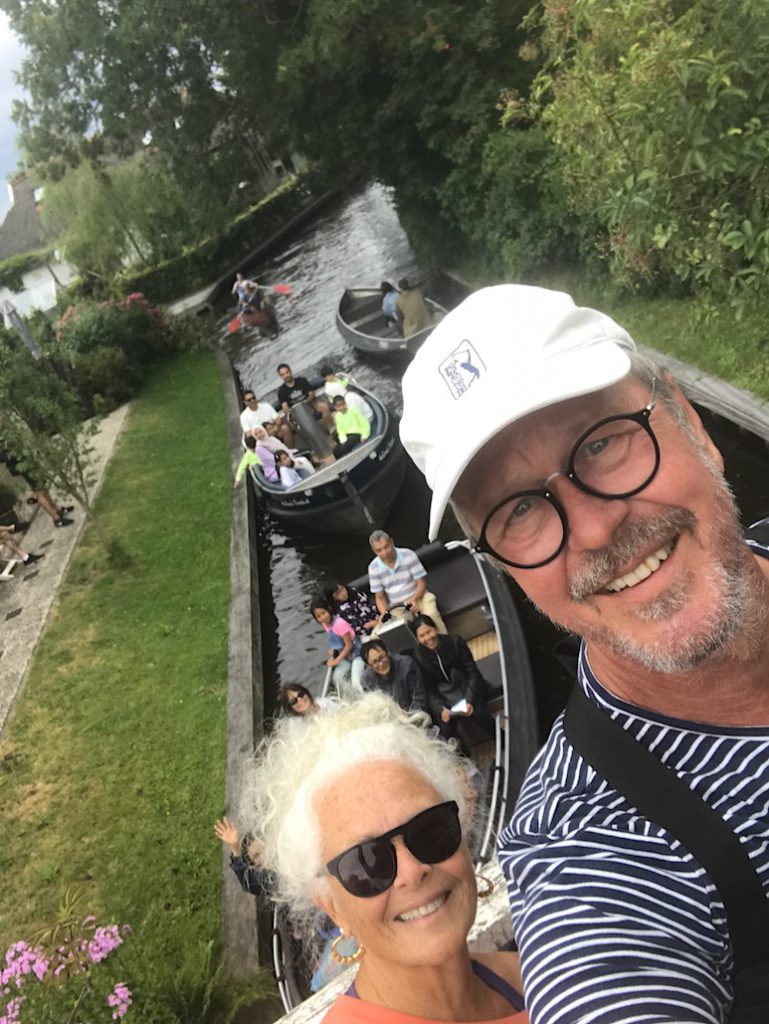 One of our stops on our way to Sneek that my husband said we needed to see was Giethoorn. It was quite a surprise. We thought we had walked into Disneyland! It's called the Little Venice of Netherland and apparently a popular spot for tourist. They could rent small boats and tour the canals through shops and private backyards! The drivers were running into each other. It cracked me up. Crazy day but worth the "looks see".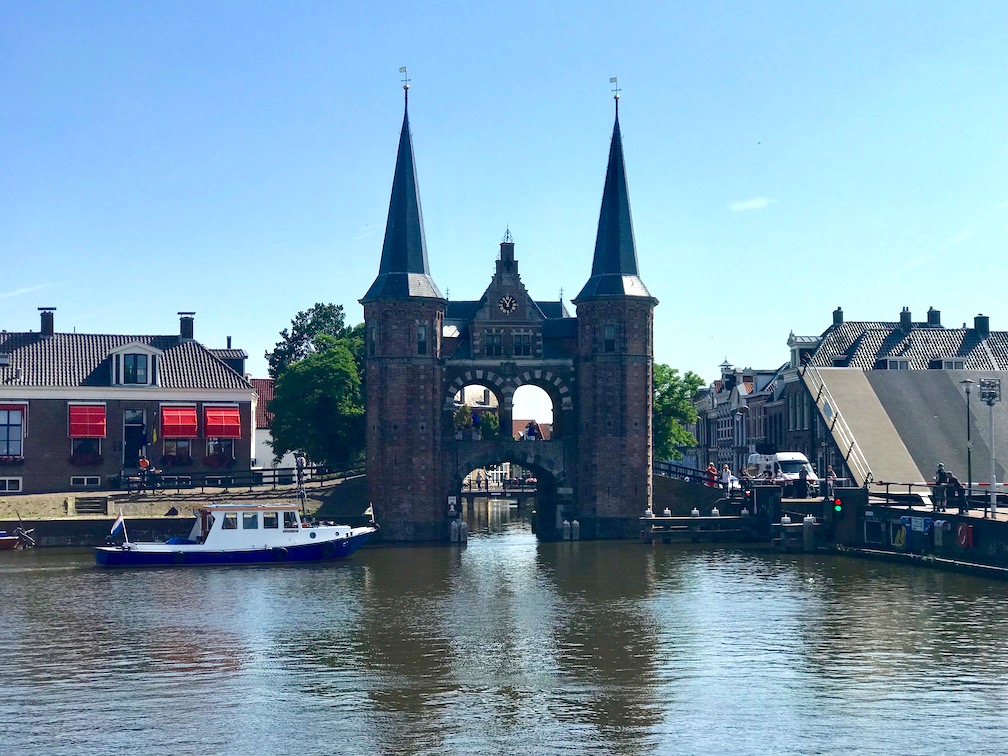 Back in Sneek now and time for cleaning, washing and just settling down to plan our trip back to Ophoven.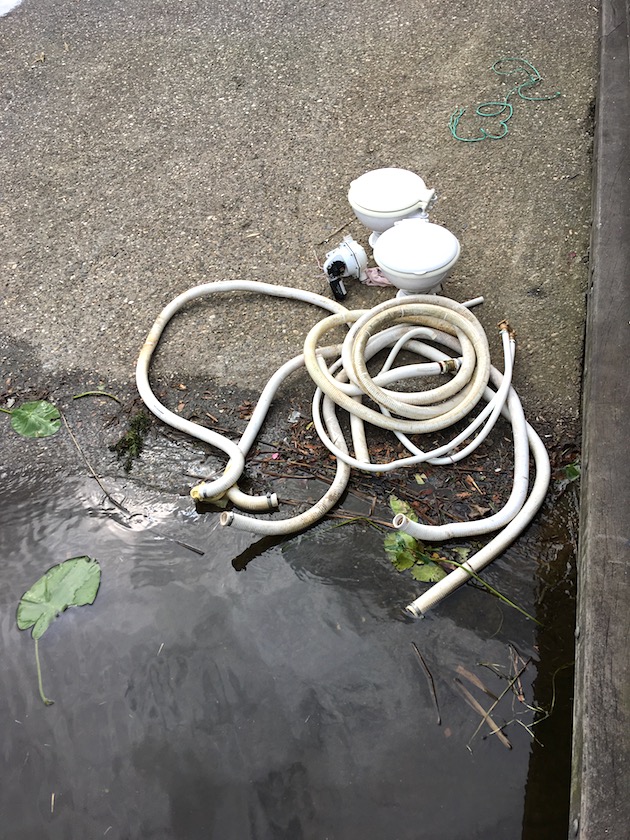 Virus, our boat, is so happy with her two new toilets and another surprise…a new generator $ to charge the batteries!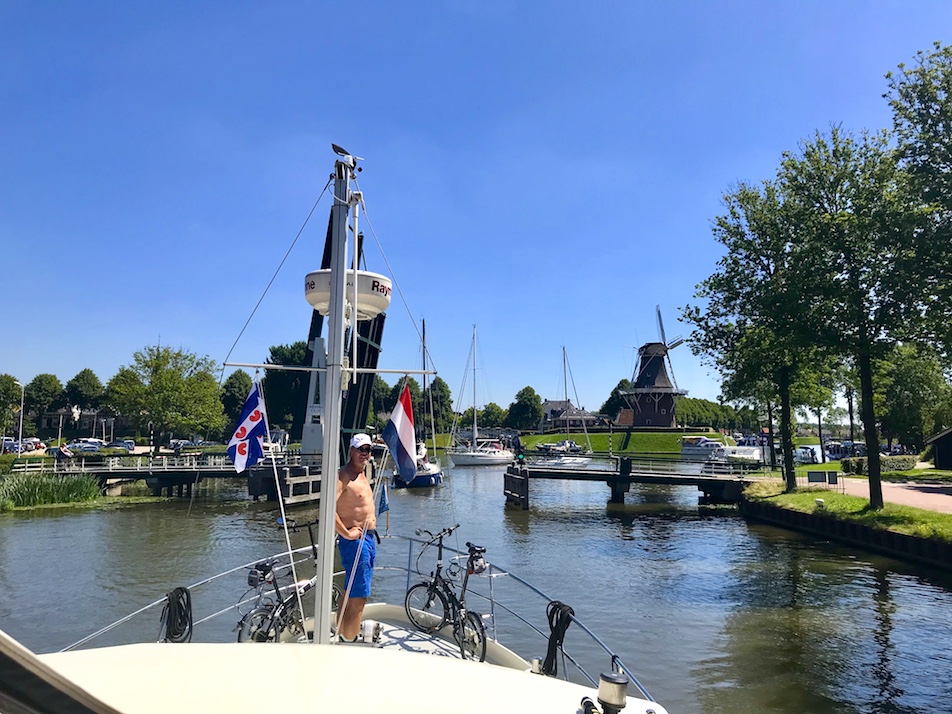 The next four weeks we will be heading home through Utrecht but I'm always posting new recipes like this amazing pie so take a peek at my site now and then and try a few out.
Recipes for the Month:
Don't you remember eating Dreamsicle ice cream? Remember the sound of the music from the truck coming around the corner, grabbing your piggy bank change and running outside fearing you'd miss him? Don't fear anymore. I've got a pie to replace your ice cream truck favorite with the same yummy flavor and so easy to make.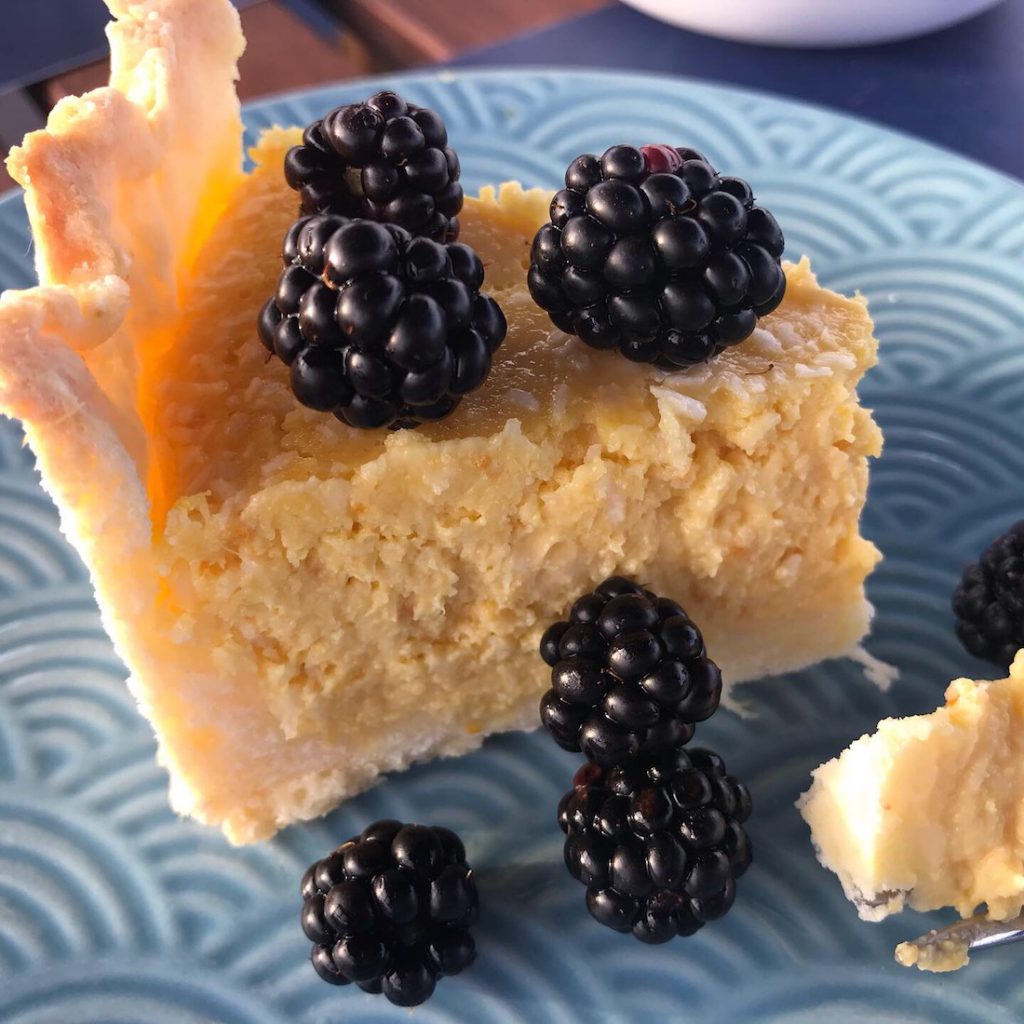 Plus I'm in love with these spring roll wraps with Almond Satay Sauce. They just hit the spot for any meal, appetizers or snack. Love them with Spicy Hot Pickled Lime Chutney!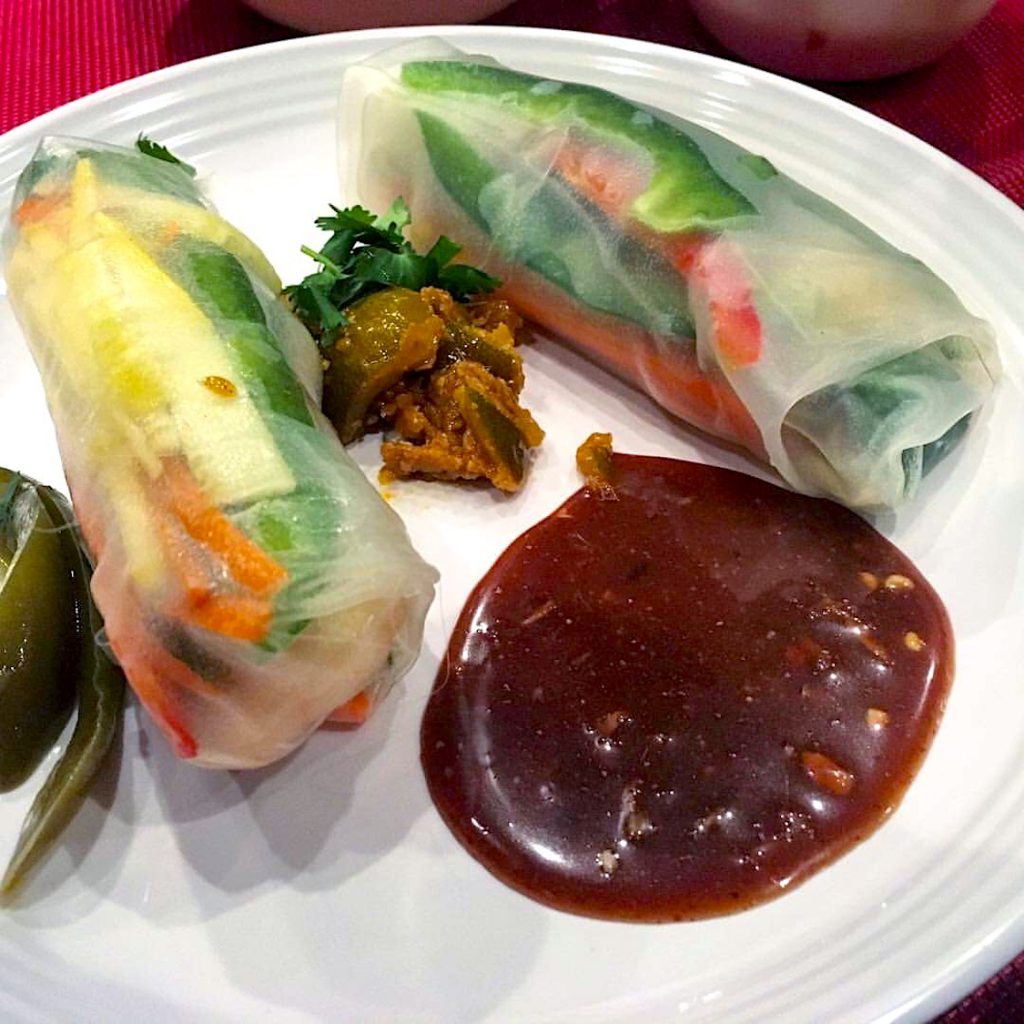 People are always telling me "I'm not allergic to dairy, I had the test, why should I stop?" Well, there is such a thing as sensitivity to foods. I said the same thing. I've been tested for EVERYTHING seriously. But no allergies. But I did my won experiment…click here to see the results and a super article by Izabelle Wentz.
Thanks for traveling with me this month. Until later, sail on wherever your canal may lead!