May 2019: Waiting for the sun!
Ok, this is not how it's supposed to be. Rain, Rain, Rain, and then snow in APRIL! We've returned from our wonderful trip to Vienna and Italy. Had a quick pit stop in our home in Kaiserslautern and then off to the boat for a week over Easter holiday to deliver the goods!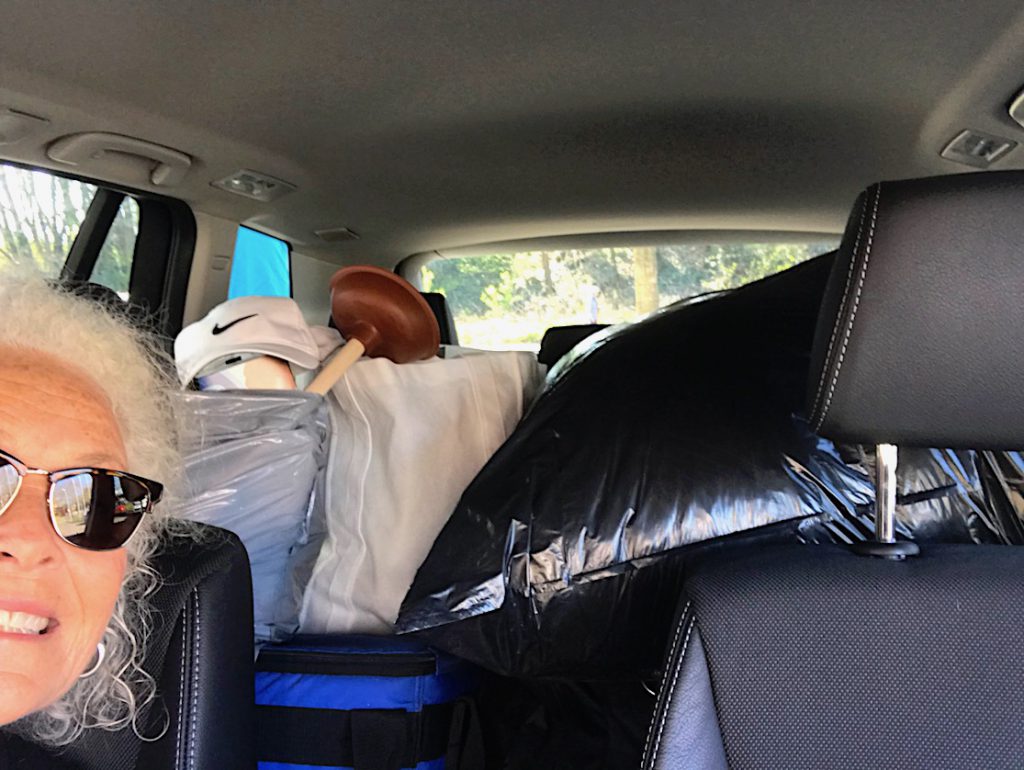 The sun was out and the weather happened to be super, the first in a long time. We prepared the boat for our four-month travel to Friesland, NL.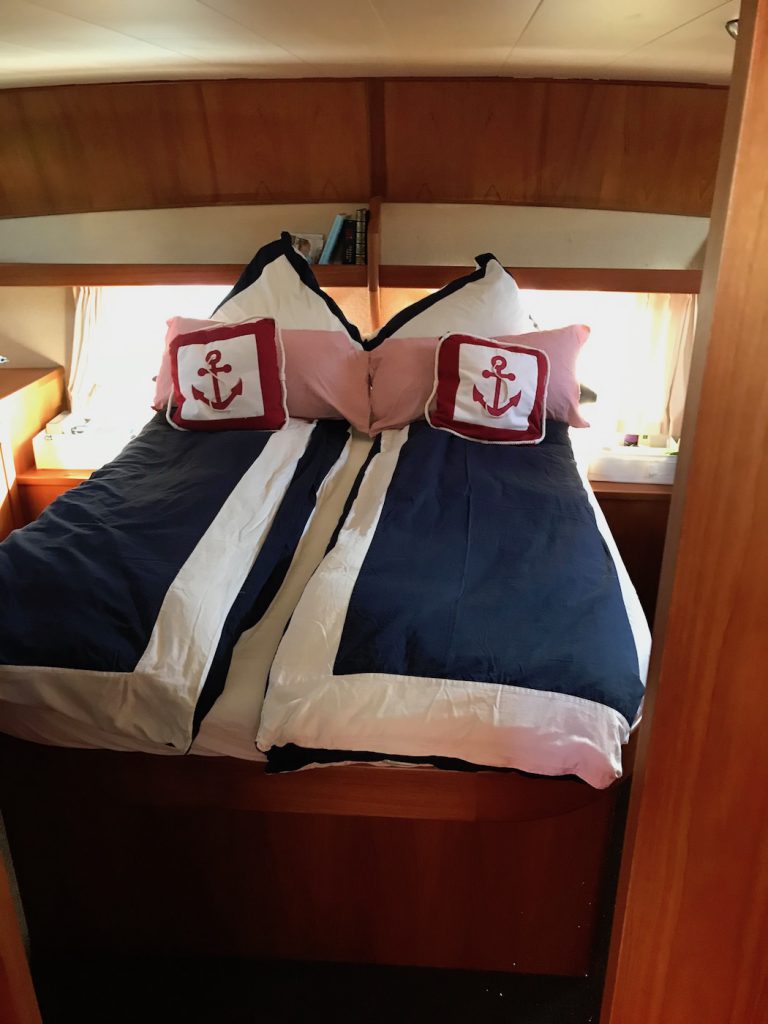 And our guestroom is ready!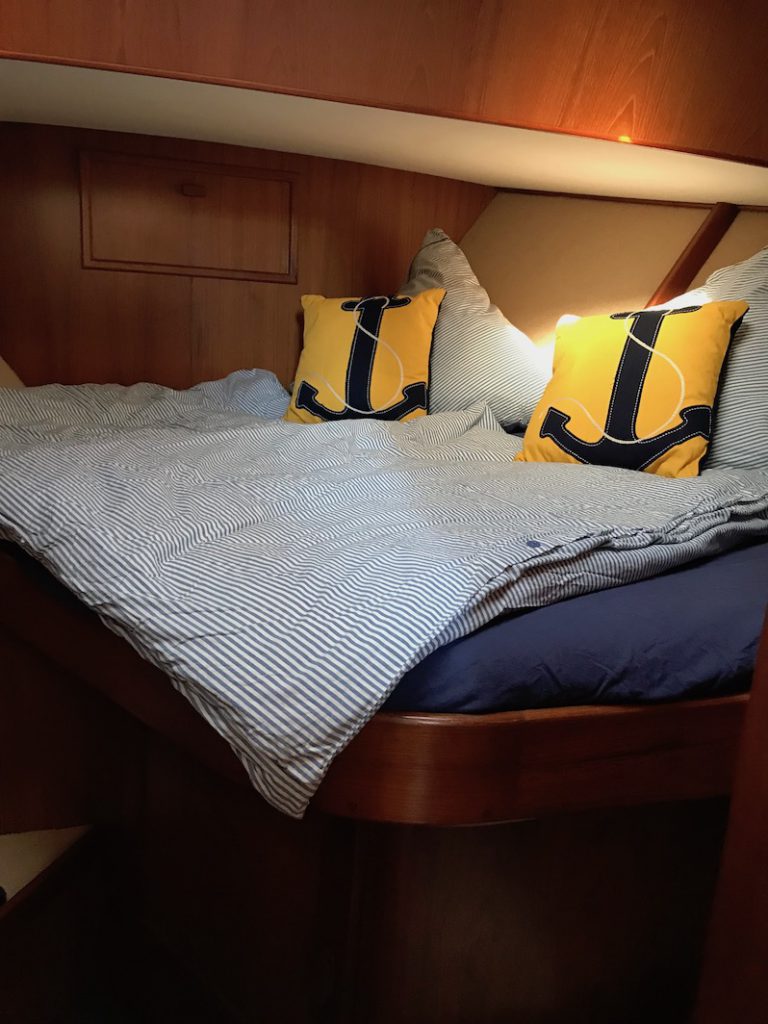 While in Ophoven, our harbor on the corner of Belgian and the Netherlands, we even got in a bike ride one sunny day.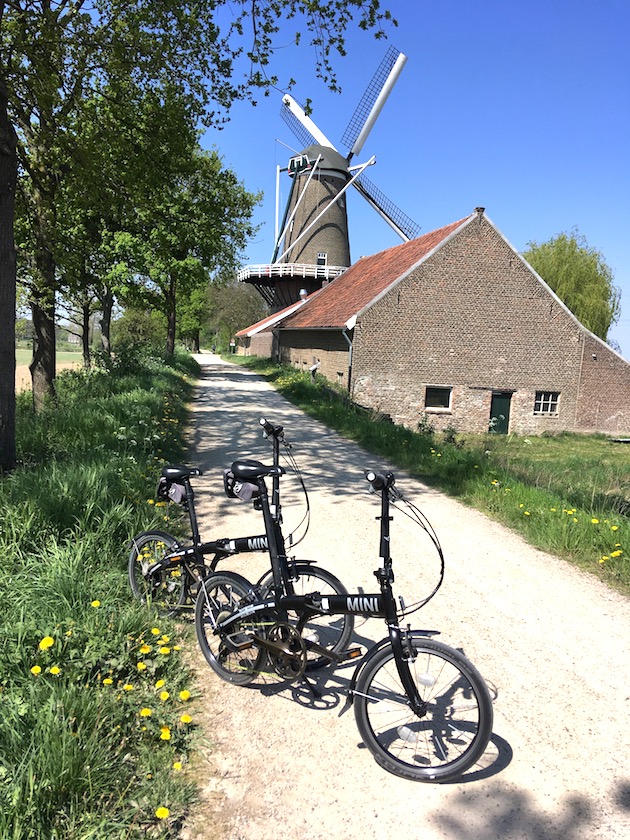 There are ferries all over this land to transport cars, people, and bikers across the million waterways.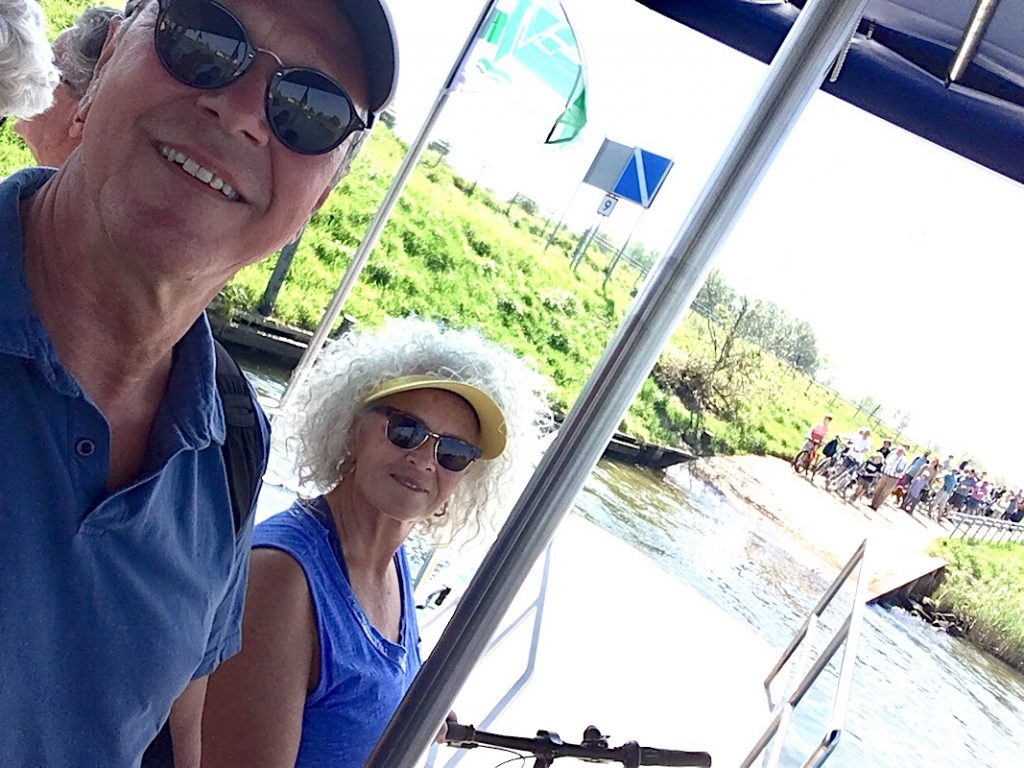 A super plus veggie bonus for this Easter holiday…spargel season begins! Thanks to this amazing season and a bit of sun we had a beautiful holiday on the boat. This recipe is a keeper…Asparagus and Spinach Eggs Benedict made with my homemade Spicy Hollandaise Sauce!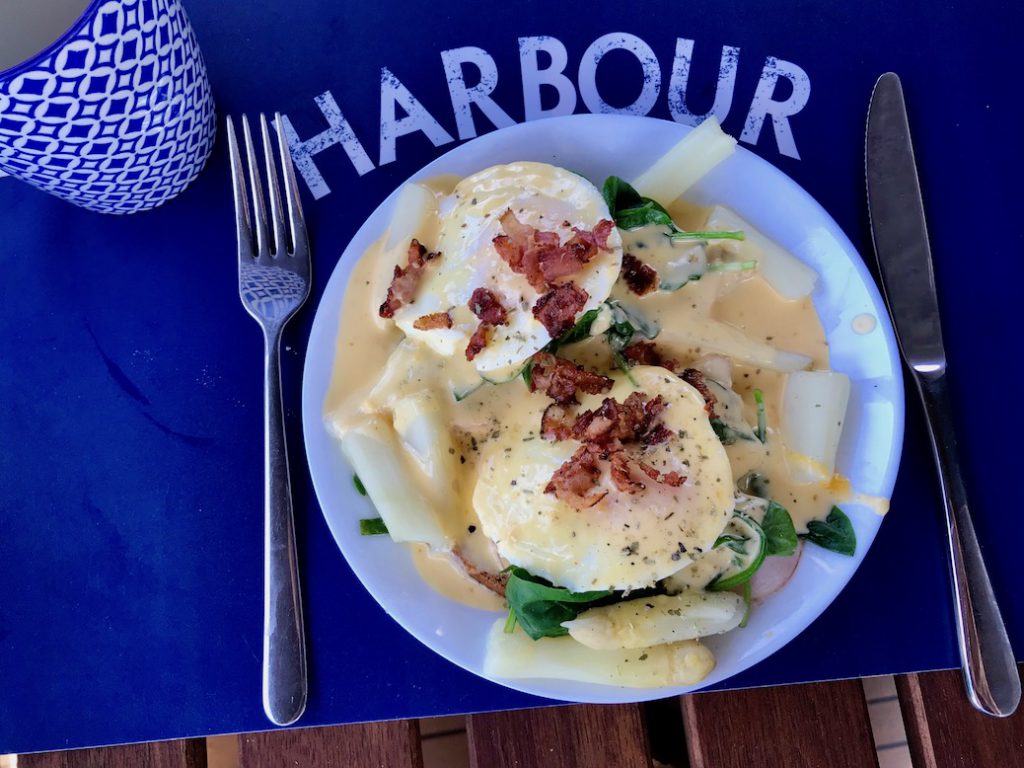 Then it was back to Kaiserslautern, and more RAIN, to give our home some tender loving care. Spring cleaning and just relaxing for a while, in the RAIN. Lutz headed to France for an "old guys" friend event (old in every way).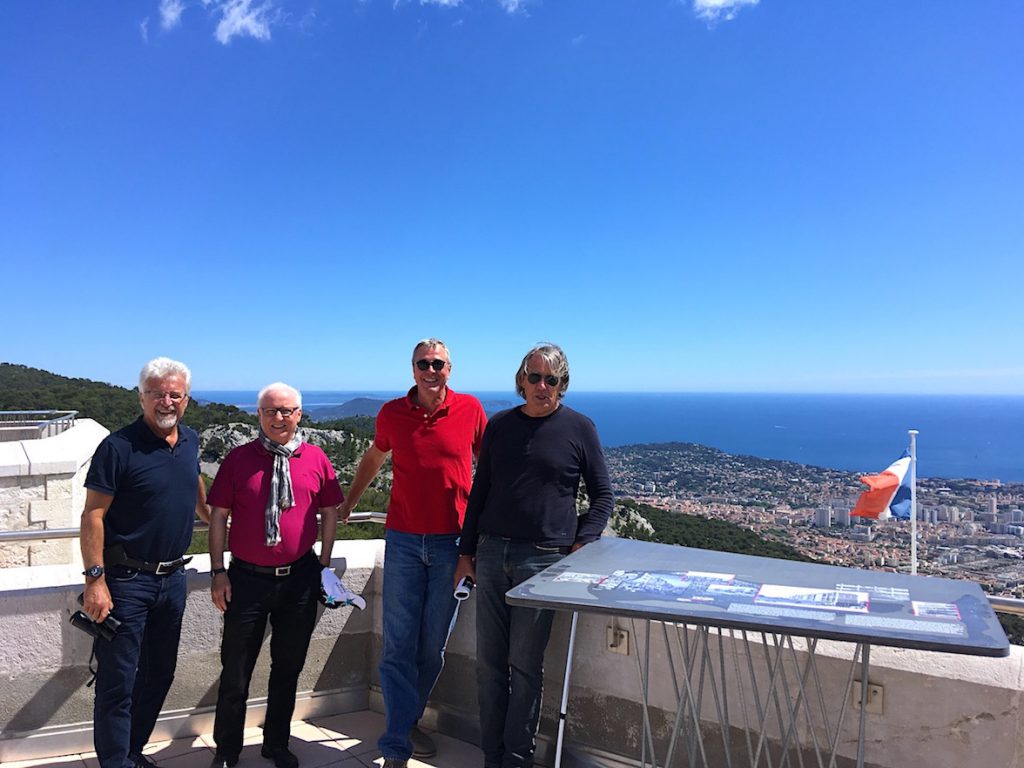 I spent my time with my dear friend Marilou (right) and my new friend Iwana (left). Watching movies and walking the streets of Kaiserslautern window shopping. Then a fine dinner of my favorite Chili Lime Shrimp. And no, that is not my ice cream coffee! I kept with hot tea and little Marilou had both the iced coffee and ice cream…lord to be young again.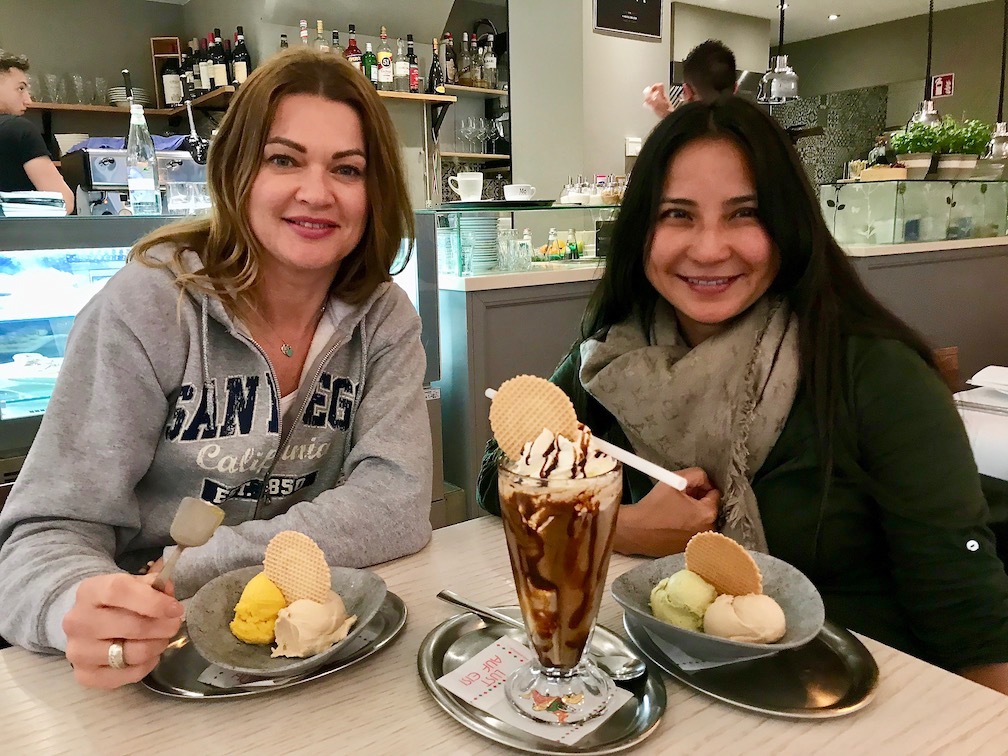 We headed back to the boat on April 26th and brought our last load of supplies to begin our journey to Friesland NL.  But it was STILL raining and nearly freezing temperatures. Finally, one day of no rain we quickly headed to the "Cash Gas Station" to fill up Virus. She sure drinks a lot of gas! And yes, it's the first figure, 538.61 Euros!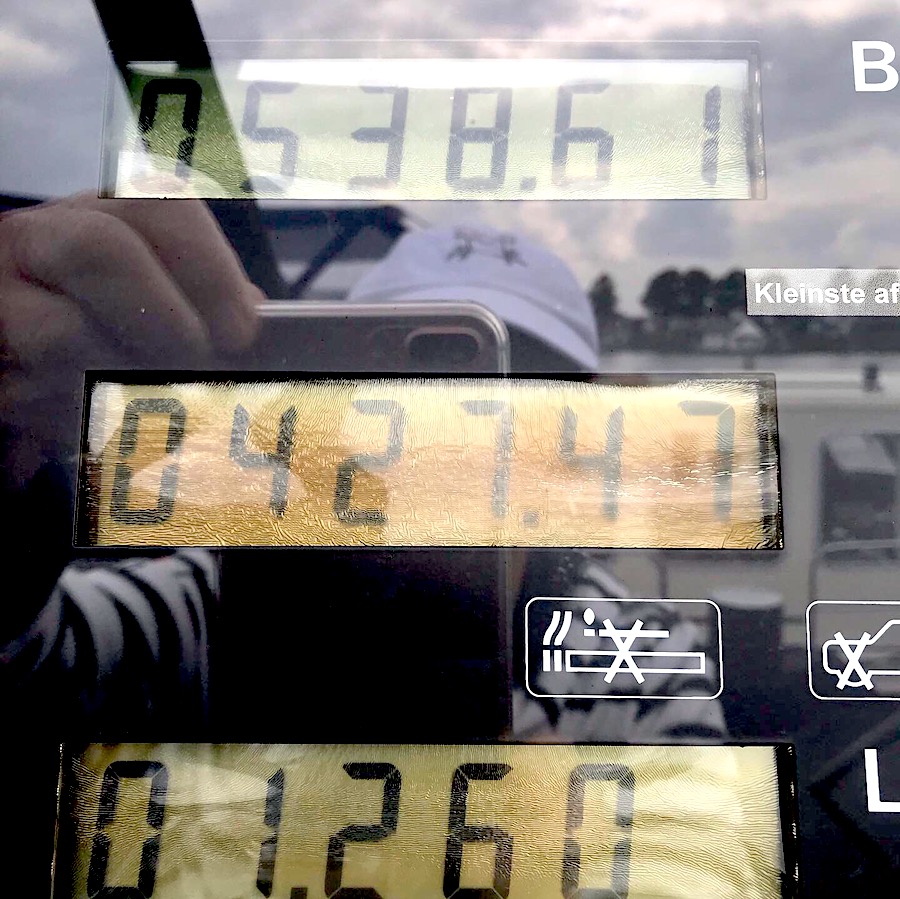 With the weather constantly changing from a drizzle to pouring rain and clouds we decided to wait it out in Ophoven for the sun to peek through before we hit the canals.  Having WIFI, I was able to spend a lot of time experimenting and creating some simple dishes in my little toaster oven. Plus eating some of my favorite soups, Lutz's Lentil Soup, Sambal Oelek Asain Soup, and, of course, my favorite, Tom Kha Gai.  I won't leave you hanging, I did create some yummy desserts as well. I'll post this one soon. It's a convertible recipe. You can use it for cookies or crumble. Plus no eggs! Use rhubarb or mixed berries, either way, the bottom has a snap and the center is a tart filling and the top a tasty crumble.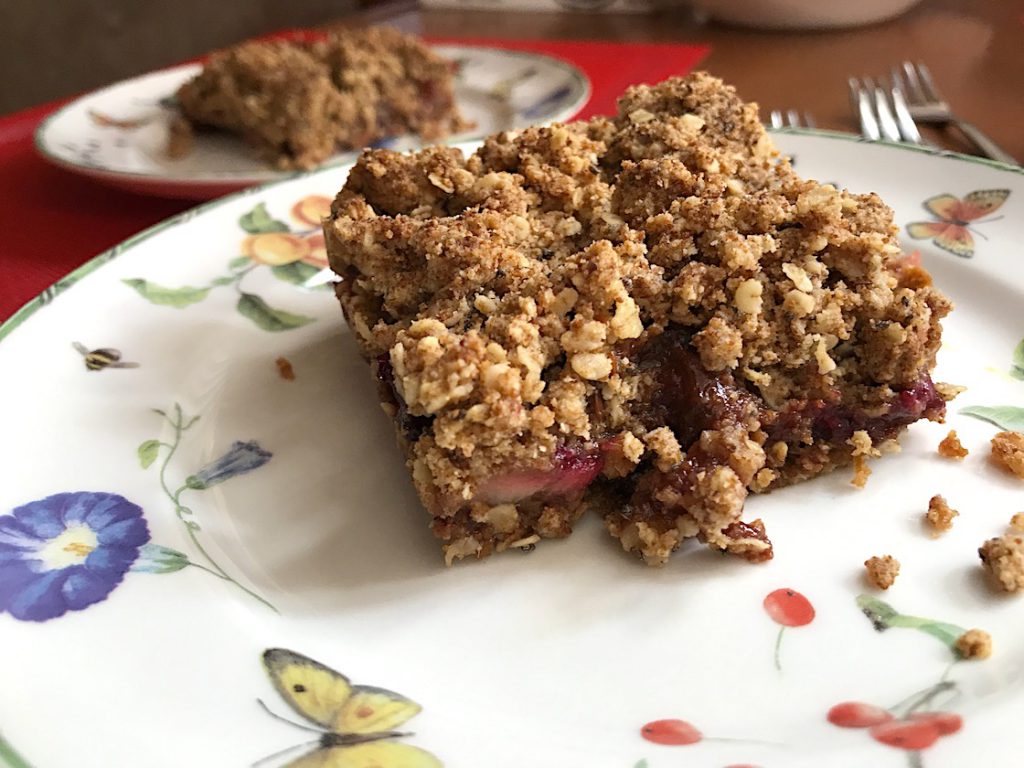 Mostly I read gluten-free sites or books in my favorite place, in the sun, when it came out. As for Lutz,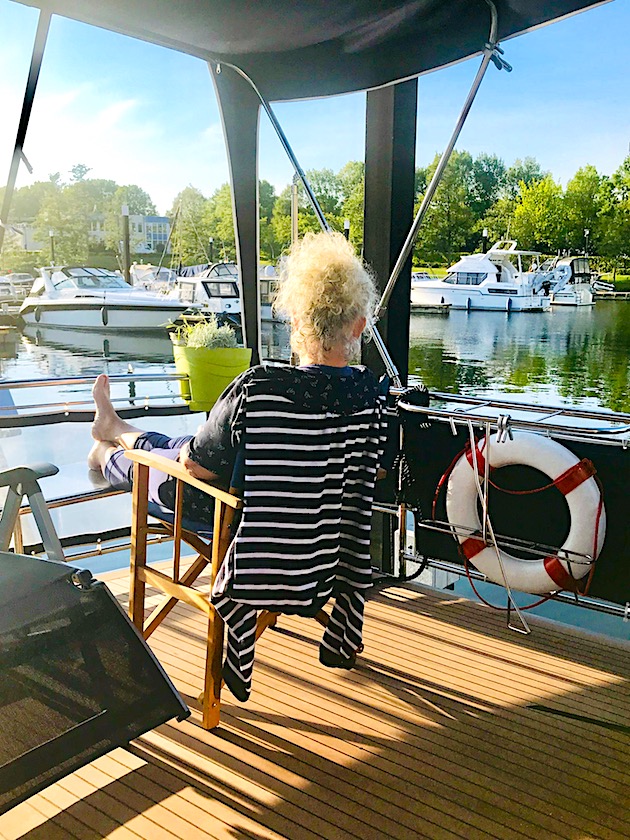 he played with his favorite toys and worked!.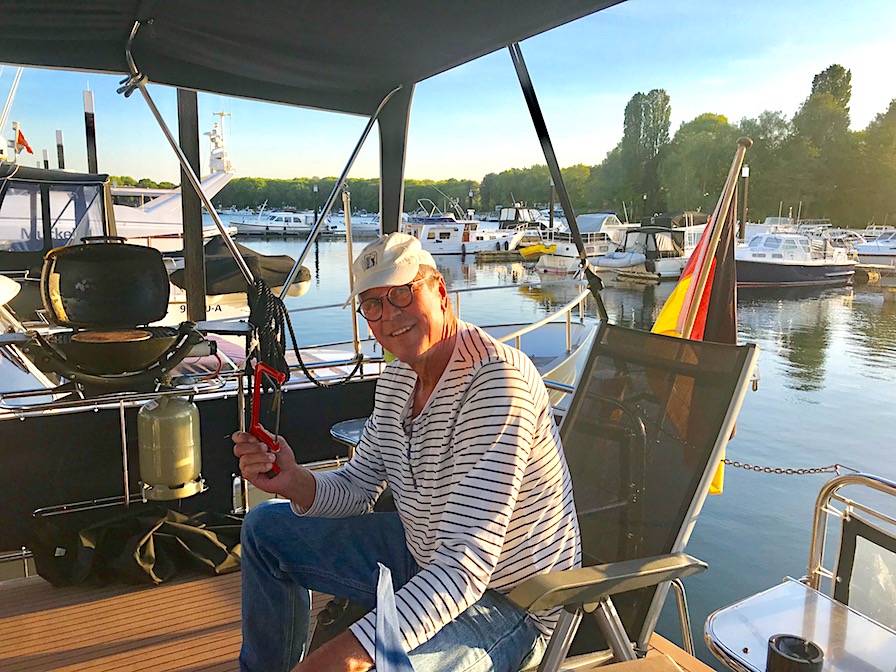 Finally, the sun decided to cooperate. We took off before it could change its mind and made our way to Venlo, downstream the river Maas passing Roermond where we stayed for 3 days. This trip took us four hours to go 50KM so you can see we really are cruising. We were the only ones in the harbor…until the weekend came!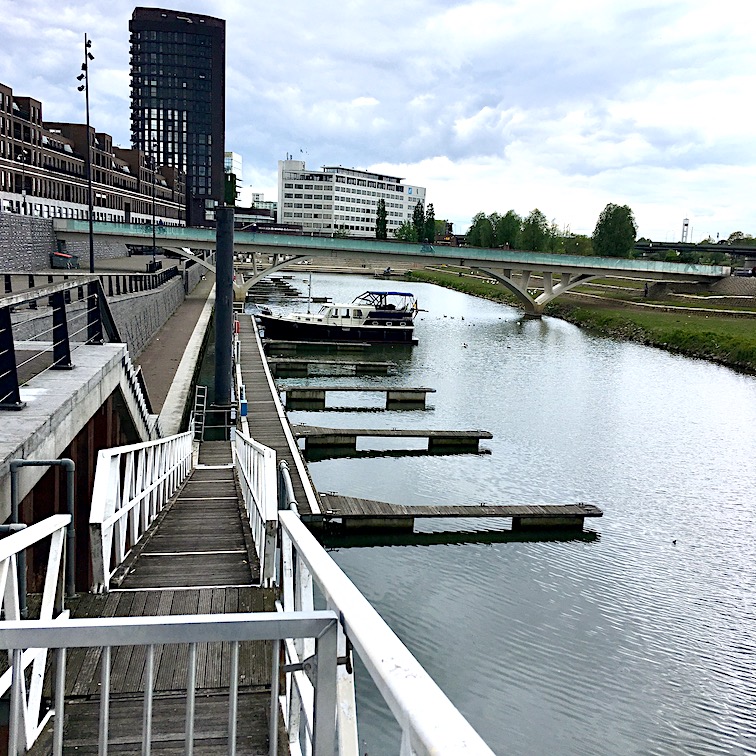 The city is filled with beautiful restorations since most of which were bombed during the war. This is one building that survived, the Mayors House or City Hall.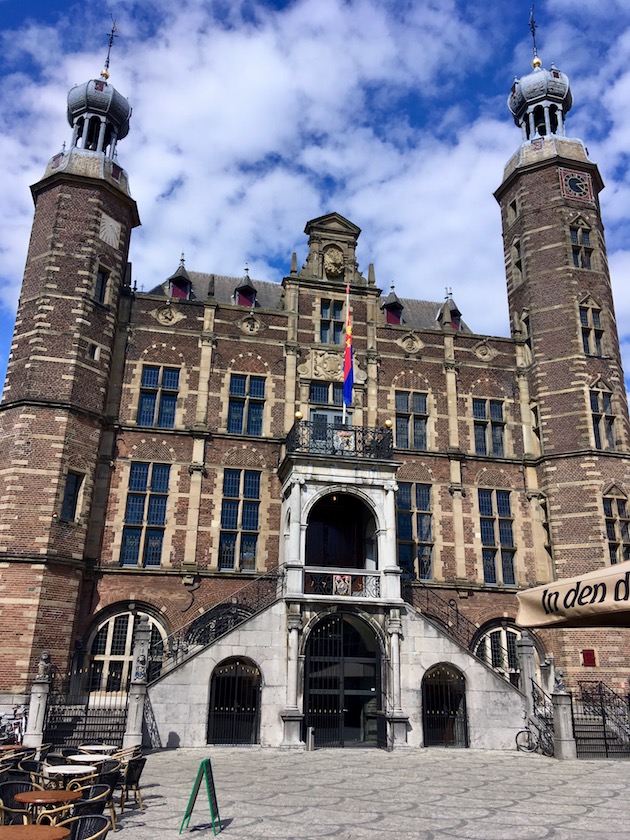 We also got to enjoy the company of Lutz's cousin, Margaret, and her husband Julian for the day.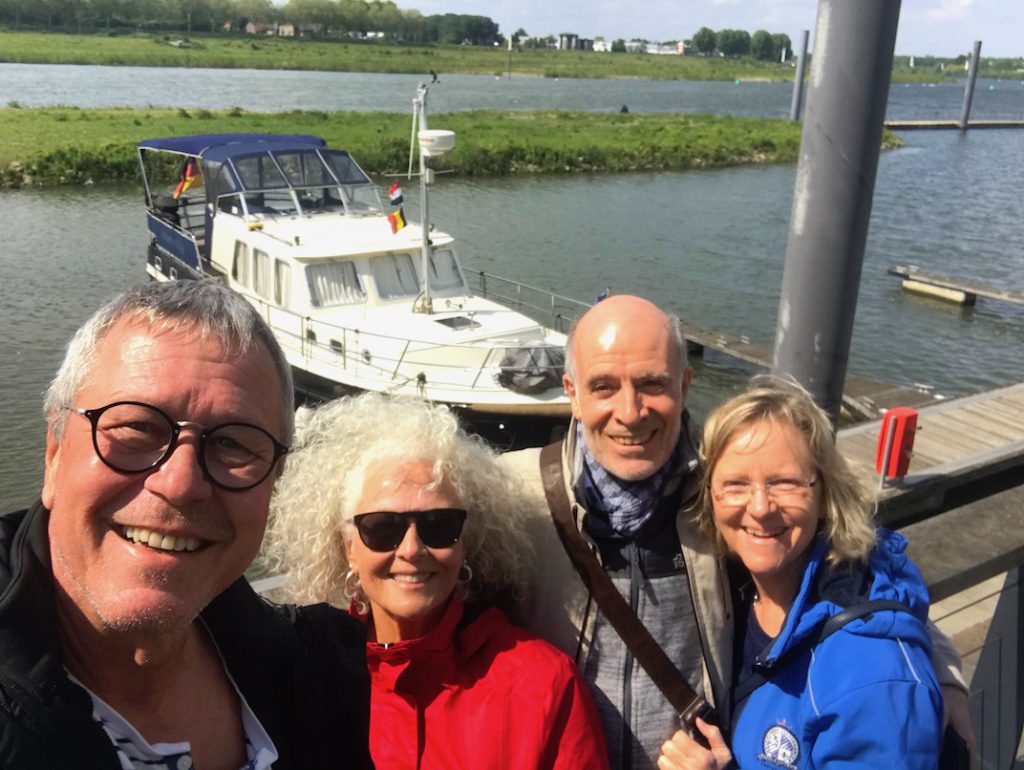 After our stay in Venlo, we headed to Leukermeer Harbor which is a two-hour drive from Venlo. Once again, we were the only ones in the guest harbor! Lovely three-day stay and sun came out off and on with a bit of rain.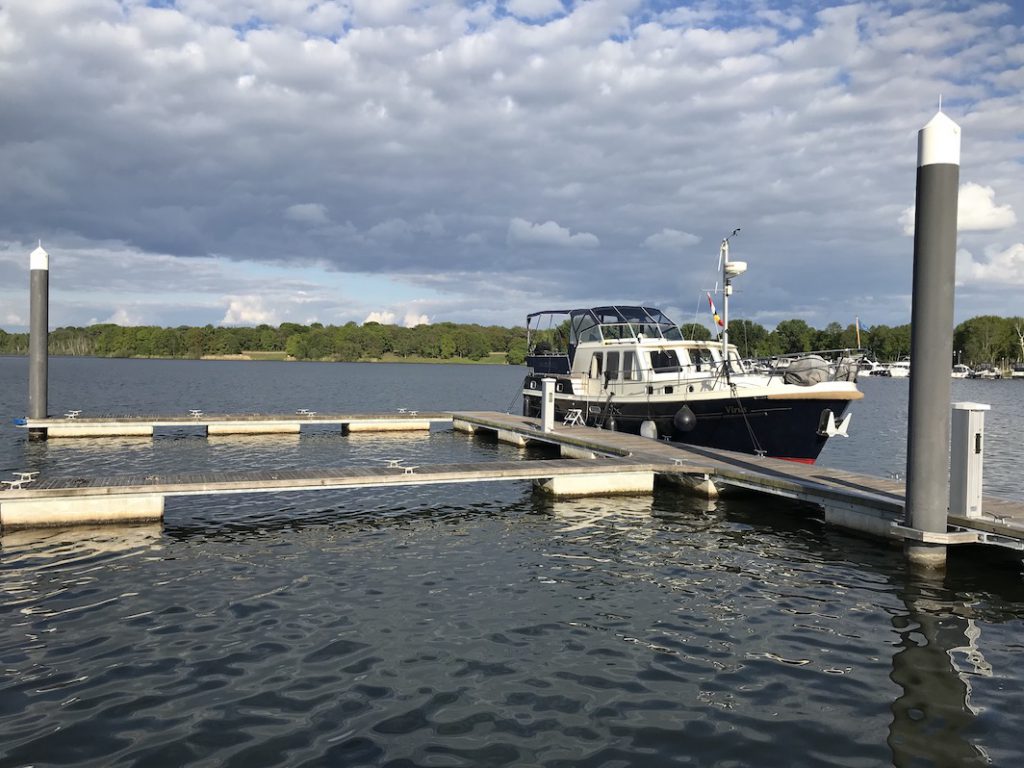 Three days on this peaceful huge lake and no rain on the morning we had planned to leave, we cruised Virus, to a very nice harbor near Mook, Plasmolen Haven. This is where she will stay for the next two to three weeks. Duty called us back to Kaiserslautern. Lutz had to catch the hour long train ride with his bike back to Echt where he then biked for another hour to Ophoven, where our car stays for the season. Then he drove back to get me and the dirty clothes!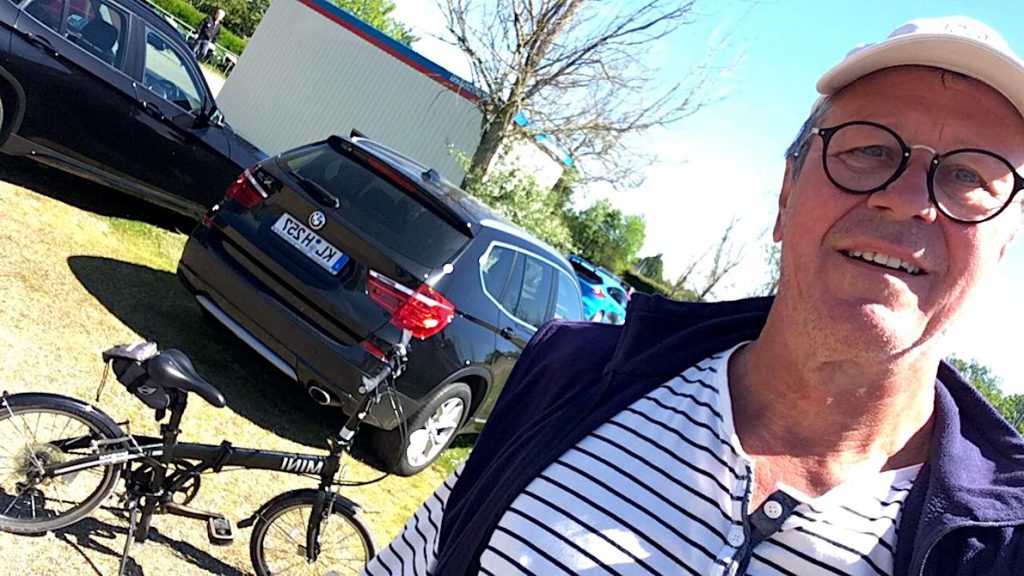 We're home now for a few appointments. One of which I am not the least bit excited about…I have to take the German driving test to get my residency card. I hate tests and the fact that I've been driving here for twenty years makes me crazy. I'll keep you posted. I get three tries to pass!!!!! We might have to come back home again.
This month, since we were stationary waiting for the sun, I had plenty of time researching sites and reading. I wanted to share three cool sites that have inspired me! Each site has so much to offer in the way of nutrition, health, or cooking. I'm sure one of these sites can answer your burning questions and or meets your needs or interest. I'm always looking for fascinating sites so if you have a "go to" site please share it in the comments below!
Site 1:
This site, The Hypothyroid Mom, was one of the first sites I discovered while finding my way. She's like a "rebel WITH a cause". Her story of finding her way after miscarrying is pretty amazing. I know two people who went through similar situations and after changing their diet were able to conceive. It really works! Maybe this is you or maybe you know someone who is dealing with conception. You ought to check this out and pass it on. She also discusses other thyroid issues that are pretty interesting. Check it out! Click here to read more.


Site 2:
Who We Are
The National Academy of Hypothyroidism is a group of thyroidologists, headed by Kent Holtorf, M.D., David Brownstein, M.D., Denis Wilson, M.D., Michael Freidman, N.D., and Mary Shomon, who are dedicated to the promotion of scientifically sound and medically validated concepts and information pertaining to the diagnosis and treatment of hypothyroidism.
If you like reading pertinent research you're going to love this site. It's FILLED with the latest information and research on Hypothyroidism. I mean packed from setting testing standards for doctors to classes and seminars. If you have questions or just love to read the research, head to this site! Click here to read more!
Site 3: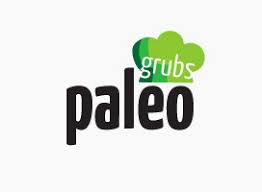 Paleo Grubs is radical recipe site…seriously! If you're thinking about changing to Paleo or adding some delicious Paleo recipes to round out your meals, this is the place. It's so cool. I even bought their download book and use it a lot. The recipes are simple and the pictures show you the outcome! YEAH, no failure. I do eat grains once a week but this site helps you replace those with simple suggestions. So far everything I have made form this site has been yummy. You can click here to get started. Be sure to look up, Easy Banana Ice Cream 3 Ways on their site!
Supplements That Should Be Taken With Food, by Suzy Cohen
With the number of supplements, most of us take, it can get confusing when to take them and how. This article is super for knowing which ones are critical to take with food to get the maximum absorption. Suzy shares some simple information on how to get the most out of your daily routine of supplements. Click here to read more.
Recipes for this month!
As promised here is one of my "Street Eats" made legal! Delicious Bruschetta recipe that is quick and delicious.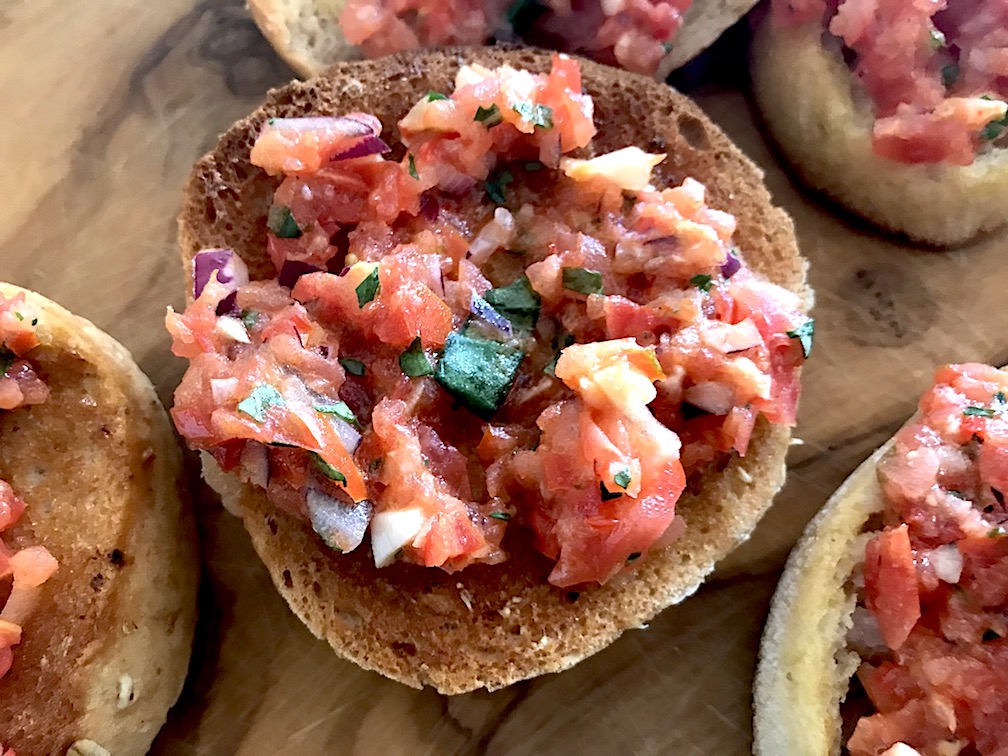 Plus you can enjoy this Asian Spiced Veggie Broil with any meal. You can also add bite-size chicken or some shrimp if you want to make to a full meal!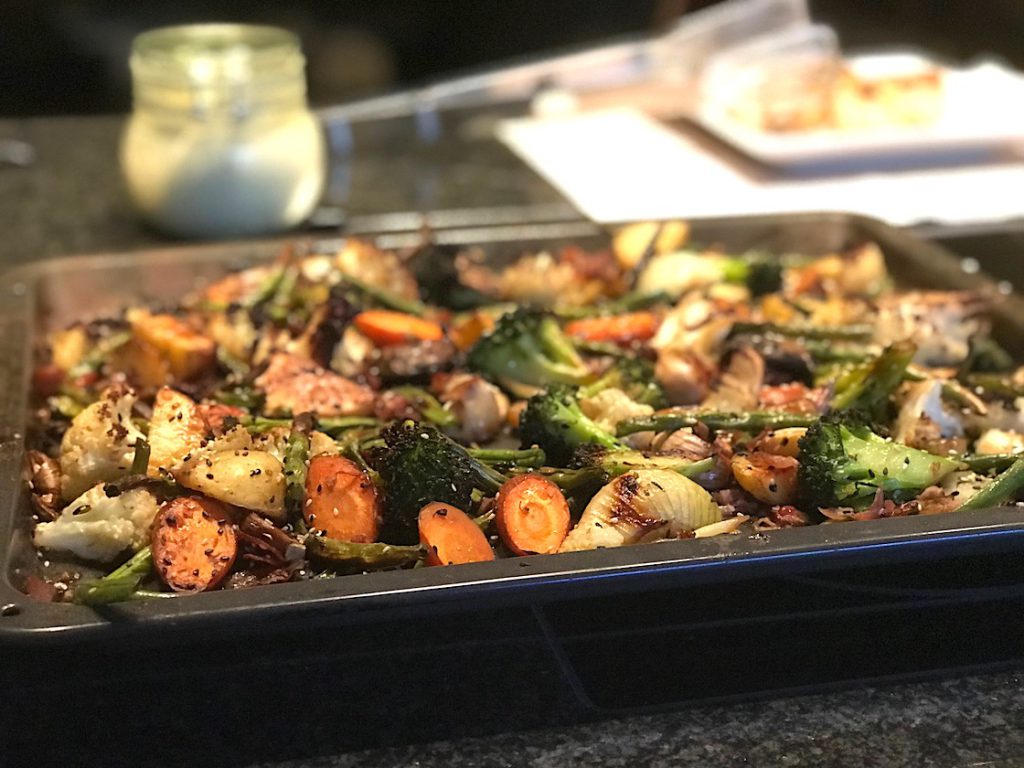 Well, thanks for hanging out with us and I hope you stick around for June newsletter next month. No interruptions as far as I can of so it looks like we'll finally be on our way north to Friesland. See you all then!