Raise the anchor and let's go for a spin! Mercy me, this is more than I expected. I had to read the water levels so we wouldn't break off the antenna. Yes, we have to lower it for some of the bridges we encounter. I also had to learn how to read the lights at the locks and how to tie up the ropes for landing. I think I learned how to tie those knots while in Girl Scouts at one time of my life. Due to my torn meniscus, I've been assigned the landing job! Working the engine while Lutz jumps on the dock to tie us up. Piece of cake…stay tune for live photos of this daring act…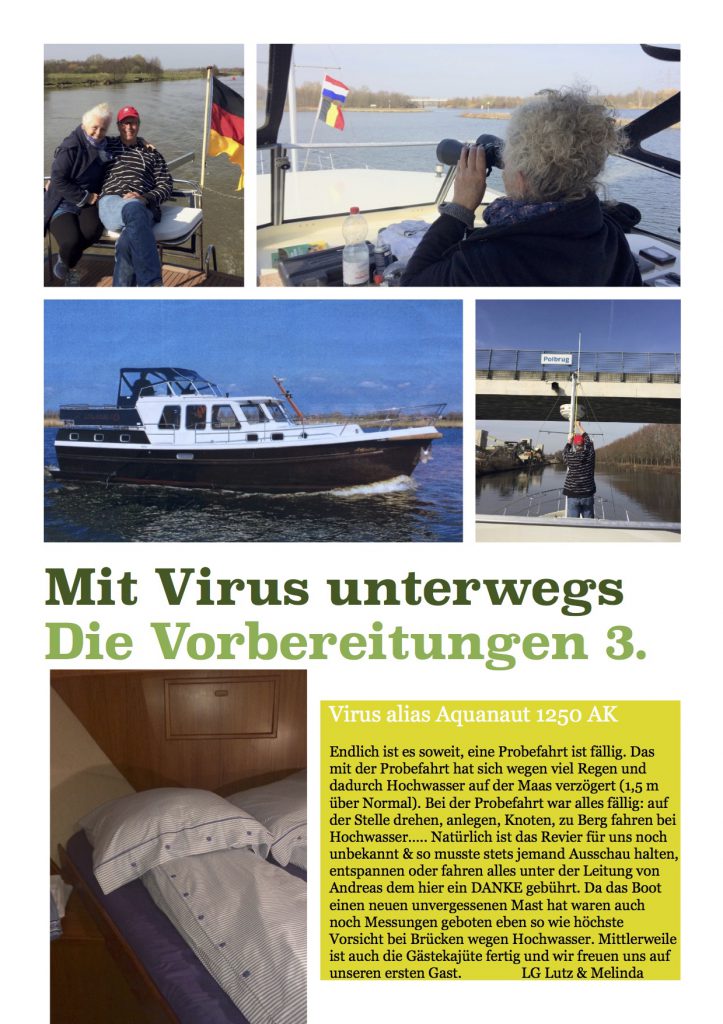 My German translation lesson for the week:
Preparation # 3
Finally we are ready for a test drive. The test drive was delayed due to lots of rain and high water level in the Maas (5 foot over normal level). We trained for everything: turning on a dime (360), landing, knots,driving against the flow of the flood water of the Maas…The district is totally new for us, unknown, so someone always had to be on the lookout. We also relaxed and drove under the guidance of my friend Andreas. Since the boat had a new mast with unknown dimensions, measurement were taken and much caution was necessary due to high water levels while going under bridges. Meanwhile the guest cabin was made ready and we are looking forward to welcoming our first guest.