Excursion To Gluten, Soy & Dairy Free India
What an exciting cooking event this weekend. We had eleven hungry, talented, eager travelers ready to experience the smells and tastes of India. Yes, I hear your first thoughts: "How in the world can they make these choice dishes without cream, or naan without gluten?" Well, we did it! And what an amazing meal!!!
We had to leave Cleo behind due to illness, but we were all excited to see Angelika, a local from the village, join us for the first time. Thanks to Bev, she was able to intrepret and the rest of us helped her along during the culinary trip.
We started off with several dips and appetizers: Roasted Red Peppers & Garlic Dip creamed with homemade coconut yogurt; Spicy Eggplant Dip; Pickled Ginger and Tangerine Beets; and a tradition Cucumbers & Yogurt Cream Dip and homemade Lime Chutney. These appitizers were accompanied with fresh sliced carrots, cucumbers and zucchini. Chili Pepper Crackers helped to scoop up the yummy Lovely Lintel dhal.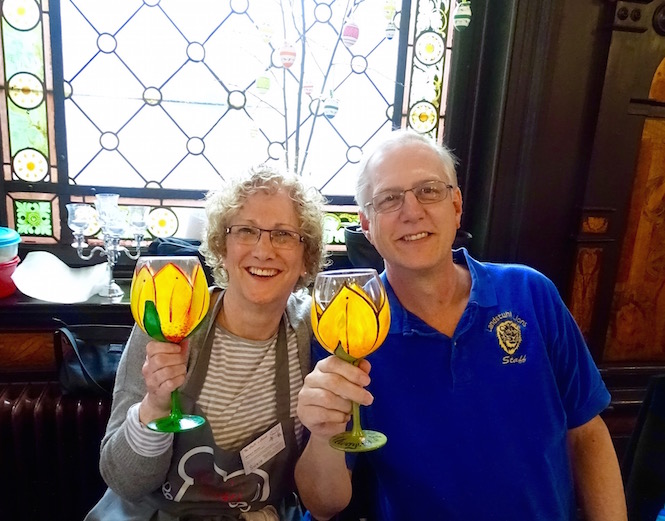 This was also a special occasion for Dave and Suzie. They celebrated their 39th aniversary with us! Cooking classes can be very romantic you know. Glad to hear that the Cook'n Coach Class was your first choice for your anniversary event, right Dave?
To begin our cooking adventure, two cooks were assigned at each station with several switches of stations through out the morning, ensuring that everyone had a chance to participate in at least three of the six cooking areas. Since all foods basically needed the same amount of prep and cooking time, transitions were critical. We managed to synchronize all the cooking stations served lunch right on time!
Julie kept checking back in at her initial station to make sure that her succors followed through with as much passion she had, the sign of natural cook. And sure enough, the proof was in the taste of the cookie!
As all good chefs must do, taste BEFORE you serve! Mike took his role seriously and became the official taster. Terri's persistance with washing four pounds of fresh spinach paid off and the Taj Chicken was worth every bite.
Ok, to say everything went off without a hiccup would be a cook's paradise. Yes, we did have our challenges. The Cardamom Custard was rescued by none other than Synda for a second creation, and Shonna was able to reinvent the non-naan thanks to Lutz's speedy rush to the local grocery store for some additional yeast.
We had it all: from Taj Chicken to Nut'n Butter Than Butter Chicken over Seasoned Indian Cauliflower Rice to Nut'n Butter Than Butter Cookies along side Caramelized Bananas and Mangos smothered in Cardamom Custard.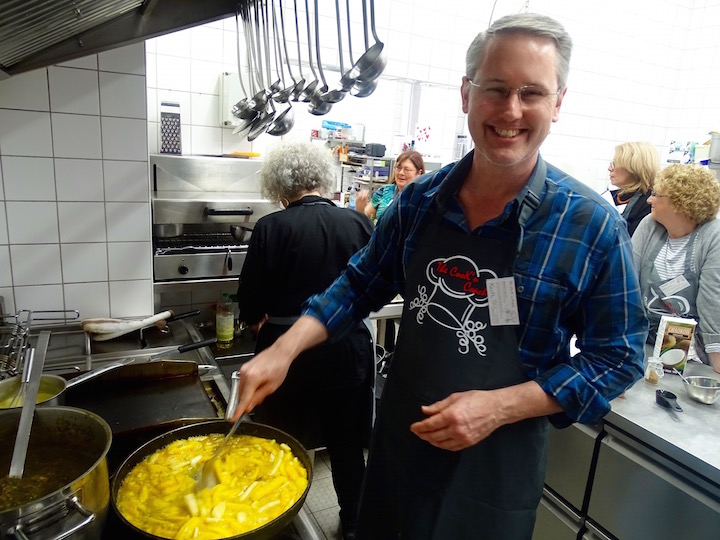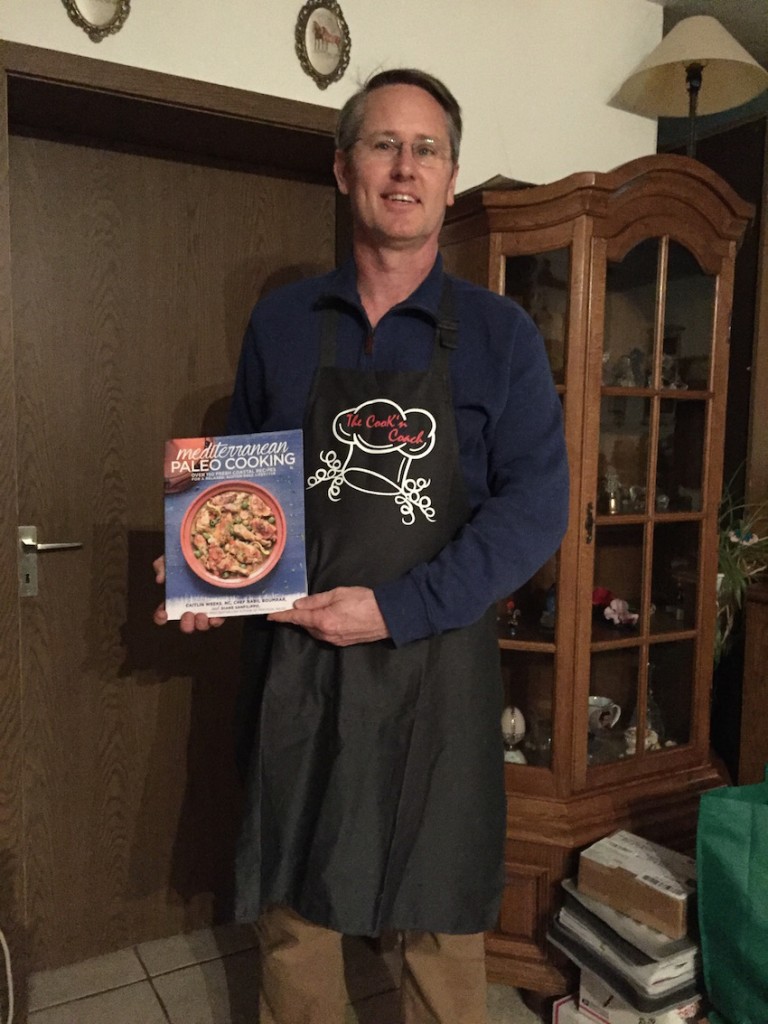 Thanks to Carla's Gluten Free Recipe Box for letting me use her Naan recipe and special thanks to the authors Caitlin Weeks, Chef Nail Boumarar and Diane Sanfilippo for donating their book Mediterranean Paleo Cooking. The winner of the book was Keith Custer. Apparently, he is the chef at home; so Dawn, you are doubled blessed: a man that cooks and now he has some new ideas for future cooking escapades.
A special thanks to Sedun and Stefanie, the managers and chef at the Wallonenhof Restaurant for allowing us to use their facilities. You're the best and we look forward to holding our next cooking event before summer…any ideas folks? How about an evening of grilled Tapas on their lovely patio over looking the swimming pool? May feels warm enough for this kind of event, right Team?